Love a brunch but looking for something a little more exhilarating this weekend? There's loads to get your pulse racing in Dubai. With adrenaline and adventure in mind, we've pulled together some of the top activities to do to get your heart rate pumping.
! Smiles all round.
!! Nervous laughing, sweaty palms.
!!! Are you crazy?! No way.


At the Top at Burj Khalifa !
You may have already visited the world's tallest building, but if you haven't, what are you waiting for? Cast aside that fear of heights, as you won't want to miss this record-breaking 360-degree view of the city from the 148th floor of the Burj Khalifa.
From Dhs135. Open daily 9am-11pm. Burj Khalifa, Downtown Dubai (04 366 1655).
Dune bashing in the desert !!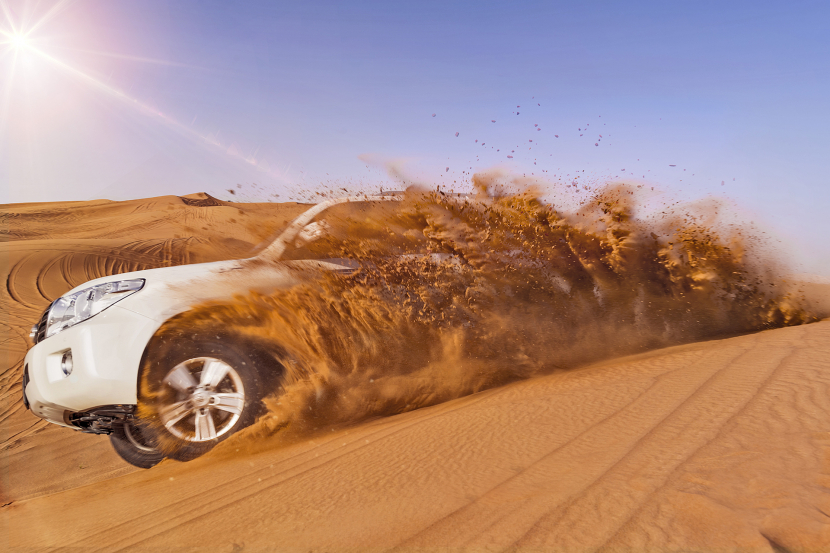 To try the complete desert experience, don't miss a 4x4 dune bashing drive. This extreme sports option may have your stomach in knots and twists by the end of it all, but it will prove to be the ride of your life. Expert drivers whisk you off across sand dunes, turning, twisting and spinning. Belt up.
Dhs125 (adults), Dhs100 (kids under ten). Desert Safari Dubai, Karama (052 832 8261).
Escape rooms !
Try escaping from a locked room using only your logic, pure skill and determination while being transported to a different world and all in under an hour time limit. You will find a collection of escape rooms with different difficulties and themes around Dubai. Some of our favourite spine-chillers can be found in Escape Reality, Phobia and No Way Out, each of which have several frightening and adventurous games to choose from.
Phobia: From Dhs115 (per person). Open daily 11am-midnight. JLT, Cluster X (052 797 4916).
Escape Reality: From Dhs100 (per player per game).
Open Sun-Wed noon-10.30pm; Thu-Sat noon-midnight. Sheikh Zayed Road (04 332 7777).
No Way Out: From Dhs290 (per game). Open Sun-Wed noon-11pm; Thur-Sat 11am-1am. JLT, Cluster M (04 243 8208).
Feeding sharks in The Dubai Mall !!!
The Dubai Aquarium & Underwater Zoo is one of the largest suspended aquariums in the world with around 33,000 animals – including an exhilarating shark feeding encounter. You don't have to be an experienced swimmer to venture into this diving cage while sharks swim centimetres from your face, just a strong stomach. Wait, did someone say Jaws?
Dhs630. Sun-Wed 10am-11pm; Thu-Sat 10am-midnight. The Dubai Mall, Downtown Dubai (04 448 5200).
Flyboarding off Jumeirah Beach Residence !
If you're a fan of the water, this hydro-water sport will have you soaring in the air like a superhero of the sea. With jets attached to your feet, you will be propelled into flight by a surge of water shooting back down into the sea. Patience is the key factor, but with a bit of balance and determination, you'll be flying.
From Dhs250. Open daily 10am-5pm. The Ritz-Carlton Dubai, JBR (054 598 5353).
Hot air ballooning over the desert !
Fancy taking to the skies? Balloon Adventures Dubai runs morning excursions where you'll float serenely over the desert – 4,000m above the ground. Depending on your head for heights, this may or may not be terrifying, but it's sure to be exhilarating.
Dhs1,195 (adults), Dhs1,045 (kids aged five-11). Pick up from 4am across Dubai. www.ballooning.ae.
Mastering the slopes at Ski Dubai !
Grab those gloves, it's time to hit the slopes. With five varied runs, including a fall of more than 60 metres on the longest slope, it's no wonder this has made our list. And with the world's first indoor sub-zero zip line, The Snow Bullet, a ride 150 metres long and 16 metres high, you'll still feel hot under the collar despite being in sub-zero temperatures.
Dhs190 (adults), Dhs170 (kids). Sun-Wed 10am-11pm; Thu 10am-midnight; Fri 9am-midnight; Sat 9am-11pm. Mall of the Emirates, Al Barsha (800 386).
Parasailing off the Dubai coastline !!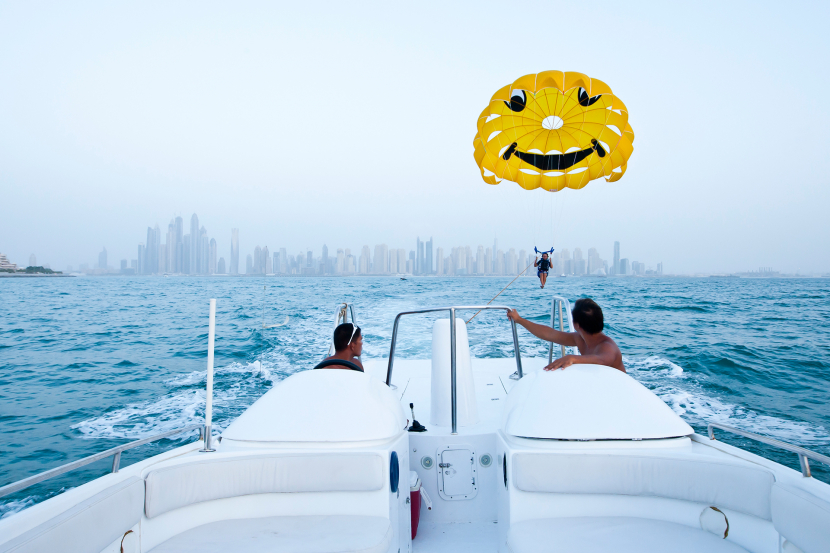 Be blown away with this over-the-water adventure, which promises to deliver some spectacular views. Tied to the back of a boat, you will take to the air like a kite to the wind, only at a much faster speed. As your parachute puffs out behind you, you'll sail into some adrenaline-inducing heights.
From Dhs420. Arabia Horizons Tours, departs from Jumeirah (04 294 6060).
Skydiving (inside) at iFLY Dubai !
If you're desperate to skydive, but jumping out a plane is still a no-go, it's time to defy gravity at the world's first double indoor skydiving centre in iFLY's ten metre vertical glass wind tunnel. Free-falling at four metres in the air, you will experience human flight like never before, and there's no air travel necessary.
From Dhs220 (two flights). Open Sun-Wed noon-10pm; Thurs noon-11pm; Fri-Sat 10am-11pm. Play Nation Area, City Centre Mirdif Ghoroob, Sheikh Mohammed Bin Zayed Road (04 231 6292).
Skydiving over Palm Jumeirah !!!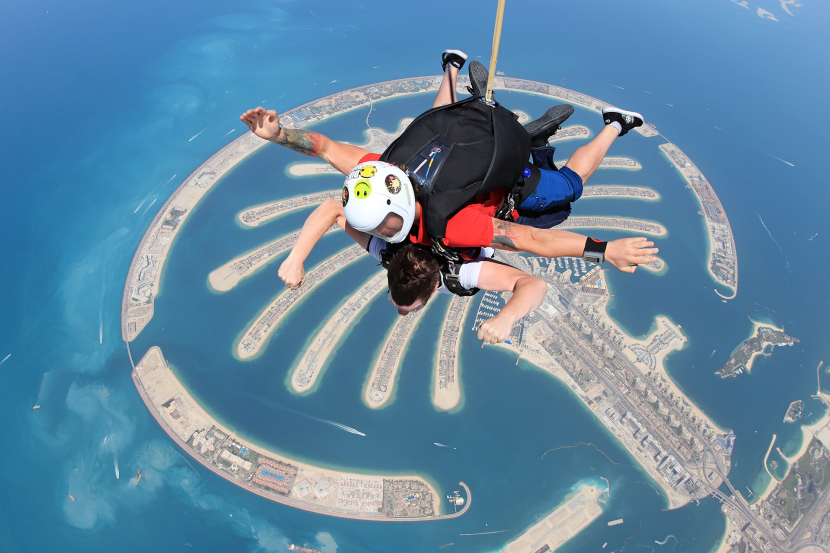 Tried the indoor version, now ready for the next step? Get your heart rate beating faster than your Fitbit can handle, because nothing screams adrenaline more than jumping out of a plane with a parachute (and qualified instructor) strapped to your back. Skydive Dubai has options for jumping over the desert or the Palm Jumeirah, we can assure you nothing will quite make your hairs stand on end like this (literally) breath-taking package.
Desert Campus: From Dhs1,699. Open Tue-Sun 8am-5pm; closed Mon. Al Ain Road (04 377 8888). Dubai Marina: From Dhs2,199. Open daily 10am-5pm. Skydive Dubai Drop Zone, Dubai Marina (04 377 8888)
Super-fast super car racing at Dubai Autodrome !!
Travel less than half an hour from the city centre and you'll find the perfect place to fulfil your childhood racecar driving dreams. Get behind the wheel of a 570 BHP Ferrari GT, a 180 BHP Formula DXB or a 540 BHP Audi R8 V10 Thrill, the choice is yours – and we guarantee it's more exhilarating than a PlayStation game. Learn how to drift with the Easy Drift or the Prodrift Academy Experience and if you're not much of a driver, no worries, because you can still experience the wind blowing in your hair (or rather your helmet) from the passenger's seat with a professional instructor in the Hot Lap Experience.
From Dhs250. Open daily 8am-midnight. Motor City, Sheikh Mohammed Bin Zayed Rd, (04 367 8700).
Take the leap of faith at Aquaventure Waterpark !!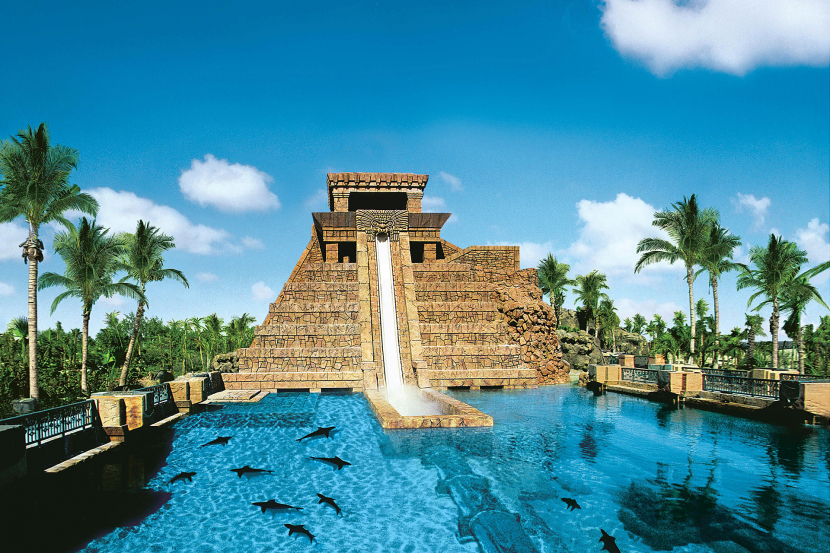 Prepare to leave your stomach behind as you plummet down a near vertical nine-storey tall drop in a mere second, only to be speed into a clear tube surrounded by sharks. Casual.
Dhs275 (adults), Dhs225 (kids). Open daily10am-6pm. Atlantis The Palm, Palm Jumeirah (04 426 2000).
Wakeboarding off Jumeirah Beach Residence !
Warm watered beaches all year round – this makes the world of difference when your only concern is to grip onto the back of a speeding boat, stay upright and try not fall flat onto your face into the waters below. Sound hard? We won't lie, it's not easy, but totally possible to master. So, if you're looking to ride some waves with a challenge in mind, wakeboarding is the perfect water sport for you. And you'll get some pretty cool snaps from it, too.
Dhs420 (15 minutes). Open daily 9am-9pm. Sky and Sea Adventure, Hilton Dubai Jumeirah, The Walk, JBR
(050 724 6184).
White-knuckle theme park rides at MOTIONGATE Dubai !!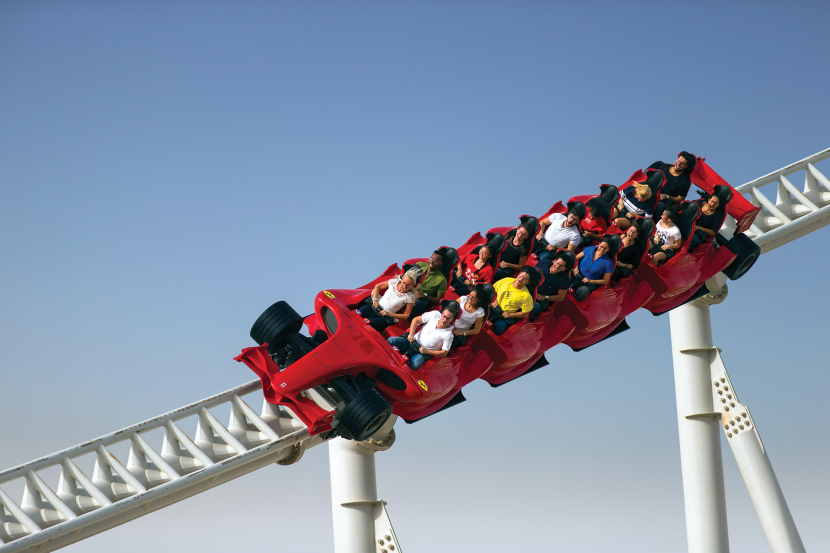 If you're a fan of all the thrills and spills of the theme parks, don't miss a trip to MOTIONGATE at Dubai Parks And Resorts. As well as some kid-friendly rides, there's a roller coaster based on the Hunger Games – Capitol Bullet Train – where you'll shoot backwards, forwards and hurtle upside down, as well as a Zombieland Blast Off, which will see you drop 58m at a rapid speed.
From Dhs175. Sat-Wed 11am-8pm, Thu-Fri 11am-9pm. Dubai Parks And Resorts, Jebel Ali, www.dubaiparksandresorts.com.
Zipping over Dubai Marina !!
The world's longest, steepest and fastest urban zipline is right here at your fingertips. So, strap in and take your inner daredevil to new heights by ziplining across the Marina at speeds of up to 80kph from 170 metres in the sky. Thrill, excitement and adventure – the ultimate adrenaline rush, with some pretty stunning views (if you're brave enough to keep your eyes open, that is).
Dhs650 (solo ride), Dhs1,200 (two people). Open daily 9am-5pm. Dubai Marina Mall, Dubai Marina (04 457 3212).
Be the first to get all the latest Dubai news, reviews and deals into your inbox by signing up to our free
newsletter
,
click here to sign up
.