It is the most wonderful time of the year for some marvellously al fresco bites fresh from the hamper. We can't explain why sandwiches always taste better when they've been in a lunchbox for a couple of hours, but they do. So, while the weather is gorgeous, we've wrapped up the best places for you to shake off that blanket, get out the cheese and pickle sangers and bust open that punnet of strawberries.*
*Time Out Dubai cannot be held responsible for the presence of any ants at your picnic.
Al Barsha Pond Park
Home to countless winter picnics, this (unsurprisingly) pond-side spot is a brilliant spot to unfurl your blanky and kick back for the afternoon. There's a huge lawn overlooking the pond – which is more lake-sized than pond-sized, really – and once you're done scoffing your cherry tomatoes and piccalilli you can go and hop on a swan-shaped pedalo and hare your way around the pond-lake. It's a beautiful spot for a winter's afternoon spent in the sun.
Open daily 8am-10pm. Al Barsha (800 900).
Al Khazzan Park
Fun fact: Al Khazzan Park is the first park in the UAE to be entirely solar powered. How about that? This spot, found directly opposite City Walk, is wildly popular with parents and kids alike, thanks to its two playgrounds, a mini cycle path for the little ones and plenty of hills for roly-polies and sunshine frolics.
Open Sat-Wed 8am-10pm, Thu-Fri 8am-11pm. Opposite City Walk, Al Safa Street (800 900).
Burj Park
How about stuffing a picnic hamper full of lovely grub and setting down for the afternoon in front of the Burj Khalifa? We can't think of many more scenic spots around, because not only can you sit and gawk at the world's tallest tower, but you're also sat in view of The Dubai Fountain and The Dubai Mall, so your sarnies can be devoured with some of the most magnificent views around. It's also home to the odd gig, and you can rent bikes to burn off the calories from those cheese scones.
Open Sat-Thu 6.30am-8pm, Fri noon-midnight. Downtown Dubai (04 366 1688).
Creekside Park
A lovely spot from which to admire Dubai Creek – and an equally lovely spot for settling on down with a hamper and nibbling away at some carrot sticks and hummus. In the shadow (not literally) of the Dubai Dolphinarium, you can get your kicks from the aquatic critters residing next door, then take a ride on the cable car through the park, before downing tools and grabbing a bite to eat, and soaking up some vitamin D.
Open Sun-Wed 8am-10pm, Thu-Sat 8am-11pm. Oud Metha (04 336 7633).
JLT Park
There aren't many neighbourhoods in the world where you'll find a sprawling community park snaking out between skyscrapers. But that's what you'll find at JLT Park, where on any given day you'll find joggers hitting the track, ballers shooting some hoops, exercisers grappling with the free-to-use equipment, cricketers cricketing, fountain fans admiring fountains and picnickers… do we need to say it?... picnicking…
Open 24 hours. Clusters O to Cluster R, Jumeirah Lakes Towers (no number).
Mushrif Park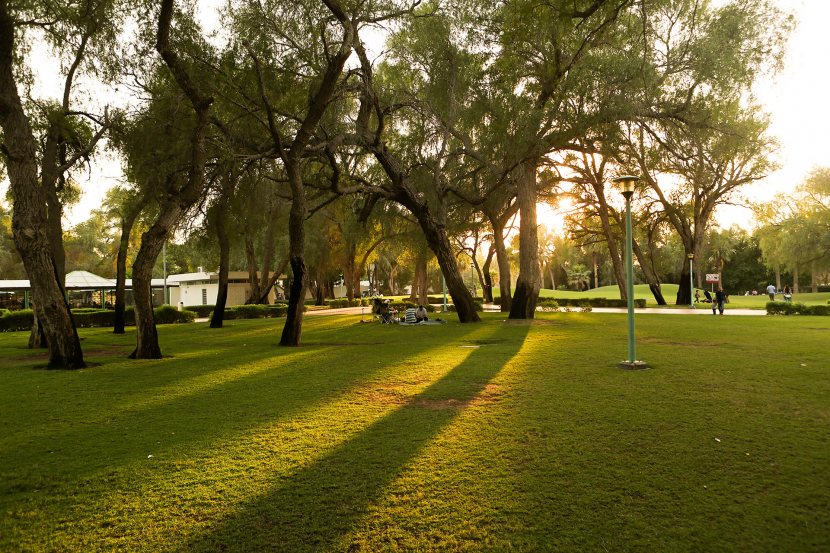 Pony riding, miniature houses, an "International Village", an equestrian centre, and even windmills can be found at this charming little spot. It's the perfect spot for a morning or afternoon stroll, and if you're looking for a spot to lay out your blanket and open up your hamper, then this place offers up barbecue areas, playgrounds, sports courts and more. Once you're done digesting, there's even a swimming pool for taking a dip. Or you can check out the Aventura Nature Adventure Park while you're there.
Open Sun-Wed 8am-10pm, Thu-Sat 8am-11pm. Al Khawaneej Road, Mushrif (no number).
Ripe Market at Police Academy Park, Umm Suqeim
If you head to Ripe Market at the weekends, you can trawl through some homemade handicrafts – jewellery, knick-knacks, decorations and the like – as well as second hand books, toys, games, clothes and more. But it's the fresh food merchants which make this place come alive, in our opinion. If you haven't packed your own picnic, you can grab loads of fresh grub – whether it's from one of the food trucks, the vendors selling fresh fruit and vegetables, or the clean-living baker.

A cracking hangout for all the family, open every Friday and Saturday.
Open Fri-Sat 9am-7pm, until Sat May 4 2019. Dubai Police Academy, Umm Suqeim (04 315 7000).
Safa Park
This park just off Sheikh Zayed Road has endured in its popularity for years, and remains one of the city's top spots for an afternoon spent in the sun. Grab your hamper and run on over to this place, where you'll find plenty of families happily enjoying their surroundings.

Ornithologists will have a blast here, too, since Safa Park also happens to be home to some 200 species of birds hiding among 16,000 varieties of trees and bushes. See how many you can spot, once you're done exploring.
Open Sun-Wed 8am-10pm, Thu-Sat 8am-11pm. Sheikh Zayed Road, Al Safa (no number).
Umm Suqeim Park
This is a family-only designated area, and this charming spot sits under the Burj Al Arab, with some lovely views out over the Arabian Gulf. Only women with their families are allowed in during the week, and men are allowed to attend with their kids come the weekend. A wonderful spot to escape the hustle and bustle of city life, without actually having to leave it at all.
Open daily 8am-10pm. Jumeirah Beach Road, Umm Suqeim 2 (no number).
Zabeel Park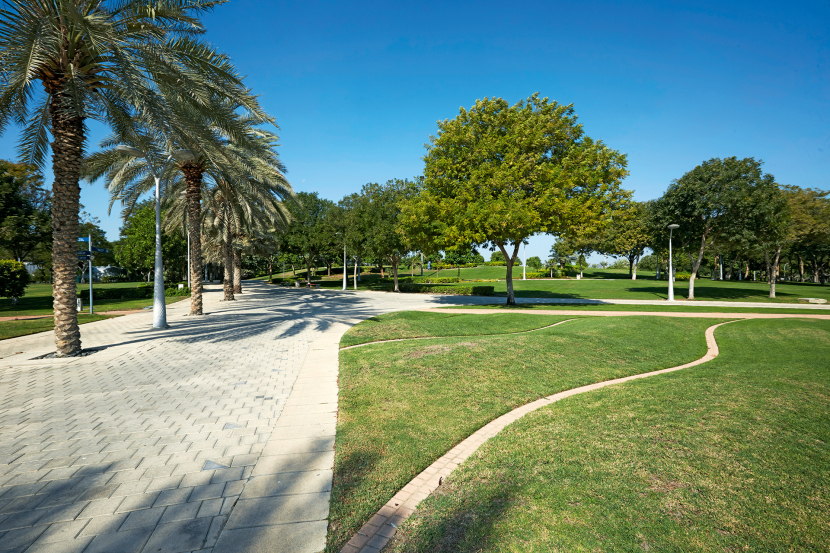 In the semi-hollow shadow of the Dubai Frame (to which, if you've not yet visited, you should make your way post-haste) is this gorgeous park found just north of Downtown Dubai and Dubai World Trade Centre. There's so much going on that you can spend the entire day here, quite happily, and still feel slightly resentful when it's time to go home. It's equivalent in size to 45 football pitches, and three different technology-driven zones are designed to help entertain and educate the little ones while you can relax in one of the dedicated picnic areas. On top of that, there are boat rides, restaurants, live music and barbecue pits, too. How could this not be the perfect picnic hangout?
Open Sat-Wed 8am-10pm, Thu-Fri 8am-11pm. Sheikh Zayed Road (no number).

Four Alternative picnic experiences to try
Desert picnic at Al Wadi Desert at The Ritz-Carlton Ras Al Khaimah
Make a road trip of it and head to the northernmost emirate in the country, and get lost in the desert (well, not literally) by heading out into the Al Wadi Desert on two wheels. The Ritz-Carlton Ras Al Khaimah offers a desert bike adventure before the sun sets where you'll mount a couple of off-road fatbikes (which are specially designed desert bikes) and head off into the sunset, sort of. You'll also be able to dovetail said bike-riding with a picnic experience out in this protected wildlife and nature reserve. You'll have earned your grub, and it will really help you connect with the countryside.
Prices and timings vary. The Ritz-Carlton Ras Al Khaimah, Ras Al Khaimah (07 206 7777).
Picnic baskets from Tania's Teahouse
This charming little café and eatery in Jumeirah offers up a picnic hamper worth rushing for, if only so you can really relax with some lovely grub once you've got your hands on one. You can order a range of snacks, food and drinks from the Teahouse's menu, and have them packed for you in a beach basket, which also comes with blankets, sun cream and drinks canisters to keep your cold drinks ice cool for the day. It will cost you per item, so prices vary depending on what your order from the menu, and each basket also comes with a Dhs200 deposit, so take good care of the hamper if you want to see your dirhams returned to you safe and sound.
Open Sun-Wed 8am-10pm, Thu 8am-midnight, Fri-Sat 9am-midnight. Jumeirah Beach Road (04 324 0021).
Picnic Pantry Brunch at Crowne Plaza Dubai
A brunch where you can kick off your shoes and not worry about fellow brunchers giving you the raised eyebrow for a perceived lack of brunching decorum. Every Friday, the lawns of Dubai Festival City are kitted out like a picnic gathering, and the whole brunch adheres to this theme, which makes us giddy with childlike excitement. Get your hands on some corn-on-the-cob, chicken, prawns and more from live cooking stations, plenty of salads, potato dishes, greens and desserts are readily available too. There's live music and some really chilled-out vibes to be found.
Dhs245 (soft drinks); Dhs345 (mixed drinks); free (children under 12). Fri 12.30pm-4pm. Crowne Plaza Dubai Festival City (04 701 1127).
Pik-Nik at The Westin Dubai Mina Seyahi Beach Resort & Marina
Well, if it calls itself the "ultimate picnic basket", then we're officially intrigued. The Mina Gardens at The Westin Dubai Mina Seyahi Beach Resort & Marina has welcomed the return of Pik-Nik, a brunch on the lawn which takes place every Saturday from noon until 5pm. Kick back on the lawn, lounge around in a beanbag or grab a table and get a huge picnic basket filled with salads, meats, cheeses, breads and sweets for Dhs250, which is enough for two adults and two kids.

There are also tonnes of other options, including a family beach pass for Dhs595 (with a picnic basket).
Dhs250. Sat noon-5pm. The Westin Dubai Mina Seyahi Beach Resort & Marina, Al Sufouh (04 511 7373).
Be the first to get all the latest Dubai news, reviews and deals into your inbox by signing up to our free
newsletter
,
click here to sign up
.