There is close to 1,000km of soft, sugary shoreline in Dubai. Whether you want to curl up with a book in a quiet cove, fling a frisbee with friends or fish out a flash swimming costume to party the hours away in style, you can do. So, grab your towel, lather on the lotion and make the most of the coast.

Free beaches
4x4 Beach
Like eating? Like fun? Like showing off to friends back home about what a perfect holiday you had on your first morning back at work? Then this beach is for you. All you need is a car – although most are 4x4s as the name suggests – a picnic, inflatables for the kids and all the gear for a day in the sun. There are no restaurants or toilets around – which is why we recommend bringing your own refreshments. Cars can drive through the empty car park right up to the beach from sunrise to sunset. The massive expanse of sand stretches from the road to the shore (great for sand running, which is an intense workout), and the bay arches around, providing a picturesque view. Crane your neck to the left and you'll see the Burj Al Arab Jumeirah far off in the distance.
At the corner of Al Athar Road and Jumeirah Beach Road, next to Jumeirah Beach Park, Jumeirah 2.

Al Mamzar Beach Park
You can jog, jet ski, barbecue, swim in the sea, swim in the pool, wallow in air-conditioned bungalows, roller skate, have a kick about or simply build sandcastles at this beautiful beach. There are more than 25 pits to grill on (bring your own barbecue supplies), complete with wooden tables and chairs, 1,600 palm trees, 300 coconut trees and 6,000 types of plants and foliage surrounding this picturesque bay. It is located on the very edge of Dubai, meaning the pace of life here moves a little slower and there are less tourists. There are plenty of facilities and spots to eat at this beach – which will cost. There is free parking on site, too. While this is a section on free beaches, this one is an exception as there's an entry free. However, it's only Dhs5. Mondays and Wednesdays are women only.
Dhs5. Jumeirah Beach Road and continue for about 5km north of Al Hamriya Port – the beach is in the Al Mamzar residential area.

Al Sufouh Beach
Also known as Black Palace Beach due to its proximity to the private island and palace of Sheikh Mohammed bin Rashid Al Maktoum, Prime Minister and Vice President of the UAE, on Logo Island. Look to the right and you'll see the Burj Al Arab Jumeirah, look to the left and you'll see the sun setting over the Palm Jumeirah. This stretch of secluded sand is quite tricky to find and is often labelled a "hidden gem" by those in the know. While we're not big fans of that terminology, we can make an exception for this spot as it is simply beautiful and very often deserted. The waters are shallow, meaning they're great for kids to explore. Although, always ensure to check the waters for yourself and be wary of rip tides, the beach is not watched by lifeguards. As it's off the beaten track there are no facilities, so bring everything you'll need for the day.
Turn right into the slip road after the bus stop on Al Sufouh Road (just before Hessa Street and about 500m before Dubai Media City).

JBR Beach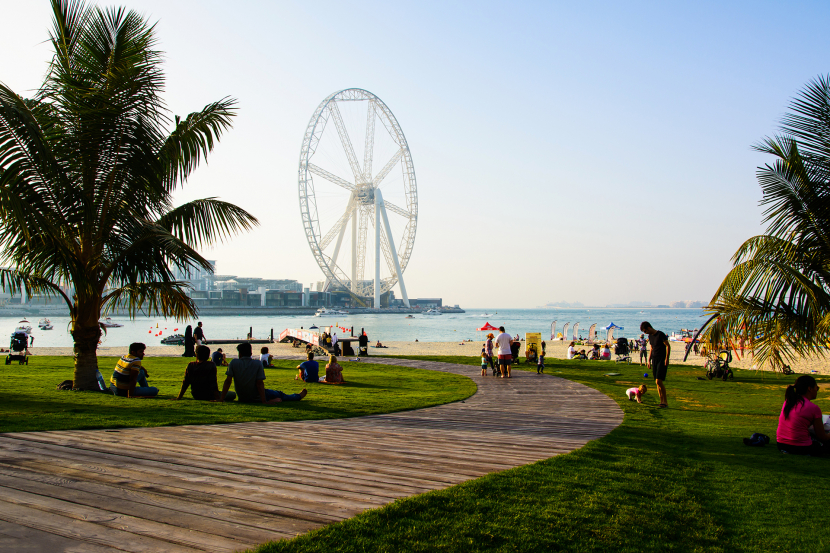 Finding your own private patch of sand on this beach is possible all day, however be warned it won't be massive. This is easily Dubai's busiest beach – with hordes of residents and tourists heading down in droves every day. However, it is a huge stretch of coastline starting from Zero Gravity and extending all the way to the breakwaters near the Sheraton Jumeirah Beach Resort without interruption. Stroll the entire route and you'll pass jet skiers, flyboarders, swimmers, bathers, ice cream huts, beach volleyballers, joggers, snorkelers and fitness buffs, big and small, taking on the inflatable Aqua Park. There's an abundance of restaurants, breakfast spots, cafés and entertainment areas including a cinema, fairground arcades and playgrounds. Facilities include beach bed rental, showers and changing rooms.
The Beach, opposite JBR.

Jumeirah Open Beach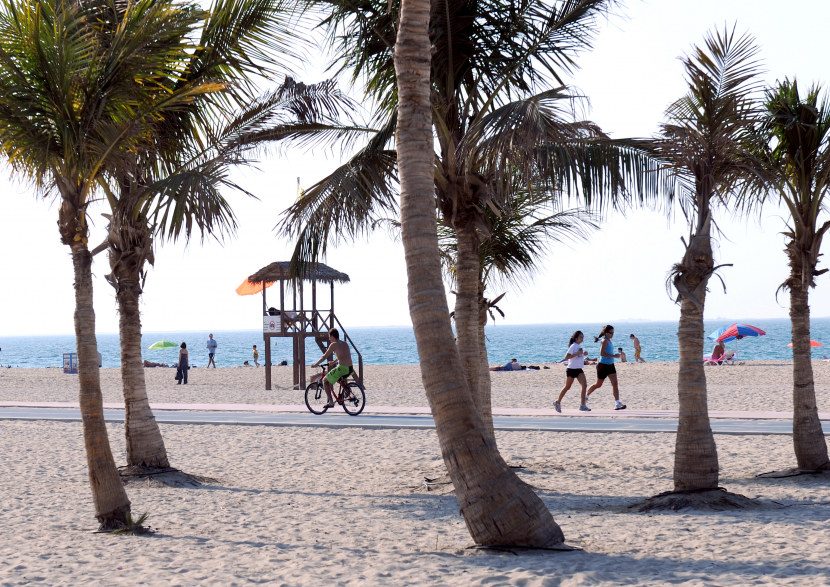 Grab a book and head to one of the quieter stretches of sand in the city. Not only will you be able to enjoy your read in peaceful surroundings, there also won't be much else to look at. The once-clear sea views have been diminished by the new of Jumeirah Bay Island. If you've got a penchant for property, however, look in the other direction where you'll see some of Dubai's most stunning villas backing directly onto the golden sand. Forgot to bring your own novel? There's a library unit on the beach and books can be borrowed for free. There are even comfy beanbags and tables to lounge around with lighting making it possible to read long into the night.
Near Dubai Marine Beach Resort & Spa, Jumeirah Beach Road.

Kite Beach


This huge and wide beach boasts plenty of room for you, your family, friends, neighbours, neighbours' friends and more to gather on. It's teaming with activities including everything from skate parks to mini bungee jumping, highrope courses to a running track. Plus, there's also the all-new human slingshot from XDubai. Watersports are also popular and include kayaking, paddleboarding and water skiing to turn a lazy day into something much more adventurous. Plus, plenty of what's suggested by the name. Want to walk or jog along the coastline? Kite Beach's 14km track is the perfect spot. After all that exercise and working up an appetite you can refuel at some of the city's best street food stalls and food trucks including SALT and Taste of Brazil.
Street 5a, behind Jumeirah Beach Road, Umm Suqeim.

La Mer
One of the city's newcomers – La Mer is known for its top seaside restaurants, cafés and plethora of ice cream parlours. Beach bars MASTI and Stars 'N' Bars are at either end of the quarter, providing al fresco dining and drinking with magnificent views from outdoor terraces. The picture-pretty shoreline is lined with brightly painted beach huts and is open for swimming from sunrise to sunset. While patrolling security forbid anyone from a dip in the dark, you can still sit on the beach and listen to the sound of the waves long after the sun sets. It's perfect to chill out on after a hard day's slipping and sliding around the family-friendly Laguna Waterpark.
La Mer, Jumeirah 1.

Mercato Beach
This charming and peaceful beach is one to head to to escape the crowds. There's always a cool breeze sweeping through this beach and while it's not the prettiest, it has everything you could want for a quiet day out: sun, sea and sand. Plus, there are some pretty special views of the Burj Khalif ato soak in. There are no facilities so bring everything you need, or head to the Mercato Mall opposite. Nearby Jumeirah Fishing Harbour has some nice cafés and restaurants.
13a Street, Jumeirah 2.

Nessnass Beach
Another of Dubai's popular kiteboarding spots (signposts read Kitesurfing Beach), this stretch has the perfect conditions for catching some serious air thanks to consistent cross-onshore winds. When all that becomes too extreme, other water sports include the usual paddleboarding, kayaking and sailing.
Nessnass Street, behind Sunset Mall.

Sunset Beach/Umm Suqeim Beach
It's a bustling, urban beach surrounded by some of the city's finest high-rise hotels, with a children's playground and barbecue areas. It's always popular and is located right next to Jumeirah Beach Hotel, in front of Umm Suqeim Park. There are plenty of restaurants and cafés surrounding it, too. Like swimming at night? Head here, several 12-metre high poles illuminate the water meaning you can keep paddling until midnight. There are changing rooms, wifi and plenty of lifeguards.
2C Street, Umm Suqeim.

Fancy beaches
Azure Beach Club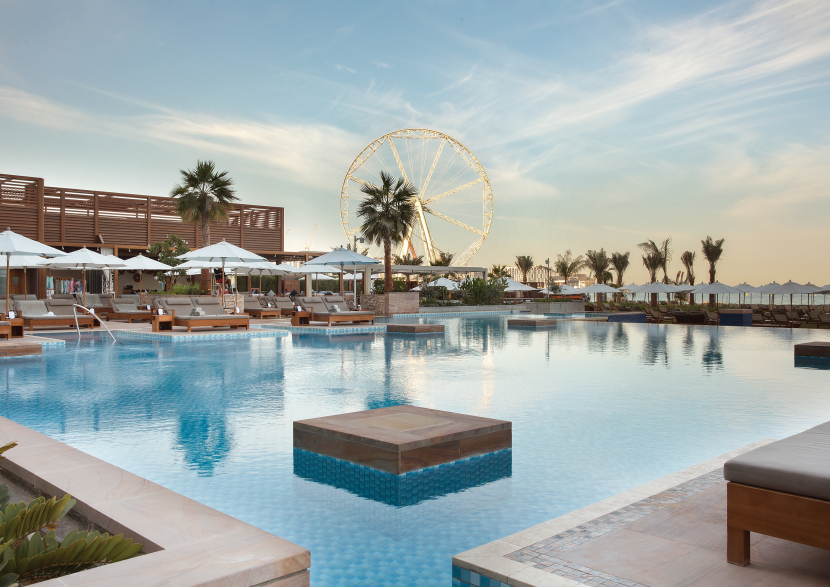 One of JBR's hottest beach clubs, you can enjoy the stunning pool and access to the private beach. Dubai's well-heeled crowd head here on weekends, while weekdays play host to hotel guests and tourists. There's a swim-up bar, too. If you start to prune, get your head under a cabana with up to seven of your mates to fend off the sun.
Dhs300 (Sun-Thu, with Dhs200 back on food and drink), Dhs400 (Fri-Sat, with Dhs200 back on food and drink). 10am-11.30pm. Rixos Premium Dubai, The Walk, JBR (04 342 1924).

Banan Beach
We've been going bananas for Banan Beach since it opened earlier this year. The secret camping resort is all hammocks, campfires, yoga and beachside chills, and best of all, it's just 20 minutes' drive from Dubai Marina in Jebel Ali. The brightly coloured rows of triangular-shaped tents look down on to the shores of the Arabian Gulf, which are strewn with hammocks and swings facing out onto the water. You can visit the spot for the day, with beach access costing Dh100, or you can stay overnight in a tent or chalet.
Dhs100 (beach access), Dhs350 (tents, per night) from Dhs1,000 (chalets, per night). Banan Beach, Jebel Ali (050 501 6413).

Blue Marlin Ibiza UAE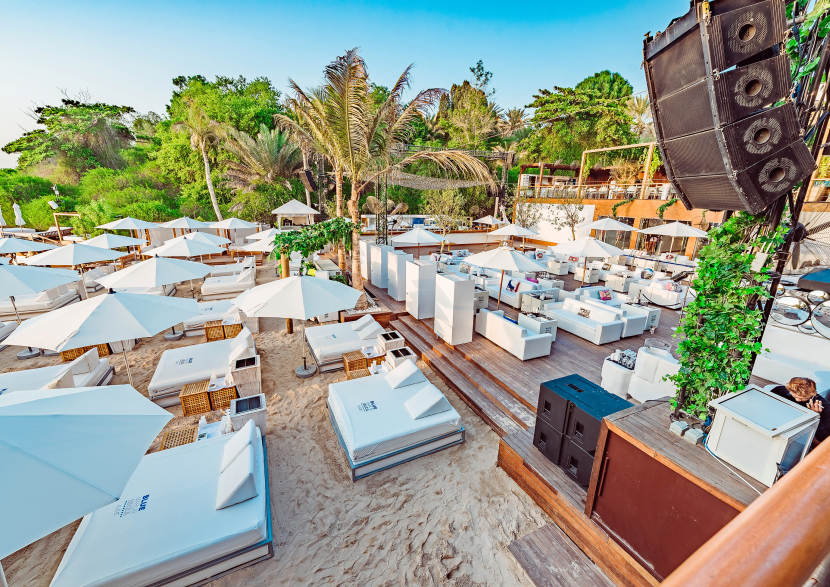 Missing the Med? Or after a taste of why millions head to its party islands every summer? Visit Blue Marlin Ibiza UAE and you'll have exactly that – it's in the name after all. It first opened in 2012, and since then, every weekend the beach club turns into a nightclub playing host to an ever-changing roster of EDM and house music DJs and artists. It's free to enter, but drinks, food, beach loungers and private tables cost. You'll find Dubai's chiselled and well-groomed crowd here and there's also a weekend brunch.
Free entry. Fri 1pm-11pm; Sat 1pm-7pm. Golden Tulip Al Jazira Hotels and Resort, Ghantoot (056 113 3400).

Cove Beach
Last month, this popular beach hangout upped sticks and moved from Jumeirah Beach Hotel to the brand-new Bluewaters island. Now part of the world-famous Caesars resort, it's Dubai's latest and shiniest beach club. However, despite its exclusive location, the prices and deals of the old spot in Jumeirah remain the same. You can book a single mattress, single sunbed or double sunbed and spend the day soaking in the gorgeous views out to sea from the prime location – you'll get a towel and water thrown in, too, and the cost is redeemable on food and drink. Ladies, head down on Wednesday for access to lounges, free-flowing house drinks and chef's platter between noon and 5pm for just Dhs100. Kids are welcome – except on ladies' day.
From Dhs100 (Sun-Thu), Dhs250 (Fri-Sat). Open daily 11am-1am (pool and beach close at sunset). Caesars Bluewaters Dubai, Bluewaters Island (050 454 6920).

DRIFT Beach Dubai
Following a tremendous introduction, One&Only Royal Mirage's luxury hotspot is back for its second year. Residents and tourists flocked in their droves to bask on the beach or in the infinity pool. Sun loungers are priced at Dhs300 on the weekend (Dhs250 on weekdays), while the luxury island beds set by the infinity pool go from Dhs1,500 for two, along with a bottle of sparkling grape thrown in. Prices include a cold towel, seasonal fruit bowl and a bottle of still or sparkling water.
Dhs250 (Sun-Thu), Dhs300 (Fri-Sat). Pool and beach: open 10.30am-8pm. Restaurant: 12.30pm-5.30pm. One&Only Royal Mirage, King Salman Bin Abdulaziz Al Saud Street (04 315 2200).

Nikki Beach
The world-famous, super-trendy beach club has outposts in everywhere from Marbella to Miami. Dubai's has some simply glorious views out to sea on one side, with exquisite vistas towards the Downtown Dubai area and Burj Khalifa on the other. Hit the beach, donning your water-appropriate glad rags, and lounge on a daybed. The kitchen serves some terrific international dishes and you'll find a regular crowd coming through for sundowners. Tuesday ladies' day is one of the city's stalwarts and with six drinks on offer for Dhs130, it's no wonder. Arrive early as beds are first come, first serve.
Dhs100 (Sun-Thu), Dhs250 (Fri-Sat). Open daily 11am-9pm. Nikki Beach Resort & Spa Dubai, Pearl Jumeira (04 376 6162).

RIVA Beach Club
RIVA is one of Dubai's best all-round beach club, bar and restaurants. Whether you want to laze on the shoreline, dine al fresco by the water or take up paddleboaring, you can. The Palm Jumeirah spot was spruced up over the summer, including a brand-new Mediterranean food menu. Tuck into some burgers, dunk some chicken skewers into some satay sauce and assume the horizontal position on a lounger.
Sun-Thu: Dhs100 (adults), Dhs50 (kids); Fri-Sat: Dhs190 (adults), Dhs75 (kids). Open daily 7am-midnight. Shoreline Apartments Building 8, Palm Jumeirah (04 430 9466).

Zero Gravity
A chilled-out beach club by day, Zero Gravity turns into one of the hottest and most exciting nightspots in the Middle East once the evening hits. While the sun is out, you can while away your afternoon by lying back on the beach or by the pool and soaking up views of rolling waves and bright blue skies (with the odd descending skydiver from nearby SkyDive Dubai to look out for, too). If you're hungry, you could take advantage of a private beach cabana barbecue where you can rustle up your own steak and burgers. What's more, every Tuesday ladies get free pool and beach access all day long.
From Dhs160. Open daily 10am-2am. Skydive Dubai Drop Zone, Dubai Marina, www.0-gravity.ae (04 399 0009).

Top pick
Free yoga
Wake up to the relaxing sounds of the waves by joining in the totally free yoga classes at The Beach, JBR. They run Mondays, Wednesday, Fridays and Saturdays on the South Lawn. Lessons start at 7am and are for yogis of all abilities. Just be sure to arrive early and bring a mat, towel and water.
www.thebeach.ae.

Three top family beaches
Club Joumana
One private beach, two pools and a number of peacocks add up to a special day at Club Joumana. There's even a swim-up bar for the grown-ups while kids enjoy making new feathered friends. There are plenty of watersports and activities on offer as well (for a fee).
Dhs150 (adults Sun-Thu), Dhs75 (kids Sun-Thu), Dhs200 (adults Fri-Sat), Dhs100 (kids Fri-Sat). Open daily 9am-7pm. JA Jebel Ali Golf Resort, Jebel Ali (04 814 5029).

DUKES Dubai Beach Club
Make the trip to this Palm Jumeirah spot and make the most of the Dukesy kids' club for children up to 12 years old. With little kids left to play games and take part in a range of activities, big kids can crank up the rest and relaxation volume on the 200 metre pristine beach. There's an infinity pool and a lazy river, complete with inflatable rings and waterfalls it's a fun and relaxed way to spend an afternoon.
Dhs200 (Sun-Thu); Dhs250 (Fri-Sat). Open daily noon-midnight (pool and beach close at sunset). DUKES Dubai, Palm Jumeirah (04 455 1111).

Sofitel Dubai The Palm Resort & Spa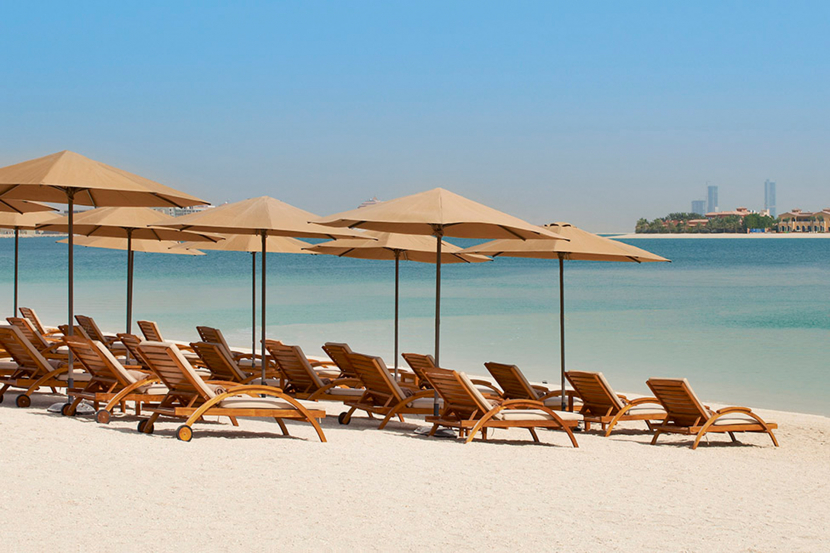 Kids can enjoy the numerous slides, activities and playground at the Amura Kid's Club while the adults lay back by one of the many pools, or the white beach. The extensive range of food and beverage outlets mean that even the fussiest eaters will be chomping at the bit, and the fun sports activities make this a hard destination to beat for families.
Dhs250 (including Dhs180 voucher towards food and drink, adults, Sun-Thu); Dhs100 (including Dhs65 voucher towards food and drink, kids under 11, Sun-Thu). Open daily 8am-8pm. Sofitel Dubai The Palm Resort & Spa, Palm Jumeirah (04 455 6677).

Beachside dining
Key West
Key West offers a slice of tropical island life in Dubai set within the ultra-stylish Nikki Beach Resort & Spa Dubai. Take up a seat outside on the beach-facing terrace, where the sounds from the sea make for a peaceful and super chilled-out experience.
Sun-Wed 4pm-7pm; Fri-Sat 1pm-11pm. Nikki Beach Resort & Spa Dubai, Pearl Jumeira (04 376 6000).

Palm Grill
Sea views, sand between your toes and fresh fish. We love this al fresco grill at The Ritz-Carlton Dubai for many reasons. Take a seat on the front overlooking the beach and you'll definitely feel like you're well into the swing of well-deserved holiday mode.
Open daily noon-11pm. The Ritz-Carlton, Dubai, The Walk, JBR (04 318 6150).

Five top swim-up bars
Areia
Fire up the phone, give it to your other half to take a snap and get ready to practise your gloating. This barbecue spot extends its bar for swimmers to take advantage of. There are hops on tap along with a variety of other beverages, too.
From Dhs125. Daily 11am-midnight. DoubleTree by Hilton Hotel Dubai - Jumeirah Beach, The Walk, opposite JBR (04 375 0999).

Bab Al Shams
This is one of the city's most isolated spots – which makes it perfect to escape the hustle and bustle of city living. For Dhs175 on a weekday and Dhs250 on Fridays you can spend a day in the water, soaking up some stunning views of the desert with a swim-up bar on hand.
From Dhs290 (adults), Dhs150 (kids aged five to 12), free (kids under five). Open daily 8am-7pm. Bab Al Shams Desert Resort & Spa, Al Qudra Road (04 809 6100).

Habtoor Grand Resort, Autograph Collection
Keep the little ones busy on the water slide and grab a drink and chill out in the water. There's also a range of deals at the neighbouring poolside eatery for when you're ready to dry off.
From Dhs150. Daily 8.30am-8.30pm. Habtoor Grand Resort, Autograph Collection, King Salman Bin Abdulaziz Al Saud Street (04 399 5000).

Horizon
Gaze out across the waters of the Arabian Gulf, while you enjoy a daily offer of Dhs30 for hops, grape and other house beverages from 4pm until 8pm. A total bargain at a prime spot.
From Dhs225. Daily 8am-11pm. Le Méridien Mina Seyahi Beach Resort & Marina, Al Sufouh (04 399 3333).

La Baie
This classy venue at The Ritz-Carlton, Dubai offers a swim-up bar, and you can stay in it well after sunset. It's a cool, casual yet altogether chic location to spend an afternoon.
Dhs100 (before 4pm), free (4pm-onwards). 11am-11pm. The Ritz-Carlton Dubai, JBR (04 318 6150).
Be the first to get all the latest Dubai news, reviews and deals into your inbox by signing up to our free
newsletter
,
click here to sign up
.