It's here, the Abu Dhabi Grand Prix is now underway and it promises to be a huge weekend.
Heading to Yas Island? Here's what you need to know before you go.
If you're looking for the guide to Saturday, click here. And you can find Saturday's guide here.
Getting there
If you're getting behind the wheel to drive to the big race this weekend this year the parking situation is a little different.
Yas Mall is the official car park for the Abu Dhabi Grand Prix this year, so that's where you'll need to leave your car.
All parking is free of charge but that's the closest you'll get to the circuit in your vehicle over F1 Weekend.
The good news is there are regular free shuttle buses taking you trackside, or you can even take the short 15-20 minute walk and enjoy the weather.
As always it pays to plan ahead and give yourself plenty of time to get to Yas Marina Circuit because, call us psychic, but we think it's going to be a popular destination this week.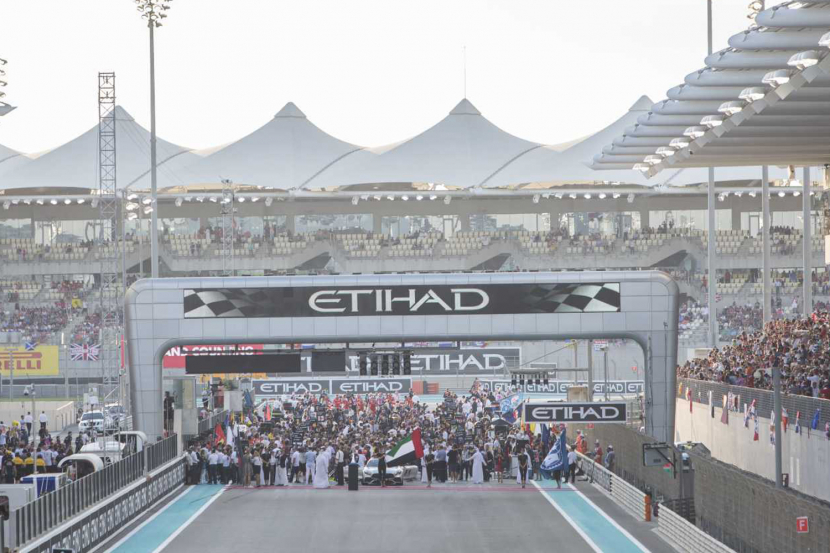 On track
Friday is the first chance you'll get to see the drivers on track for the Abu Dhabi Grand Prix.

There's not much at stake on Friday as practicing is held on Yas Marina Circuit but it's a great chance to check out your seats, feel the atmosphere build and see the best in the business get used to the track in the UAE capital.

As the weekend goes on, the stakes get higher and with qualifying on Saturday and the big race on Sunday, things are just getting started.
Brunches
What's F1 weekend without a brilliant brunch?
Candypants
Back for the third year, the Social Pit Lane brunch by party planners Candypants (they put on some of the biggest bashes in the UAE) will take over Casa De Cuba at Yas Marina with a four-hour all-inclusive brunch every day from Thursday to Sunday. Then, once the brunches are out of the way everyone is invited to join in the after party until 3am. If you've always dreamed of watching the Formula One from a yacht (would there actually be anything better in the world?), you can do just that from The Trackside Mega Yacht on along with a whole twelve house of premium food and beverages. Sounds like just a standard weekend really…
From Dhs499 (brunch) Nov 29-Dec 1. Yas Marina, Yas Island, www.candypants.events/race-week-2019/.
Hidden Brunch
Dubai's Hidden Brunch will be setting up at Iris Yas Island during Race Weekend and offering three days of pop-up brunches. A menu of international dishes will be on offer as well as free-flowing beverages, plus brunch-goers will also get to keep the party going with free access to the after party.
From Dhs499 (Fri & Sat), from Dhs599 (Sun). Nov 29-30 1pm-4pm, Dec 1 2pm-5pm. Yas Marina, www.hiddenbrunch.com/race-weekend.
Mr Miyagi's
It's always fun and games at this lively Yas Mrina hangout and over F1 weekend things will be no different. Brunch will be held across four days, serving up some Asian dishes, bites and delicacies, alongside free-flowing beverages. A host of fun games, activities and live entertainment will also be on hand to keep the party atmosphere going throughout the biggest weekend of the year.
Dhs249 (Thu), Dhs499 (Fri-Sun). Nov 28-Dec 1. Thu 8pm-11pm, Fri-Sun1pm-4pm. Mr Miyagi's, Yas Marina, Yas Island (02 565 1150).
Ramusake
Popular Japanese eatery Ramusake is hosting a five-day pop-up at W Abu Dhabi – Yas Island. Taking place from November 27 to December 1 and overlooking Yas Marina Circuit, you can get your fill of modern Japanese cuisine and beverages as well as live music from international DJs and performers. Various packages are available for the day and evening events throughout the weekend, with prices starting from Dhs800 for a set menu dinner on the Wednesday and Thursday and also for the brunch on Friday. Or, if you want to enjoy Japanese specialties while watching the big race, you can do so for Dhs1,500.
From Dhs800. Nov 27-Dec 1. W Abu Dhabi – Yas Island, Yas Island, www.ramusake.ae.
Secret Brunch
Also taking place at the W Abu Dhabi – Yas Island, the Secret Brunch from Dubai's Secret Parties will be happening from Friday November 29 to Sunday December 1. Packages include access to a four-hour brunch and drinks, with entertainment from guest DJs including Hardeep, Chris Wright, Nicky Cartel, Danny Whitlock and Jon Besant. You'll also get a great view of the track to watch the practice, qualifying and the big race. Prices start from Dhs1,500 for a silver package on Friday and Saturday and these also include concert tickets to Travis Scott and Lana Del Rey respectively, meanwhile Sunday packages start from Dhs3,700.
From Dhs1,500. Nov 29-Dec 1. W Abu Dhabi – Yas Island, Yas Island, www.secret-parties.com/secretbrunchf1abudhabi.
Concerts
Eight massive concerts are coming across four days during the Abu Dhabi Grand Prix.
Future and Gucci Mane
Friday November 29
US rappers Future and Gucci Mane will be taking to the stage on Friday November 29. Grammy Award winner Future is best known for his songs Mask Off, Low Life, Love Me and Turn on the Lights. American rapper and Grammy Award nominee Gucci Mane is known for his hits Wake Up In The Sky, I Get The Bag and I Heard. The duo will perform in the place of Travis Scott who pulled out of the concerts due to "unforeseen circumstances".

Parties
Heading out for a big party? Here are the places to be.
BASE
Dubai's super-club has announced a big line-up for F1 weekend from November 29 to December 1. On Saturday November 30, multi-platinum rapper Tyga, known for his hits Taste, Juicy, Girls Have Fun and Swish will take to the stage to perform, and then bringing the party to a close on Sunday December 1 will be songwriter, producer and actor Trey Songz. You can find BASE above Cipriani on Yas Island, and you really won't want to miss it.
Prices TBC. Nov 29-Dec 1, 11pm onwards. BASE, above Cipriani, Yas Marina, Yas Island, www.basedubai.com.
The OKOKO Pool Party
The new and shiny W Hotel Abu Dhabi - Yas Island is really making a splash during F1 weekend. The OKOKO Pool Party will take place at The Wet Deck on Friday November 29, Saturday November 30 and Sunday December 1 with sets from international DJs including Sandy Riviera, Faithless and Claptone. Tickets to the three-day party start from Dhs500 per person.
From Dhs500. Nov 29-Dec 1. W Hotel Abu Dhabi - Yas Island, www.wrevup.com/F1.
The Rich List
W Abu Dhabi – Yas Island really is pulling out all the stops over Race Weekend. Luxury party The Rich List will be happening in the stylish venue and although the performing DJs are yet to be announced, we can definitely expect the line-up to feature plenty of big names (last year David Morales, HXNNYXO and The Mambo Brothers were behind the decks). Entry starts from Dhs800 for a ladies pass, while VIP passes will set you back Dhs2,000.
From Dhs800. Nov 29-Dec 1 noon-midnight. W Hotel Abu Dhabi - Yas Island, www.richlistgroup.com.

Looking for even more F1 content? Visit and keep your eyes on the Time Out Abu Dhabi social media channels for all the latest.
Be the first to get all the latest Dubai news, reviews and deals into your inbox by signing up to our free
newsletter
,
click here to sign up
.