If you're looking for the best places to visit in Dubai, we have you covered. There are so many fantastic things to do and places in Dubai – from stunning beaches to super rooftop bars, massive world-class nightclubs to desert escapes. And to make sure you don't miss a single one of the best places to visit in Dubai, we've rounded up all the very best things to do and best places to visit in Dubai right here.

We bring you Dubai's best outdoor activities, water sports, cinema experiences, ladies' nights, brunches, happy hours, award-winning restaurants, family-friendly fun, spa days, all the top places to visit in Dubai and more.

It's time to get out there and start ticking all these awesome things to do in Dubai off your places to visit in Dubai bucket list. For 21 amazing things to do in Dubai, click here.
JUMP TO:
---
Sightseeing in Dubai
Cruise past The Dubai Fountain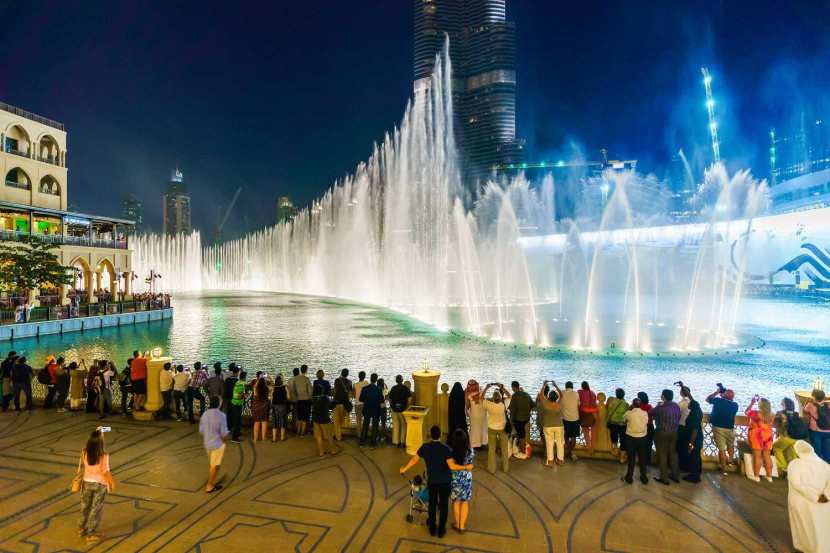 Ed Sheeran, Adele, Whitney Houston, ehrm, Baby Shark, – The Dubai Fountain has paid musical tribute to the greats. You can watch from restaurants at Souk Al Bahar or The Dubai Mall, but for the ultimate up-close experience with Burj Khalifa, take a cruise on the lake.
Open daily 6pm-11pm. Dubai Fountain, Dubai Mall, Sheikh Mohammed Bin Rashid Boulevard, www.thedubaimall.com (800 28843867).

Discover history at Dubai Museum
Have a spare Dhs3 in your pocket? Inside the walls of Dubai's Al Fahidi Fort in Old Dubai is a brilliant tribute to Dubai's past. The historic building is home to a wide variety of life-size dioramas that depict Emirati life from a bygone era. Soak in the heritage as you take a tour through traditional scenes of Arab households, souks and mosques offering unique insights into life in the desert by the sea. For more things to do in Old Dubai click here.
Dhs3 (adults). Dhs1 (kids under six). Open Sat-Thu 8.30am-8.30pm, Fri 2.30pm-8.30pm, Fri 2.30pm-8.30pm. Al Fahidi Historical District, Bur Dubai (04 353 1862).

Distort reality at Museum of Illusions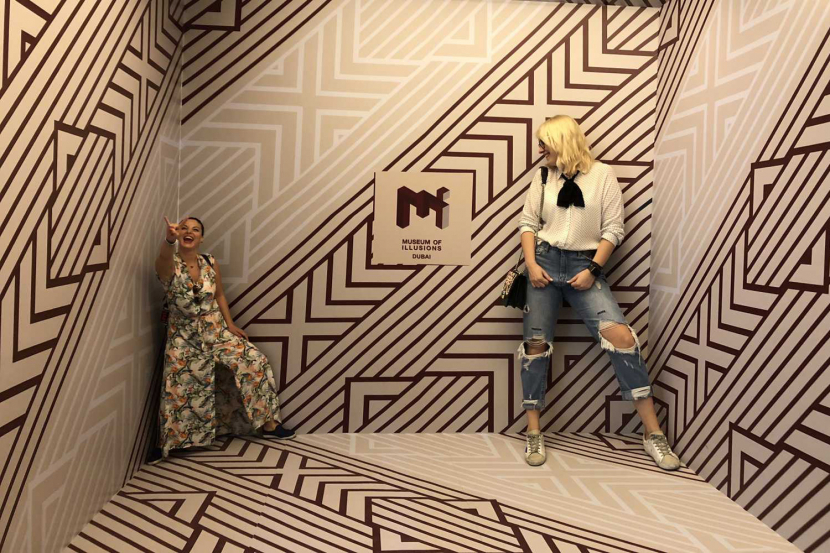 Boggle your mind by the perception-distorting puzzles, optical trickery and bizarre sensory experiences at this Al Seef Museum. From anti-gravity rooms to an infinity tunnel or clone table the Museum of Illusions is best enjoyed with a group of mates. For a quick guide to Al Seef, click here.
Open Sun-Wed, 10am-10pm; Thu-Sat, 10am-10pm. Museum of Illusions: Al Seef, Bur Dubai, www.museumofillusions.ae (04 3573999).

Dress up and visit Burj Al Arab
Looking for super-fancy things to do in Dubai? The Burj Al Arab Jumeirah is one of the most iconic buildings in the Middle East, if not the world and is one of the best places to visit in Dubai, just be sure to have a reservation. The sail-shaped structure is one of a kind and the hotel is synonymous with luxury. Head to Skyview Bar for inventive mixed drinks with a view, or visit Scape Restaurant and Lounge for a gorgeous outdoor terrace. Meanwhile Gold on 27 is a bucket list place for a swanky mixed beverage.
Burj Al Arab, Umm Suqeim (04 301 7777).

Experience the rainforest at The Green Planet
Missing wildlife? Fancy a trip to the jungle? Look no further than Dubai's The Green Planet. It's one of the best places to visit in Dubai for getting closer to nature. You can see squirrel monkeys or get up close with an adorable sugar glider at this interactive and educational exhibit and you can make a friend for life at this Dubai rainforest. Plus, you can hold your spirit animal: the sleepy sloth at The Green Planet Dubai. You might not want to get so close to the 1,000 piranhas though.
Open daily, 10am-7pm. The Green Planet, City Walk, Al Safa Street, www.thegreenplanetdubai.com (800 637227).

Explore Palm Jumeirah
An epic example of engineering ingenuity, this artificial archipelago is truly a modern wonder to behold. Whether you drive, cycle or take the monorail on to it, Dubai's Palm Jumeirah offers a seemingly endless list of ways to revel in a perfectly executed pipedream. With luxurious resorts aplenty, plus the consummately chilled Club Vista Mare and bounteous boardwalk, it's hard to believe no-one thought of doing this before. In short, we're very frond of The Palm (ahem).
Palm Jumeirah.

Go up Dubai's Burj Khalifa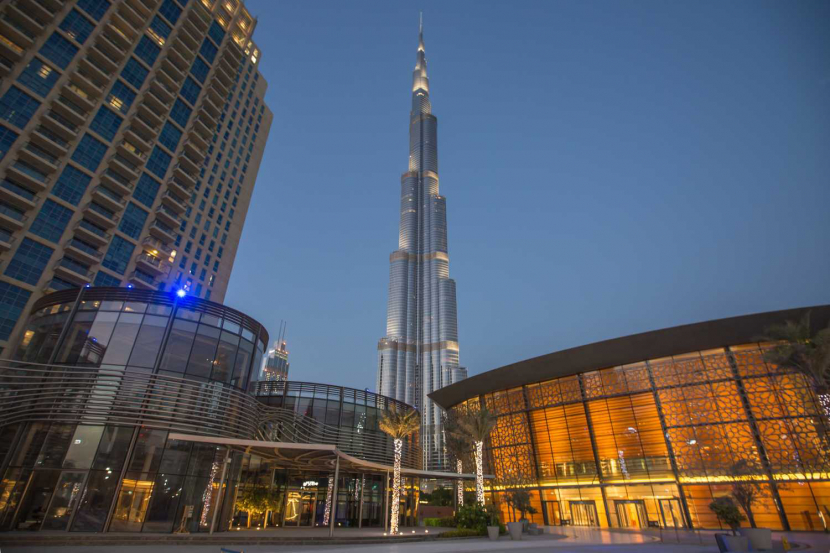 It's the tallest building in the world with a staggering 160 floors and looms at 828 metres high. Dubai's Burj Khalifa opened in January 2010 after six years of construction and is probably Dubai's most iconic landmark and holds plenty of world records. While there you can go up to the 148th floor and marvel at views of the city or stop off on the 148th floor at the world's highest restaurant, At.mosphere. It also has the world's highest lounge on the 152nd floor. One of the best places to visit in Dubai if you have visitors in town.
Burj Khalifa, Downtown Dubai, www.burjkhalifa.ae.

Have a day out at La Mer
If you have a penchant for top grub by the beach, surfside shopping or lazing the day away on the sands then you can't really go wrong at La Mer. The sprawling new development features more than 130 restaurants, cafés and shops, plus a cinema and a waterpark, which has a licensed bar, Bungalow. It's on of the best places to visit in Dubai if you're looking to stroll around and have a beach day. For Time Out Dubai's essential guide to La Mer, click here.
Free. Open Sun-Wed, 10am-10pm (retail), 10am-midnight (restaurants); Thu-Fri, 10am-midnight (retail), 10am-midnight (restaurants). La Mer, Jumeriah 1 (800 637 227).

Hop on a Dubai sightseeing bus tour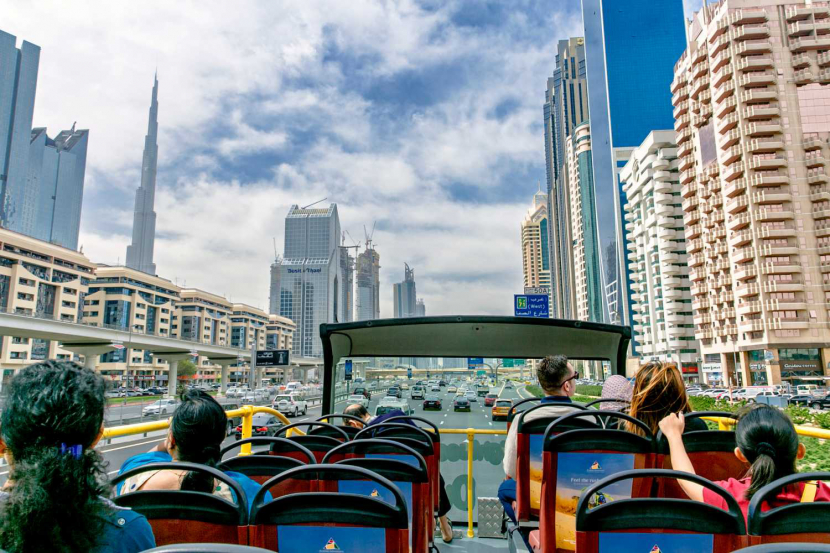 Whether you're a resident or a visitor to Dubai, hop aboard a sightseeing bus to make your way around the city and see all the things to do in Dubai. Bus Dubai and City Sightseeing Dubai tours host step-on/step-off service taking in all the key attractions and ticking sightseeing boxes, audio guides point out interesting facts and trivia. After just one day's travel passengers are Dubai experts and full of ideas.
Daily, call for timings. Various locations, www.bigbustours.com (04 3407709). www.citysightseeing-dubai.com (04 316 7506).

Laze on the sand at Kite Beach
Looking to lie on the beach? How about keep active? This cool spot has jogging and walking tracks, showers, toilets and kiosks, not to mention the beach, volleyball and watersports – including an inflatable assault course on the sea. There are also cafés (including the famous Salt burger) and a scattering of food trucks that make for a full – and fun-filled day out. For Dubai's best beaches, click here.
Umm Suqeim, www.kitebeach.ae (04 317 3999).

Live a luxury day at Burj Al Arab Jumeirah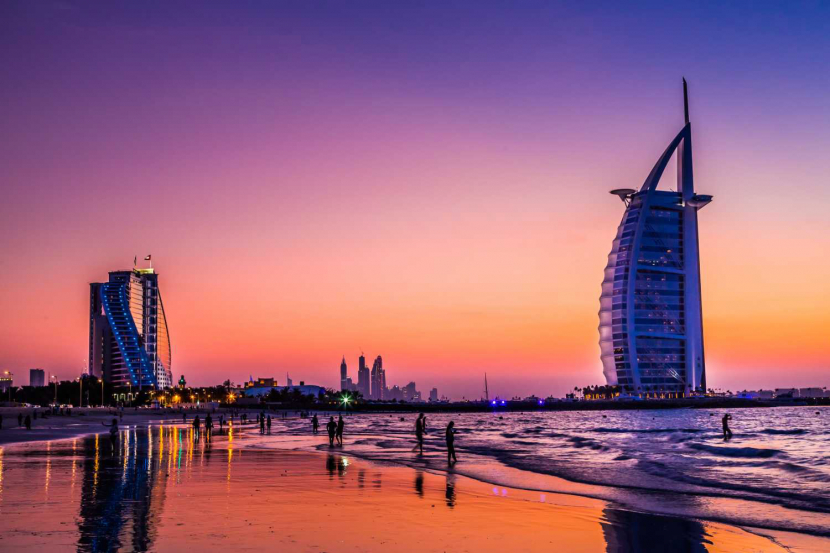 If you've always fancied spending the day lazing by the pool at the world-famous Burj Al Arab Jumeirah – now could be your chance. Normally reserved for hotel guests, the luxury Dubai hotel has opened its terrace for day visitors, though it'll set you back a cool Dhs980 per couple. And the new pool day offer allows access to the iconic Burj Al Arab's terrace, two pools and private beach area. Plus, you'll get a three-course lunch at Scape to complete your day, too. Want to live the life of luxury? Save up and splash out.
Dhs980 (two people). Burj Al Arab Jumeirah, Umm Suqeim, www.jumeirah.com.

Marvel at The Dubai Fountain
The Dubai Fountain is more than 900ft in length and shoots water into the air to a range of different songs, from classical music to contemporary Arabia tracks and classic pop songs. It's a spectacular show and one of the best places to visit in Dubai that's always popular with city dwellers and visitors alike. Head to Address Downtown Dubai's ZETA or NEOS from some stunning views.
The Dubai Mall: Open daily 10am-midnight. Downtown Dubai (800 382246255). Dubai Fountain shows: Free. Sat-Thu 1pm & 1.30pm, Fri 1.30pm and 2pm, daily 6pm-11pm (every 30 mins).

Meander among the flowers at Dubai Miracle Garden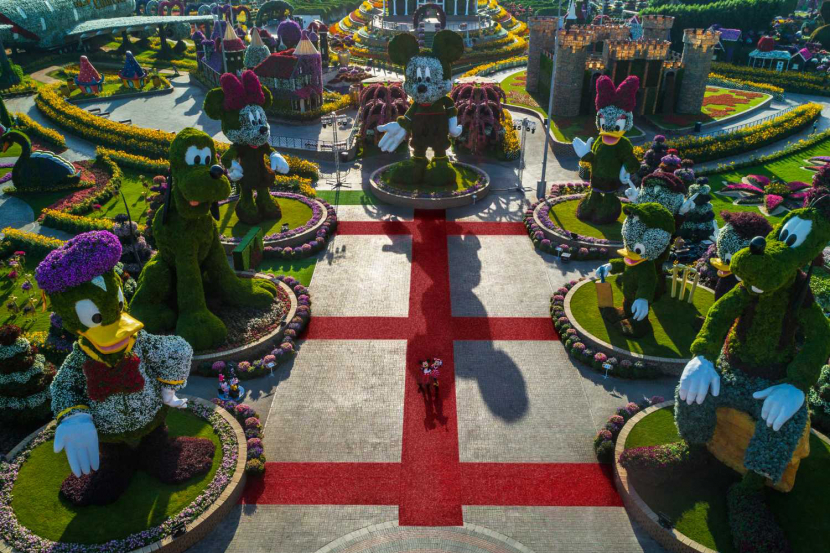 We're short on meadows, jungles, forests and much in the way of luscious greenery in Dubai. But every year, from mid-November, Dubai's 72,000sq m Miracle Garden opens for a season of blooming beauty. It opened on Valentine's Day, 2013, and the 150 million flowers have witnessed many a romantic stroll filled with longing gazes. It's also popular with families thanks to the life-size Disney characters. One of the best places to visit in Dubai during the winter.
Open daily, 10am-10pm. Dubai Miracle Garden, Al Barsha South, Dubailand, www.dubaimiraclegarden.com (04 422 8902).

See Dubai from the Dubai Frame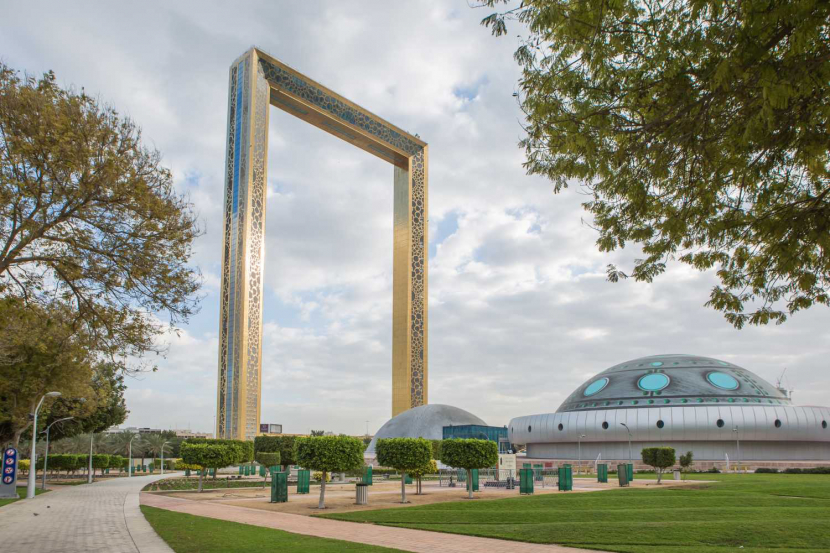 This cool vantage point allows visitors to see the city's past, present and future in a one-hour tour with unique views of 'old' and 'new' Dubai from a 150-metre-high sky glass bridge. Also known as Berwaz Dubai, the Frame comprises two towers measuring 150 metres in height and connected by the 93-metre long bridge at the top.
From Dhs20 (kids), Dhs50 (adults) free (kids under three and people of determination). Open daily 9am-9pm. Zabeel Park, www.thedubaiframe.com (800900).

See Old Dubai
The combination of a Dubai Museum visit and a ride on an abra through Old Dubai and Dubai Creek has been capturing the imagination of visitors and providing a budget-friendly and easy option for emirate residents for decades. For all the skyscrapers and modern attractions it is still the first thing on any to-do list and one of the best places to visit in Dubai for history fans. Not bad for about Dhs5.
Open Sat-Thu, 8.30am-8.30pm; Fri, 2.30-8.30pm. Dubai Museum, Al Fahidi District, Bur Dubai, www.dubaiculture.gov.ae (04 3531862).

See a movie at an outdoor cinema
'What do we call our outdoor cinema?' 'How about "Outdoor"?' 'That's not very imaginative.' 'Well, how about we capitalise each letter?' 'Perfect.' We jest, of course, because Dubai's VOX's al fresco cinema offerings are a big favourite of ours. Especially when you can watch the latest blockbusters on a bean bag while enjoying waiter service, which at the Aloft version includes a fully licensed bar. Just make sure you're not distracted from the stars on the screen by those twinkling in the sky. For more of the best cinema experiences in Dubai click here.
From Dhs75 (packages available). VOX Cinemas at Aloft City Centre Deira and Galleria Mall, Dubai
(600 599 905).

Speed around the track at Dubai Autodrome
Always fancied yourself as the next Lewis Hamilton? For one of the speediest things to do in Dubai book into Dubai Autodrome's ultimate driving experience. You will be behind the wheel of a Formula One car and zooming round the city's motorsports track in the same car used by professional race car drivers. Training and analysis are available before and after the thrilling high speed adventure.
Open daily, 8am-10pm. Dubai Autodrome, Sheikh Mohammed Bin Zayed Road, Motor City, www.dubaiautodrome.com (04 3678700).

Stay in a ski chalet overlooking Ski Dubai Dubai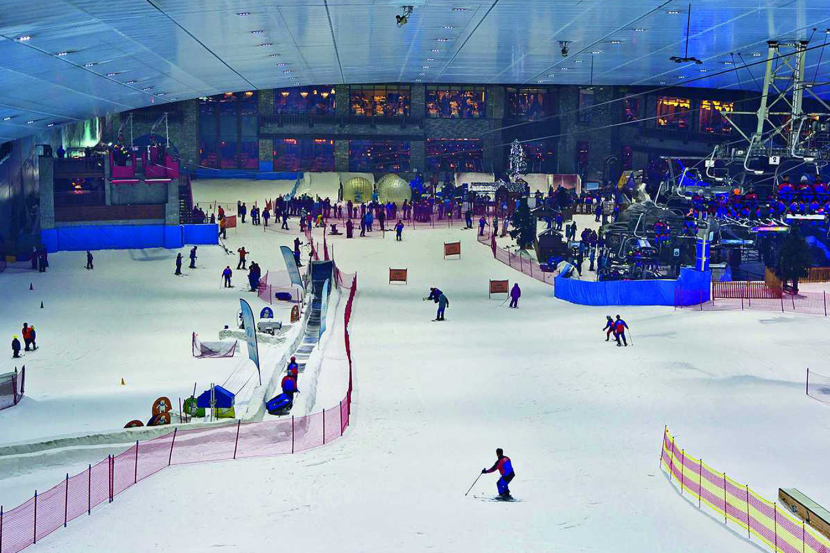 If James Bond holidayed in Dubai, we think it would be somewhere like the Kempinski in the Mall of the Emirates. Chalets have direct snow views up at the powdery slopes of Ski Dubai Dubai as well as an après-ski vibe thanks to faux stone fireplaces and private butlers.
Kempinski Hotel, Mall of the Emirates, Sheikh Zayed Road, www.kempinski.com (04 341 0000).

Stroll along The Beach
The Walk and neighbouring al fresco district The Beach at Dubai's JBR were designed to make the most of strolls. To people watch or look at the street performance and entertainments there is no finer place in the city. There are loads of things to do, and loads of things to eat. Check out the Turkish ice cream street vendors or one of the many cafes. The Beach is one of the best places to visit in Dubai if you have family in town.
Open Sun-Wed, 7am-10pm; Thu-Sat 7am-midnight. The Beach, JBR, www.thebeach.ae (04 3173999).

Take a 4x4 desert safari
People who have lived in Dubai for 20 years still get excited every time they see a camel, so a thrilling 4x4 drive across dunes to see a Bedouin camp and a falconry display before having a henna tattoo, shisha and traditional Emirati food is definitely going to top travel itineraries of first-time visitors. One of the must-try things to do in Dubai for visitors and residents alike.
Daily, 8am-9pm (for office). Platinum Heritage, Control Heritage, Motor City, www.platinum-heritage.com (04 4409827).

Take a trip across Dubai Creek
Water taxis have been used to transport people across the Dubai Creek since before the country was even formed and, we're pleased to say, the experience hasn't changed much in that time. Hop on, hand over a Dirham and enjoy the view of bustling traders loading up dhows, the sound of birds splashing into the water for food and the smell of a noisy engine chugging you over to the opposite bank. Abras the water every minute or so and will cost you just Dhs1. It's a short trip to the other side, but it'll take you back to everything Dubai is really about. One of the best places to visit in Dubai if you want to learn more about the emirate's history. For everything you need to know about things to do in Old Dubai, click here.
Dhs1. Dubai Creek.
Travel the world at Dubai's Global Village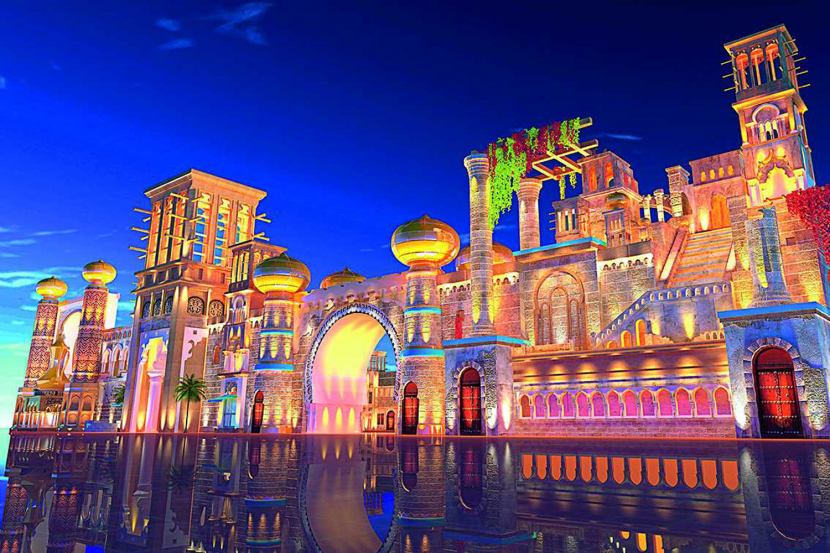 All the world's a stage and this Dubai stage is all the world. Or at least around 70 to 80 countries represented in Dubai's multicultural festival park with pavilions highlighting national pride from across the globe. Between October and May the Dubai's outdoor attraction Global Village hosts fairground fun, international food, theatrical performance and shops with international oddities and souvenirs.
Open Sat-Wed, 4-11.30pm; Thu-Fri, 4pm-12.30am. Global Village, Exit 37, Sheikh Mohammed Bin Zayed road, www.globalvillage.ae (04 3624114).

Try karting at Dubai Autodrome
If you're not ready for a speedy car experience, check this one out. We're not saying we're petrolheads, but certain Time Outers have been known to hum engine noises and stage imaginary races as they push a trolley around the supermarket. Arrive and drive karting at the Dubai Autodrome is a fun way to get a speed fix.
Open daily 8am-10pm. Dubai Autodrome, Sheikh Mohammed Bin Zayed Road, Motor City, www.dubaiautodrome.com (04 367 8700).

Visit the turtle rehabilitation centre at Jumeirah Al Naseem
The global sea turtle population is in turmoil, with five of the seven species on the WWF's endangered list. The hawksbill, the Middle East's native turtle, is critically at risk of extinction. So, head to Jumeirah Al Naseem and see the brilliant rehab centre where more than 1,600 turtles have been rescued and released into the wild since the project began in 2004. Learn about the dangers this magnificent creatures face from over-fishing, pollution and global warming.
Madinat Jumeirah, Jumeira Road, Umm Suqeim 3 (04 366 8888).

Walk along Al Seef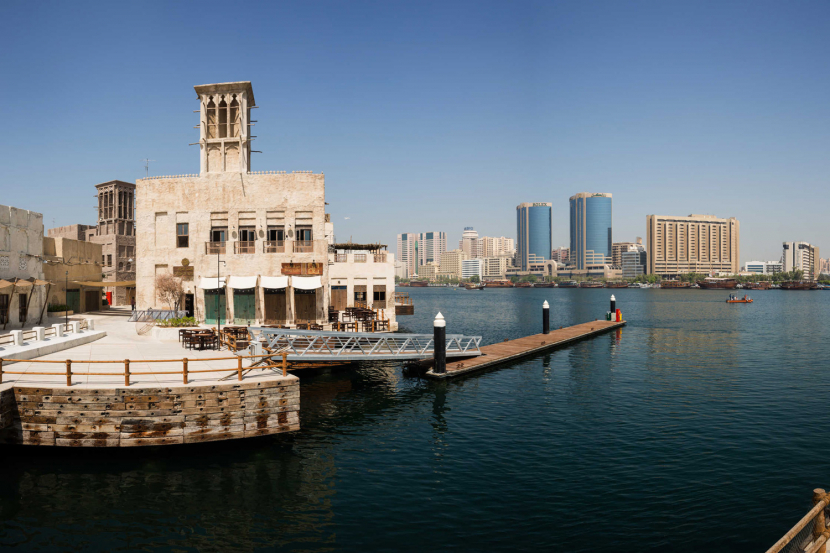 This relative newcomer to Dubai's Creekside dining and shopping scene, Al Seef sits on the Bur Dubai side of Dubai Creek. Al Seef is an area of Dubai steeped in history, with a huge amount of Emirati culture. This latest attraction leans heavily on the contemporary elements of life in Dubai but also has a nostalgic twist. From here you can dine at one of the restaurants, such as Skafos, or jump on Bateaux Dubai for a top dinner on the water. There are plenty of things to do by the waterfront from sightseeing to shopping.
Free. Open daily 10am-midnight. Al Seef, Dubai Creek, www.alseef.ae.

Watch camels race at Al Marmoom
A camel race might, at first, seem an ungainly animal, but they're actually far more graceful than that. The desert-dwelling beasts can reach speeds of up to 65kmh and races are every bit as entertaining as you're picturing right now. Dubai's famous camel racetrack, Al Marmoom is open every winter if you want to watch camel racing in Dubai.
Opening dates and times vary. Al Marmoom Camel Racetrack, Al Ain Road (055 676 0006).
For all Dubai's top attractions and things to do, click here.
---
Adventure in Dubai
Admire the wildlife at Ras Al Khor Sanctuary
Love wildlife? You can see a different side to Dubai at Ras Al Khor's 6.2sqkm sanctuary. Best known for being home to flamingos in the winter you can also spy herons, cormorants, sandpipers, osprey and much more from the three hides. In total there are said to be 180 species as well as foxes, hedgehogs, hares, lizards and snakes. One of the top things to do in Dubai and best places to visit in Dubai for nature-lovers.
Open daily, 7.30am-5.30pm. Ras Al Khor Wildlife Sanctuary, Ras Al Khor, www.rasalkhorwildlife.ae (800900).

Brave the X Dubai Slingshot on the beach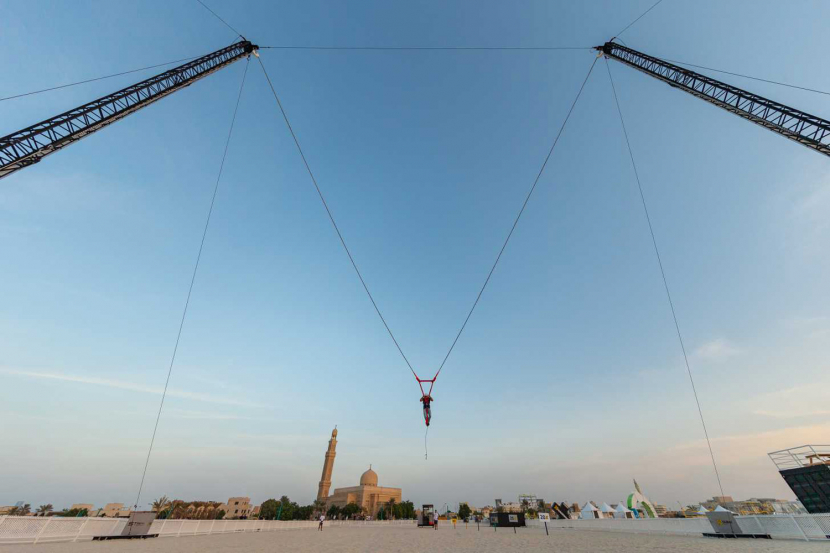 If you can't see the pleasure in strapping on a crash helmet, stepping into a safety harness and letting a bungee cord slingshot you in to the air at a speed close to 100kmh on a crowded beach then we can't help you. Join the queue for Dubai's newest extreme experience.
Open Thu-Sat 9am-noon, 1pm-7pm. Kite Beach, Umm Suqeim, www.xdubai.com/slingshot (050 513 9782).
Catch the waves surfing at The Surf House
Fancy trying your hand at surfing - Still the supreme spot for this super-cool sport, even should you suffer surfer knots you'll always wax lyrical about this place. Get some lessons first, though, yeah?
From Dhs225 per lesson from Surf House Dubai (050 504 3020).

Charter a yacht and visit Dubai's the Palm
If you're yet to experience a Dubai yacht party, then now could be the time. So gather your mates and charter a yacht and set sail. If you're keener on fishing than dancing, then there are loads of options for that too. Either way, don't forget your suncream and take lots of snaps as you look back towards Dubai's shoreline.
Escape reality with Phobia Dubai
Can your friendship survive being locked in a room and being asked to solve puzzles and find hidden clues? Throw in a wizard theme, terrifying dolls or a killer on the loose and it gets all the more challenging. Popular for corporate team-building Escape Rooms are also the most fun stress test you can add to a date night. One of the most challenging things to do in Dubai.
Open Sun-Wed, 11am-11.45pm; Thu-Sat, 11-1am. Phobia Dubai, JLT, www.phobia.ae (052 7974916).

Get high-tech VR Park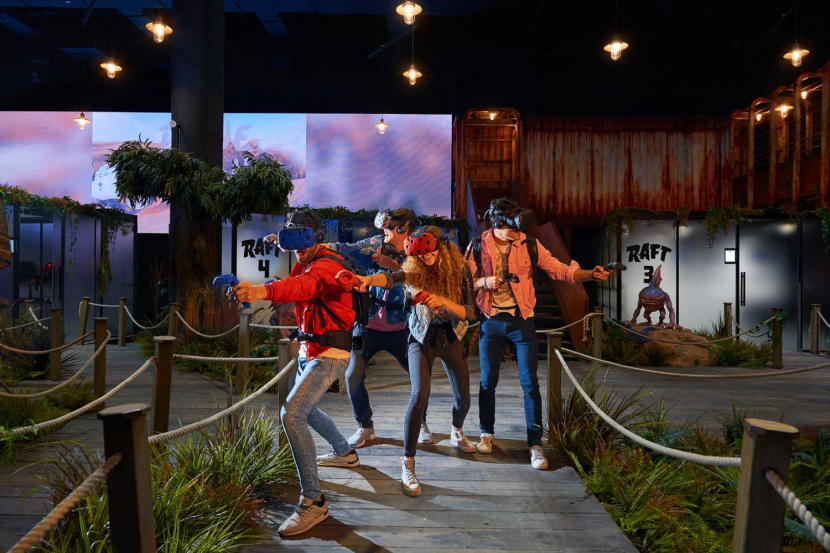 The virtual reality theme park at The Dubai Mall has loads of attractions, some of which have multiple games inside, taking you to distant planets, the distant future and the not-too distant world of a fully-virtualised Dubai. It's a place to go with friends, especially if you decide to take on The Walking Dead game that sees you having to shoot your way out of the show's famous hospital to safety.
Free entry, games from Dhs15. Open Sun-Wed 10am-11pm; Thu-Sat 10am-1am. The Dubai Mall, Downtown Dubai, www.vrpark.com.

Go all Mad Max with dune buggying in the desert
Being a passenger in a marauding 4x4 is a fun way to conquer the desert's dunes, but for those of us that like to be in the driver's seat there are many more thrilling options. Motorbikes, quad bikes and, our favourite, buggies can be hired for those that want to try it out for themselves. Harder than it looks to master, but easier than you may think to learn it's a far cry from a gentle camel ride over the dunes.
Open daily, 8am-7pm. MX Dubai, Al Ain Road, near Skydive Dubai, www.mxdubai.com (055 262 2707).

Go glamping in at The Starlight Camp UAE
For a romantic retreat with that personalised touch it's hard to beat this pop-up glamping experience. A crystal-topped tent and fantastic facilities await the most swooning of stargazers. The location is so secret they'll take you there handcuffed and blindfolded (just kidding).
From Dhs1,940 per tent, per night. Near Dubai (050 345 5358).

Go paintballing at the Action Park Dubai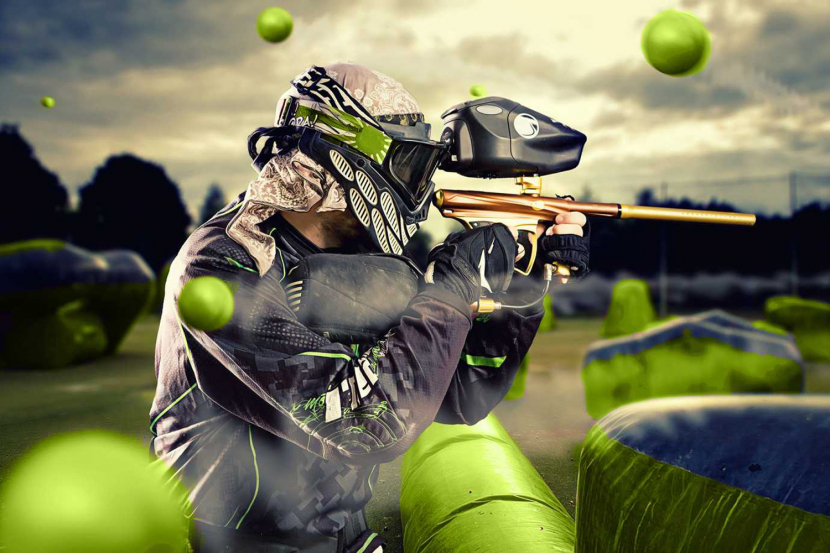 The Action Park indoor and outdoor adventure park is home to Dubai's second Smash Room and a cool paintballing. But there are still plenty more attractions set to open at the massive entertainment destination in January next year, including the region's very first upside down house and a go-karting track. This high-octane destination is located at The Last Exit, Abu Dhabi bound and converted, open-top London-style bus that serves up refreshing drinks and snacks.
FromDhs99 (per 100 paintballs). Sun-Wed, 10am-10pm; Thu-Sat, 11am-11pm. The Last Exit, Sheikh Zayed Road, Dubai, www.actionpark.ae (04 235 8893).

Have an adventure in Hatta
Beyond the desert and into the mountains lay memorable experiences for adventurous types. Whether it is in the shape of a 350m zip-line adrenaline ride, kayak in the serene waters of Hatta, side-by-side horse riding excursions or hiking and mountain bike treks this really is a hub for adventurous types. One of the most exhilarating things to do in Dubai. Book yourself one of the 13 shiny metal American-style airstream trailers at HattaSedr Trailers Resort and revel in the marvellous mountain scenery (especially from the viewing deck). As it's run by Meraas, there just had to be an on-site food truck, or fire up the barbie for some DIY dinner.
Open Sun, 7am-9pm, Fri-Sat, 7am-midnight. Hatta Wadi Hub, Hatta, www.visithatta.com (800 637227).

Have a go at kitesurfing at Kite Beach
What's better than flying a kite? Well, surfing with one of course. You might feel like a danger to swimmers at first but the team at KSD at Dubai's Kite Beach will soon have you up to speed, and building up some serious velocity while avoiding buoyant boys and girls on their inflatable rubber duckies. For Dubai's best beaches click here.
Kitesurf School Dubai, Kite Beach (050 254 7440).

Hot air ballooning over the desert
Fancy taking to the skies? For a bucket list adventure, book this. Balloon Adventures Dubai runs morning excursions where you'll float serenely over the desert – 4,000m above the ground. Depending on your head for heights, this may or may not be terrifying, but it's sure to be one of the most exhilarating things to do in Dubai.
Dhs1,195 (adults), Dhs1,045 (kids aged five-11). Pick up from 4am across Dubai. www.ballooning.ae.

Jump out of a plane at Skydive Dubai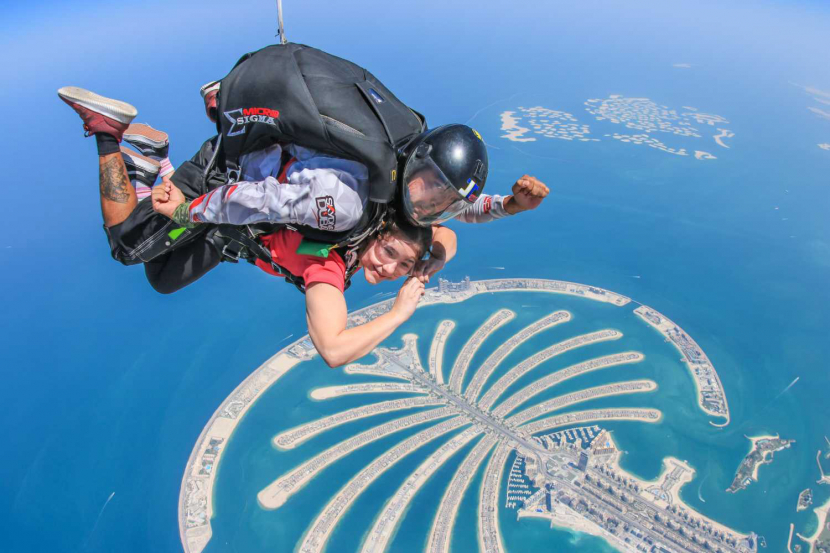 Ever fancied jumping out of a plane at speeds of 120mph over a man-made island? Well you can in Dubai. SkyDive Dubai offers all the thrills of freefall with views of the city like you've never imagined. Tandem skydives, with an experienced instructor, are held at the firm's campus that overlooks the desert dunes. Not for the faint-hearted.
Dhs1,699 (tandem skydive). Skydive Dubai, Dubai Marina, www.skydiveduabi.ae.

Learn to dive at Al Boom Dubai
Always wanted to learn to dive? You can do that right here in Dubai. PADI dive training teaches the importance of diving in pairs. For safety. While that is undeniably important it is also excellent to have a friend with you to point at the big colourful fish and look for pretty shells. For more extreme activities, click here.
Open Sun-Thu, 10am-8pm; Fri-Sat, 8am-6pm. Al Boom Dubai, Al Wasl Road, Jumeirah 1, www.alboomdiving.com, (04 3422993).

Paddle a kayak on the Palm
Is it arm day? Skip the gym and hop into a kayak for some fun on the water. And if you head to this swish beachside spot on Dubai's Palm Jumeirah we'd suggest grabbing lunch at The Beach House, too.
Open daily. Call for timings. Anantara Palm Dubai, Palm Jumeirah, www.anantara.com (04 5678888).

Paddle around the Burj Al Arab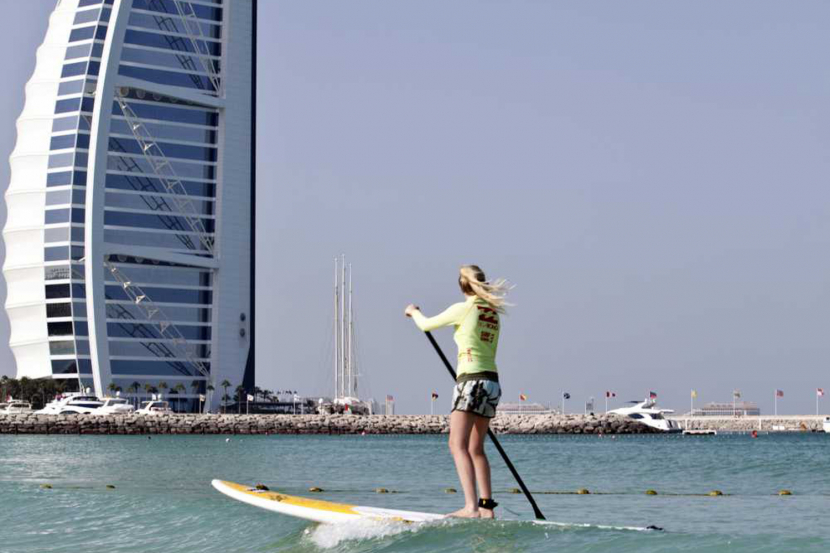 The moment you master balancing on a stand up paddleboard, like riding a bike or learning to drive, you level-up in life. Beyond looking cool and, literally, well-balanced as a person it means you can take longer excursions with your paddle buddies. Kite N Surf Dubai offers guided paddle board safaris at prime destinations such as the world-famous Burj Al Arab Jumeirah and picturesque Atlantis properties. In addition to offering up incredible views and unique angles they are a solid workout for the entire body.
Daily 7am-6.30pm. Kite N Surf, various beach locations, www.kitensurf.ae (055 800 6363).
Pitch camp at Al Qudra Lakes
Head off road and pitch up at this gorgeous retreat. Birdwatchers will be in their element as there are about 130 species to spot here. Or you could just cook up some tasty grills on the barbie and share your most compelling campfire tales.
Free. Open daily 24/7. Al Qudra Road, Dubai (no number).

Practise your putting at 3D Blacklight minigolf
Okay, this might not be extreme but the competition can get fierce. Who wouldn't want to step out among the stars for a psychedelic journey through dimensions, time and space? Strap on the 3D glasses at 3D Black Light Mini Golf in Dubai's JBR and salute the spacemen in this glow in the dark sporty challenge unlike any other.
Open daily, noon-1am. 3D Blacklight minigolf, JBR, www.3D-blacklight-minigolf.ae (04 557621).

Put your hands in the air at Dubai Parks and Resorts
Dubai Parks and Resorts is a massive 25 million square feet and is the UAE's largest multi-themed leisure and entertainment destination. You can head to Motiongate Dubai, which features 27 rides and attractions themed on movies, or Bollywood Parks for an Indian themed adventure. There's also Riverland waterside district and Legoland – the world's seventh – with more than 60 rides, water slides and attractions.
Dubai Parks and Resorts, Jebel Ali (04 820 0000).

Ride the roller coasters at IMG Worlds of Adventure
Dubai's 1.5-million-square-foot IMG Worlds of Adventure is the biggest indoor theme park on the planet, and it's home to some pretty epic rides. Highlights of the Dubai theme park include the high-speed Velociraptor roller coaster in the Lost Valley Dinosaur Adventure Zone, which reaches 100kph in 2.5 seconds. Also in this zone – which is home to 69 animatronic dinosaurs – is the gravity-defying Predator, featuring a 35-metre "beyond vertical" drop.
Dhs257 (adults), Dhs236 (kids under 1.2m), free (kids under 1.05m). Open daily 10am-10pm. Sheikh Mohammed Bin Zayed Road, Dubai Land, www.imgworlds.com (04 403 8888).

Ride a horse at Musrif Park
Pony riding, miniature houses, an "International Village", an equestrian centre, and even windmills can be found at this charming little spot. It's the perfect spot for a morning or afternoon horse ride. Once you're done digesting, there's even a swimming pool for taking a dip. Or you can check out the Aventura Nature Adventure Park while you're there.
Open Sun-Wed 8am-10pm, Thu-Sat 8am-11pm. Al Khawaneej Road, Mushrif (no number).

Ride the waves at Laguna Waterpark
Dubai's Laguna waterpark is found at the happening beachside destination of La Mer. You'll also find a 180-degree wave machine. Master the waves either surfing or bodyboarding, on what is only the third wave machine of its kind in the world. There's also now a bar there – Bunaglow, with sea views. For our essential guide to La Mer, click here.
Dhs99. Open daily 10am-8pm. La Mer Central, Jumeirah 1, www.lagunawaterpark.com.

Shoot down slides at Aquaventure at Atlantis The Palm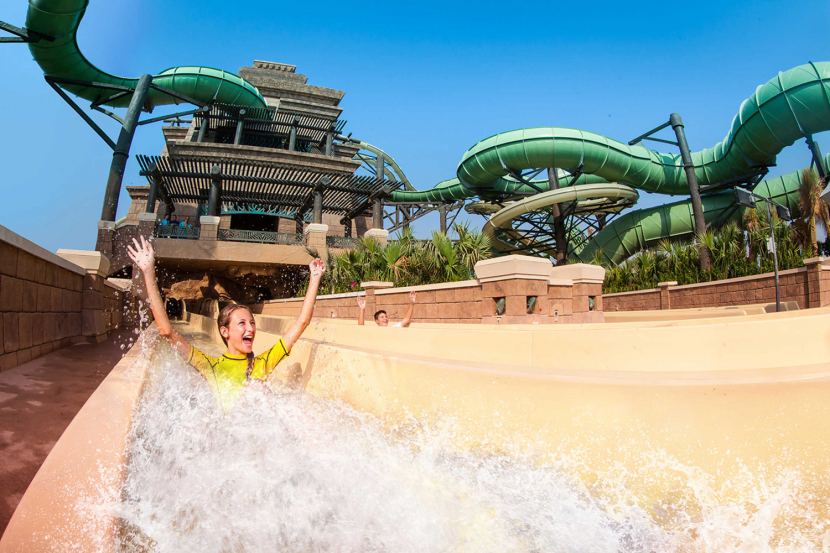 Atlantis The Palm has loads of super restaurants from Nobu to Gordon Ramsay's Bread Street Kitchen and a huge aquarium called The Lost Chambers (which you can even do yoga in). Pay a visit to the Aquaventure Waterpark on Palm Jumeirah, swim with dolphins or feed some stingrays. If you're feeling brave, you can even try the record-breaking Leap of Faith slide which hurtles you through a glass tunnel surrounded by sharks.
From Dhs195 (adults, residents), Dhs170 (kids less than 1.2m tall, residents). Under two, free. Open daily 10am-6pm. Atlantis The Palm (04 426 0000).

Skydive indoors at iFly
Once you have accepted that jumping out of a plane in Dubai is too terrifying, but that you really want the feeling of weightlessness, then iFly is your only option. Strap on a special suit and enter a 10m glass tunnel and jets of wind will shoot you in to the air to (try and) perform aerial stunts.
Open daily 10am-10pm. iFly Dubai, Mirdif City Centre, Mirdif, www.citycentremirdif.com (04 231 6292).
Speed along sandboarding in the Dubai desert
When we heard skating legend Tony Hawk was a big fan of sandboarding, we knew we just have to give it a go. Although our attempts at sandboarding in Dubai pulling off some Instagram-worthy tricks ended with us on our backsides, this unique sport is still lots of flipping fun.
From Dhs70 per person via Oscar Knight Tours, Dubai (056 404 7111).

Splash around at Wild Wadi
Dubai's Wild Wadi waterpark's main attraction, Jumeirah Sceirah tower has two 32 metre-high tandem slides which will see you plummet at a speed of 80km/h. In total there are 30 rides and attractions for the whole family to enjoy, whether you're a fan of the hair-raising, or prefer something a little more relaxed, like the 360-metre long lazy river.
Dhs270 (adults), Dhs220 (children under 1.1m). Open Sun-Thurs 10am-7pm, Fri 10M-10pm. Jumeirah Beach Road (04 348 4444).

Stand up paddleboard at Kite Beach
When learning to paddleboard you'll wibble, you'll wobble and you will fall over. Stick at it, though, and eventually you will spend less time splashing down and more time staying upright. You'll get stronger, leaner and better balanced. Only then, when you've become half decent, you should suggest to friends that you go paddleboarding. Dubai is the ideal place to learn. Looking to try new sports? Click here for more.
Open daily, 7am-6.30pm. Kite 'N' Surf, City Beach, 2C Street, www.kitensurf.ae (050 4645745).

Swim with sharks in Dubai Aquarium and Underwater Zoo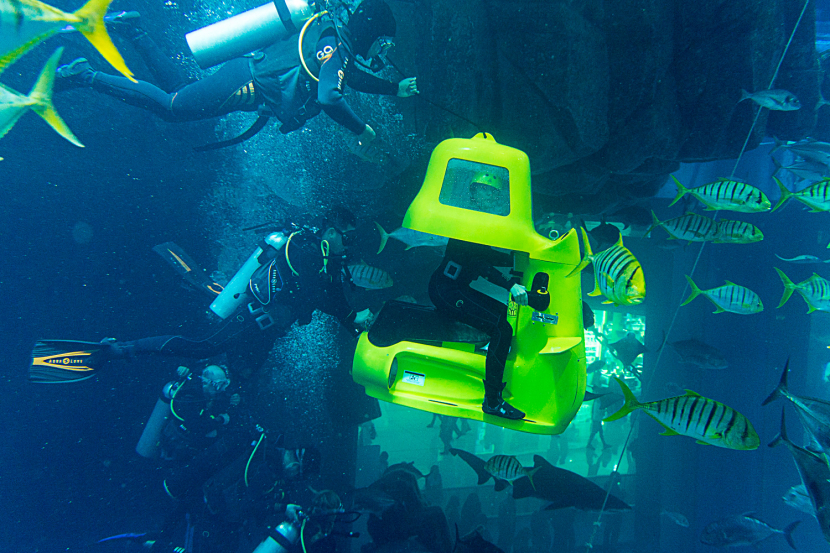 Whether it is more exciting to come face-to-face with the Dubai Aquarium's collection of tiger sharks or do funny dances and wave to the tourists gawping in at you from Dubai Mall is a question that can never be answered. Regardless, the in-tank experiences are a thrill for experienced divers and snorkelers alike at the Dubai Aquarium and Underwater Zoo.
Open daily 10am-midnight. Dubai Aquarium, Dubai Mall, Downtown Dubai, www.thedubaiaquarium.com (800 382246255).
Tackle the slopes at Ski Dubai
Just because you're in the desert doesn't mean that you won't see snow. Granted you won't see it outside – but you'll get plenty of it at Ski Dubai. And it's an excellent place to learn the ropes skiing. Stop off at Après at Mall of the Emirates for a fondue and glass of bubbly overlooking the slopes, too. One of the best places to visit in Dubai if you're after some fun.
Open Sun-Thu, 10am-midnight; Fri-Sat, 9am-midnight. Ski Dubai, Mall of the Emirates, Barsha, www.skidxb.com (800386).

Take a Seawings seaplane flight over the city
The best aerial views of Dubai combined with an Indiana Jones-style adventure as you land and take off from the Arabian Gulf, make this the ultimate sightseeing trip in the city. Prepare for the best game of "Oooooh, let's see if we can see…" you will ever play.
Seawings, Jebel Ali Beach Hotel, www.seawings.ae (04 807 0708).

Take on Fat Biking at Dubai Desert Conservation Reserve
Trying to take on the dunes on a mountain bike is like trying to nail soup to a wall. Thankfully, some genius invented a fat bike and opened up a brave new world for cycling fans. We love taking these bad boys out in the Dubai Desert Conservation Reserve, trying not to frighten the local wildlife.
From Dhs195 per person via Arabian Horizons, Dubai (04 294 6060).

Try Flyboarding at JBR
If you're a fan of the water, this hydro-water sport at Dubai's JBR will have you soaring in the air like a superhero of the sea. With jets attached to your feet, you will be propelled into flight by a surge of water shooting back down into the sea. Patience is the key factor, but with a bit of balance and determination, you'll be, erhm, flying.
From Dhs250. Open daily 10am-5pm. The Ritz-Carlton Dubai, JBR (054 598 5353).

Wakeboard across the sea at JBR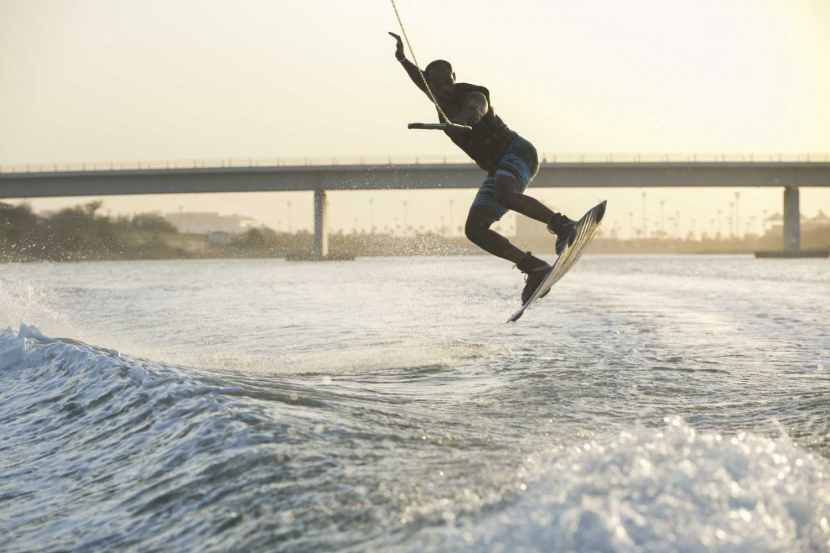 It's exciting being dragged along by a speedboat while trying to keep your board underneath your feet. Want something even more exciting? Doing it with the peerless Dubai skyline in the background: Dubai Marina, Palm Jumeirah, the Burj Al Arab. Beats that non-descript lake you once did it in as a teenager. How about getting that sea breeze in your face with cool sprinkles of water splashing, too?
Dhs420 (15 minutes). Open daily 9am-9pm. Sky and Sea Adventure, Hilton Dubai Jumeirah, JBR (050 724 6184).

Walk along the bottom of Atlantis The Palm's Ambassador Lagoon
In simple (by which we mean scientifically inaccurate) terms Aquatrek Xtreme is a system that sees you pull an upside down goldfish bowl on your head and go for a stroll on the bottom of the Lost Chambers aquarium in Dubai's Palm Jumeirah's famous hotel Atlantis The Palm While you're down there, with air pumped in to your perfectly dry head, you can get to know the 65,000 marine animals.
Open daily 10am-10pm. Lost Chambers, Atlantis Dubai, Palm Jumeirah, www.atlantis.com (04 426 2000).

Zip over the top of Dubai Marina on the XLine
Fancy seeing Dubai from above? XLine zip line offers thrill seekers the chance to zoom over Dubai Marina https://www.timeoutdubai.com/area-guides/dubai-marina at speeds of up to 80kilometres per hour at an incline of 16 degrees, headfirst in true Superman style. It's one of the best ways to see the city, while getting your adrenaline fix, too.
From Dhs650. Open daily 9am-5pm. Dubai Marina, www.xdubai.com/xline.
---
Culture in Dubai
Be amazed by La Perle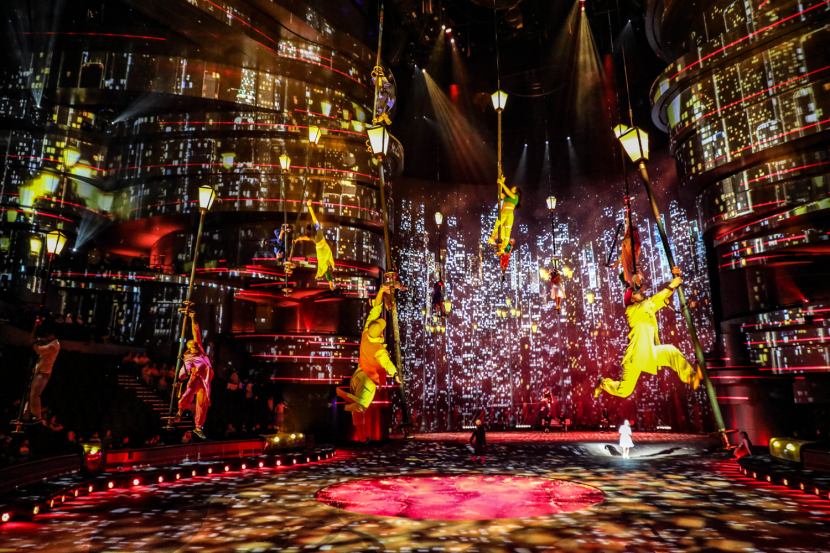 Dubai's La Perle is a stunning show that is a permanent exhibition in Al Habtoor City and comes from the mind of artistic director and Cirque du Solei alum, Franco Dragone. As a spectacle it is simply breath-taking with acrobatics, and aerial performance combining with a light and water show in a stunning theatre setting.
Call for timings. La Perle by Dragone, 260 Sheikh Zayed Road, Al Habtoor City, www.laperle.com (04 4370001).

Catch a film in style at VOX Cinemas
Dubai does cinema extremely well and for ultimate luxury during a film book into Dubai's VIP screenings at VOX Cinemas. You'll enjoy a movie https://www.timeoutdubai.com/films with reclining seats, blankets and at seat gourmet hot dog service. For all the latest film and movie news in Dubai, click here.
Open daily, call for timings. Vox Cinema, Mall of the Emirates, Barsha, www.voxcinemas.com (600 599905).

Check out the art galleries at Al Quoz
Dubai's artiest area is Al Quoz, and there are loads of exhibitions to check out. Head to Alserkal Avenue and wander around to really soak it all up. Dubai's artsy hub also has regular talks and workshops to join in. Plus, there are loads of cool coffee shops to check out. We'd recommend Boston Lane and Nightjar.
Open Sat-Thu, 10am-7pm. Alserkal Avenue, 17th Street, Al Quoz, www.alserkalavenue.ae (04 3333464).

Doodle all afternoon at Sketch Art Café
Whether doodling on the coffee cups and trying to make it onto the customer hall of fame or going all out for painting, illustration or model-making classes there is much to enjoy at this artsy cafe in Dubai's Jumeirah. Let your inner creative out at Sketch Art Café and spend an afternoon scribbling away while sipping on a cuppa. For everything arty in Dubai, click here. For more arty cafes in Dubai, click here.
Open daily, 9am-11pm. Sketch Art Café, Villa 21, 4B Street, Al Hudaiba, www.instagram.com/sketchartcafe (04 3988331).

Explore Souk Madinat Jumeirah
Describe this complex as a traditional souk crossed with a modern mall and you miss all the subtle intricacies that make it one of our favourite places in the world. Take visitors and you'll be giving them some of Dubai's best restaurants, al fresco bars, views, shopping and a waterside stroll all in one spot. Fancy a sundowner with a view? folly by Nick & Scott has a top bar. For more rooftop bars in Dubai click here.
Open daily, 8am-2am. Souk Madinat Jumeirah, Al Sufouh Road, www.jumeirah.com (04 366 8888).

See a show at Dubai Opera
Since opening in 2016 this has been a hub for theatre, musicals, operas, ballet and comedians. The stunning dhow-shaped building Dubai Opera has staged events such as ballet, musicals and theatrical productions as well as opera and is one of the world's most impressive performing arts venues.
Dubai Opera, Sheikh Mohammed bin Rashid Boulevard, Downtown Dubai www.dubaiopera.com (04 440 8888).

Visit Jumeirah Mosque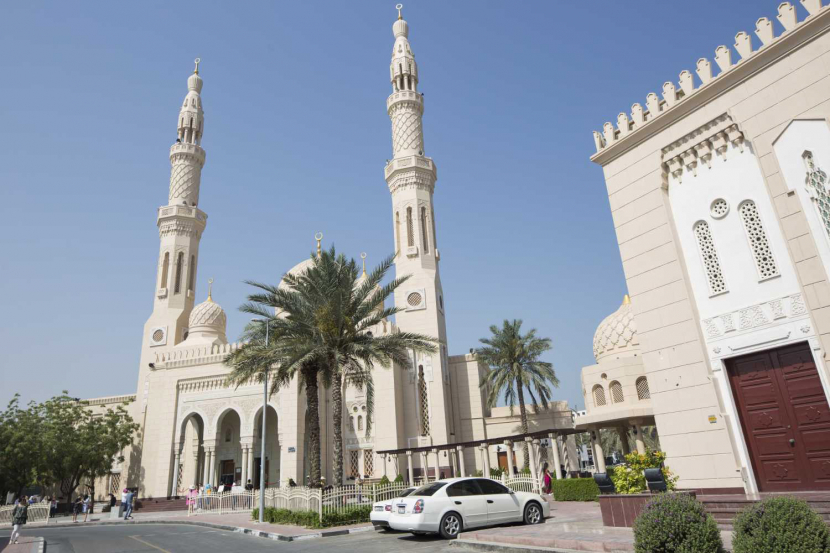 One of only a handful of mosques in the country open to non-Muslims, a visit here is an engaging cultural experience designed to inform and educate about Islam and Emirati culture. The mosque tours are operated by the "Open Doors, Open Minds" initiative and are as enlightening as they are tourist-friendly. Modest dress is required.
Open Sat-Thu, 10am and 2pm. Jumeirah Mosque, Jumeirah Beach Road, www.jumeirahmosque.ae (04 3536666).

Watch an indie movie at Cinema Akil
This cool cinema is in Dubai's trendy, arty Alserkal Avenue area of the city. Dubai's Cinema Akil shows a variety of films and you should absolutely order a cup of chai from Project Chaiwala to sip while you watch.
Warehouse 68, Alserkal Avenue, Al Quoz 1, www.cinemaakil.com (058 524 6362).

For everything you need to know about film in Dubai, click here. For Dubai culture, visit our page here.
---
Restaurants and dining in Dubai
Book dinner at the best restaurant in Dubai, Zuma
This world-famous name has heaps going for it. Zuma Dubai is not only Time Out Dubai's Restaurant of the Year 2020, it's also the Best Japanese Restaurant in the city. Having been one of the most successful restaurants in the city – not just in the Japanese sphere – for more than a decade now, it's safe to say Zuma is doing one or two things right. From business lunches to romantic dinners, Friday brunches or just a post-work drink at the bar, Zuma Dubai has it all and then some. For all the very best restaurants in Dubai, click here. One of the best places to visit in Dubai for foodies.
Open Sun-Thu noon-3.30pm, 7pm-midnight, Fri 12.30pm-4pm, 7pm-1am, Sat 12.30pm-4pm, 7pm-midnight. Gate Village 6, DIFC, www.zumarestaurant.com (04 425 5660).

Dine at at Il Borro Tuscan Bistro
Visit a former Time Out Dubai Restaurant of the Year and Best Italian Restaurant 2020 Il Borro for superb meal of classic Italian cuisine in chic surroundings. Expect superb service while you try signature dishes including the bistecca alla Fiorentina. For Dubai's Best Italian restaurants click here.
Open daily noon-3.30pm, 7pm-1am. Jumeirah Al Naseem, Umm Suqeim (04 275 2555).
Book the kitchen table at folly by Nick & Scott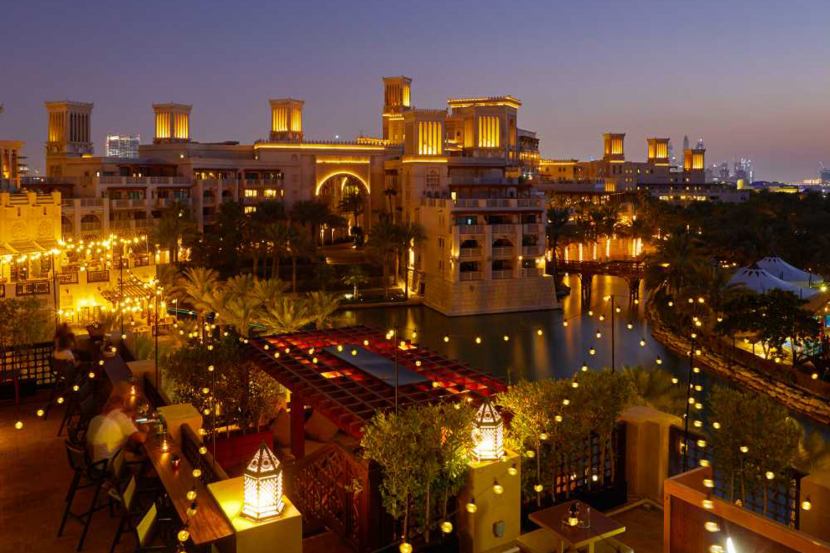 This charming restaurant from top chefs Nick Alvis and Scott Price also has a rooftop terrace that provides stunning views, especially at sunset. With a happy hour menu, a new ladies' night and friendly staff, it's an excellent place for an al fresco drink. The inside is cool enough, sure, but it's all about the many terraces at this swanky spot that has not one, not two, but three bars. The food is as, you'd expect, excellent, too. Plus, if you want an extra-special dining experience book into the kitchen table for a super-tasty European meal.
Open daily noon-3am. Souk Madinat Jumeirah, Umm Suqeim (04 430 8535).

Chat to your private chef at Höseki
The most authentic Japanese experience you'll find in Dubai, this will set you back a bit, but it's worth it if you're looking for something special. Seating just nine diners, each group has their own private chef who will cook a special menu depending on what produce is available that day. Don't go to Höseki expecting California rolls – this is far more traditional and exciting. For more Japanese restaurants, click here.
Bvlgari Hotel & Resorts, Jumeirah (04 777 5555).

Dine at Al Dawaar revolving restaurant
Even if you book ahead there is a worry you won't get a great table at a restaurant. Not at the 25th floor of the Hyatt Regency, however. Dubai's only revolving restaurant circles through 360 degrees of panoramic splendour meaning you get every seat (and view) in the house while chowing down.
Sat-Wed 12.30pm-3.30pm, 7-11.30pm; Thu 12.30pm-4pm, 7pm-midnight. Al Dawaar, Hyatt Regency Dubai, Naif, www.hyatt.com (04 209 6914).
Dinner dates with Burj Khalifa backdrop at Thiptara
With a front-row seat to The Dubai Fountain, you couldn't be any closer to the awesome dancing waters than at Thiptara. Unless you're in a boat, of course, but then you wouldn't have the pleasure of digging into a fragrant green curry or slurping up some tasty pad Thai. Thiptara wows every time. Even the most jaded of long-term Dubai dwellers can't fail to be mesmerised by the view.
Open daily 6pm-11.30pm. Palace Downtown Dubai, Sheikh Mohammed Bin Rashid Boulevard (04 888 3444).

Eat at one of Dubai's best budget restaurants – Vietnamese Foodies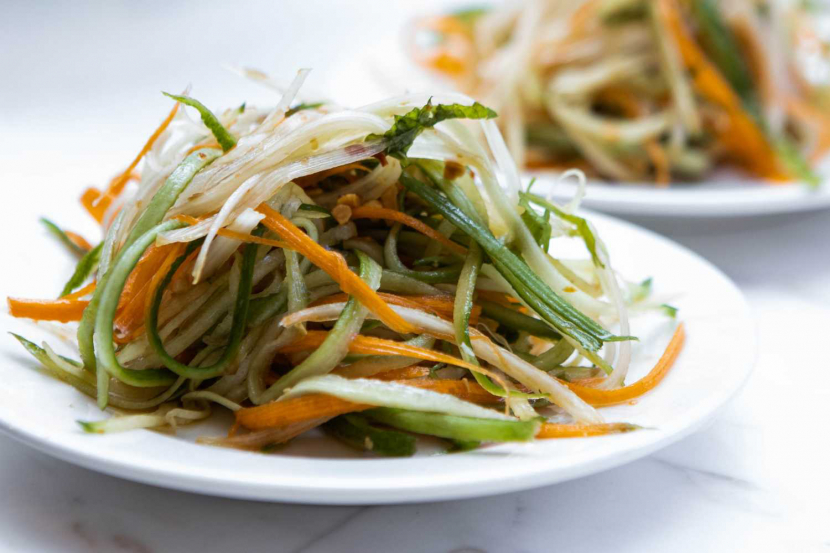 Dubai isn't all about lavish meals and ingredients sprinkled in gold. Two people can eat an authentic, healthy and, most importantly, delicious Vietnamese meal at Time Out's Best Budget dining spot Vietnamese Foodies. That means dishes such as a juicy prawn and peanut salad, spicy broth or stir-fried lemongrass and chicken stir fry at a pinch. Pho-nomenal! For Dubai's Best Budget Restaurants click here.
Open Fri-Wed 11am-10.30pm; Thu, 11am-11pm. Vietnamese Foodies, Cluster D, JLT, www.vietnamesefoodies.com (04 565 6088).

Demolish breakfast at Fibber Magee's
A Friday morning fry-up at Dubai's Fibber Magee's is the culinary equivalent of a loving embrace from your cardigan-wearing, cake-wielding grandma. And for those living far from their roots, it doesn't get any better than that. Sure, this Irish institution has been doing lively Thursday nights and folk music jams ever since opening in 1996, but it's the reviving properties of its brilliant breakfasts that have us coming back the very next morning – and if the eponymous Fibber Magee's Breakfast is good enough to be named after this legendary pub, it's good enough for us. For more excellent breakfasts in Dubai, click here.
Served daily 8am-2am, 20 percent discount on all breakfasts from 8am-11am. Saeed Tower One, Sheikh Zayed Road (04 332 2400).

Dig into fondue at an après-ski bar
There are few things more comforting than the pairing of hot cheese and snowy slopes. We may not have the chilly mountain air here in Dubai, however that doesn't stop us replicating the experience fantastically at Après in Mall of the Emirates overlooking Ski Dubai. Whether it's après ski or après shop, what better way to enjoy a spot of powder-provoked schadenfreude than with a pot of bubbling, molten Swiss cheese? (The Alps, possibly, but as an alternative this is très bon.) From the teeny baby potatoes ready to slather in fromage, to the crusty, fresh bread ripe for dunking in that gooey deliciousness, this is one dish that will have you feeling all warm and fuzzy – and not just because it's Dubai weather.
Open Sun-Thu, 10am-midnight; Fri-Sat, 9am-midnight. Ski Dubai, Mall of the Emirates, Barsha, www.skidxb.com (800386).

Dine on the Creek on Bateaux Dubai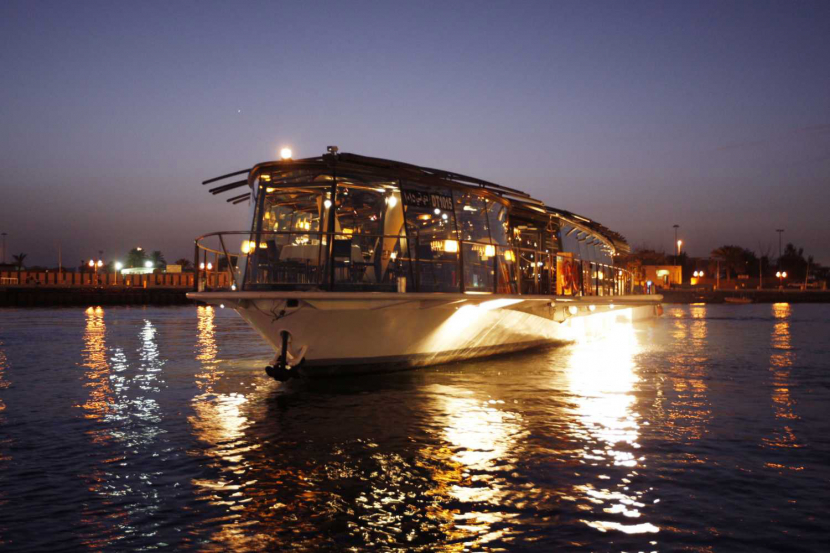 Dubai Creek at night is magical. The hum of bustling trade and dhows being loaded with cargo is replaced by the fairy lights of floating restaurants and the chatter of tourists and locals alike milling at the water's edge. Book into Bateaux Dubai and sail up and down the stretch in a glass-walled restaurant eating fantastic fine floating foods.
Open daily, 8pm-10.30pm. Bateux Dubai, Al Seef Street, Bur Dubai www.jaresortshotels.com (04 3366768).

Dine in the desert at Al Hadheera
If you've done a desert safari and looking for something swanky, but still amid the rolling dunes, Al Hadheera at chic Dubai desert resort Bab Al Shams is worth trying. With live camel and horse shows, falconry and even fireworks there's a touch (a lot) of theatre to go with your meal, plus there's a massive buffet to dig into.
Prices vary. Bab Al Shams Desert Resort & Spa, Al Qudra (04 809 6194).

Eat from a food truck at Last Exit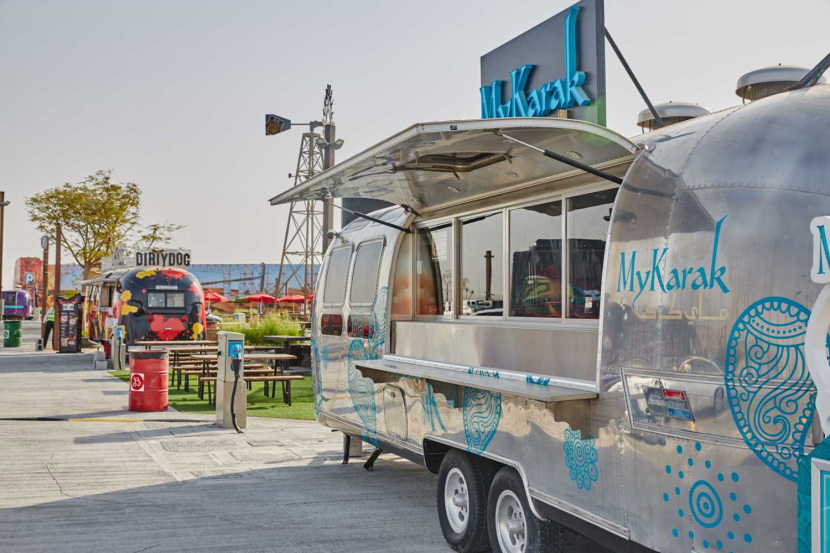 When you can't decide which fancy restaurant to go to, ditch the plans and take the family to a food truck park. It's all a bit Mad Maxy, but amid the post-apocalyptic designs there is a fun street food experience. Burgers are well represented, but this is also a place to be introduced to wonderful karak.
Open daily, 24hrs. Last Exit, Sheikh Zayed Road, www.lastexit.ae (04 3173999).

Enjoy Dubai's Best Buffet Brunch
What better way to experience brunch culture than at the best? Brasserie 2.0 is Time Out Dubai's Best Buffet Brunch 2020 and it really is a must-try. There's a huge selection of dishes, from mountains of seafood to food trucks serving tacos, curries and more. The dessert selection is fantastic too and there's also live entertainment. One of the best places to visit in Dubai.
Dhs450 (soft drinks), Dhs595 (house beverages), Dhs795 (bubbly). Fri 1.30pm-4.30pm. Le Royal Méridien Beach Resort & Spa, Dubai Marina (04 316 5550).

Float around on the BBQ donut at Dubai Creek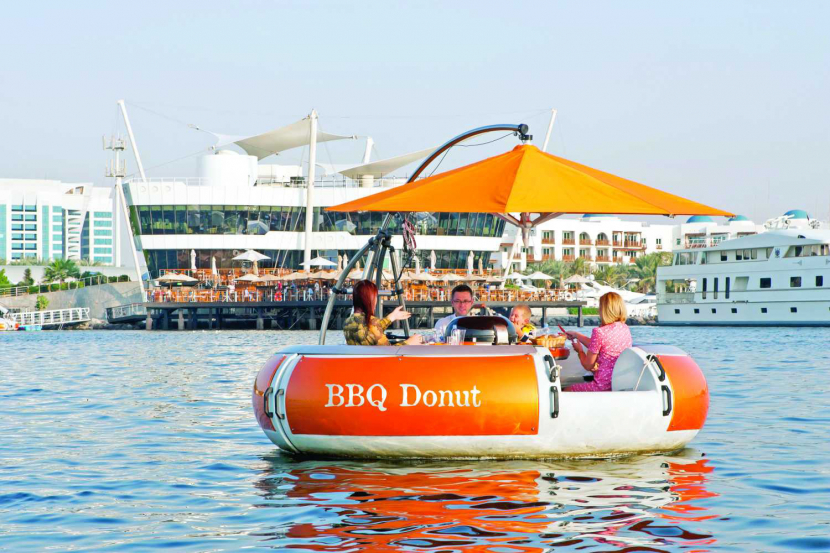 It might not be a real doughnut, but we're all aboard (literally) when it comes to the idea of a BBQ Donut. This crafty little vessel sets sail on Dubai Creek, and you can enjoy your barbecue surrounded by the water. Essentially a round boat, with a canapy, you can choose where you want to go and what you want to eat at this floating private restaurant. You'll have to steer, mind, so pay attention.
Prices vary. Open daily noon-9pm. Dubai Creek Golf & Yacht Club, Deira, www.dubaigolf.com.
Get a head for heights with dinner in the Sky at JBR
It can be a hard task for chefs in the 21st century to cater to every diners' dietary requirement/phase. Vegetarian, vegan, vertigo… Okay, the last one is a little niche, but when you're eating 50 metres up in the air looking over Dubai's JBR it's one thing to keep in mind. Luckily, there's nothing that elevates your dinner experience than the comfort of a beaming smile from your cook while you're strapped into a bucket seat as a crane lifts up the entire "restaurant".
From Dhs499. Open daily 2pm-11.20pm. Near Skydive Dubai, Al Seyahi Street, Dubai Marina (050 925 6341).

Grab a coffee and play games at a board game café
Board game café Unwind Café in Dubai's Al Barsha has more than 500 board games, plus coffee and cake. Read that back again and ask if you think it sounds like your sort of place. From classics like Scrabble, Ludo and various Monopoly editions to hundreds of unexplored alternatives. Games such as Bonk, Taboo and Dungeons and Dragons sound like wholesome fun for couples.
Open Sun-Wed, 10am-11pm; Thu-Sat, 10am-midnight, Unwind Cafe. Hessa Street, Barsha, www.unwinddubai.com (056 404 0019).

Have dinner underwater in Dubai
Well, not literally, but it's as close as you'll get. There are two high-end restaurants in Dubai offering the chance to dine with fishes. Al Mahara in the Burj Al Arab Jumeirah and Ossiano at Atlantis the Palm both have huge aquariums so you can watch hundreds of fishies swimming around while you chow down on some pretty special, erm, seafood. Now we've written it down it seems a little odd, but we promise you it's not. Most of us will need to set aside visits for a special occasion, as they're at the top of the price scale, but you should try them at least once. Two of the best places to visit in Dubai if you love seafood. For more seafood restaurants in Dubai click here.
Al Mahara, Burj Al Arab Jumeirah, Umm Suqieum (04 301 7600). Ossiano, Atlantis The Palm, Palm Jumeirah (04 426 2626).

Make a date at Dubai's most romantic restaurants
Dubai's most romantic restaurant is the aforementioned Ossiano, as what screams "I love you" more than a super-cool dinner in an aquarium. It's unique, romantic, fun, and don't be surprised to see a proposal or two while you're in there. The food is fantastic too, and it's a total bucket list dinner date here in Dubai. For more of the best romantic restaurants in Dubai, click here.
Open Sun-Thu 6.30pm-10pm, Fri-Sat 12.30pm-2.30pm; 6.30pm-10pm. Atlantis The Palm, Palm Jumeirah, www.atlantis.com/dubai (04 426 2626).

Munch manakish at Al Reef Lebanese Bakery
You have to eat manakish at least once when you're in Dubai. If you've never had one, or heard of one, it's sort of the Middle East equivalent of a pizza, but better. Coming in many variations, it's essentially dough topped with thyme, cheese, or ground meat. We prefer the classic cheese manakish: folded dough hugging a centre of ooey-gooey melting cheese.
Dhs4-16. Al Wasl Road, next to Choithrams, Jumeirah 2 (04 394 5200).

Picnic at Al Barsha Pond Park
Home to countless winter picnics, this (unsurprisingly) pond-side spot in Dubai's Al Barsha is a brilliant spot to unfurl your blanky and kick back for the afternoon. There's a huge lawn overlooking the pond – which is more lake-sized than pond-sized, really – and once you're done scoffing your cherry tomatoes and piccalilli you can go and hop on a swan-shaped pedalo and hare your way around the pond-lake. It's a beautiful spot for a winter's afternoon spent in the sun. For more of Dubai's best picnic spots, click here.
Open daily 8am-10pm. Al Barsha (800 900).

Party at a late-night dinner spot at Bistrot Bagatelle
If you're the kind of person who normally makes dinner reservations for 10pm, you already know about Bagatelle. If you're not, chances are you've missed out on one of the liveliest meals of your Dubai dining career. It's time to neck an espresso and get down to this French restaurant, which goes from relaxed bistro (don't miss the escargot) to dancing on chairs as the hour grows late. Amusez-vous bien!
Open daily 8pm-2am. Fairmont Dubai, Sheikh Zayed Road (04 354 5035).

See culinary theatrics at Carnival by Trèsind
It's all in the name... Dubai's Carnival by Trèsind offers creatively concocted dishes, a fun atmosphere and inventive, eclectic décor. From the moment you step in and spot bronzed trees, asymmetrical mirrors and a toy merry-go-round in the centre of each table, you'll see where the "Carnival" comes from. The sense of playfulness extends to the food, while mixologists produce drinks with a heavy slice of theatrics. Carnivores, vegetarians and vegans will all find a home at Carnival as chefs willingly adapt the menu to suit. Save room for the big finale though – desserts served on, not at, the table. So, let the party begin...
Open daily noon-3.30pm; 7pm-11.30pm. Burj Daman Building, DIFC (052 242 4262).

Slurp up a crazyshake at Black Tap Dubai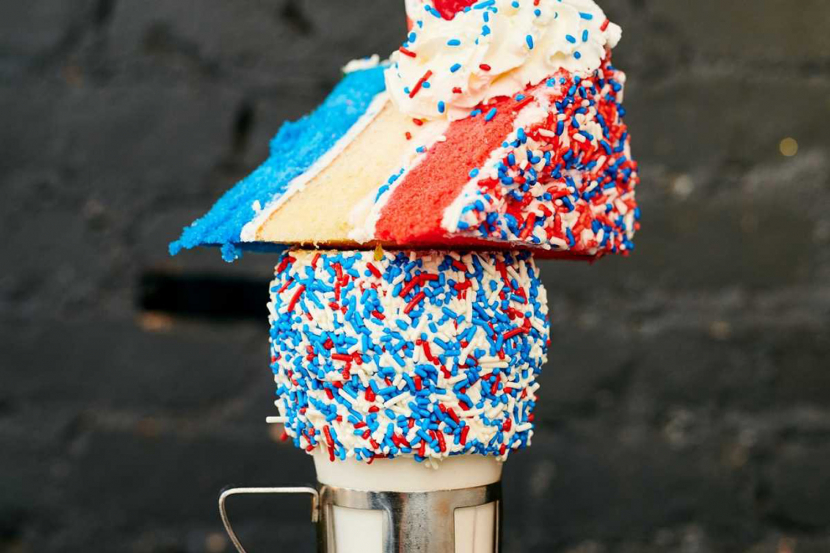 Black Tap Dubai is an awesome American import that's known for its tasty burgers. But if you have a sweet tooth, don't miss one of the massive crazyshakes, piled high with ice cream, cream, cake, syrups, sauces and sprinkles. Black Tap also specialises in craft hops from around the world – but specifically the East Coast of the USA. It has some banging New York beats to go alongside your drink, and some deliciously belt-busting burgers that pay homage to the greats you'll find at the NYC mothership of this cracking bar.
Open daily 11.30am-12.30am. Jumeirah Al Naseem, Umm Suqeim (04 422 9904).

Smash plates at OPA
Not only is the vibe super-cool and upbeat, the food is outstanding at this trendy Greek restaurant too. We can't get enough of the moreish tzatziki, while OPA's lamb kebab is a fantastically tasty, interesting variation on what you've come to expect from classics. This place picks up as the night goes on, so arrive ready to get involved with some plate smashing and Zorba dancing.
Open daily 7pm-1am. Fairmont Dubai, Sheikh Zayed Road (04 357 0557).
Tuck into dinner with a view at Meydan races
Horseracing is a hugely exciting sport, but you don't need to know your Frankie Dettoris from your Frankels to have a top night out here. Book into the Winner's Circle restaurant at Meydan Racecourse, where you'll get a three-course meal and unlimited house drinks for under Dhs350, all with a stellar view of all the horse racing action on Meydan race track below.
From Dhs245. Dates vary. Meydan Racecourse, Nad Al Sheba, www.dubairacingclub.com
Try a camel burger at La Mer
First of all we'd like to point out that camel meat is naturally low in fat, making it a healthier option for your burger patty. Secondly, and somewhat undoing the first point, Bareburger in La Mer does a delicious camel burger with a dollop of habanero mayo, a fried egg, dill pickles, fried onions and a good amount of cheddar cheese. Mmmmmmm camel. Piqued your interest? Here are loads more places to try camel in Dubai.
Open daily 8am-midnight. Bareburger, La Mer, Jumeirah, www.bareburger.com (04 343 7110).
Try a proper Middle Eastern shawarma


Don't worry, we only said to share shawarmas for the alliteration, there is no chance we are going to split one with another human. They're too good to share. While they can be found on street corners and late night snack stops all over town (don't fall for the gourmet varieties) we reckon pulling a car over and picking up a few spicy specials on Jumeirah Beach road is always a good idea. They will set you back a princely Dhs6 each at this iconic spot, but we can't think of a better way to spend Dhs60. For more top Middle Eastern food in Dubai, click here.
Open daily 9.30am-3am. Al Ijaza Cafeteria, Jumeirah Beach Road, www.facebook.com/AlIjazaCafeteria (04 344 4874).
Take afternoon tea on the QE2
We'll never understand why more meals aren't served on tiered plates. Or why there are not more finger sandwiches and dainty cakes in the world. Or why afternoon tea breaks with lashings of cream and jam are not mandated by law. Something to contemplate when dining on legendary royal cruise ship the QE2. For more afternoon teas in Dubai, click here.
Served Thu-Sat, 3pm-5pm. QE2, Mina Rashid, www.qe2.com (04 526 8888).

Take time over coffee at XVA Café
Lazy breakfasts, healthy salads, glorious cakes, it doesn't matter what you order at this pretty Creekside cafe, just so long as you take your time and relax. Take a book and sit beneath the decorated trees or find the shade of a canopy and staff will make sure you're topped up with tea, coffee and juices at a cute art café in Old Dubai. One of the best places to visit in Dubai for history buffs. For more coffee shops, click here.
Open daily 7am-9.30pm. XVA Cafe, Al Fahidi Historical Neighbourhood, www.xvahotel.com (04 3535383).

Wander around Riverland
Rollercoasters aren't for everybody, but that doesn't mean they should miss the theme park experience. As the gateway to Dubai Parks and Resorts there are no rides and it is free to look around, but there are lots of zones and activities. From 19th-century themed Peninsula to a mock French village it is meant to be meandered. There are loads of restaurants to try, too, from Dubai favourite The Irish Village, to fast food chains and more. Dubai Parks and Resorts is one of the best places to visit in Dubai with families.
Open Sun-Thu, 10am-10pm; Fri-Sat, 10am-midnight. Riverland Dubai, www.riverlanddubai.com (800 2629464).

For Dubai's best restaurants and all the latest Dubai restaurant and food news, click here.
---
Nightlife in Dubai
Belt out some tunes at Lucky Voice


Karaoke bar Lucky Voice stands out as one of Dubai's most fun nights out. It's time to unleash your inner Mariah Carey or Meat Loaf and belt out some power ballads.
Open Mon-Thu, 2pm-3am; Fri, 1pm-3am, Sat-Sun, 5pm-3am. Lucky Voice Dubai, Grand Millennium, Barsha Heights, www.luckyvoice.com (800 58259).

Boogie at Club Se7en
If you've not had a night out at this famed Dubai spot and lively Filipino nightclub yet, you'll need to remedy that immediately. And while you're singing along to pop hits belted out by superb house bands, working your way through a tower of hops, make sure you order a plate of the wings to keep your energy up on the dancefloor. Served blistering hot, they're crispy-coated, seasoned with chilli and accompanied by a side of sticky barbecue sauce. With bar snacks this good, you might not need that 2am manakish stop on the way home. (Might.)
Open daily 7.30pm-3am. Park Regis Kris Kin, opposite BurJuman, Bur Dubai (04 377 1213).

Check out a ladies' night in Dubai at STK JBR
Yes, ladies' nights https://www.timeoutdubai.com/ladies-nightsare a huge thing in Dubai. Every night of the week, there are bars across the city serving up free drinks and bargain dinner deals for the fairer gender. STK Dubai is a happening steakhouse in JBR that's is part dining room, part party. Dinner here is a lively affair, with dancing, fireworks, live entertainment and more. It can get pretty pricey, too, which is why its ladies' night is so marvellous. Expect five free drinks during the first sitting, three free drinks during the second sitting (or just by the bar) plus two courses for Dhs199, or three courses for Dhs239. It's fun, it's upbeat and it's one to get dressed up for. Take your mates, take your mum, take visitors – just go. It's our Best Ladies' Night in Dubai for good reason. Love a ladies' night? Don't miss our comprehensive ladies' nights in Dubai page here.
Free. Tue 7pm-1am. Rixos Premium Dubai, The Walk, JBR (04 323 0061).

Dance at one of Dubai's best nightclubs
Dubai's nightlife scene has been dominated by some absolutely superb nightclubs in recent years. Enjoy a night out at one of the city's best nightclubs by clicking here to find your ideas super-club.

Find a taste of Ireland one of Dubai's best pubs The Irish Village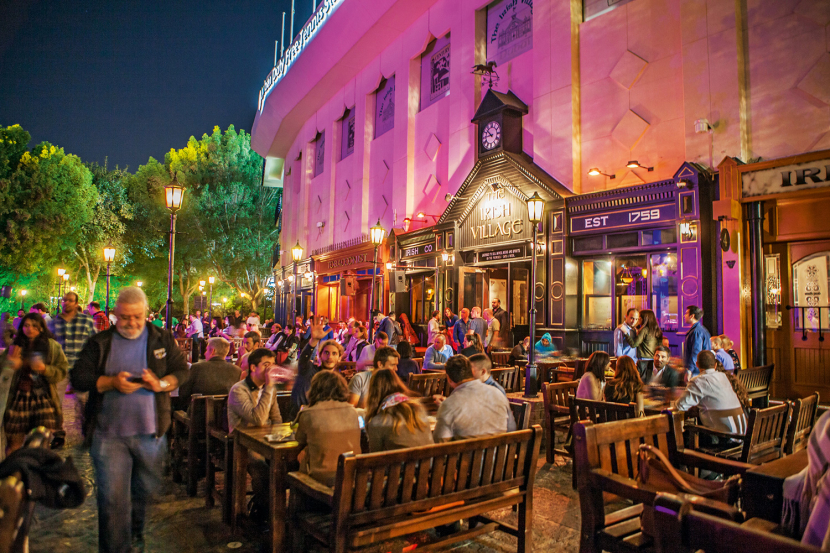 A Dubai institution, going strong for more than two decades, The Irish Village and its enduring presence continues to charm hordes of expats every week. The Irish Village's large garden and homely feel make it a wonderfully low-key favourite among residents. With regular live music, good food and a great vibe, The Irish Village should be your default pub option.
Open daily 11am-1am. Garhoud (04 282 4750).

Go bowling in the world's highest bowling alley
Every bone in our body knows that there is absolutely no benefit to a bowling alley being so high up. It is EXACTLY the same as a bowling alley on ground level, but we can't help wanting to head to Dubai's The 44 bar for a bit of sport. This is just cooler. The same goes for the pool tables, dart boards, pinball machine and screens showing live sport. Hip and enjoyable. For more top bowling alleys in Dubai click here.
Open Sat-Thu, noon-2am; Fri, 11am-2am. The 44, Hilton Dubai, Al Habtoor City, www.facebook.com/the44dubai (054 581 1758).
Go clubbing under the stars at WHITE Dubai
Half a decade since Dubai's clubbers first hit the al fresco dancefloor and this massive award-winning nightclub at Meydan Racecourse continues to impress. Regularly attracting big name performers and with a music and dress policy that regularly stuns it is a nightlife staple of chic party people. For everything that's going on in Meydan, click here.
Open Tue and Thu-Sat, 10pm-4am. White Dubai, Meydan Racecourse, Nad Al Sheba, www.whitedubai.com (050 443 0933).
Have a beach bevvie at a Dubai institution – Barasti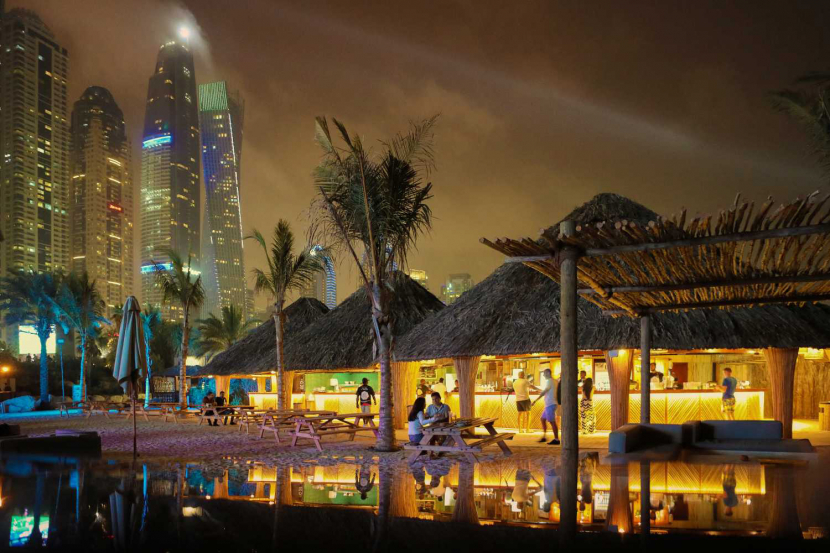 Another titan of the Dubai nightlife scene, Barasti is beach bar and club is perennially popular, and not just because of its big screen. It serves great food and the vibe on the main middle deck is properly chilled-out. Let's not forget the pool downstairs and an awesome beachside hangout with a dancefloor on the sand. Which is needed when this place kicks off with regular major music festivals that you'll find on the calendar throughout Dubai's winter months.
Open Sun-Wed 10am-1.30am, Thu 10am-3am, Fri 9am-3am. Le Méridien Mina Seyahi Beach Resort & Marina, Al Sufouh (04 318 1313).

Have sundowners in the world's tallest building
From the ultra-fast direct lift to the 122nd floor of the world's tallest building to the breathtaking views 442m back down again Dubai's Burj Khalifa's signature lounge is simply stunning. Any experience at this massive Dubai landmark, night or day, is special with the restaurant and high (pun intended) teas both noteworthy. Our tip, however, is to turn up for a drink just before sunset in order to enjoy contrasting day and night vistas. Daily 7am-2am. Atmosphere, Burj Khalifa, Downtown Dubai, www.atmosphereburjkhalifa.com (04 888 3828).
Listen to live music at Q's Bar & Lounge
As far as we're concerned there's absolutely nothing to stop you falling head over heels in love with this utterly charming jazz bar in Dubai's Palazzo Versace hotel, that needs to be viewed as up there with the world's very best. And what else would you possibly expect, what with Q's Bar & Lounge being the first live music bar opened by the legendary composer, producer, conductor and artist that is Quincy Jones? There's live music five nights a week, international acts hand-picked by the great man himself for long-term residencies at this gorgeous, dark, intimate jazz bar. For more live music in Dubai, click here.
Show times vary. Open Tue-Sat 7pm-2am. Palazzo Versace Dubai, Al Jaddaf (04 556 8865).

Make post-brunch plans at Lock, Stock & Barrel JBR
It's Friday, you've been to brunch in the afternoon and you're looking for a bash that's going to take you through the night in some style – where do you turn? Well if you're after a rocking time, you need to head to this enormous rock bar in JBR, because when it kicks off in here on a Friday night there's no better place to be. A daily happy hour that offers two-for-one on drinks, and live music from the Best Bar Band in Dubai – Gorgeous George. For a full list of brunches, click here.
Open Mon-Thu 4pm-3am, Fri 1pm-3am, Sat-Sun 2pm-3am. Rixos Premium Dubai, JBR (04 392 7120).

Ride the waves at Wavehouse Dubai
Wavehouse brings together live music, gaming, bowling, dining and a wave machine all in one place. Whether you're looking for bowling, drinks or surfing – it's here at Atlantis The Palm. There's a four-lane, ten-pin bowling alley awaits complete with visual 3D mapping projections (and super plush couches). Lanes can be hired from Dhs60 per person, per game from noon to 1am daily. There's also the LEVELS arcade with more than 50 games including the world's largest Pac Man. Fancy showing off your surfing skills? Check out the Waverider outside.
Prices and timings vary. The Avenues, Atlantis The Palm, atlantisthepalm.com (04 426 2000).
Sip sunset drinks at The Penthouse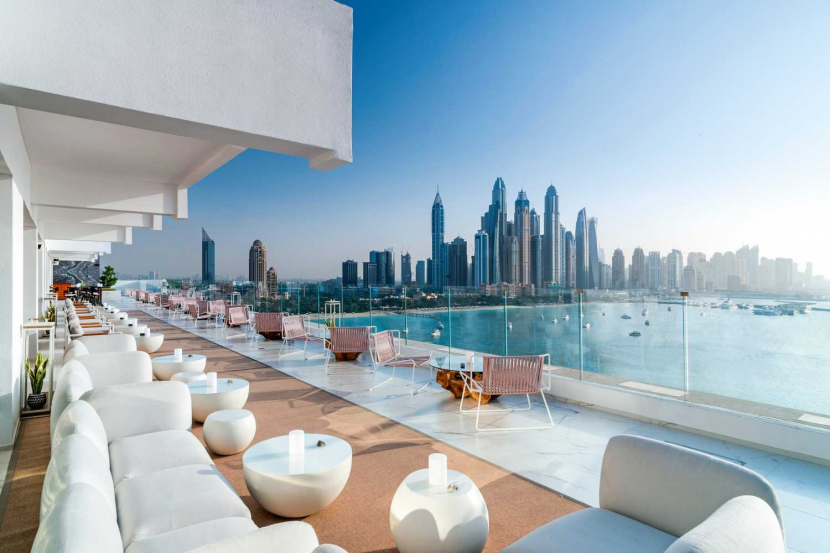 The Penthouse at FIVE Palm Jumeirah Dubai is one of the best bars in town. Big DJ nights every Thursday ease into a chilled-out Saturday ladies' day poolside brunch. The Penthouse's bar food is excellent and there's a fantastic ladies' night on a Tuesday when you'll get three free drinks. But it's all about those views at this rooftop bar – the most visitor-friendly vistas in Dubai, which help us unleash our inner tourist, too. One of the best places to visit in Dubai with guests, the views are unrivalled and the venue is fantastically chic. Go, now.
Open Sat-Wed noon-3am, Thu-Fri noon-5am. FIVE Palm Jumeirah Dubai (052 900 4868).

Smash up stuff at The Smash Room
You, 20 glass items, a few electronics, a sledgehammer and all the rage you can muster combine to make the anti-spa experience that is a smash room the perfect way to let off steam. The simplicity of the idea Smash Room Dubai is its genius – you just enter a room and destroy all you see. Smashing!
Open Sun-Thu, 11am-10pm; Fri-Sat, 11-11pm. The Smash Room,195 Umm Suqeim Street, Al Quoz, www.thesmashroom.ae (04 3397810).

Sunbathe and party on the beach at Nikki Beach
Book a cabana or day bed at the best beach club in Dubai, Nikki Beach, (we gave it a trophy and everything) and you're making a promise to yourselves: 'We're having a great time and we don't care who knows it'. You'll be joined by Dubai's glamour set at the sleek, shiny and world-famous import. There's also a top party brunch every Saturday, too. There are super views out to sea at this beach club too, making for a romantic backdrop for sundowners at Caribbean restaurant Key West, just a short jaunt up the sands. For Dubai's best beaches click here. For more Dubai beach clubs, click here.
Open daily, 11am-8pm. Nikki Beach Dubai, Dubai Pearl, Pearl Jumeirah, www.nikkibeach.com (04 376 6162).

Test your balance at Rodeo Drive
Dig out that Stetson, it's time to head to the rodeo. Because where else in Dubai could you possibly hope to play a game of hops pong followed by a ride on a bucking bronco mechanical bull? Nowhere, 'nuff said.
Open Sat-Thu 6pm-3am, Fri noon-3am. Saeed Tower One, Sheikh Zayed Road (054 417 7028).

Try a mixed drink at Masti Dubai
Not only is this Indian spot an amazing restaurant, it also serves up some of the best mixed drinks in Dubai. This La Mer two-level venue has some pretty special drinks on its menu (as you'd expect), as well as some beachfront vibes at sunset. A must-visit place in Dubai for residents and tourists alike.
Open Sat-Wed noon-midnight, Thu-Fri noon-2am. La Mer South, Jumeirah 1 (800 62784).

Watch a sports match at Barrels
What's not to enjoy when you can catch a match with a pint for Dhs21? But this comprehensive sports bar in Bur Dubai has more than just the cheap hops string to its bow. There are a dozen screens lining the walls beaming out the match at Barrels, you can request your favourite team's match to be shown, there's free pool during happy hour and there's even a PlayStation that comes complete with its own private (and enormous) screen. We'll see you there at kick-off. For the ultimate guide to happy hours in Dubai, click here.
Open daily noon-3am. Majestic City Retreat Hotel, Bur Dubai (04 501 2533).

For all the latest nightlife news and things to do in Dubai, click here.
---
Shopping in Dubai
Buy fresh fish at the Waterfront Market
Fancy cooking your own dinner? The lively bustle of a working market, with just a sprinkle of the tourist shine of Dubai's upscale Jumeirah. Yes you can haggle, yes you can get fish caught that day and still dripping with the water of the Arabian Gulf and yes you'll get incredible pictures for the family album. We also find it smells better than we expected. For more markets, click here.
Open daily, 6am-8pm. Jumeirah Fish Market, Jumeirah Street, (050 2749776).

Buy jewels at Dubai Gold Souk


It is a lifelong ambition to take a particularly blinged up rapper for a stroll through this jewel-encrusted street in Dubai's Deira. No particular reason, we just want to. If you're in the market for gold rings, chains, blocks or even tie pins it is an essential visit. Even if you're not haggling/investing it is a sight that defies Instagram filters. One of the best places to visit in Dubai if you're looking for a taste of the old town. Head to Old Dubai to check out the Gold Souk.
Open Sat-Thu 9.30am-9.30pm; Fri, 4-9.30pm. Gold Souk, Deira.
Check out the outdoor Ripe Market
If you have a few hours to meander, drift, saunter and stroll there is no finer place than at Dubai's greatest community market, Ripe Market, to shop and pick up some bargains. Just to saunter through the creative stores, relaxed atmosphere and varied street food is a pleasure. For more markets in Dubai to check out click here.
Open Fri, 9am-7pm; Sat, 10am-7pm. Ripe Market, Academy Park, Umm Suqeim, www.ripeme.com (055 5431282).

Get your clothes copied by a Satwa tailor
Fine tailoring, whether that be a bespoke suit, some new pants or a copy of a favourite jacket, gets you noticed. Stand out in the style stakes by getting a Satwa specialist to sort your threads. At the very least feel all fancy as you're measured up for something truly fitting instead of taking something off the shelf again. We've rounded up Dubai's best tailors here.
Various stores, Satwa Road, Satwa.

Sniffing out a bargain at the Spice Souk
Whether you love cooking, haggling or just exploring a part of the city that's not dominated by skyscrapers, a visit to the Spice Souk should be on your list. Roaming through the narrow alleyways, packed full of bags of vibrantly coloured spices, this is a spot in Old Dubai that's good for visitors and residents alike. You'll be bowled over by the warming scents of the spices and friendly, market-style vibe. Hop on an abra across the Creek to round off your trip, before you go home and cook up an aromatic storm.
Baniyas Street, Deira.

Haggle at Dubai gold and textile souks
Retail therapy in Dubai doesn't necessarily mean heading to one of the (many) sprawling malls. For a more traditional experience, head down to one of the many souks lining either side of Dubai Creek. The Gold Souk has hundreds of retails offering a selection of jewellery, diamonds and other precious stones, while the Textile Souk has a wonderful selection of colourful fabrics. Looking for more things to do in that area of Dubai? Click here.
Dubai Creek, Deira.

Hit the shops at The Dubai Mall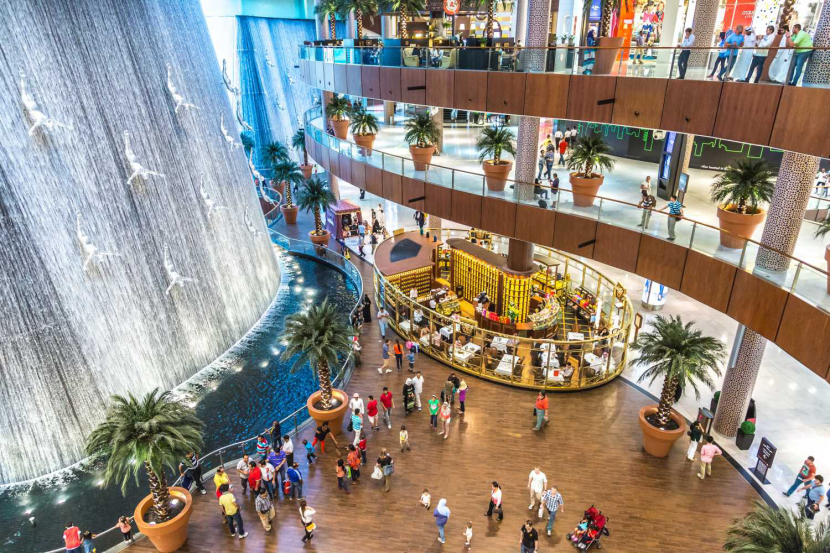 The Dubai Mall is so massive that there really is something for everyone. As well as having the best shops and dining there is so much to entertain you, you can happily explore for hours. Should boredom ever set in, step outside to see a Fountain show or lead them to see the ever impressive Dubai Aquarium. You can even learn to skate at Dubai Ice Rink. One of the absolute best places to visit in Dubai. For more shopping click here.
Open daily, 10am-midnight. The Dubai Mall, Downtown Dubai, www.thedubaimall.com (800 382246255).
For everything you need to know about shopping in Dubai, visit our dedicated shopping page here.
---
Family fun in Dubai
Bounce around at BOUNCE X Park
Bounce Dubai's X Park is a brilliant way to find your inner Spider Man and jump around its many obstacles and pipes to work up a sweat, from its spider wall to its climbing wall. Kids can unleash all their pent up energy in this parkour zone. Plus, billed as one of the most effective exercises you can do, trampolining is a fun, low-impact workout that tones muscles and improves coordination. One of the best places to visit in Dubai with families.
From Dhs75 (per session). Times vary. Al Quoz, www.bounce.ae.

Have fun at LEGOLAND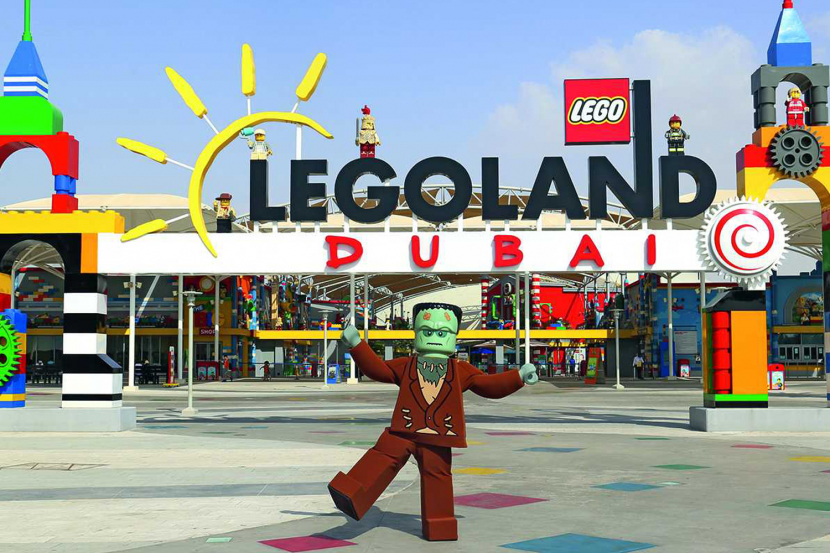 The LEGOLAND extravaganza at the city's Dubai Parks and Resorts has successfully brought LEGO to life with more than 40 rides, shows and attractions on six themed lands crammed with 15,000 LEGO models and more than 60,000 LEGO bricks. Start off at the factory where you'll get a guided tour and find out how LEGO bricks are made, before moving onto LEGO City where you can learn to drive an electric car and fly a LEGO plane. From there it's onto the various kingdoms and imagination zones, before taking a turn on some rides at the Adventure zone before heading to Miniland, where kids will be able to marvel at 20 miles of LEGO bricks.
From Dhs235 (adults), free (kids under three). Open Sat-Wed 10am-6pm, Thur-Fri 10am-8pm. Dubai Parks And Resorts, Jebel Ali, Dubai, www.legoland.com/dubai (04 820 0000).
Jump around like a maniac at Air Maniax
An indoor aerial assault course with extra added high-tech fanciness to help record the exact moment you face-plant into a crash mat or bounce in to a ball pool. Air Maniax Dubai has different zones are offered for different levels of bounce, zip, crash and wallop. The most fun you will have falling over and jumping in to things in the city.
Sun-Tue, 10am-7pm; Wed, 10am-8pm; Thu; Thu, 10am-10pm; Fri, 9am-10pm; Sat, 9am-9pm. Air Maniax, Al Quoz, www.airmaniax.com (04 348 8981).
Make a splash at LEGOland Water Park Dubai
Aqua fun for the whole family at Dubai's LEGOLAND Waterpark where the rides are great, the water is cold and the sun always shines. The Joker Soaker kids' area has the perfect amount of tumbling buckets of water, water shooters and slides, the lazy river is a great way to chill out and stay cool and with 20 water slides throughout the park to enjoy, there is no excuse not to get wet.
Dhs165 (adults), free (kids under three). Open daily 10am-6pm. Dubai Parks And Resorts, Jebel Ali, Dubai, www.legoland.com/dubai (04 820 3123).
Play at Mattel Play! Town
A fun and colourful edutainment centre where loveable dinosaur Barney is a permanent fixture. Kids kids can meet Barney, go on an adventure with Thomas & Friends, be a hero with Fireman Sam, build their dream home with Bob the Builder and dance their little hearts out with Angelina Ballerina – and generally just have heaps of fun.
Dhs99 (adults), Dhs149 (children under 10), Dhs399 (family of four), free (kids under 12 months). The first Fri of every month from Sept 6 9.30am-11am. City Walk, playtowndubai.com.
Role play at KidZania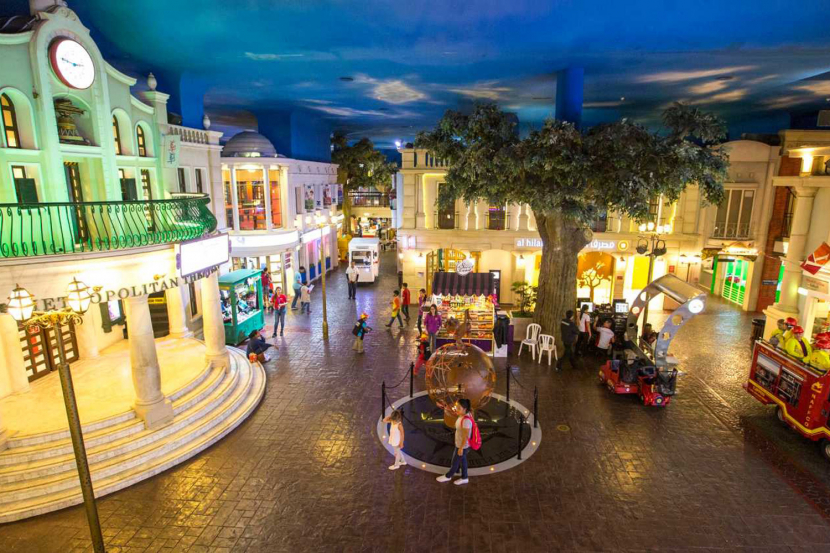 There's just something fun about pretending to be a doctor, a fireman, a chef or a builder. KidZania Dubai is a magical world of make believe where children can role play more than 40 professions and earn their own KidZania money, which they can then spend on their way out in the on-site shop.
From Dhs94.5 (kids two-three), from Dhs166.5 (kids four-16). Times vary. The Dubai Mall, Downtown Dubai (800 382246255).
See the penguins at Ski Dubai
Once you get over the wow factor of a surprisingly large ski slope in the middle of a shopping mall in the desert, you can concentrate on skiing, snowboarding or even sledging down it. While you're suited and booted at Ski Dubai stop for a hot chocolate on the slopes, have a snowball fight and have a look in at the resident penguins as well – the kids will love this one.
Open Sun-Thu 10am-midnight; Fri-Sat 9am-midnight. Ski Dubai, Mall of the Emirates, Barsha, www.skidxb.com (800386).
Soar in the air at Sky Zone
This Dubai family-fun site has more than 200 locations elsewhere in the world. Sky Zone Dubai is an indoor trampoline park where little adrenalin junkies can work their way around the various areas that include a foam zone, dodgeball arena and zip line. The youngest jumpers have their own toddler area to play in and there is a great café for parents where healthy snacks are on offer in addition to the usual pizza and chicken nuggets. The coffee isn't half bad either.
From Dhs60 (60 minutes). Thu-Sat, 10am-midnight, Sun-Wed, 10am-1pm. Ibn Battuta Mall www.skyzone.ae (800 759 9663).
Looking for more things to do with the kids and family fun in Dubai visit timeoutdubai.com/kids.
---
Spas, sport and wellbeing
Chill out at the snow room at Jumeirah Zabeel Saray Talise Ottoman Spa
We're dreaming of a white… room full of snow. If you're missing out on waking up to a windowsill filled with icy flakes of joy, rather than beaming sun, The Talise Ottoman Spa at Dubai's Jumeirah Zabeel Saray on Palm Jumeirah has got you covered. The room is beneficial for pain receptors as well as relaxing and brightening your mood, plus it's always a fun novelty to see snow in a desert climate.
Prices vary. Open daily 10am-9.30pm. Jumeirah Zabeel Saray, Palm Jumeirah (04 453 0000).

Go cycling at Al Qudra Cycle Track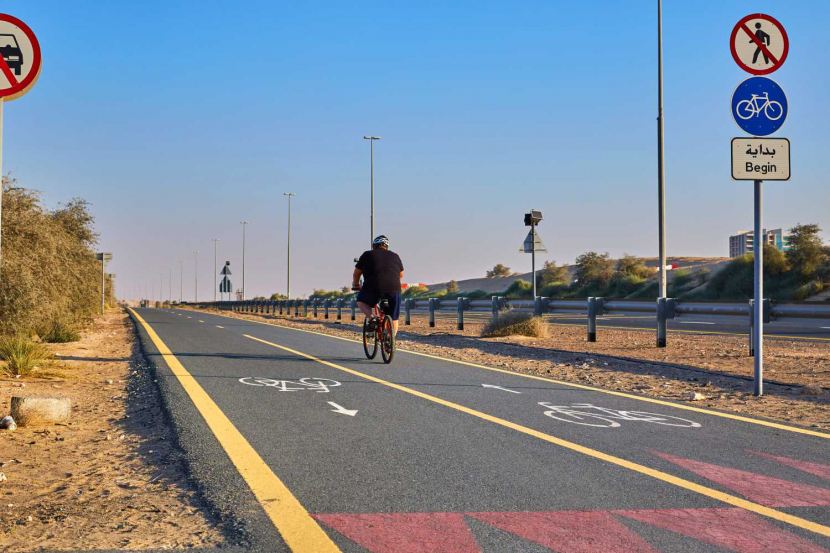 Drive out past Dubai's Arabian Ranches and you'll see a cycling path running alongside the road to your left. Al Qudra cycling track is 86km with a 50km loop, that will put your biking (and endurance) skills to the test. You can rent a bike, helmet and lights at Trek UAE, and there's a Last Exit food truck park for a pit stop. Access to the bike track is free, and you'll enjoy views of the desert dunes (watch out for gazelles). All levels are welcome, but expect to spend up to three hours completing the track, which is most popular on weekend mornings.
Free. Al Qudra Road (no number).

Have a nap at The Dubai Mall
In a city of quirky activities this might be the strangest. The Dubai Mall has nap pods where, if the urge takes you, you can just settle in for a few hours' kip before coming back out to continue your shopping. At first we were baffled, now it is the most genius invention ever.
Open daily, noon-11pm. Sleep 'n' Shop, Dubai Mall, Downtown Dubai, www.sleep-n-shop.com (04 3605032).

Meditate at Illuminations Wellbeing Centre
The greatest journey you can take, is in your mind (unless someone is offering you First Class Emirates tickets, obviously). Illuminations Wellbeing Centre in Dubai's JLT offers guided meditations, workshops, therapies and seminars at this long-standing wellbeing centre you can go deep within. Even if you don't find the answers you can have a crack at a mind detox. For more places in Dubai to try meditation, click here.
Open daily, 8am-10pm. Illuminations Wellbeing Centre, Fortune Executive Towers, Cluster T, JLT, www.illuminations.ae (04 4487043).

Play golf a championship course
Following in the footsteps of greatness is as close to sporting excellence many of us will ever get. So, the opportunity to play on the same course as the world's greatest golfers is enough to make amateur players to reach for the balls and get their niblick out. The Earth Course at Jumeirah Golf Estates is one of several championship courses in Dubai and proud host to the DP World Tour Championship and, as such, one of the finest courses in the world. In off-season it is there to be played and can make a golfer's dream come true.
Call for tee times. Jumeirah Golf Estates, Green Community, www.dubaigolf.com (04 818 2000).
Play a round of night golf at Emirates Golf Club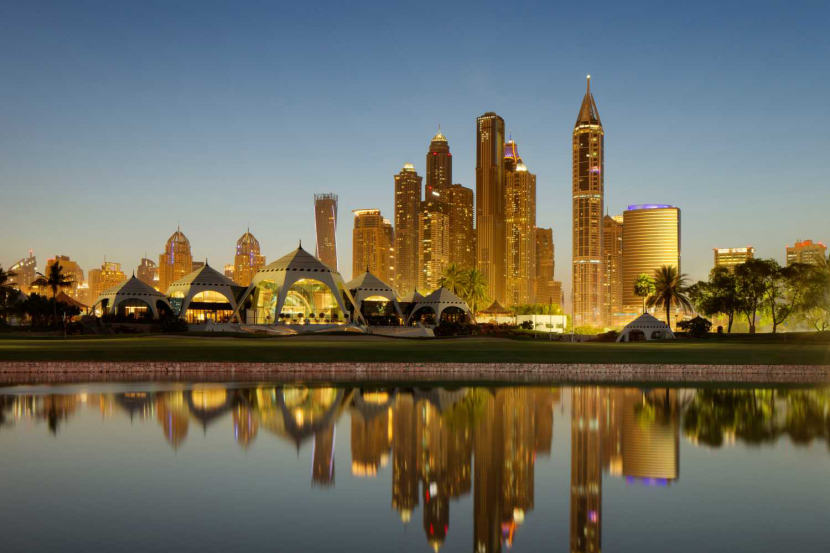 Who wants to stroll around a golf course during the day anyway? If you've always felt like the way to improve a round is to play under floodlights, we have good news for you, as several courses in the UAE offer the option to play at night. During the summer it's especially handy, as it's pretty much unbearable out there in soaring temperatures and humidity. But it also means that those of us with nine to five jobs can get out on the course during the week without a ludicrously early start or taking the day off. It kind of feels more acceptable to head to the 19th hole at 8pm as well.
Prices and times vary. Emirates Golf Club, Sheikh Zayed Road, Dubai (04 417 9842).

Practise full moon yoga at Talise Madinat
The full moon yoga at Talise Madinat at Dubai's famous Jumeirah Al Qasr hotel takes place on the beach so you can lose yourself to the sound of gentle waves along with smooth classical music. There's also a stunning view of Burj Al Arab Jumeirah. The yoga guru will guide you through an hour of yoga intended to unite your body and mind and take you on a journey of self-discovery. At best you'll learn you have secret inner powers, at worst, you'll have a nice chill out and stretch by the water's edge. For more yoga in Dubai, click here.
Dates and prices vary. Jumeirah Al Qasr, Madinat Jumeirah, Umm Suqeim (04 366 6818).

Relax with a couples' massage at at Amara Spa
This is the ultimate couples' package to get you and your fella/lady in tip-top condition. The experience at Park Hyatt Dubai's Amara Spa kicks off with a rose petal hand and foot ritual in the privacy of a lavish garden. From there you'll be scrubbed down with coffee and cardamom before being rolled up in a sandalwood and rosewater body wrap to silken your skin. After that you'll be given a nice oily massage and a Thai body stretch to loosen to up a bit before an aromatic facial to polish it all off.
Prices vary. Open daily 9am-10pm. Park Hyatt Dubai, Deira (04 602 1660).

Treat yourself in Guerlain Spa
Treating yourself doesn't just mean a block of chocolate and a sit down, it means allowing yourself the occasional indulgence. Especially in Dubai. Like a luxurious signature treatment at the gorgeous One&Only The Palm's Guerlain Spa. With just silky milk scrubs, personalised massages, scented baths, purifying wraps and relax. For Dubai's best spas click here.
Open daily, 10am-9pm. Guerlain Spa, One&Only The Palm, Palm Jumeirah, www.oneandonlyresorts.com (04 440 1040).

Try "underwater yoga" at The Lost Chambers Aquarium
Admittedly it's not actually "underwater" yoga, but this is as close to it as you're going to get – and it's a lot easier than practising a cobra pose in a swimming pool. This fun, different (and oh-so-Dubai) yoga class is brought to you than none other than Dubai's Atlantis The Palm. Make your way through a variety of hatha positions with the serene backdrop of multicoloured tropical fish, rays and sharks. Peaceful yet challenging, this is one class that's worth dragging yourself out of bed early for (even on a Friday).
The Lost Chambers Aquarium, Atlantis The Palm, Palm Jumeirah (04 426 1040).

Love sports? Check out our full guide to sport in Dubai here. For our ultimate guide to spas in Dubai, see our list here.

For more things to do in Dubai click here. For more of the best places to visit in Dubai click here. To get all the latest thing to do in Dubai delivered to your inbox, click here to subscribe to the Time Out Dubai newsletter.
Be the first to get all the latest Dubai news, reviews and deals into your inbox by signing up to our free
newsletter
,
click here to sign up
.