Believe it or not, there are loads of free things to do in Dubai. City life can come at a cost, so here's how to sample some cultural, historical, natural, physical, social and totally awesome things to do in Dubai for free, without spending a single fils. We also bring you free fitness, free nights out and other amazing free things to do in Dubai. Read on.
JUMP TO:
Free cultural things to do in Dubai
Free historic things to do in Dubai
Free things to do in Dubai: nature
Free fitness, sport and activities in Dubai
Free nights out in Dubai
Other awesome free things to do in Dubai
---
FREE CULTURAL THINGS TO DO IN DUBAI
Alserkal Avenue
Arguably the hippest and artiest part of town, Alserkal Avenue in Dubai's Al Quoz is abundant with art galleries, performance spaces and some rather wonderful culinary delights. This former industrial estate has swapped engine oil for oil on canvas and is a permanent hive of artistic activity. There are loads of free things to do in this area of Dubai, from gallery exhibitions to browsing through shops.
Open Sat-Thu 10am-7pm. Al Quoz, alserkalavenue.ae (04 333 3464).
Antique Museum
Despite being a complete misnomer (it's not a museum, more of a bizarre bazaar), this vast network of narrow passages is filled to the brim with antiques and knick-knacks from Asia and the Middle East. Just browsing through the mind-boggling array of goods is great fun, and it's all free to do.
Open daily 9am-8.30pm. Al Quoz, fakihcollections.com (04 347 9935).
Beach Libraries
For those not there working on their tans or who are averse to splashing around in the sea, the beach can be quiet a dull place. But thanks to the bevy of 'Beach Libraries' dotted about our coastline you can indulge in some escapism with a good read for free. Alex Garland's magnum opus is a popular choice we're told.
Various locations including Umm Suqeim, Jumeirah 1 and Al Mamzar Beach.
Bur Dubai Grand Mosque tour
There can be few finer ways to gain an insight into Emirati life than by being shown round this magnificent mosque in the capable hands of an expert guide from the Islamic Information Centre. This free tour really is a cultural eye-opener, one that's open to all faiths and races.
Sun-Thu 9am-11.15am. Bur Dubai Grand Mosque, islamicic.com (04 355 5223).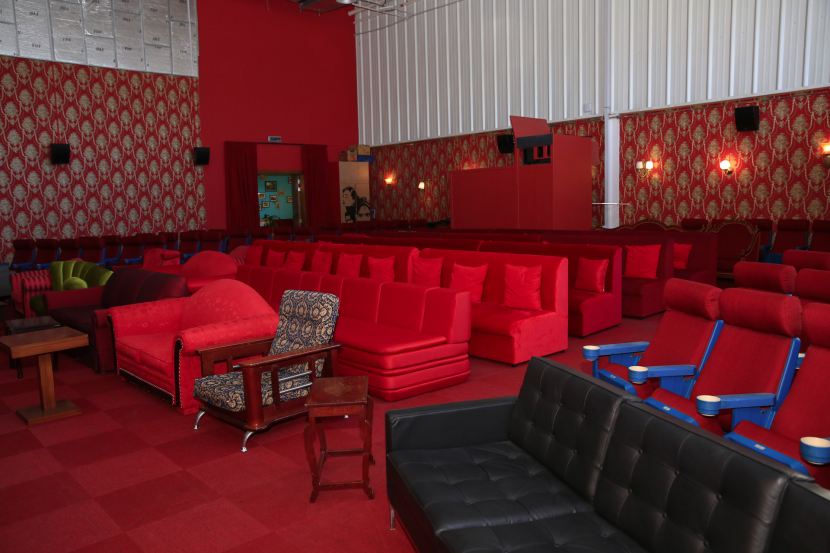 This former film pop-up's popularity has swelled as swiftly as a Hollywood studio's coffers after another blockbuster. And that's thanks to its unwavering support of world cinema – much of it screened for free. Discover incredible directors and actors who would've probably otherwise passed you by…
Timings vary. Alserkal Avenue, Al Quoz, cinemaakil.com.

One of the biggest marketplaces for that most glistening of precious metals, you might want to keep your sunnies on when you set foot inside the Gold Souk. Stall after stall sell shiny new jewellery and other fineries. One for any checklist, even if you haggling skills don't dazzle and you can wander around and enjoy all the sights of Old Dubai for free. One of the first things on a free things to do in Dubai list for any tourist or resident. For more things to do in Old Dubai click here.
Open Sat-Thu 9.30am-9.30pm. Al Ras, Deira.
Jameel Arts Centre
This thoroughly funky building on the Jaddaf Waterfront is original in its programming and forward-thinking in its research. Fiercely independent, it supports artists from the MENA region like few other establishments. And you can too by popping along and immersing yourself in this cracking creative centre, all for free.
Open Sat-Mon 10am-8pm, Wed-Thu 10am-8pm, Fri noon-10pm. Jaddaf Waterfront, jameelartscentre.org (04 873 9800).
Learn a new language
Had enough of your own amateurish attempts at Arabic? Maybe you should shift your linguistic attentions to the Far East and join the J-Café to pick up some rudimentary Japanese (or 'Nihongo'). The well-versed volunteers will engage you in fun ways to learn the lingo, and promise not to laugh (too much) at your atrocious accent.
Every Fri 3pm. Caribou Coffee, DIFC, www.meetup.com/Exchange-your-language-with-Japanese.
Museum of the Poet Al Oqaili
Fancy looking around a free museum in Old Dubai? The vision of a pioneering poet, this structure remains an homage to the great man himself and gives visitors a real taste for what inspired his work. Some of his original, handwritten collections (oh, how we'd love to ditch the keyboard) can be discovered here, along with his writing desk and the pens he so perfectly put to paper.
Open Sun-Thu 8am-2pm. Al Ras, Deira, dubaiculture.gove.ae (04 515 5000).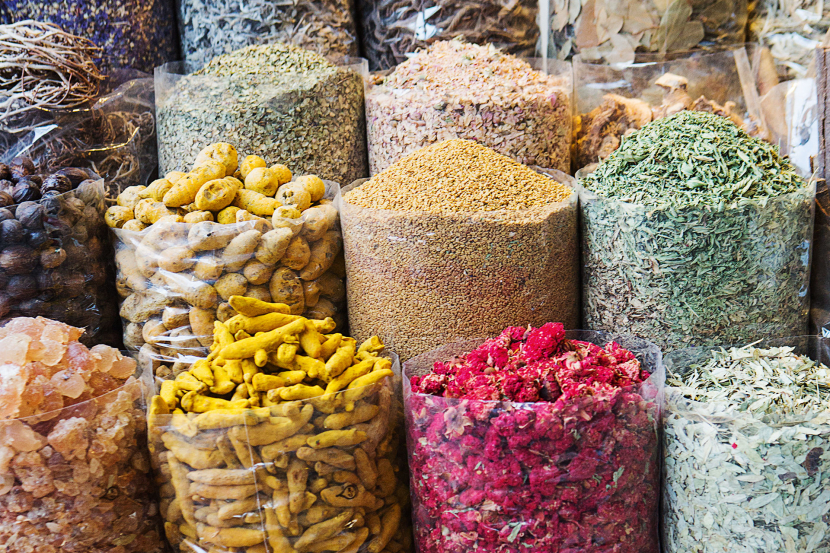 Another of the most popular things to do for free in Dubai, this Old Dubai souk is brimming with culture, sights, sounds and smells. Easily the most amazingly aromatic free pursuit on this list, a trip to the Spice Souk is an absolute must for anyone handy in the kitchen. You'll find the full gamut of Arabic spices for sale here, along with oils, nuts and a tasty selection of sweet treats. Even if you don't buy anything it's fun to wander around and take in a bit of Dubai history.
Open daily 7.30am-9.30pm. Al Ras, Deira.
Unless you spend your time walking around the city blindfolded, you'd know there is street art around plenty of corners, all of which you can admire absolutely free. From JBR to Karama, City Walk to Satwa and La Mer to Jumeirah Beach Road, the city is awash with colourful creations from some truly great artists. For the best walks in Dubai to see street art, click here.
Various locations across Dubai.
Across the Dubai Creek from its Gold and Spice sisters is the Textile Souk in Bur Dubai, home to a myriad traders selling wonderfully colourful fabrics along with all the accessories a fashion designer could want. You might not be Alexander McQueen but don't rule out an afternoon's browsing for free in Dubai here. For everything you need to know about Dubai's Souks, click here.
Open Sat-Thu 9am-2apm, 4pm-9pm. Ali Bin Abi Talib Street, Bur Dubai.
Traditional Architecture Museum
Almost 100 years old, this was the former residence of Sheikh Juma bin Maktoum but now houses an array of traditional tools and ornamental items used in homebuilding in Dubai and the other emirates back in the day. It also charts the history of Emirati architecture. A free museum in Dubai to check out.
Open Sun–Thu 8am-2pm. Al Fahidi St, Bur Dubai (04 515 5000).
Waterfront Market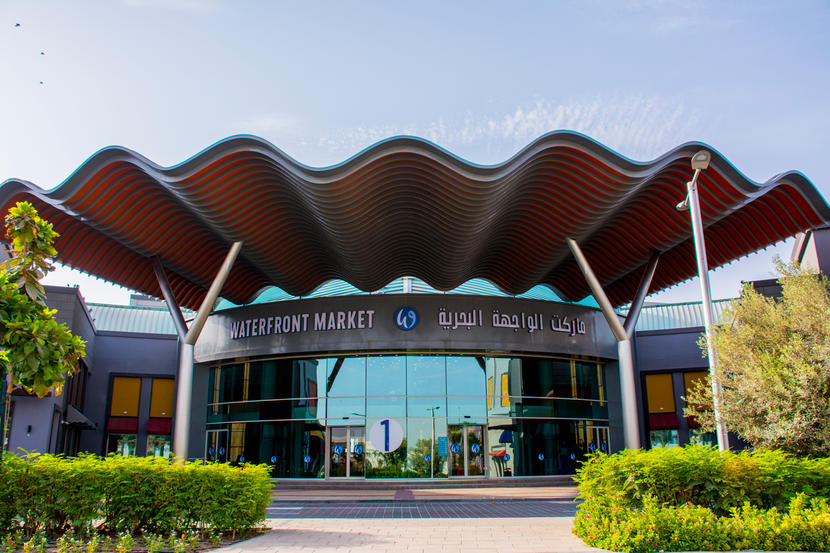 There were a few tears (and scales) shed when the old Deira Fish Market slung its hook but this massive, bargain-laden venue is a fitting substitute. We could spend hours admiring the various catches. As days out go, this a different kettle of fish entirely. Free to browse around and check out the market even if you're not shopping.
Open 24/7 (except for deep cleaning: Sat-Thu 2pm-4pm, Fri noon-1.30pm. Deira Enrichment Project, Al Khaleej Road, waterfrontmarket.ae (800 627 538).
XVA Gallery
Specialising in contemporary art from the Arab world, Iran and the Subcontinent, XVA has done more to champion both established and up-and-coming talent from the UAE and beyond than most galleries could even dream of. Exhibitions are on regular rotation so you're bound to find something new. If you're looking for free culture things to do in Dubai, this is for you.
Open daily 10am-6pm. Al Fahidi Historical Neighbourhood, Bur Dubai, xvagallery.com (04 353 5383).
---
HISTORICAL
Leave the city's skyscrapers behind for a day of discovering what Dubai used to look like back before it struck oil. Just meandering through its narrow streets gives you a feel for Al Fahidi's past as both the cultural and commercial hub, the home of the ideas that shaped Dubai's history.
Open daily 24/7. Al Fahidi, Bur Dubai (04 515 5000).
Camel Museum
Love camels? Want to learn more about them for free in Dubai? These beautiful beasts remain a huge part of Dubai's heritage and here you can learn more about how the Bedouins relied on camels for survival. Once a stable for the sheikhs, this place is a love letter to the ships of the desert.
Open Sun-Thu 8am-2pm. Al Shindagha Historical Area, Bur Dubai (04 392 0368).
Coffee Museum
One of the best free things to do in Dubai if you're a coffee-lover. Some say Emirati life is not fuelled by oil but by coffee, and this place is a celebration of all things caffeine-based. The ground floor showcases different roasting techniques and associated antiquities, while upstairs you can try a cup while reading up on why coffee makes us full of beans.
Open Sat-Thu 9am-5pm. Al Fahidi Historical Neighbourhood, coffeemuseum.ae (04 353 8777).
Coins Museum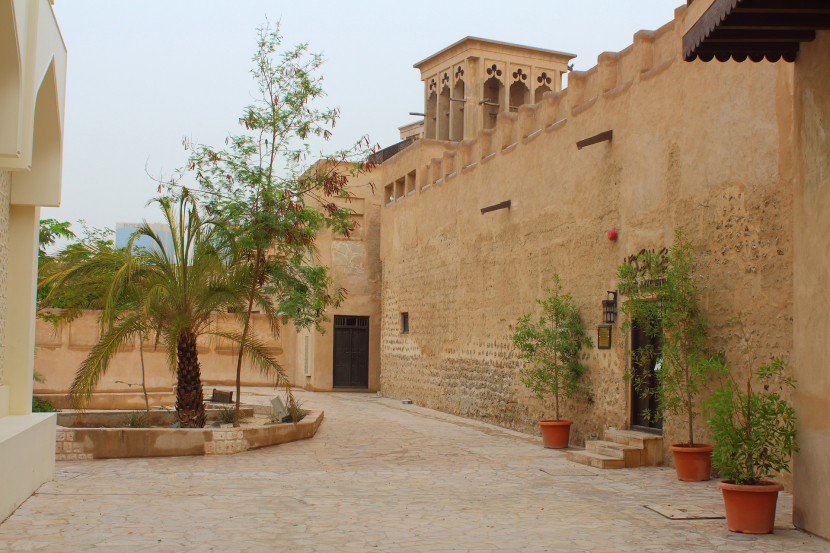 Although we long for the return of a barter system, you can't get far these days without some coin. This gorgeous building in Bur Dubai has eight rooms brimming with information about historical money from the UAE and beyond. You'll certainly see different sides to the same coins here. And it's free to get in.
Open Sun-Thu 8am-2pm. Al Shindagha Historical Area, Bur Dubai (04 392 0368).
Hatta Heritage Village
Ever wondered what Dubai's first villages looked like? Well this faithful recreation is as close as you'll get to the real thing. See how the local rulers lived by having a gander at their house (Bait al Wali) before taking out your enemies (or at least dreaming of it) from one of the watchtowers, for free.
Open Sat-Thu 7.30am-8.30pm, Fri 2.30pm-8.30pm. Hatta (04 852 1374).
Naif Museum
Dubai's first police station, Naif Fort was built in 1939 and its museum is testament to why the city became one of the safest on the planet. Full of artefacts including old uniforms and weapons, if those rifle-toting mannequin cops weren't enough to scare you off a life of crime we don't know what would be.
Open Sun-Thu 8am-2pm. Naif area, Deira (04 227 6484).
---
FREE THINGS TO DO IN DUBAI: NATURE
Birdwatching at Ras Al Khor Wildlife Sanctuary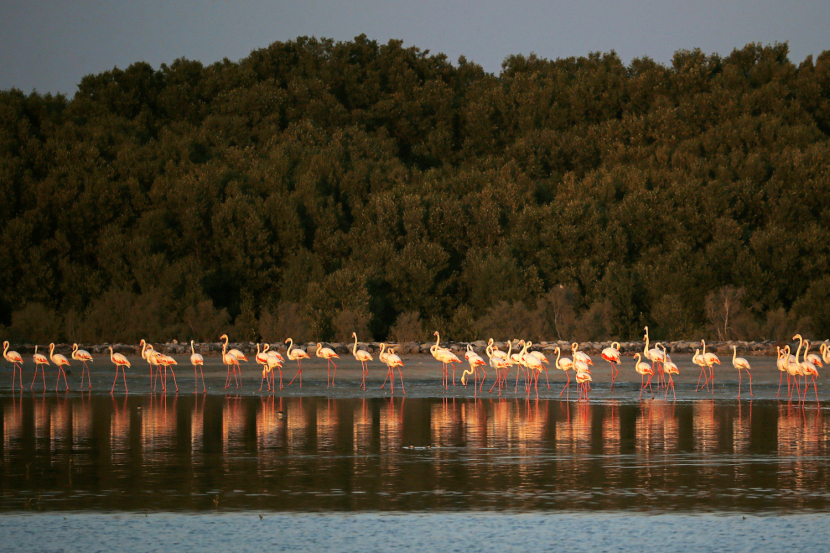 For those of you who know twitching doesn't only involve involuntary spasms, Ras Al Khor Wildlife Sanctuary is the place to be. This avian haven is home to many a feathered friend, and while the flamboyant flamingos top the bill you can also spot herons, cormorants and ospreys from the free-to-use hides. Get close to nature in Dubai, for free.
Open daily 7.30am-5.30pm (Oct-Mar), 6am-6pm (Apr-Sep). Ras Al Khor, rasalkhorwildlife.ae (04 606 6822).
Camping at Al Qudra Lakes
Should you struggle going really wild, a night camping at Al Qudra Lakes could be just the ticket. Clean and calm but chilly at night make sure you build a camp fire before sundown and bring plenty of marshmallows to keep those energy levels up. For more places to camp in Dubai click here.
Open daily 24/7. Al Qudra.
Chill awhile at Zabeel Park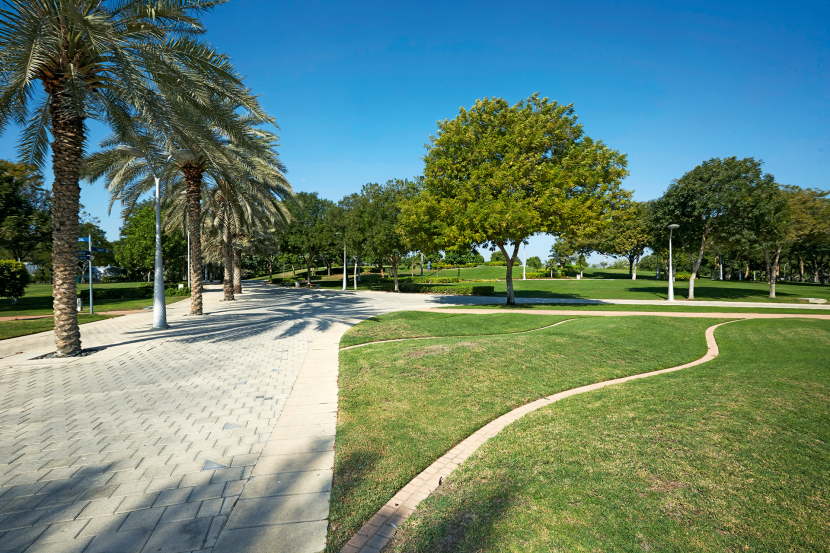 An oasis of calm in the heart of the city (well, unless you're surrounded by unruly kids engaging in some tomfoolery that is), Zabeel Park is a great place for laying on the grass and gazing at the wandering clouds. It might be a hive of activity but eschew all the other attractions/distractions and be at one with nature for once.
Open Sun-Wed 8am-10pm, Thu-Sat 8am-11pm. Zabeel area (04 398 6888).
Go leaping at Big Red
You haven't done Dubai if you haven't done the desert. And you haven't done the desert if you haven't had a photo taken of you mid-air, legs and arms flailing atop the emirate's biggest dune, Big Red. Snap taken, rest awhile and enjoy the view out over the Empty Quarter. True, petrol costs money but it's free to get there if you have a car in Dubai.
Open daily 24/7. Rub' al Khali (The Empty Quarter).
Watch the sunrise at Al Jaddaf
Just south of Dubai Creek, Al Jaddaf is home to more than solely hotels – as its name (meaning 'The Rower') refers to its dhow-building history. But you don't have to set sail at dawn here as you can enjoy unobstructed views of the sun sauntering above the Downtown skyline first thing. An ideal free thing to do in Dubai to start your day in the best way.
Open daily 24/7. Al Jaddaf.
Sunset at Al Sufouh Beach
There are countless fine vantage points from which to see the sun take his hat off and replace it with a nightcap but huddling up with your nearest and dearest on the relatively peaceful Al Sufouh Beach is one of those unmissable experiences that money simply can't buy. And you don't need it either, as it's a top free thing to do in Dubai.
Open daily 24/7. King Salman Bin Abdulaziz Al Saud St, Al Sufouh.
This one requires a 4x4 and some skilled driving but even if you're not neighbours with rallying legend Sébastien Loeb, surely one of your mates has a suitable vehicle they can take you for a spin among the dunes of the Dubai desert in. Roam free (you might have to give them an IOU) but make sure your sat-nav is up to scratch. For more outdoor adventure activities in Dubai click here.
Open daily 24/7 (best to go during the day, though). Various locations on the outskirts of Dubai.
---
FREE FITNESS, SPORT AND ACTIVITIES IN DUBAI
Camel racing at Al Marmoom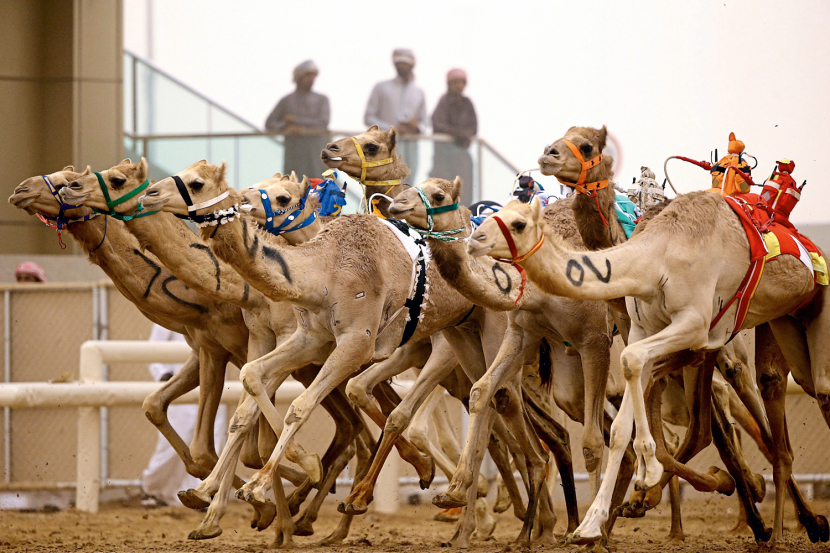 Such majestic (an often delightfully cantankerous) creatures should be witnessed in full flow and camel racing at Al Marmoom Race Track should be on your free things to do in Dubai list. This an Emirati pastime that goes back centuries and with 60 of them going head to head at any one time this a sporting spectacle not to be missed.
Various dates until mid April, 6.30am and 2.30pm. Al Marmoom Camel Racetrack, Al Ain Road (055 676 0006).
Another sublime spot for a sunrise (and sunset), the Al Qudra Cycle Track is a purpose-built circuit spanning some 50 miles. Now we're not suggesting you tackle every inch of this superb facility in one go (unless your name's Chris Froome that is) but head here early doors, or late in the day, and beat the heat – and your personal best.
Open daily 24/7. Al Qudra.
Free Yoga at Al Barsha Pond Park
In our books, becoming zen is not achieved by charging the earth for yoga classes. The lovely Lakshya is on our wavelength and offers her chilled-out classes for nowt in some lovely surroundings. Hatha, vinyasa and yin are her classic mix. And she'll be happy to help you with that spinal twist. Check for timings before going.
Sat 5.30pm-6.30pm. Al Barsha Pond Park (Gate 3), Al Barsha, meetup.com/Free-Community-Yoga-Dubai.
Grab a free ClassPass
No one likes being tied down to a gym contract so if you don't discover some sessions that suit you then ClassPass will let you pack up your troubles in that old kit bag and just try the next. Hopefully you'll find form that isn't temporary and a class that's permanent. For more free fitness in Dubai, and sport in Dubai, click here.
Various times and locations. classpass.com/pricing/united-arab-emirates/getclasspass.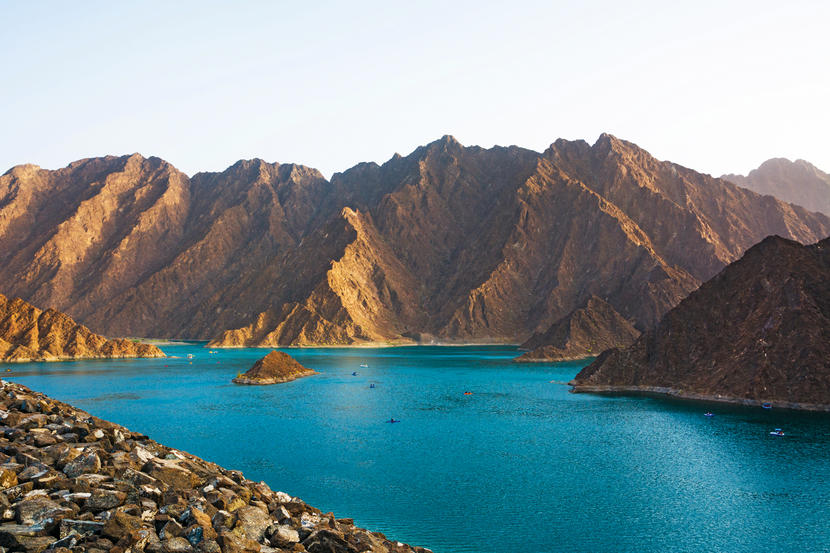 Your hastily-bought-then-hidden-in-the-wardrobe hiking boots were made for walking and there is only place to really let them do the talking. Hatta has five routes of varying difficulty, all set among the Hajar Mountains that you can do for free. This is Dubai's largest national park so go and explore. Blisters? What blisters?
Open daily 24/7. Hatta, visithatta.com.
Jog along Kite Beach
As much as we adore flying a kite (up to the highest height), when we're in the mood for something less leisurely then we can't resist the stretch of running track that snakes back and forth past this beautiful beach. The run's superb sights will send you soaring, too, on a trip to Dubai's Kite Beach. The best news? It's a top free thing to do in Dubai. For Dubai's best beaches click here.
Open daily 24/7. Sunset Beach-Kite Beach-Jumeirah 1.
Walk along The Boardwalk at Palm Jumeirah
Most of us can only dream of being able to afford to live on Dubai's The Palm, but thanks to this seven-mile stretch of purpose-built path you can take a leisurely stroll with the Arabian Gulf by your side without having to take out a massive loan for the pleasure. Save the food trucks for afterwards. Some calories just can't be walked off. For more free walks in Dubai click here.
Open daily 24/7. Palm Jumeirah.
Swim at The Beach
Take a dip at The Beach on Dubai's JBR as entry to this Dubai beach is totally free. There's some great swimming to be had here and there are plenty of restaurants to refuel at afterwards. For our complete guide to Dubai's JBR click here.
Open Sun-Thu 10am-midnight, Fri-Sat 10am-1am. Jumeirah Beach Road, thebeach.ae (800 637 227).
Try a two-week F45 trial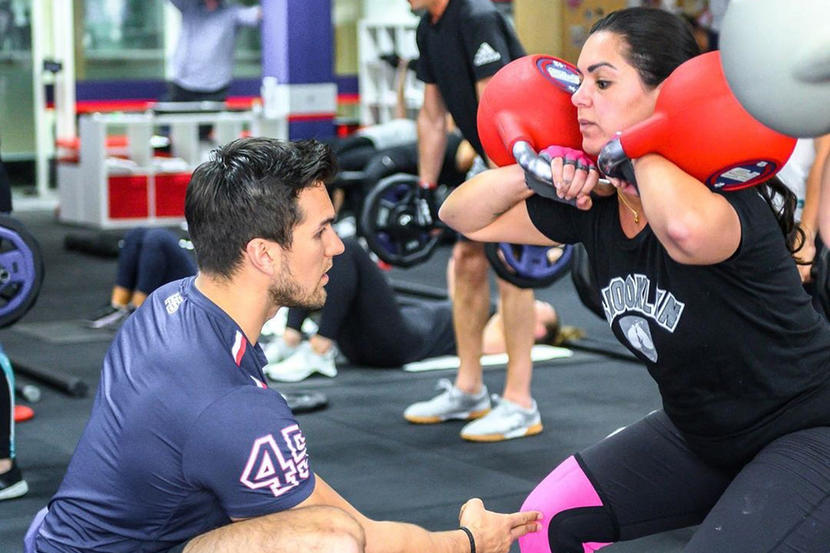 For a fortnight of free fitness in Dubai try F45 for size. In any other walk of life, functional would be boring but not when you can shed up to 750 calories in three-quarters of an hour. With your new team-mates egging you on, burning off that brunch belly has never been so much fun.
Times vary. Trident Grand Mall, Dubai Marina, f45training.ae (050 180 0354).
Work out at Calisthenics Park
Pull-ups, parallels and monkeys – some of the best bars, bar none. And when you can work on your biceps, triceps, abs, glutes and calves (or lack thereof) for absolutely nothing than the price you might pay for overexerting than this is a real winner. The views are pretty inspirational as well. Free fitness in Dubai Marina? You got it.
Open daily 24/7. Al Seyahi St (next to Skydive Dubai), Dubai Marina.
---
FREE NIGHTS OUT IN DUBAI
Date Night at McGettigan's DWTC
If you and the other half love live sports and live music then make Monday your date night at this ever-popular Irish pub. They're all for gender equality at McGettigan's and although the ladies will be served four free mixed drinks to the gents' two bottles of hops, we say all is fair in love and score draws. This is a top his and her night to try for free in Dubai.
Mon 8pm-10pm. DWTC, Sheikh Zayed Road (800 6247).
Free pool day at Barasti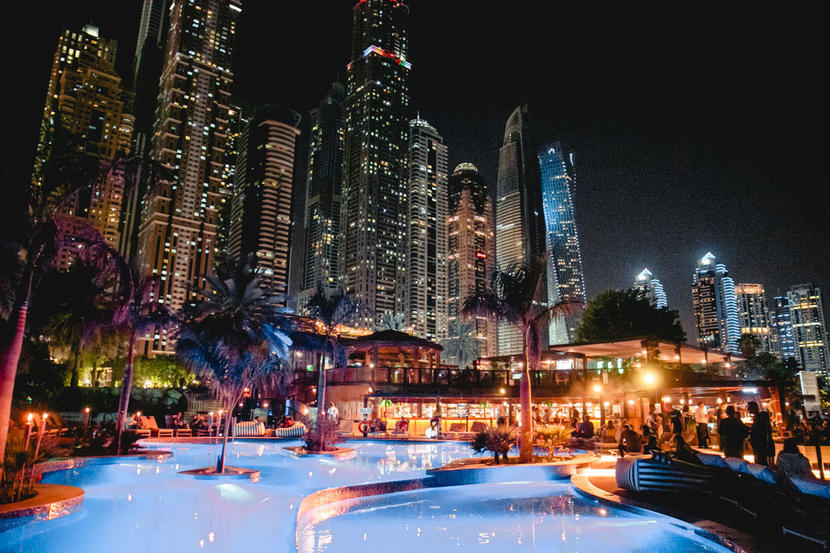 Most beach clubs charge for the use of their facilities, but not our buddies at Barasti beach club in Dubai. They made their pool totally free and while the early bird catches the worm (or sunlounger in this case), if you want to catch some rays, listen to top tunes and cool off in the water then this is the place to be.
Open Sat-Wed 11am-1.30am, Thu-Fri 11am-3am. Le Méridien Mina Seyahi Beach Resort & Marina, Al Sufouh (04 318 1313).
For a bro-mantic night out with your best pal you really can't go wrong with Weslodge. This lofty perch has long been popular with the cool kids. The slick service and superb soundtrack are topped off with two free drinks and half-price main courses all night. For more gents' nights in Dubai and free drinks for men click here.
Tue 7.30pm-midnight. JW Marriott Marquis Hotel Dubai, Business Bay (04 560 1700).
Ladies' night STK JBR
Time Out Dubai's Best Ladies' Night 2019 offers three free drinks to your gal gang during Tuesday's second sitting, and two courses for Dhs200 or three for a mere Dhs240. With the chance to chomp on a fabulous fillet steak, we certainly have no beef with STK, which is also Dubai's Best Steakhouse. For more free nights out, free drinks for ladies and ladies' nights in Dubai, click here.
Tue 7pm-1am. Rixos Premium Dubai, The Walk, JBR (04 323 0061).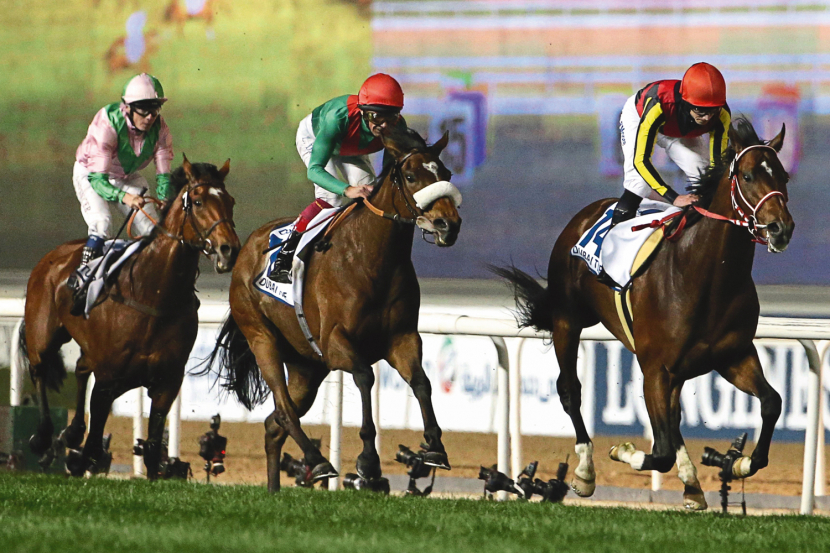 A night at the races is the perfect excuse to get your glad rags on – even when it's not the Dubai World Cup. You can visit Meydan racecourse weekly and watching the horse racing in Dubai is absolutely free.
General admission tickets. Until Apr 10. Meydan Racecourse, Nad Al Sheba, dubairacingclub.com (04 327 2110).
Now one of Dubai's worst-kept secrets thanks to us big-mouth journalists, everyone can revel in the shoreline salubriousness of La Mer without paying so much as a parasol fee. Should you want some other vitamins to go with your dose of D, there is a slew of top restaurants to choose from, too. For the best beaches in Dubai, click here.
Open daily 10am-midnight. Jumeriah 1, lamerdubai.ae (800 637 227).
A simple stroll over to Bluewaters Dubai from The Beach wouldn't be the same if you didn't stop to capture the amazing view for your social media followers. Shots of Ain Dubai, JBR and beyond will surely drum up some likes, and it's a totally free thing to do in Dubai. Leave those pouting selfies to those posers you blocked a long time ago.
Open Sun-Wed 10am-midnight, Thu-Sat 10am-1am. Bluewaters by Meraas, bluewatersdubai.ae (800 637 227).
---
OTHER AWESOME FREE THINGS TO DO
Aquaventure on your birthday
Of all the ways to celebrate the day you were thrust into this world, why not be propelled down a gravity defying water ride to really top it off. Dubai's Atlantis The Palm's astounding water park Aquaventure will give you a free pass on your birthday. Simply sign up online and bring a whole new meaning to waters breaking.
Open daily 10am-sunset. Atlantis The Palm, Palm Jumeirah. Register at aquaventurebirthday.ae (04 426 2000).
Dubai Aquarium & Underwater Zoo
We'd forgive you if you were so immersed in dessert at The Cheesecake Factory that you missed the aquatic amazement over your shoulder. But no trip to The Dubai Mall is complete without some gratis gawping at a selection of the marine life on offer at the Aquarium. A selfie with a shark? Rude not to.
Open daily 10am-midnight. The Dubai Mall, thedubaiaquarium.com (800 382 246 255).
Dubai Canal Waterfall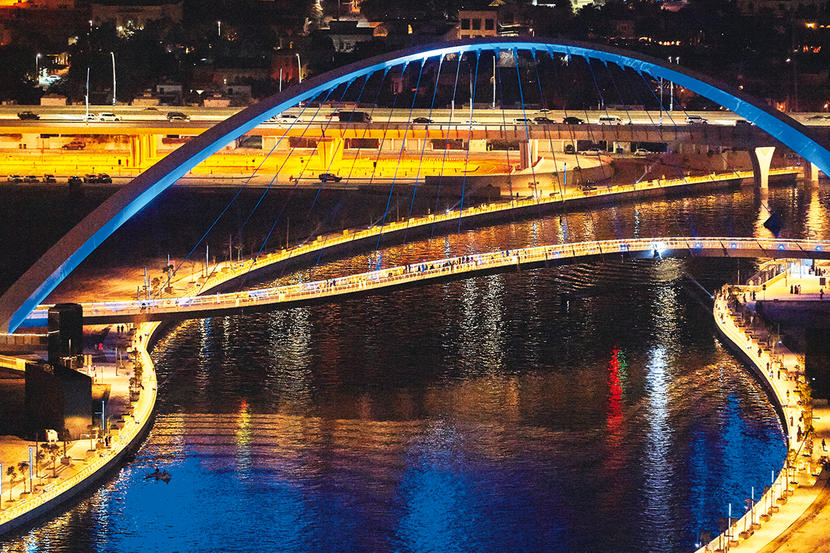 One of the city's most spectacular developments in recent years, the Dubai Canal, has its own fabulous focal point thanks to the colourful cascade where the waterway meets Sheikh Zayed Road. Whether you're blissfully boating, joyfully jogging or simply sauntering along the Canal, stop awhile and bask in this remarkable rainbow's glow.
Open 24/7. Dubai Water Canal, rta.ae.
IMAGINE at Dubai Festival City Mall
Offering a triple bill of delightful stories told through the medium of water, IMAGINE brings the fireworks and smashing (or should we say splashing?) soundtracks daily. Festival Bay lives up to its name with this fabulous feat of engineering and choreography. It's earned two Guinness World Records. Enough said.
Sun-Thu 7.30pm-10pm, Fri-Sat 7.30pm-11pm. Dubai Festival City Mall, dubaifestivalcitymall.com (800 332).
The Dubai Fountain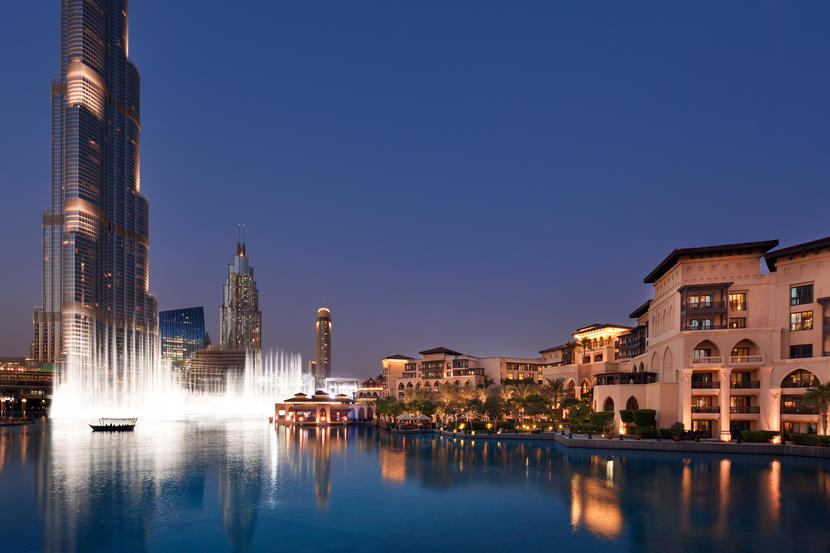 Regardless of our visiting family's ages, we always seem to take on the role of avuncular uncle when it comes to this most awe-inspiring of attractions. You might have clocked a theme for this section but for a country that found wealth out to sea, it's hardly surprising homages to H2O are so prevalent. And this one arguably tops the lot as it's one of the best free things to do in Dubai. Head to The Dubai Mall and get a prime position to watch The Dubai Fountain.
Daily every 30 minutes from 6pm-11pm, plus Sat-Thu 1pm, 1.30pm & 2pm, Fri 1.30pm, 2pm & 2.30pm. Downtown Dubai, thedubaimall.com (800 382 246 255).
For more amazing things to do in Dubai click here.
Be the first to get all the latest Dubai news, reviews and deals into your inbox by signing up to our free
newsletter
,
click here to sign up
.