Looking for things to do at Dubai Creek? The question Dubai Creek poses really is "what isn't there to do?"

Otherwise known as Khor Dubai, the natural Dubai creek from the Arabian Gulf spans 14km, and it isn't just the relaxed area to walk in Dubai while taking in the breeze that it offers. It's also home to a selection of local restaurants, activities and things to do in Dubai that both tourists and residents will be delighted with.

And, soon enough, it will also be the home to Emaar's Dubai Creek Harbour – an in-development luxury community area that boasts waterfront resorts, a record-breaking Dubai Square retail project with a whopping space of 8.07 million sq ft, and the world's next tallest tower, Dubai Creek Tower. It's set to be completed by 2021.

For plenty more things to do around Dubai, we've got you covered right here. In the meantime, it's time for Dubai Creek to shine…

JUMP TO:
Attractions and things to do at Dubai Creek
Shopping at Dubai Creek
Restaurants at Dubai Creek
Bars at Dubai Creek
---
Attractions and things to do at Dubai Creek
Abra rides
You can't say you've explored all of what Dubai Creek has to offer without taking its signature abra ride. Truly, as you'll need to get across the creek in order to explore even more markets and souks. Hope on an abra in either Deira or Bur Dubai, pay your one dirham fee (yes, just Dhs1), and take in a unique perspective of Dubai's most historic quarter. You can find abras spotted along Dubai Creek, although the best spot to hop aboard would be around Al Fahidi neighbourhood.
From Dhs1. Times vary.
JA Bateaux Dubai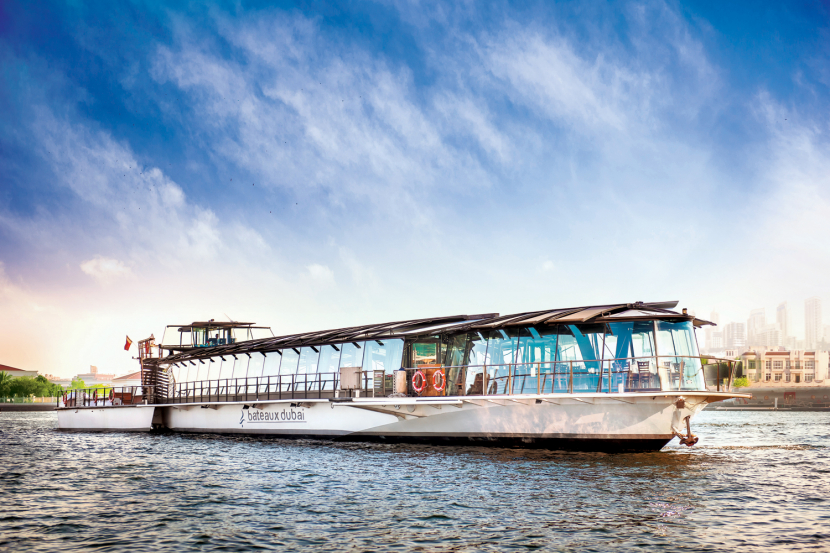 Probably the flagship (no pun intended) dining experience at Al Seef is JA Bateaux Dubai. This established Dubai Creek cruise – it's been running for more than ten years – is the ultimate in water dining in the city and offers packages inclusive of soft drinks or house beverages. You'll get a four-course meal during your two-and-a-half hour Dubai Creek cruise. Similar to the boats you'll find gliding along the Seine in Paris – it was built by French designers – JA Bateax Dubai is a unique way to spend an evening and you'll get fantastic panoramic views of Dubai's Old Town including the souks. It's well worth booking dinner on this boat to see the Dubai Creek in all its glory for both tourists and residents.
Open daily, 8.30pm-11pm, boarding at 8pm. Al Seef Street, Dubai Creek, www.reservations.bateauxdubai.com (04 336 6768).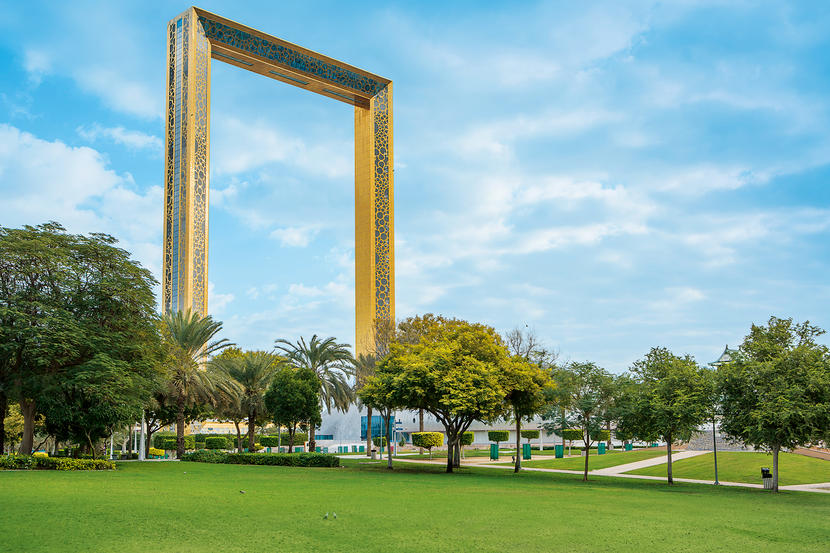 It isn't just a stand-out structure that captures the city in a colossal-sized frame, visitors can actually go inside and up to the bridge of Dubai Frame over at Zabeel Park. And, the views of 'old' and 'new' Dubai from a 150-metre-high sky glass bridge look superb whether you're there for the day, sunset or at night. If you didn't know, the bridge has a completely see-through bottom to it, which is always a scary thing to walk across. Walk across it and be labelled one of the bravest of the bunch.
Open daily 9am-9pm. Zabeel Park, www.dubaiframe.ae.
Dubai Creek Golf & Yacht Club

Ah, there's nothing like teeing off right next to the breezy sea air from Dubai Creek, which is why Dubai Creek Golf & Yacht Club has become a popular spot for golfers of Dubai. This award-winning course is one of the most scenic 18-hole Championship and Par 3 golf courses in Dubai and its location in the middle of the city makes it very accessible. It boasts a state-of-the-art academy and excellent 19th holes, and there's even a platform on the creek to tee off on one of the holes. Finish up the game and chill out at the Boardwalk or QD's for some nice refreshments.
Green fees: from Dhs760 (18 holes), Dhs460 (nine holes). Rates include green fees, golf cart hire and range balls. Open daily 7.30am-8pm. Baniyas Road, Dubai Creek, www.dubaigolf.com (04 295 6000).
Dubai Creek Park
An essential for those keen on setting up a spot on fresh green grass and to let the littles ones loose in, Dubai Creek Park is the second-largest park in Dubai and has been a popular mainstay for years thanks to lush views of the creek and massive space for all sorts of activities. There are also bikes to rent for an easy breezy cycle. This park calls for everyone to kick back and relax and is one of the best places to visit at Dubai Creek.
Dhs5. Open Sun-Wed 8am-10pm, Thu-Sat 8am-11pm. Near Dubai Healthcare City, Dubai Creek (04 336 7633).
Children's City
Let your kids loose here and parents can set their mind at ease knowing they're having fun and learning at the same time. For kids of all ages, there's everything from a planetarium and earth science gallery to a nature centre, human body museum and toddlers area. All that for Dhs10? Now that's a whole lot of exploring bang for your buck. Definitely don't miss out on the space exploration gallery either, as the UAE is well on its way to becoming the forefront of space.
From Dhs10. Open Sun-Thu 9am-7pm, Fri-Sat 2pm-8pm. Dubai Creek Park, www.childrencity.dm.gov.ae (04 334 0808).
Fireworks and entertainment
If you've lived in Dubai long enough, you'll know it goes big for many celebrations, and that means fireworks, live entertainment on the streets and plenty of gigs. You'll find that Dubai Creek is a stellar spot to watch it all, as crowds gather to celebrate national holidays, shopping festivals, Halloween, Christmas – you name it. Be sure to check back to Time Out Dubai for all the updates on the biggest firework shows and more coming your way.
Hindi Lane
Sitting snugly between Meena Bazaar and the Creek, Hindi Lane is a vibrant maze of shops near Dubai Creek hung with beautiful wreaths of fresh flowers, posters, knick-knacks and tiny hole-in-the-wall cafés serving Indian snacks. Visit around Diwali when the store fronts are strewn with all manner of flashing, multi-coloured fairy lights and are lit with candles. It's a photographer's dream.
Behind Dubai Grand Mosque, opposite Dubai Museum, Bur Dubai.

We all like to think we could never be duped by any sort of smoke and mirrors, but entering Dubai's Museum of Illusions at Dubai Creek in Al Seef changes that notion. Boasting 80 different exhibits to boggle the mind, all of which are impressive (and insta-worthy) in their own right, it's full of mischief and trickery the moment anyone steps in. A great way to spend a few hours, whether you're in a Vortex Tunnel or growing or shrinking in the Ames room, there's plenty to wow you. One of the most fun things to do at Dubai Creek.
Dhs60 (kids), Dhs80 (adults), Dhs225 (family of four). Open Sun-Wed 10am-10pm, Thu-Sat 10am-midnight. Al Seef, Bur Dubai (04 357 3999).
Sheikh Mohammed Centre for Cultural Understanding
Known for its breakfast and lunch Q&A sessions with its Emirati hosts, the centre near Dubai Creek has expanded its programmes to include dinners, too, as well as Fuala – the Emirati custom of welcoming guests with tea and pastries. Try traditional Emirati cuisine, coffee and snacks and ask your hosts anything and everything you ever wanted to know about the UAE and its culture. Combine lunch with a heritage tour around the area to learn about Dubai's history from someone whose family lived through it.
Open Sun-Thu 8am-4pm, Sat 9am-1pm, closed Fri. House 26, Al Mussallah Road, Al Fahidi Historical Neighbourhood, Bur Dubai (04 353 6666).
The Dubai Museum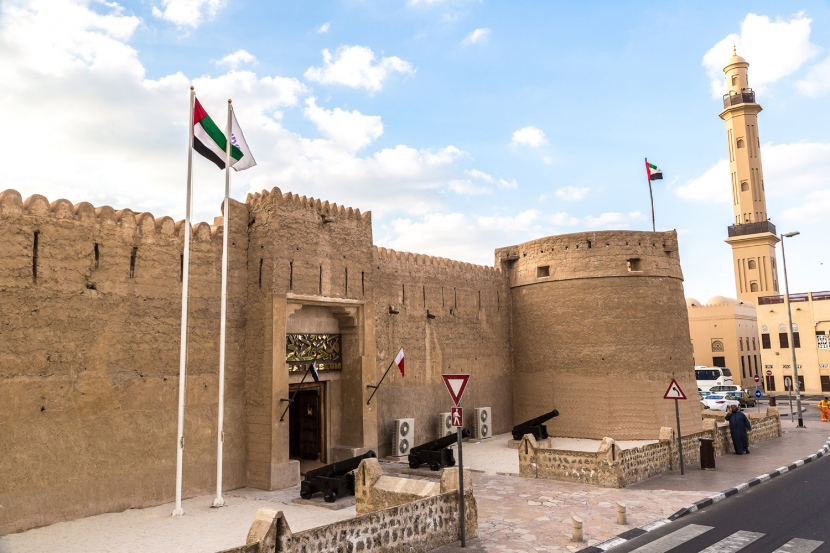 If you feel your time in Dubai is lacking a little in history, then plan a day trip to the Old Town, especially the Al Fahidi District. A vivid picture of the past is formed during a visit to Dubai Museum. The historic building is home to a wide variety of life-size dioramas that depict Emirati life from a bygone era. Soak in the heritage as you take a tour through traditional scenes of Arab households, souks and mosques, with more thjngs to do offering unique insights into life in the desert by the sea. One of the best things to do at Dubai Creek if your interested in history.
Dhs3 (adults), Dhs1 (kids under six). Open Sat-Wed 8.30am-8.30pm, Thu 2.30pm-8.30pm, closed Fri. Bur Dubai (04 353 1862).
Take a stroll along Dubai Creek
Dubai Creek is perfect for walking along. It's a fairly straightforward path filled with souks, shops and restaurants as pit stops makes it a no-brainer for those evening-time walks. It being a long 14km, we recommend taking the route from Al Fahidi to Al Seef, which will take you through the historic parts of the UAE right up to Old Dubai with a splash of modern polish. There's everything from ice cream parlours to coffee shops and the design goes from traditional Arabic architecture to modern container-style spaces. You'll end up at Canopy by Hilton Dubai Al Seef, formerly Zabeel House. From there, it's easy enough to get a taxi back home. For more walks and things to do in Dubai click here.
---
Shopping at Dubai Creek
Dubai Festival City Mall
Okay, it's not like you can see Dubai Creek from inside a mall, but it is right next to Dubai Creek, and what's wrong with a bit shopping? If a mall features a whole IKEA store, it's already a winner in our eyes. We're sure it's been the source of many an argument, but ultimately most of our homes are kitted out with the Swedish furnishings, so that's what makes Dubai Festival City Mall a top weekend visit for us. But that's not the only draw to this mall near Dubai Creek – there are more than 50 restaurants and cafés including PF Chang's, Sugar Factory, Tortilla and a Hard Rock Cafe. There's even an 18-screen Novo Cinema with 4D IMAX, plus a Fabyland.
The Old Souks
Bargain, anyone? Gold, spice or textiles – take your pick. One of the best things to do at Dubai Creek has to be checking out the souks. On either side of Dubai Creek, you'll be able to explore some of Dubai's classic markets, which in their day proved to be some of the city's most important economic hubs. On the Deira side is the Gold Souk, while on the Bur Dubai side of Dubai Creek you'll find more textile shops. It is estimated that the Gold Souk is home to as much as ten tonnes of gold at any given moment, and there are dozens of jewellery shops offering some incredible items. Meanwhile, you can buy tonnes of fresh herbs, spices, ingredients, remedies and more in the Spice Souk, and fabrics, garments and more in the Textiles Souk. The smells, sights and sounds of shopping at the souks in Old Dubai makes a trip here one of the very best things to do in Dubai.
Open daily, timings vary. Deira (no number).
For more shopping in Dubai, click here.
---
Restaurants at Dubai Creek
Al Hamidieh
Al Hamidieh is making some bold claims. "Famous for preparing the best Arabic dishes in UAE", it says. Look forward to some classic dishes, traditional recipes and a relaxed vibe here.
Open daily 10am-2am. Al Seef, Dubai Creek, www.alhamidieh.com (052 902 2841).
Al Mallah Seef
Shawarmas are a dime a dozen across the city, but this old streetside Satwa haunt serves some of the juiciest, and for less than Dhs10. The mixed grills are just as impressive, too. Combine with fattoush, hummus and a fresh juice, and you've got yourself a winning meal next to Dubai Creek.
Open daily 9am-midnight. Al Seef Street, Deira (04 388 5455).
Baskin-Robbins
This popular and colourful US ice cream chain has set up shop in Al Seef's old quarter, offering its usual sweet-tooth treats by Dubai Creek. You'll have to keep an eye out for it, though, its shop-front is demi-disguised to suit its locale, which gives this branch a unique look compared to the rest of the modern franchise across the city.
Open daily 10am-midnight. Al Seef Street, Dubai Creek, www.baskinrobbinsmea.com (04 357 2288).
Bellamia
Because there's one thing we'll never tire of out here, and that's heat-quelling ice cream. This Italian chain serves up some tasty once-a-week treats milkshakes and more.
Open daily 10am-midnight. Al Seef, Dubai Creek (04 321 9011).
Bikanervala
If continental European sweets aren't quite what you're in the mood for, perhaps this Indian quick eats and candies will be? There are plenty of savoury dishes too at Bikanervala, which was set up in Delhi. Grab shakes, kulfis, chaats, curries, breads, pizzas and sandwiches.
Open daily 10am-midnight. Al Seef, Dubai Creek (043 885 100%).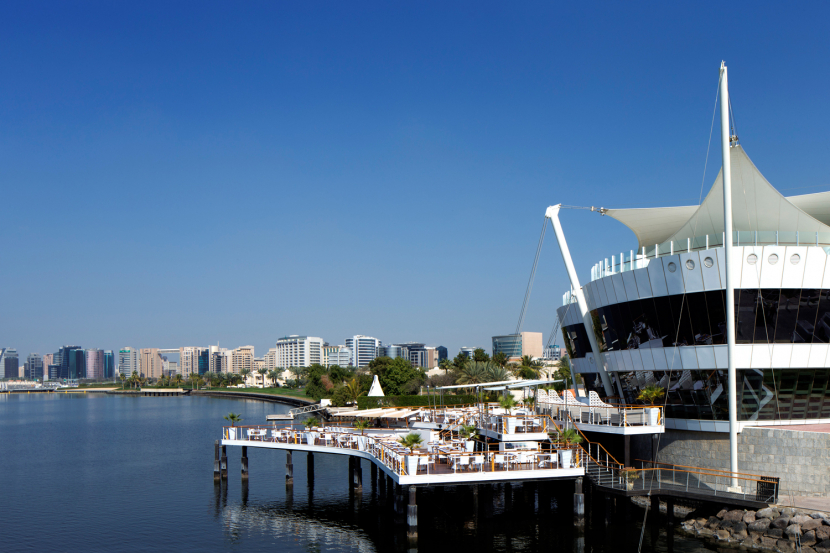 A former winner of our Best Outdoor Restaurant award, this spot at Dubai Creek Golf & Yacht club is ideal for a family-friendly meal out. Kick back and take stock over some delicious Mediterranean food from freshly baked pizzas and calzone to an extensive fresh fish and seafood selection, on a platform jutting out into Dubai Creek with views beyond. And if you fancy a sundowner later, Cielo Sky Lounge (just upstairs) provides amazing views of the Dubai skyline. One of the best restaurants near Dubai Creek.
Open Sun-Thu noon-midnight, Fri-Sat 8am-midnight. Dubai Creek Golf & Yacht Club, Deira (04 205 4647).
Dukkan Burger
Home to freshly made grub with local flavours and a menu inspired by local traditions fused with contemporary tastes and trends, Dukkan dishes up, you guessed it, lots of burgers, fries, chicken and more down by Dubai Creek.
Open Sun-Wed 10am-11.30pm, Thu-Sat 10am-2am. Al Seef, Dubai Creek (04 324 0167).
Hello Fruits
If you're not after a shake, burger or fries head to Hello Fruits for a health kick instead. This healthy living café concept majors in big shakes, fruit cocktail, fruit protein shakes and "power smoothies" including peanut maca strawberry, courgette protein shakes and banana chocolate shakes. One for the vegans in Dubai, too.
Open daily 10am-10pm. Al Seef, Dubai Creek (04 302 0806).
ILA
This popular eatery specialises in traditional tastes of Egypt, North Africa and the Middle East. Mixed grills, salads, mezze, fresh juices and more are accompanied by views over the Al Seef promenade and Dubai Creek.
Open daily 8am-1am. Al Seef, Dubai Creek (04 358 5822).
Kava & Chai
Speciality teas and coffees are the name of the game at this traditional Arabic hangout. It has trendy, open-plan décor that serves as a great makeshift office for a day away from the hustle and bustle. And where better to settle down to some work than with a cup of chai near Dubai Creek.
Open daily 8am-1am. Al Seef, Dubai Creek (055 399 5355).
La Marquise
La Marquise claims to provide "the best experience in Arabic café culture", and you'll find a tonne of traditional dishes, including a range of appetisers such as sambousek, falafel and baba ganoush, coupled with contemporary grub from around the world at this restaurant near Dubai Creek. Think omelettes, pancakes, salads, soups, eggs and more. Perfect for breakfast, lunch and dinner then.
Open daily 10am-midnight. Al Seef, Dubai Creek (04 343 3328).
London Dairy
If you're yet to try London Dairy's cookies and cream flavoured ice cream then you need to head to the chain's Dubai Creek store – you won't be disappointed. Other flavours like caramel biscuit and strawberry cheesecake are well worth a chomp, too.
Open daily 10am-midnigh. Al Seef, Dubai Creek (04 343 3328).
Mamikonyan
Now this is one of the cafés and restaurants in Dubai Creek's Al Seef's old town that boasts a mega view. Found on the first floor, chow down on some Lebanese and Armenian food while taking in the entire view of Dubai Creek and the many passing dhows, vessels and water taxis. Watching the world go by is undoubtedly one of the best things to do at Dubai Creek.
Open daily 10am-1am. Al Seef, Dubai Creek (04 396 6644).
Mug Café
You might easily miss this place at Dubai Creek's Al Seef because of its charmingly innocuous store front, but it has one of the most surprisingly serene spots just round back. You can practically tip your toes in Dubai Creek from the decking area of this little café – so it's a great choice for some quiet refreshment.
Open daily 9am-midnight. Al Seef, Dubai Creek (04 341 1313).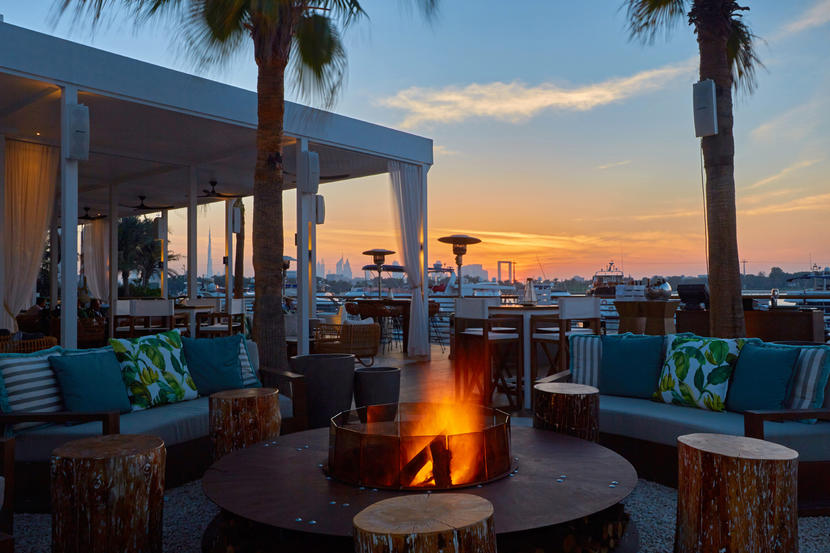 If you're after fresh fish and waterside dining there are few places better than this spot, which is why it picked up our Best Outdoor Restaurant 2020. Inspired by the coastal splendour of Cape Cod, this charming space offers a panoramic vista of Dubai Creek with plenty of dishes to share. A seafood bar features the freshest catches, from lobster and crab to yellowtail carpaccio. There's also a cracking (ahem) lobster bake brunch on a Saturday that's a must-try. One of the best restaurants at Dubai Creek.
Open daily 5pm-2am. Park Hyatt Dubai, Deira (04 602 1814).
Shawerme
One of the top shawarma in Dubai, Shawerme has a branch in Al Seef next to Dubai Creek, so grab a drink to refresh and munch away at a whopping great chicken or lamb shawarma made with freshly baked bread wraps.
Open daily noon-3am. Al Seef, Dubai Creek (04 223 3292).

This restaurant on the banks of Dubai Creek at Al Seef is an ideal place for a chilled-out Mediterranean meal. It's also just revamped its menu so get ready to enjoy delighful dishes on the waterfront. We definitely recommend the sea bass.
Open daily noon-11pm. Al Seef, Dubai Creek (04 707 7077).
The Brass
One of the staples at Meraas destinations, The Brass is a coffee shop that specialises in top quality roasts and artisanal preparation while providing an environment for working out of the office, catching up with the team, hanging out with your friends in the evening or getting an early morning coffee to perk up your day next to Dubai Creek. Stick to your standard morning mocha paired with a range of tasty baked goods, or try something completely different in the form of one of The Brass' signature blends including lavender honey or cinnamon lattes. As the sun goes down the music mellows to create a really chilled night time ambience. There's also an "east meets west" theme, which is reflected in the range of Arabic and Turkish coffees and sandwiches on offer.
Open daily 8am-midnight. Al Seef, Dubai Creek, www.thebrass.ae.
The Stuffed Burger
While you can readily access and leave Al Seef by taxi, metro and Dubai Water Taxi, if you'd prefer to roll out then head to The Stuffed Burger for a whopping great hunk of beef stuffed with cheese (inside the patty, thing of dreams) and slapped in a bun. That's where you'll find us next time we fancy a snack next to Dubai Creek.
Open daily 10am-midnight. Al Seef, Dubai Creek (600 545 541).
Times of Arabia
A fine-dining restaurant offering traditional Arabic grub, and one that prides itself on its authentic hospitality, grills, kebabs and mezzes. If you don't find us filling our faces with stuffed burgers, we're likely to be at Times of Arabia ordering manakish (stuffed with cheese, naturally). For more top Middle Eastern restaurants click here.
Open daily 10am-midnight. Al Seef, Dubai Creek (04 358 8861).
For more restaurants in Dubai, click here.
---
Bars at Dubai Creek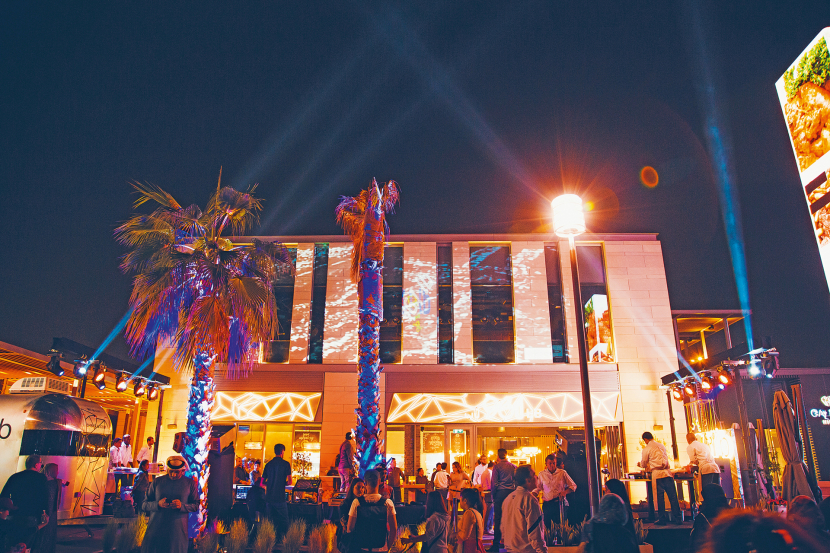 This Lebanese bar and restaurant at Al Seef at Dubai Creek calls itself the "best of both worlds" because not only can you sit and while away a few hours with some top grub, but you can also do a spot of retail therapy while you're there.
Open daily 8am-3am. Al Seef, Dubai Creek (058 896 1961).
Cielo Sky Lounge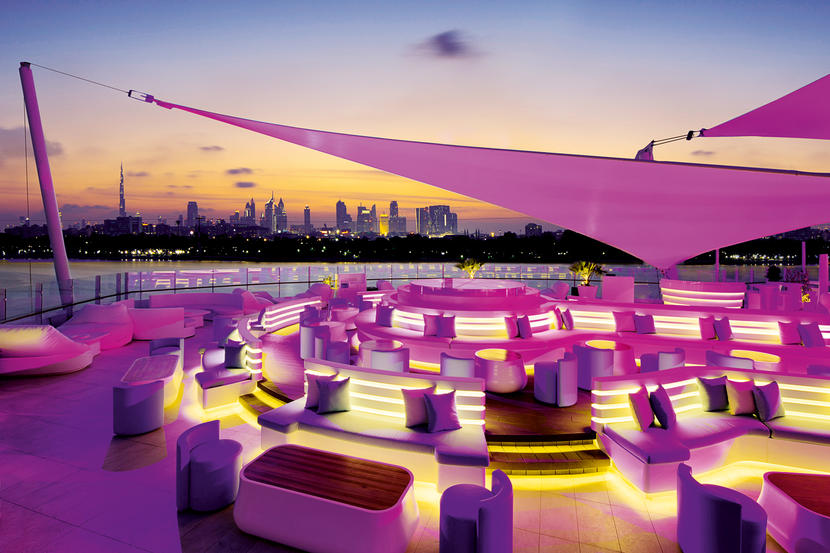 For views across Dubai Creek and out to the ever-changing Dubai skyline, it's still hard to beat Cielo Sky Lounge, and this al fresco spot nails it. It's a longstanding rooftop bar for good reason, thanks to its brilliant sunset views over Dubai Creek.
Open Sat-Thu 5pm-3am, Fri 4pm-3am. Dubai Creek Golf & Yacht Club, Deira (04 416 1801).
It's an oldie and an undisputed goodie – a reputation that was upheld on our most recent visit to classic al fresco spot QD's. Placed on a vast waterfront terrace with stunning skyline scenery right along Dubai Creek, QD's has live sport, a live DJ, food being served up left, right and centre and plenty of shisha on the go. Expect a mix of Arabic mezze, Mediterranean, seafood and grills with superb views of Dubai Creek. If you're looking for things to do at Dubai Creek, round it off with a visit to this bar.
Open Sun-Wed 5pm-2am, Thu-Sat 5pm-3am. Dubai Creek Golf & Yacht Club, www.dubaigolf.com/qds (04 295 6000).

For more bars and nightlife in Dubai, click here.
For more things to do in Dubai click here, for more things to do in Old Dubai, click here.
For more things to do in Dubai, click here. For more things to do at Dubai Creek and things to do in Old Dubai, click here.
Be the first to get all the latest Dubai news, reviews and deals into your inbox by signing up to our free
newsletter
,
click here to sign up
.