Dubai may be the (literal) hot spot for daytime tanning at some of the world's best beaches or stunning sundowner spots, but as soon as the sun sets, there are still loads of things to do in Dubai at night.
If you're more of a night owl than early bird, Dubai will treat you to all sorts of buzzing entertainment to keep your night alive – from singing your heart out and riding a mechanical bull, to jamming to live jazz and having brunch at the cinema.
Right, it's time to enjoy Dubai's nightlife scene to its fullest, and below will show you how to do just that with all the top things to do in Dubai at night right here. .

All-in-one at The 44
If having a couple of quiet bevvies isn't enough excitement for you, then there's nowhere in around town with a greater variety of bar sports than this lofty bar found at Al Habtoor City. The best part? There's a bowling alley running along the side of the bar, which while not cheap to play does hold the title of the highest bowling alley in the world. It's also home to pool tables, darts and more. One of the highest things to do in Dubai at night.
Open Sat-Wed noon-2am, Thu-Fri noon-3am. Hilton Dubai Al Habtoor City (054 581 1758).

If you're looking for an action-packed night out in Dubai, Wavehouse is it. Alongside a colourful, lively and licensed four-lane bowling alley (which we absolutely recommend you try) there's a large upstairs area packed full of arcade games and virtual reality, and there's even a wave rider – a machine that shoots more than seven tonnes of water per second, perfect for body or knee-boarding. There's a separate bar area, as well as a restaurant – plus expansive outside terrace. Pair that all with its daily happy hour of discounted drinks from 5pm until 7pm and you're guaranteed a cracking night out at this one-stop fun factory at Atlantis The Palm.
Open daily noon-1am. The Avenues, Atlantis The Palm, Palm Jumeirah (04 426 2626).
Dig out that Stetson, it's time to head to the rodeo at this all-American bar in Dubai. It took us a few visits before we seriously considered climbing atop the bucking bronco sitting centre stage at this buzzing American gastropub on Dubai's Sheikh Zayed Road. But once convinced to take on the challenge you can't keep us away. The all-American themed bar also offers hops pong, Wild West Wednesdays with a live band, loads of drinks deals and more. Gather your mates and you'll be yelling 'yee-haw' in no time, cowboy, for one of the most fun things to do in Dubai at night.
Open daily 6pm-3am. Saaed Tower One, Sheikh Zayed Road (054 417 7028).
Bust a move at Meydan Dubai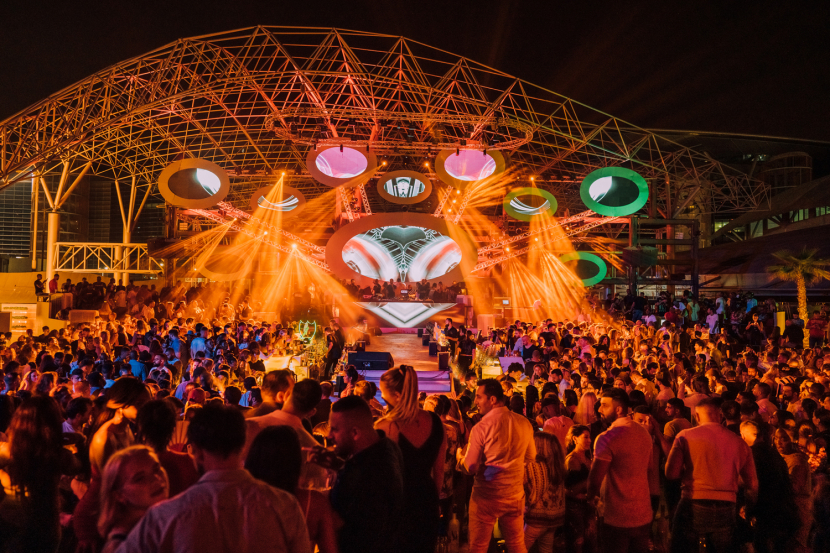 Dubai's nightlife scene has been dominated by some absolutely superb nightclubs in recent years, and some of the best can be found at Meydan. Drai's Dubai and WHITE Dubai both bring in some big time international artists from around the world each week. Think, Jason Derulo, Fetty Wap, Wiz Khalifa and plenty more. You won't regret a night out here. In fact, we've put together an essential nightlife guide to get through, check it out.
Drai's Dubai: Prices vary. Open Fri and Sun, 10pm-4am. Meydan Racecourse, Nad Al Sheba (052 388 8857).
WHITE Dubai: Prices vary. Open Thu-Sat and Tue, 10pm-4am. Meydan Racecourse, Nad Al Sheba (050 443 0933).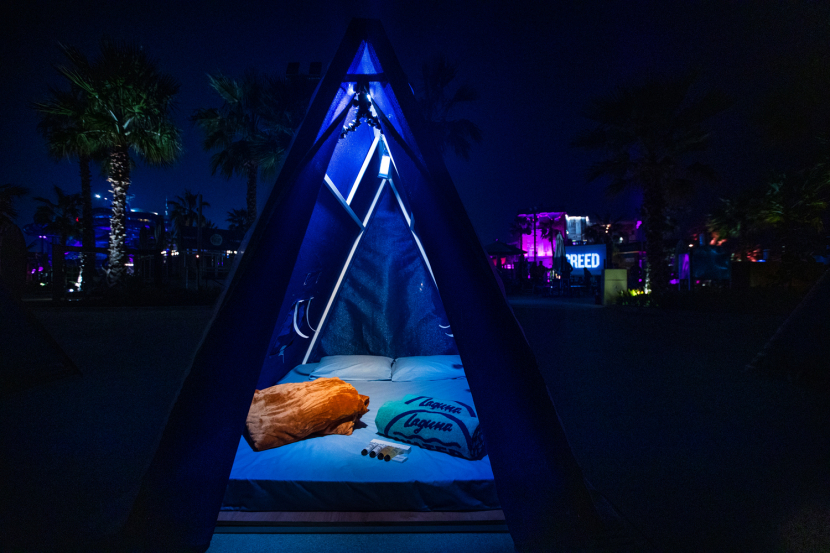 It's the sleepover we've always dreamed about when we we're little and not wanting to leave a waterpark, but now Laguna Waterpark Dubai is making it come true. Dubai's La Mer's buzzing waterpark is set to launch The Camp, the region's first-ever overnight camping experience located within a waterpark. One of the most fun things to do in Dubai at night, whatever age you are.
Dhs700 (tent for two), Dhs1,200 (tent for four). Every Thu and Fri, 5pm (check-in); 10am (check-out). Laguna Waterpark, Central La Mer, www.lagunawaterpark.com/en/the-camp.
Challenge yourself with an escape room
Fancy being stuck in a room that you immediately try to get out of for hours? Well, that's a dull way of looking at it, but fans of mental and physical challenges have a lot of places to check out in Dubai, from escape rooms to assault-style courses. However, Jumble in Al Barsha is one of the top ones to book into. It's difficult to go into too much detail without giving the game away – so, you know, give it a try with a group of pals and get escaping.
Dhs175 (two hours), Dhs224 (four hours). Open Sun-Wed 11am-10pm, Thu-Fri 10am-midnight, Sat 10am-10pm. Al Barsha, Sheikh Zayed Road, www.jumble.ae (800 586 253).
Cruise through Dubai Creek on an abra at night
These tiny boats are still voted as the preferred mode of transport for many Dubaians. But can we tell you a little secret? They are best-enjoyed after dark for crossing Dubai Creek. While heritage abra rides stop at midnight, the trip between Sakbha abra station, which is near Baniyas Square, and Dubai Old Souk abra station runs all day and all night. One of the more cultural things to do in Dubai at night. For more things to do in Old Dubai, click here.
Dhs1 per trip. Dubai Creek, www.rta.ae.
Dance offs at The Hideout

We don't quite know how to describe The Hideout, other than by saying it's a bit of Jack of all trades and regularly hosts some of Dubai's wackiest events including Bonkers Bingo. It's the place to go if you're looking for a massive dance-off though, and it generally has great drink deals, especially post-brunch on a Friday. Looking to bust a move to '90s and noughties tunes? This is the place.
Open Sat, Tue and Wed 7pm-4am, Thu 7pm-4am, Fri 1pm-4am. Marina Byblos Hotel, Dubai Marina, www.thehideoutdubai.com (058 534 6000).
Dine at the Creek on Bateaux Dubai
Dubai Creek at night is magical. The hum of bustling trade and dhows being loaded with cargo is replaced by the fairy lights of floating restaurants and the chatter of tourists and locals alike milling at the water's edge. And one of the best things to do in Dubai at night is a Dubai Creek Cruise. Book into JA Bateaux Dubai and sail up and down the stretch in a glass-walled restaurant eating fantastic food while you take in the sights of Old Dubai.
Open daily, 7pm-10.30pm. Bateux Dubai, Al Seef Street, Bur Dubai www.jaresortshotels.com (04 3366768).
Whether doodling on the coffee cups and trying to make it onto the customer hall of fame or going all out for painting, illustration or model-making classes there is much to enjoy at this artsy café in Dubai's Jumeirah. Let your inner creative out at Sketch Art Café and spend an afternoon scribbling away while sipping on a cuppa or even as a fun thing to do at night in Dubai when you're not in the mood for a party. For everything arty in Dubai, click here.
Open daily, 9am-11pm. Sketch Art Café, Villa 21, 4B Street, Al Hudaiba, www.instagram.com/sketchartcafe (04 3988331).
Find a taste of Ireland at The Irish Village

A Dubai institution, going strong for more than two decades, The Irish Village and its enduring presence continues to charm hordes of expats every week. The Irish Village's large garden and homely feel make it a wonderfully low-key favourite among residents. With regular live music, good food and a great vibe, The Irish Village should be your default pub option – and it's frequenty our Pub of the Year with good reason. Whether by day or night, this is a top pub to go to in Dubai.
Open daily 11am-1am. Garhoud (04 282 4750).
One of the best things to do in Dubai at night for keeping those braincells ticking over is a quiz. For the ones who have crammed heaps of trivia into their brain and are just about ready to unleash their knowledge, a quiz night in Dubai is right up your alley. There's plenty taking place nearly every night of the week – from the Crown & Lion on Mondays and garden on 8 on Wednesday. And don't forget, Time Out Dubai frequently puts on a cracking quiz night, whether you're in it to win it (Dhs3,000 is usually up for grabs, and then some) or up for plenty of banter. Keep posted right here.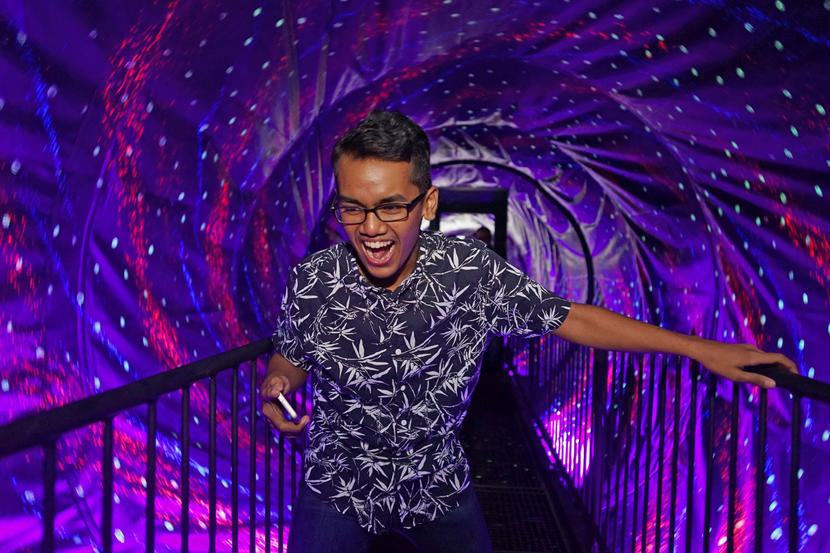 We like to think we could never be duped by any sort of smoke and mirrors. That is until we entered Dubai's Museum of Illusions. Set along Al Seef it's one of the best things to do at Dubai Creek (for more things to do at Dubai Creek click here) and brimming with all sorts of optical illusions that will either puzzle or make for the ultimate Insta-selfie, head here for a quirkier kind of night out in Dubai.
Dhs80 (adults), Dhs60 (kids ages five-15). Open Sun-Wed 10am-10pm, Thu-Sat 10am-midnight. Al Seef, Bur Dubai (04 357 3999).
More of a putter than a driver? That's what mini-golf was made for, and 3D Blacklight Minigolf in JBR does in style. Each illuminated room has a different theme to it – including a vast space setting, coral reefs depicting the ocean and orange-lit desert scenes. Dreamy. It's one of the more fun things to do in Dubai at night if you're after some competition. Watch how the Time Out Dubai team played (terribly) here.
Dhs110 (adults), Dhs90 (kids below 12), free (kids below six). Open daily 2pm-11.30pm. Unit P24, Bahar Plaza Level, JBR, glowingroomsdubai.ae (04 565 7621).
Go up the Dubai Frame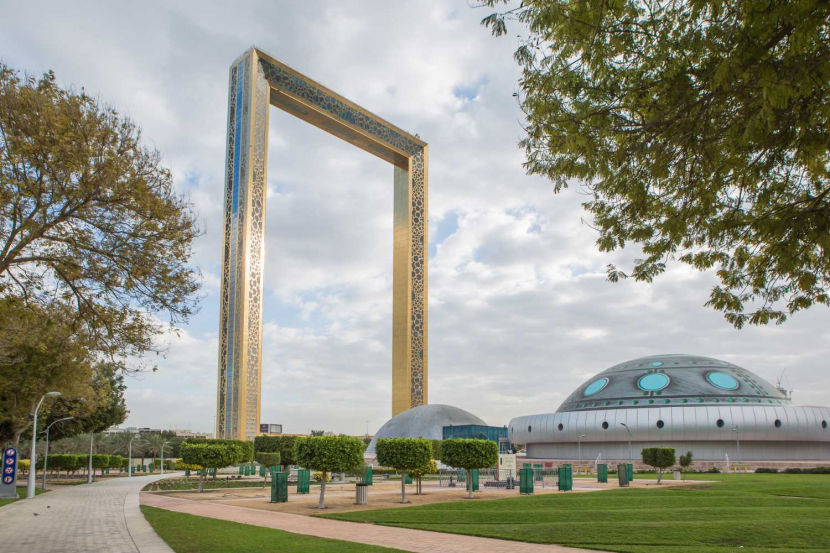 Dubai Frame is a sight to behold, and is definitely a top thing to do in Dubai at night. It isn't just a stand-out structure that captures the city in a colossal-sized frame, visitors can actually go inside and up to the bridge of the frame over at Zabeel Park. And, the views of 'old' and 'new' Dubai from a 150-metre-high sky glass bridge only look better at night. If you didn't know, the bridge has a completely see-through bottom to it, which is always a scary thing to walk across. Loop hole? Go across it at night – what you can't see won't scare you, right, and the sparkling lights of Dubai are sure to impress.
From Dhs20 (kids), Dhs50 (adults) free (kids under three and people of determination). Open daily 9am-9pm. Zabeel Park, www.dubaiframe.ae.
Go on a desert safari
There really isn't anything like heading out into the desert and witnessing the starry night sky of the Arabian Desert. A half an hour drive outside of Dubai, book a desert safari trip with Desert Safari Dubai discover history, tradition and wilderness like nowhere else. Departing in the afternoon, travellers will head out across the desert with several photo-stops and an exciting dune drive to the first destination: a camel farm. Then visit a campsite for some camel riding, sandboarding and even some henna. Then it's time to feast on a barbecue dinner while an Arabic belly dancer and fire breather provides the entertainment. One of the must-do things to do in Dubai at night for tourists, residents or to impress your guests.
From Dhs110. Times vary. Pick-up destination on request, www.desertsafaridubai.com (04 208 7466).
Grab a coffee and play games at a board game café
Board game café Unwind Café in Dubai's Al Barsha has more than 500 board games, plus coffee and cake. Read that back again and ask if you think it sounds like your sort of place. From classics like Scrabble, Ludo and various Monopoly editions to hundreds of unexplored alternatives. Games such as Bonk, Taboo and Dungeons and Dragons sound like wholesome fun for couples looking for alternative things to do in Dubai at night.
Open Sun-Wed, 10am-11pm; Thu-Sat, 10am-midnight, Unwind Cafe. Hessa Street, Barsha, www.unwinddubai.com (056 404 0019).
Have brunch at the cinema at OUTDOOR by Vox Cinemas
Don't think you have time to enjoy the cool weather, tuck into a brunch, and watch the latest blockbuster in Dubai? OUTDOOR by VOX Cinemas at Aloft City Centre Deira deal will make you think again. Its 'Cinema Sundowner' offers filmgoers a place to watch their favourite blockbusters al fresco, all while tucking into a cinema snack feast and even sip on house beverages. Not a bad way to spend Friday evening. For the best cinema experiences in Dubai, click here.
Dhs95 (two soft drinks), Dhs135 (two house beverages), Dhs260 (four house beverages). Every Fri, 5pm onwards. Aloft City Centre Deira, Deira (04 210 3335).
From the ultra-fast direct lift to the 122nd floor of the world's tallest building to the breathtaking views 442m back down again Dubai's Burj Khalifa's signature lounge At.mosphere Dubai is simply stunning. Any experience at this massive Dubai landmark, night or day, is special with the restaurant and high (pun intended) teas both noteworthy. Our tip, however, is to turn up for a drink just before sunset in order to enjoy contrasting day and night vistas. One for the bucket-list of things to do in Dubai at night.
Daily 7am-2am. At.mosphere, Burj Khalifa, Downtown Dubai, www.atmosphereburjkhalifa.com (04 888 3828).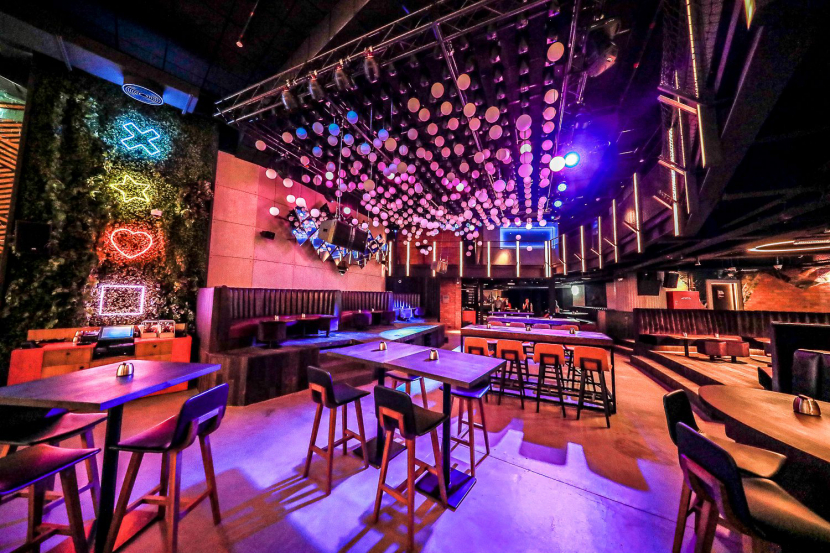 Bright, neon, retro décor, excellent music outside, private karaoke "pods" and more than 15,000 tracks on offer – Lucky Voice continues to be one of the city's top party spots, and the best place to go if you need to belt out a few power ballads. The pods are pretty affordable, too, starting at Dhs40 per person per hour (deals vary by day) and there are 11 rooms to choose from, some of which can accommodate up to 25 people. This is a top night out that you need to go to, right now – just give it just a few minutes in a booth and you'll know exactly why. Top of the list of things to do in Dubai at night for those that think they're the next big star.
Prices vary. Open daily 5pm-3am. Grand Millennium Dubai, Barsha Heights (800 58259).
Karaoke quiz and more at Mr. Miyagi's
Asian street-themed quirky bar and restaurant Mr Miyagi's offers up a zany weekly quiz that'll help you see out the end of the weekend in a truly alternative way. Taking place every Saturday night, it's free to enter but for Dhs99 you'll also get a fantastic series of bonuses to boot. We're talking three drinks, three dishes, games stations and live entertainment such as singing and karaoke.
Free. Sat 8pm. Media One Hotel, Dubai Media City (04 420 7489).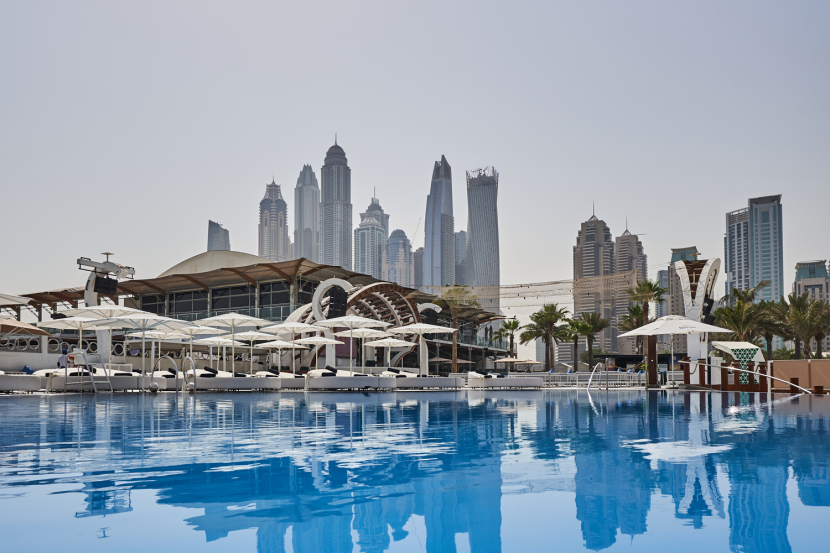 The winter season in Dubai is prime for outdoor cinema. Get ready to catch some classic movies in an al fresco setting – Zero Gravity's popular Cinema on the Sand is back for a second season. Past screenings have included Jaws, Home Alone and Top Gun and it's Dhs50 a ticket but the full amount is redeemable on food and drinks, so it's basically free. No reservations are required it usually kicks off at 8pm so head down early and grab yourself a beanbag, sun lounger or "director's chair" on the sand during the winter at this Dubai Beach Club. One of the best things to do in Dubai at night in the winter months for cinema fans.
Dhs50. Dates vary. Skydive Dubai Drop Zone, Dubai Marina (04 399 0009).
Night golf at Emirates Golf Club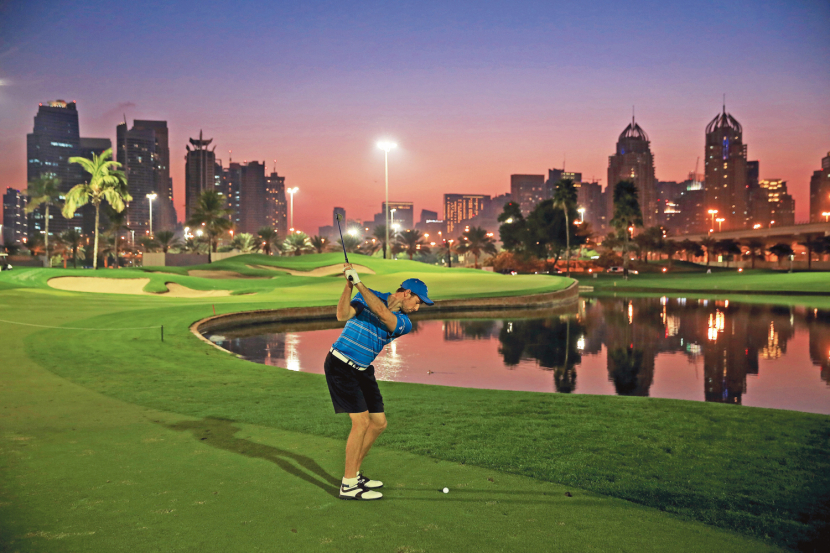 Looking for sporty things to do at night in Dubai? Golfers can get on the greens under the floodlights at Emirates Golf Club every night of the week, at the 18-hole Faldo Course. Tee times on Dubai's only fully floodlit 18-hole course are available until 9.55pm on weekdays and 7.55pm at weekends. Call to book your round.
From Dhs235. Emirates Golf Club, Emirates Hills, www.dubaigolf.com (04 417 9800).
Nightlife in Dubai is a brilliant time for anyone, but for ladies, it's a little extra special. Every night of the week, there are bars across the city serving up free drinks and bargain dinner deals for the fairer gender – that's how big ladies' nights are in Dubai. Take your mates, take your mum, take visitors – just go to one. Don't miss our comprehensive, forever updating ladies' nights in Dubai page right here.
Party it up at a gents' night in Dubai
Who said Dubai only has special nights out for the ladies? There has been a surge of gents' nights too, and each of them offer a fantastic deal for all the lads to enjoy. That means free drinks, discounted meals and even free pool sessions. We've rounded up the best of them right here. For more top things to do in Dubai at night with your mates, click here.
Plunge underwater at The Dubai Aquarium and Underwater Zoo
Fancy a quick dip in a tank swarming with over 300 different species of aquatic life – in a mall? Only in Dubai could shoppers jump in an aquarium and explore some of nature's most fascinating creatures thanks to The Dubai Aquarium and Underwater Zoo. From scuba diving to watch all the creatures from above to encountering sharks from inside a cage, drop your shopping bags and jump in. Better yet, it's open until midnight, meaning you can have a midnight dive, of sorts. Or, if you don't fancy taking the dive, just ogle at the sharks and sting rays cruise from outside the aquarium (that's free).
From Dhs630 (shark encounter). Open daily 10am-midnight. The Dubai Mall, Downtown Dubai, www.thedubaiaquarium.com (800 382246255).
Sometimes, the only way to tire yourself out is for a good night's rest is to push those limbs to the limit. How so? At the 24-hour The Warehouse Gym, and it has just the vibe to get that adrenaline rushing. With its graffiti-emblazoned walls and edgy mood lighting, this large venue in Al Quoz has the feel of an underground New York nightclub. Like going to the club, except you're getting fit.
Prices vary. The Warehouse Gym, Umm Suqeim Road, Al Quoz Ind. 3, www.whgym.com (04 323 23 23).
Ride the rollercoasters at Motiongate Dubai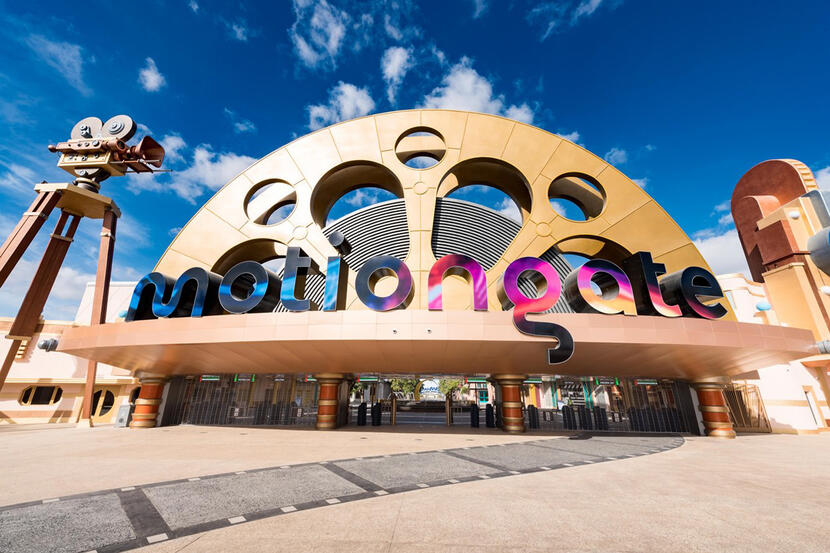 For those out for different things to do in Dubai at night, and for an evening filled with thrills, a rollercoaster ride ought to do it. The movie-themed Motiongate Dubai has more than 20 attractions inside the indoor, air-conditioned park including Madagascar Mad Pursuit and Dragon Gliders. That's not all, as the park is spread across five zones, with each boasting thrilling rollercoasters, interactive zones, threatre shows, roaming entertainment and live performances. What better way to escape the heat of the day and engage in the thrill by night?
Dhs275. Open 11am-9pm (Thu-Fri), 11am-8pm (Sat). Dubai Parks and Resorts, Sheikh Zayed Road, www.motiongatedubai.com (800 2629464).
See dinosaurs at Dubai Garden Glow
We all know how the city illuminates the night sky, but not anything like it does at Dubai Garden Glow. Why? Because you can expect flowers, dinosaurs, igloos and more than 100 other objects are being illuminated over at Zabeel Park. Open throughout winter, each year beings a now theme, and it's recently added a Magic Park filled with optical illusions. A top thing to do in Dubai at night for families in the winter months.
Dhs65, free (children under three, people of determination). Open Sat-Thu 4pm-11pm, Fri and public holidays 4pm-midnight. Dubai Garden Glow, Gate 6 and 7, Zabeel Park, www.dubaigardenglow.com (055 918 8126).
Shop at The Dubai Mall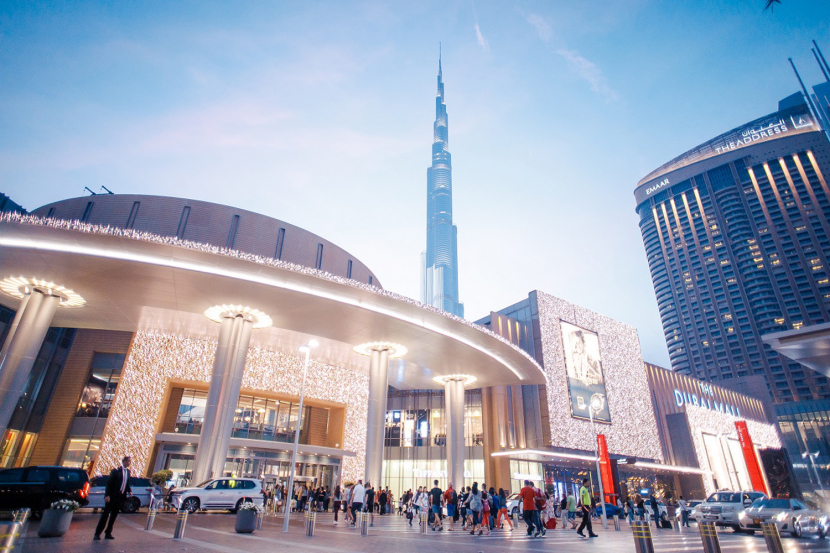 With more than 1,500 different outlets the cater pretty much to every kind of shopper Dubai has, The Dubai Mall offers near endless amounts of entertainment for a night time window shop. We say shop, but throw in a massive aquarium, VR Park, cinema, play area just for the littles ones and the mall's many activations, and a trip to The Dubai Mall at night is always a great shout.
Open daily 10am-midnight. The Dubai Mal, Downtown Dubai, www.thedubaimall.com (800 382246255).
Slalom at Ski Dubai
Sure, Europe may have the Alps for vacationers looking for a ski trip, but Dubai also lets travellers hit the slopes – in a mall. For one of the best things to do in Dubai at night you might not have imagined in the desert, this is it. Ski Dubai at Mall of the Emirates is the perfect spot for those dreaming of the crisp winter winds breezing past them as the ski down a mountain – just after popping into a few shops beforehand. Fancy unwinding with a cup of hot chocolate after whizzing down the slopes? You can find one at Ski Dubai's North 28 restaurant or at post-ski bar Après, along with a list of other beverages and mixed drinks. Opt for a fondue if you really fancy a taste of the mountains while in a Dubai shopping mall.
Ski Dubai: From Dhs210 (slopes). Open noon-10pm. Mall of the Emirates, Shiekh Zayed Road, www.skidxb.com. Après: Open Sun-Wed 10am-1am, Thu-Sat 10am-2am. Mall of the Emirates (04 341 2575).
Snap your fingers to live jazz at Q's Bar & Lounge
As far as we're concerned there's absolutely nothing to stop you falling head over heels in love with this utterly charming jazz bar in Dubai's Palazzo Versace hotel, that needs to be viewed as up there with the world's very best. And what else would you possibly expect, what with Q's Bar & Lounge being the first live music bar opened by the legendary composer, producer, conductor and artist that is Quincy Jones? There's live music five nights a week, international acts hand-picked by the great man himself for long-term residencies at this gorgeous, dark, intimate jazz bar. For more live music in Dubai, click here.
Show times vary. Open Tue-Sat 7pm-2am. Palazzo Versace Dubai, Al Jaddaf (04 556 8865).
You, 20 glass items, a few electronics, a sledgehammer and all the rage you can muster combine to make the anti-spa experience that is a smash room the perfect way to let off steam. The simplicity of the idea Smash Room Dubai is its genius – you just enter a room and destroy all you see. It's also opened up another branch Dubai's Last Exit Mad X, check out the mayhem we caused here. One of the more alternative things to do in Dubai at night.
Open Sun-Thu, 11am-10pm; Fri-Sat, 11-11pm. The Smash Room,195 Umm Suqeim Street, Al Quoz, www.thesmashroom.ae (04 3397810).
Always fancied yourself as the next Lewis Hamilton? Well, rev up those engines, as the floodlights will be on at Dubai's stellar racetrack. For one of the speediest things to do in Dubai, book into Dubai Autodrome's ultimate driving experience. You will be behind the wheel of a Formula One car and zooming round the city's motorsports track in the same car used by professional race car drivers. Training and analysis are available before and after the thrilling high speed adventure.
Open daily, 8am-10pm. Dubai Autodrome, Sheikh Mohammed Bin Zayed Road, Motor City, www.dubaiautodrome.com (04 3678700).
Stroll along Al Seef
Dubai's Creekside dining and shopping scene – Al Seef sits on the Bur Dubai side of Dubai Creek. Al Seef is an area of Dubai steeped in history, with a huge amount of Emirati culture, and taking a stroll along it when the sun goes down is hugely blissful. This latest attraction leans heavily on the contemporary elements of life in Dubai but also has a nostalgic twist. From here you can dine at one of the restaurants, such as Skafos, or jump on Bateaux Dubai for a top dinner on the water. There are plenty of things to do by the waterfront from sightseeing to shopping. For more things to do at Dubai Creek click here.
Free. Open daily 10am-midnight. Al Seef, Dubai Creek, www.alseef.ae.
Take a dhow dinner cruise from Dubai Marina
If you're admiring the views of the twinkling Dubai Marina at night, you may as well do it with a belly full of delicious Arabic food. Cruising down the Marina, one of the most fun things to do in Dubai at night (and one of the most touristy) the two-hour dhow ride offers up some fabulously calming scenes of Dubai Marina, along with a dinner buffet with an assortment of dishes. Expect an Arabic mixed grill with shish tauok and chicken tikka, grilled fish, fresh vegetables, a selection of Arabic breads, biriyani and plenty of vegetable options. Oh, and there's even live entertainment. A treat for the eyes and appetite.
Prices vary. Times vary. Dubai Marina Al Mamsha Street, Dubai Marina, www.alwasldhow.com (04 295 3485).
Who needs to travel the world when you can visit 75 countries in one night? Dubai's Global Village is the place to do just that, and night time treats the huge spot amazingly well there. With more than 25 pavilions representing countries from around the globe, 28 rides, 100 arcade games, live entertainment and international acts, has plenty going on. It's also opened up a Ripley's Believe It or Not!, just to add a little wonder into your night out. Oh, and be sure to catch its spectacular firework show.
Dhs15. Open Sat-Wed 4pm-midnight, Thu-Fri 4pm-1am. Sheikh Mohammed Bin Zayed Road, globalvillage.ae.
Only in Dubai would you ever hear of a brunch being had at night, and that only gives us another reason to love the city's nightlife scene. If you prefer to spend the day by the pool and have a night brunch, you're spoiled with choices. Check out our list of evening brunches right here, and to be more specific, here are some buzzing Thursday night brunches to kick off the weekend right, along with brilliant Friday night brunches.
Visit another dimension at VR Park
We all need a little escape from realism at times, especially if another reality lets us take down monsters and let us live out our lives as superheroes. The Dubai Mall's VR Park is the night plan for gamers, with rides including the Burj Drop and Dubai Drone. There's also a full-size roller coaster sitting proudly within this 7,000 sq m arcade.
From Dhs100. Open Sun-Wed 10am-11pm; Thu-Sat 10am-1am. The Dubai Mall, Downtown Dubai, www.vrparkdubai.com.
Really one of the best things to do in Dubai at night is just take a stroll. In the cooler months Dubai is brilliant for those who like to clear their head with a walk. From Al Fahidi to Al Seef or JBR to Bluewaters Dubai, the place is a spectacle to wander around. We love it so much that we decided to put together Dubai's best walks, from boardwalks with a view to a stroll in the park. Lace up those trainers and get walking. Check out Dubai's best walks right here.
Watch the big match at Barasti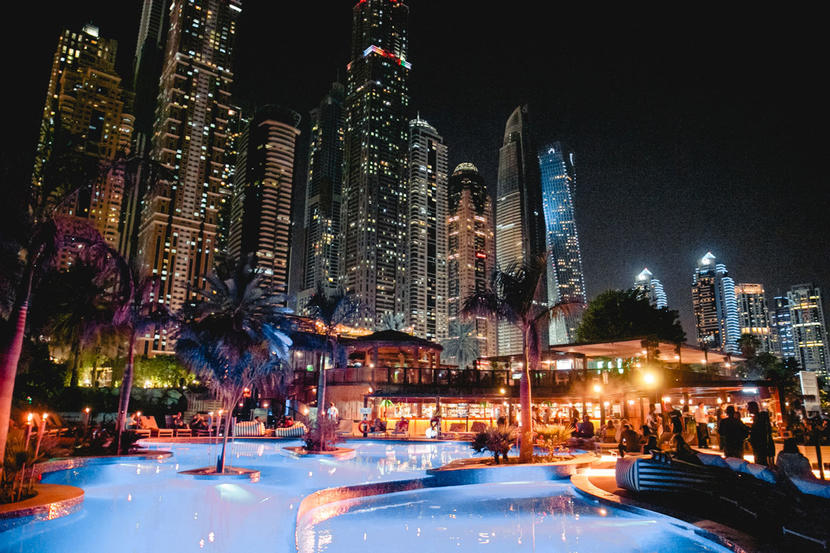 With its plentiful indoor screens and one big al fresco screen, Barasti is a top spot to have a few drinks in the sunshine (with some good deals) while watching the big game, whether that be football or rugby. However, at night, the crowds start pouring in and some of the biggest matches will have fans roaring and cheering, and what sports fan doesn't like a cheery vibe? Oh, and expect some pumping music during weekends.
Open Sun-Wed 10am-1.30am, Thu-Fri 10am-3am, Sat 9am-1.30am. Le Méridien Mina Seyahi Beach Resort & Marina, Al Sufouh (04 318 1313).
For more things to do in Dubai click here. For all the latest news of things to do in Dubai at night, click here. For night brunches in Dubai, click here.
Be the first to get all the latest Dubai news, reviews and deals into your inbox by signing up to our free
newsletter
,
click here to sign up
.