Welcome to your ultimate guide to things to do in Downtown Dubai. Downtown Dubai isn't just home to some of Dubai's most popular landmarks, it's also a hub filled with top-notch dining options, thriving nightlife spots, gyms, spas and more.

From the tallest building in the world to the world's largest choreographed fountain system (and let's not forgot The Dubai Mall which once crowned the biggest mall in the world), this area is basically one big world record breaking machine.

Located between Sheikh Zayed Road and Business Bay and minutes from DIFC and d3, it's probably one of the most central areas in the city and covers an area of two square kilometres, at an estimated cost of Dhs73 billion. Yes, you read that right – Dhs73 billion.

Whether you live in the area, a tourist staying in one of the many modern and luxurious hotels, or even a Dubai resident visiting, we've rounded up the very best things to do in Downtown Dubai.

JUMP TO:
Restaurants in Downtown Dubai
Bars, pubs, clubs and nightlife in Downtown Dubai
Attractions in Downtown Dubai
Hotels in Downtown Dubai
---
BEST RESTAURANTS IN DOWNTOWN DUBAI
This tea at Palace Downtown- is a suitably regal affair – so much so it took home the Highly Commended award for Best Afternoon Tea at the Time Out Dubai Restaurant Awards 2020. Choose from a traditional English or Arabic afternoon tea in this Arabesque lobby. The Arabic tray offers shawarma and kofta concoctions, scones flavoured with saffron and cardamom, and camel milk crème brûlée. A perfect way to spend an afternoon in Downtown Dubai.
Dhs170 per person. Daily 2pm-6pm. Palace Downtown, Downtown Dubai, www.addresshotels.com (04 888 3444).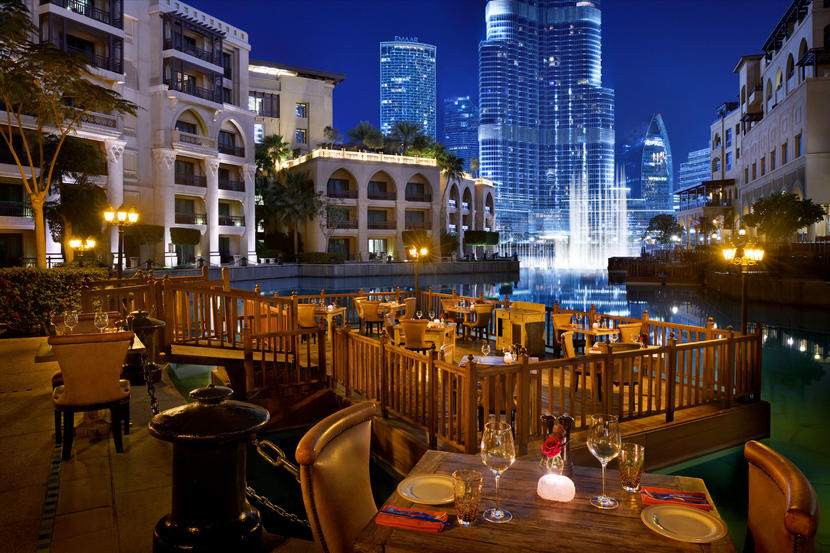 Sophisticated fine dining, outstanding views of the Burj Khalifa and The Dubai Fountain, delicious Argentinian cuisine – Palace Downtown's- exquisite restaurant can't be missed for the meat eaters of Dubai. Offering an extensive menu filled with signature mixed grills, including chicken, beef ribs, lamb chops, sirloin, rib-eye and tenderloin steak, you're spoilt for choice with good food here.
Open daily 6pm-11.30pm. Palace Downtown, Downtown Dubai, www.addresshotels.com (04 888 3444).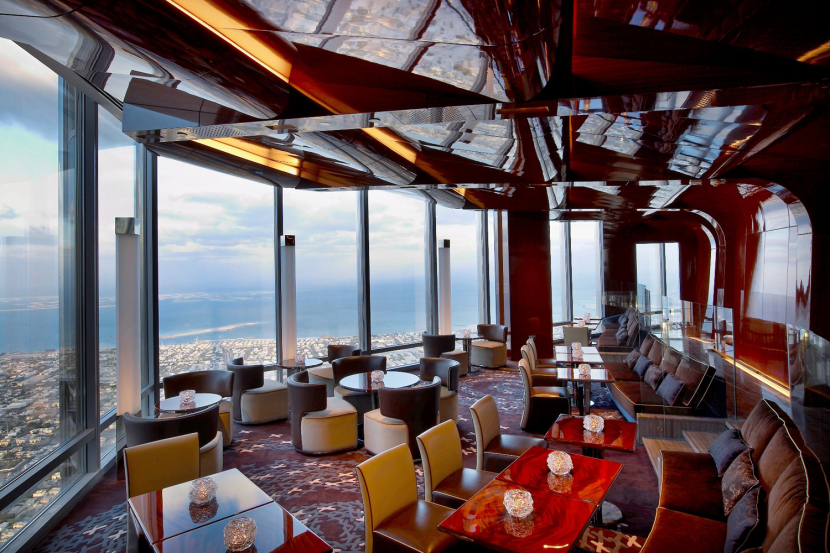 Set on 122nd floor of the world's tallest building, Downtown Dubai's At.mosphere Restaurant & Lounge is a super-special place to celebrate a romantic occasion. Have a fancy mixed drink at the bar first and admire the stunning views from up high, before digging into some tasty European food. A bucket-list outing for all occasions.
Open 7am-2am. Burj Khalifa, Downtown Dubai (04 888 3828).
BiCE Mare
With top views of Burj Khalifa and The Dubai Fountain, BiCE Mare makes for a top date night spot and the pretty terrace is a lovely spot to while away a weekend afternoon. The longstanding Italian seafood spot in Downtown Dubai's Souk Al Bahar offers a pleasant al fresco ambiance and reasonably priced dishes such as calamari, bruschetta, spaghetti alle vongole (spaghetti with clams) and grilled yellowfin tuna steak.
Open daily noon-11pm. Souk Al Bahar, Downtown Dubai (04 423 0982).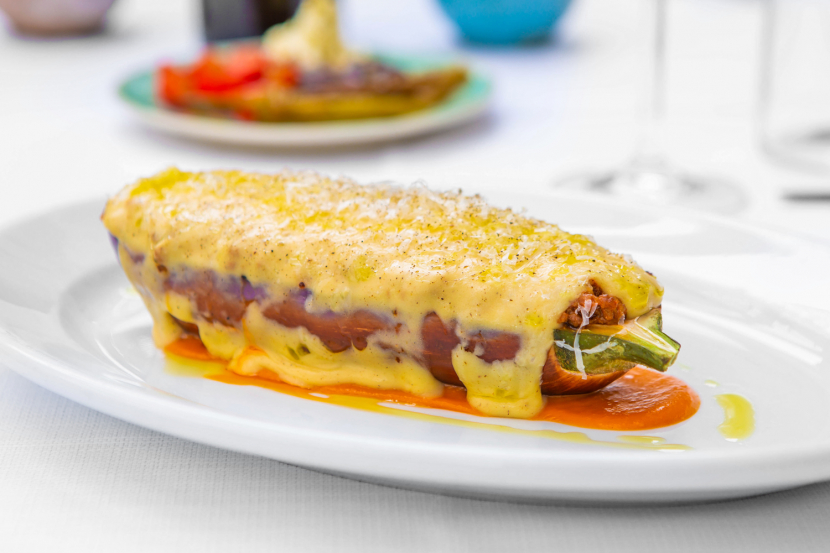 Found at the Fashion Avenue in The Dubai Mall, GIA boasts an outdoor terrace that offers views of both the Burj Khalifa and The Dubai Fountain. The restaurant prides itself around the concept of La Dolce Vita, and dishes (which have been created by Tuscan-born chef Tommaso Gonfiantini) are a combination of traditional Italian cuisine with a modern twist, focusing on fresh, tasty ingredients. Head to this Downtown Dubai spot for Italian food – and service – as it should be.
Open Sun-Wed 10am-midnight, Thu-Sat 10am-1am. The Dubai Mall, Downtown Dubai (04 234 9986).
Perfectly cooked steak, a tombik döner that puts any vertical rotisserie to shame, a magnificent Dubai Fountain-side setting – Günaydin is the authentic (and relaxed) Turkish dining experience you're looking for. This award-winning Downtown Dubai Turkish spot is friendly and cheerful, yet undeniably sophisticated, and the team know their meats – we can vouch for that.
Open Sun-Thu noon-1am, Fri-Sat 9am-1am. Souk Al Bahar, Downtown Dubai, www.gunaydindubai.com (04 554 0700).
A longstanding French restaurant in Downtown Dubai, La Serre features a crisp white dining room and French-Mediterranean menu. It's sophisticated and chic, while dishes include classics like French onion soup, boeuf bourguignon as well as fish dishes and pastas.
Open daily 7am-11pm. Vida Downtown, Downtown Dubai, www.laserre.com (04 428 6969).

Its famous Logma fries and halloumi sticks? Brilliant. Khameer stuffed with falafel? Large and brings a pleasant crunch. But it's the traditional Emirati desserts at the Logma branch in The Dubai Mall that you'll definitely want to stay for. Even if you can't stand shopping, this is one trip to the Downtown Dubai you won't regret.
Open daily 10am-midnight. The Dubai Mall, Downtown Dubai, www.logma.ae (800 56462).
New Shanghai is a cool, family-friendly spot that's perfect for a mid-shopping break in The Dubai Mall. The décor is fun and vibrant with massive murals – an average mall pit-stop this is not. There are plenty of tasty-sounding options on the menu with oodles of dim sum, wontons, dumplings, buns and more. There are even Nutella dim sum for dessert.
Open daily 11am-midnight. The Dubai Mall, Downtown Dubai, www.newshanghaime.com (04 224 6819).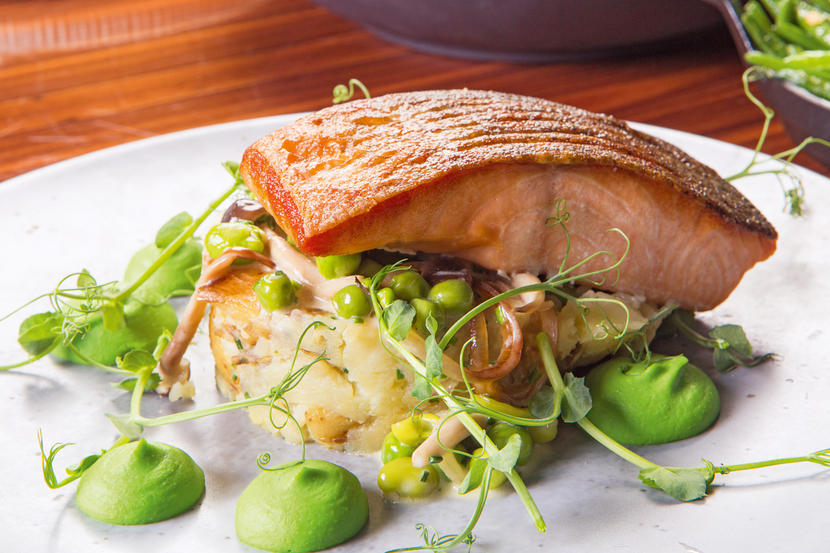 If you're a fan of steak, chances are you'll have tried cool party restaurant STK in Downtown Dubai. With an upbeat and upmarket vibe, this steakhouse is one to dress up for. It may be pricey, but when it comes to the steaks, there's plenty of top choices well worth your dirhams, especially it's perfectly cooked fillet and sirloin – butter-soft and bursting with flavour.
Open Sat-Tue 6pm-1am, Wed-Fri 6pm-2am. Address Downtown, Downtown Dubai (04 425 3948).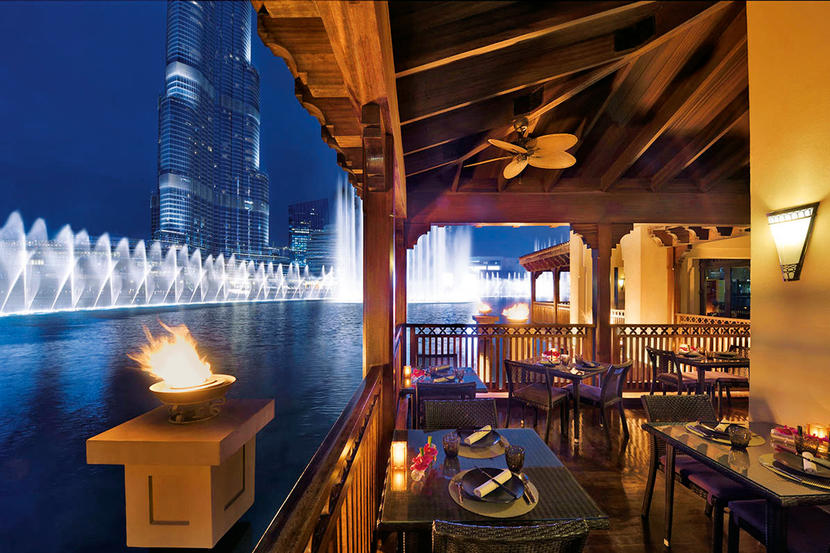 This stunning restaurant has a wonderful terrace set out into Burj Lake with front row seats to Burj Khalifa. Dishes are super-tasty, with classic dishes done well – especially the creamy green Thai curry and the delicious satay. A Downtown Dubai must-visit.
Open Sat-Thu 6pm-11.30pm, Fri 12.30pm-4pm, 6pm-11.30pm. Palace Downtown Dubai, www.addresshotels.com (04 888 3444).
If it was set by a Caribbean-like beach, Downtown Dubai's Ting Irie would be the true slice of Jamaica in the Middle East. The menu is filled with jerk-everything, from fried rice and chicken pasta to jerk-infused eggplant risotto – a definite star of Ting Irie's veggie menu. On the meatier side, the hefty load of 'Jerk's Fried Rice' won't disappoint.
Open daily noon-2am. Souk Al Manzil, Sheikh Mohammed Bin Rashid Boulevard, Downtown Dubai, www.tingririe.com (04 557 5601).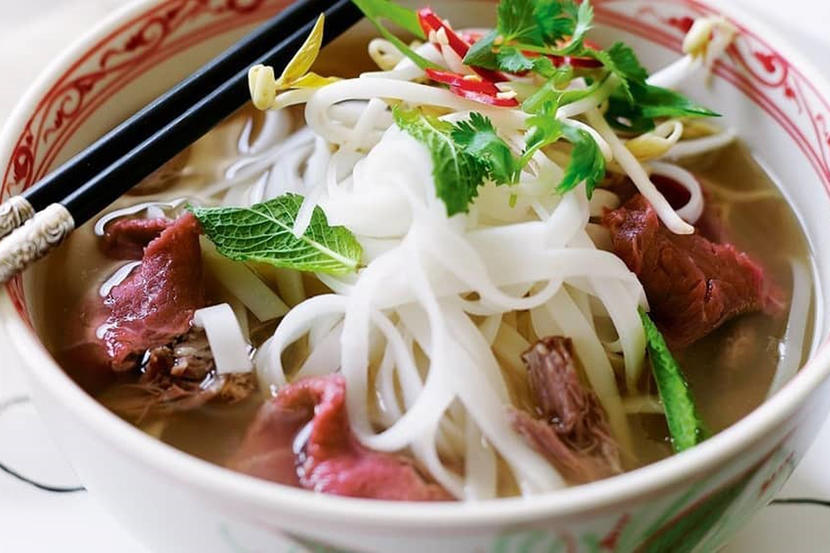 Vietnamese Foodies is well-known for its fresh and tasty dishes, which come at pocket-friendly prices. We're huge fans of super budget restaurant here at Time Out Dubai, so much so that we gave it our Best Budget Restaurant at the 2020 Restaurant Awards. Its second branch in Downtown Dubai is set at Burj Vista meaning it has a prime view of Burj Khalifa. All the dishes are inspired by the culinary diversity of the Vietnamese food capital, Ho Chi Minh City, and are made healthily with most dishes cooked in broth or water instead of oil and the menu also caters for paleo, vegan, vegetarian, dairy-free and gluten-free diets, so whatever you fancy you're sure to find. Dishes include aromatic roasted duck with bao buns, bun with chicken satay, chicken spring rolls, luk luk beef stir-fry, prawns with fish roe and dynamite sauce, roasted chicken with bao buns and crispy chicken with lime leaf salt.
Open Sun-Thu 11am-10.30pm, Fri-Sat 11am-11pm. Burj Vista Residence, Downtown Dubai, www.vietnamesefoodies.com (04 554 2090).
Zeta is an absolutely prime spot if you want nothing more than to be mesmerised by the views. The restaurant is named after a star and with the glittering light shows on the Burj Khalifa, it's fairly apt. Add to that the half-hourly fountain shows and you've got a top spot for date nights and wowing visitors. The petite menu features a selection of super-fresh sushi and other Asian-inspired bites, and there's also a spacious lounge and bar area if you're not looking to dine, with low sofas and comfy cabanas.
Open Sat-Wed 4pm-midnight, Thu-Fri 4pm-1am. Address Downtown, Downtown Dubai, www.addresshotels.com (04 888 3444).
---
BARS, PUBS, CLUBS AND NIGHTLIFE IN DOWNTOWN DUBAI
The world-famous CÉ LA VI opened its doors at the beginning of 2020, and with it came some of the best Burj Khalifa views we've seen around the city. Its Downtown Dubai outpost is the sixth location globally for the restaurant and it can be found of the 54th floor at the brand-new Address Sky View hotel in Downtown Dubai. The swish spot also boasts a huge infinity pool in which guests can soak up the sun, and get a prime spot for endlessly gawking at the world's tallest tower. Views aside, go for contemporary Asian food and expertly-made mixed drinks.
Open daily noon-3am. Address Sky View, Downtown Dubai (056 515 4001).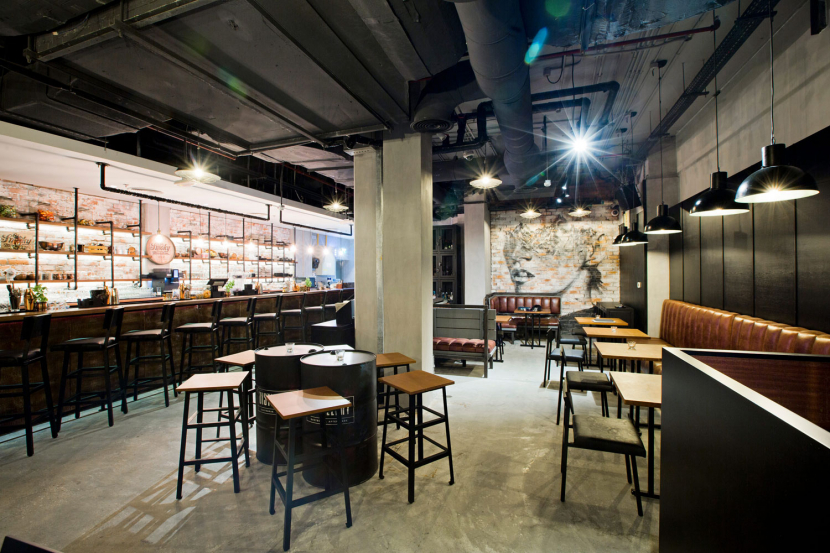 Distillery is an industrial-style venue which targets the city's creatives, hipsters, trend-setters and the like. An all-inside bar, it's got a noticeably stripped-back look that puts its emphasis on good food, good drinks and a relaxed vibe. Head to the bar-meets-gastropub daily between 4pm and 8pm and sip on grape, hops and house beverages for Dhs30 each and if you get peckish the food menu includes dishes such as wagyu beef tartare, burgers, meatballs and more.
Open daily 4pm-2am. Souk Al Manzil, Downtown Dubai (04 329 8899).
Karma Kafé
This cool, dimly-lit spot has long been popular with tourists and residents alike. Overlooking The Dubai Fountain and with stellar views of the Burj Khalifa, the setting of this dark, sleek venue is enviable. The terrace is where it's at, so take a seat here in cooler months and enjoy the menu of pan-Asian bites. There's also a daily happy hour from 3pm until 7pm with half price select grape and hops, which is worth taking advantage of, too.
Open Sun-Thu 3pm-2am, Fri-Sat noon-2am. Souk Al Bahar, Downtown Dubai (04 423 0909).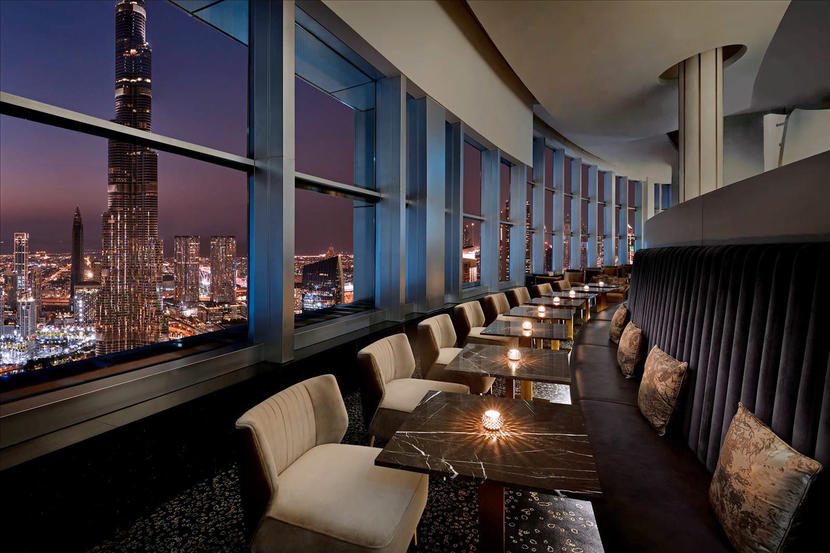 If you're looking for a spot to take in views of the Burj Khalifa and The Dubai Fountain along with some cracking offers, you won't get much better than this. It's one of the best bars in Downtown Dubai and prices aren't eye-wateringly expensive either. There's also a daily happy hour from 5pm to 8pm, which offers 50 percent off both drinks and bar bites, including a number of small plates for sharing (or scoffing all to yourself).
Open daily 5pm-3am. Address Downtown, Downtown Dubai (04 888 3444).
This swanky bar is conveniently located in the Dubai Opera and if you visit on a show night you'll be greeted with the buzz of chatting theatregoers, clinking of glasses and live cooking action from the open kitchens. The terrace area is a gorgeous spot with plenty of greenery, as well as top views of Burj Khalifa. The bar is open from 4pm with a daily happy hour until 7pm with select drinks for Dhs35 making it ideal a spot for a drink with stellar views.
Open daily 4pm-midnight. Dubai Opera, Downtown Dubai (04 362 7312).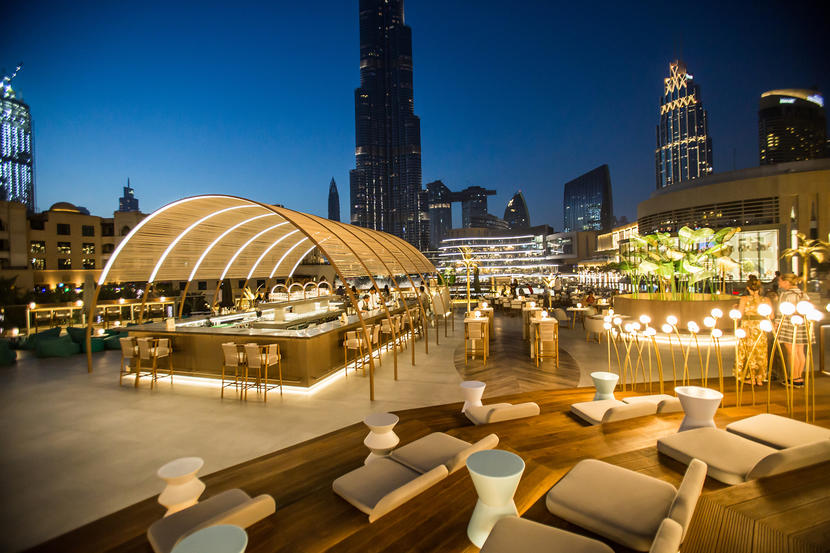 When this massive terrace opened in Downtown Dubai in 2018 we were utterly thrilled. It's one of the very best places in town to see The Dubai Fountain show, plus drinks don't cost the earth. The food is also worth heading along for – especially the sushi. Just try not to shed a tear when you're listening to Nessun Dorma and you realised you've scoffed the lot.
Open Sat-Wed 4pm-midnight, Thu-Fri 4pm-1am. Address Downtown, Downtown Dubai, www.addresshotels.com (04 888 3444).
This antipodean spot in Downtown Dubai is a former winner of our Best Sports Bar gong and it's a decent place to catch the latest match – from NBA to the Premier League – along with a daily happy hour from 5pm until 7pm with a special menu of discounted drinks. The space is a mix of high tables and stools, leather-seated booths and flat screen TVs beaming out an array of different sports.
Open Sun-Thu 3pm-2am, Fri-Sat noon-2am. Souk Al Manzil, Downtown Dubai (04 888 3444).
---
TOP ATTRACTIONS IN DOWNTOWN DUBAI
Sometimes you just need to escape the hustle and bustle of Downtown Dubai – and this way you can without actually leaving the area. Treatments include a range of Japanese shiatsu, Thai and Asian hot stones techniques. Sequential bathing experiences, mist corridors and a laconium treatment room (a dry heat environment) are there to show there is substance with the style. Do we need to mention it is in the world's tallest tower?
Open daily 9am-10pm. Armani Hotel Dubai, Downtown Dubai, www.armanihoteldubai.com (04 888 3888).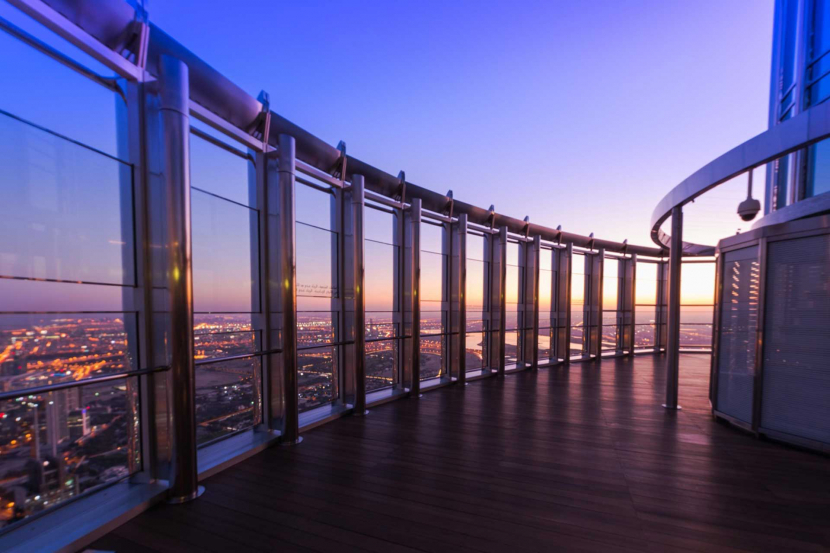 Even if you don't usually have a head for heights, while in Dubai you need to take a trip up the Downtown Dubai's Burj Khalifa. The awe-inspiring Burj Khalifa still stands proud as the tallest building in the entire world – hanging up by the clouds an incredible 828 metres above the ground. Visitors can not only marvel at the glittering sight from ground level, they can take a look down on the world from inside Burj Khalifa itself. As befitting the world's largest building, you can enjoy majestic views from the world's highest observation deck, 555 metres (that's a dizzying 1,821 feet) up in the air on the 148th floor of the 160 floor skyscraper.
Open daily 9am-11pm. Downtown Dubai, www.burjkhalifa.ae (800 2884 3867).
Burj Park
A strip of perfectly manicured grass nestled in a pitch-perfect position overlooking the Burj Khalifa, what you get here is an interrupted, full-on vista of the world's tallest building in all its glory. This expanse of greenery would be perfect for a picnic while gazing up at that view. Or you can opt for a cycle ride as there are bikes for hire by the park entrance. Pets aren't allowed and it's a cool place for bird-watching.
Open 24-hours daily. Located directly behind Burj Residences, Downtown Dubai.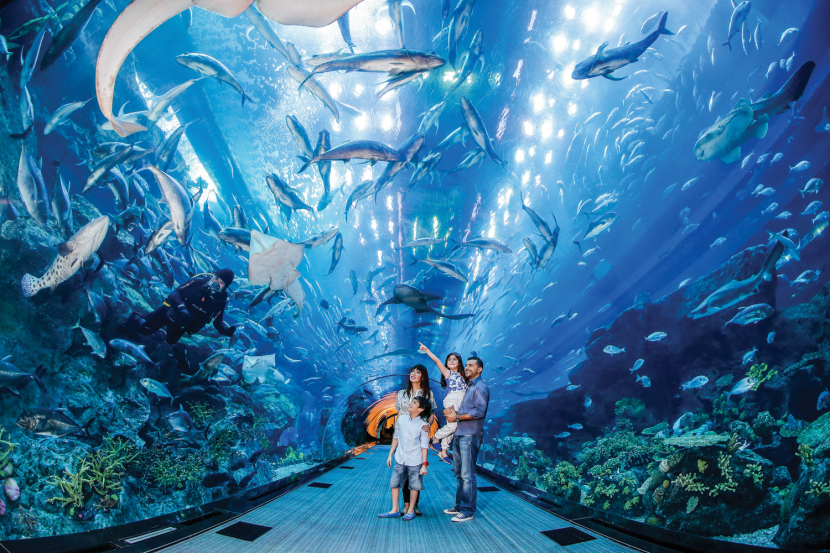 Whether it is more exciting to come face-to-face with the Dubai Aquarium's collection of tiger sharks or do funny dances and wave to the tourists gawping in at you from The Dubai Mall is a question that can never be answered. Regardless, the in-tank experiences are a thrill for experienced divers and snorkelers alike at the Dubai Aquarium & Underwater Zoo in Downtown Dubai.
Open daily 10am-midnight. The Dubai Mall, Downtown Dubai, www.thedubaiaquarium.
Dubai Ice Rink
Head to Downtown Dubai and check out The Dubai Mall's Olympic-sized skating rink. Kids and adults alike will be able to move around, have fun and sharpen their skating skills on Dubai's most popular ice rink. It's also a great chance to shake the dust off your winter woollies.
Open daily 10am-11.45pm. The Dubai Mall, Downtown Dubai, www.dubaiicerink.com (04 448 5111).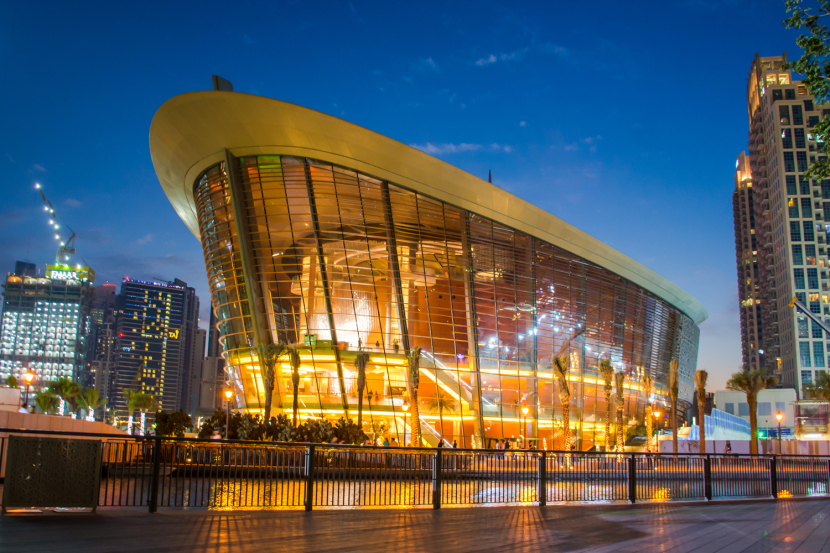 Since opening in Downtown Dubai in 2016 this has been a hub for theatre, musicals, operas, ballet and comedians. The stunning dhow-shaped building has staged events such as ballet, musicals and theatrical productions as well as opera and is one of the world's most impressive performing arts venues.
Downtown Dubai, www.dubaiopera.com (04 440 8888).
There's just something fun about pretending to be a doctor, a fireman, a chef or a builder. KidZania Dubai is a magical world of make believe where children can role play more than 40 professions and earn their own KidZania money, which they can then spend on their way out in the on-site shop.
Open Sun-Wed 10am-10pm, Thu 10am-11pm, Fri-Sat 9am-11pm. The Dubai Mall, Downtown Dubai, dubai.kidzania.com.
Delightful by day and enchanting in the evening, The Dubai Fountain show in Downtown Dubai is spectacular and always a huge hit with city-dwellers and tourists alike. The fountain is more than 900ft in length – the equivalent of two football pitches – and shoots water into the sky to a range of different songs, from classical music to contemporary Arabian tracks and classic pop songs. There are plenty of spots to catch the all-singing, all-dancing performance, but if you are looking for dinner with a show then head over to the bank of restaurants at Souk Al Bahar.
Free. Sat-Thu 1pm & 1.30pm, Fri 1.30pm and 2pm, daily 6pm-11pm (every 30 mins).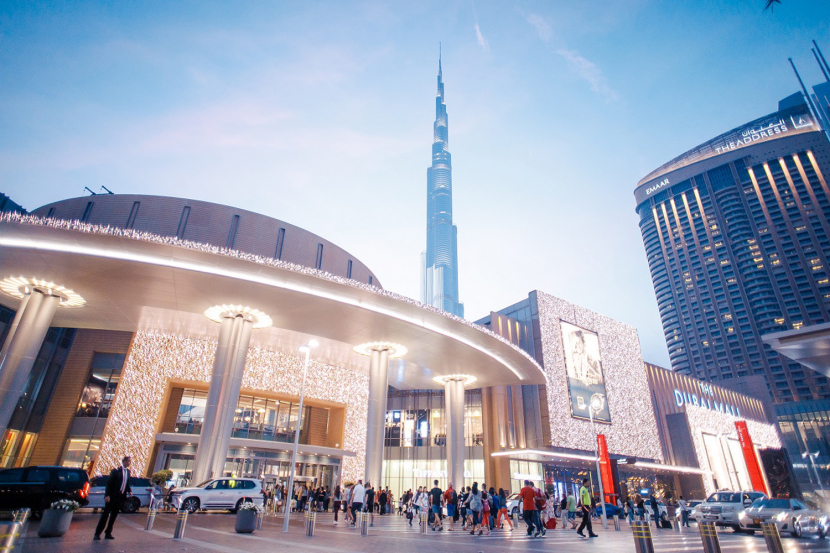 Your first-ever visit to Dubai largely centres around three main landmarks that everyone needs to see up close for the first time – the Burj Khalifa, the Burj Al Arab, and The Dubai Mall. The lattermost attraction in the trifecta of tourist destinations happens to be the largest mall in the world (by leasable retail space), and is home to some 1,500 retail, food and drink outlets. Found in the very epicentre of Downtown Dubai, The Dubai Mall is, according to master developer Emaar "the world's largest and most-visited retail and entertainment destination", claiming that more than 80 million visitors walk through the mall's doors every year. For context, that's nearly a quarter of a million visitors every single day. Outside, you'll find The Dubai Fountain, known around the world for its record-breaking synchronised dance routines. And, of course, those Burj Khalifa views.
Downtown Dubai, www.thedubaimall.com.
The virtual reality theme park at The Dubai Mall has loads of attractions, some of which have multiple games inside, taking you to distant planets, the distant future and the not-too distant world of a fully-virtualised Dubai. It's a place to go with friends, especially if you decide to take on The Walking Dead game that sees you having to shoot your way out of the show's famous hospital to safety.
Open Sun-Wed 10am-11pm; Thu-Sat 10am-1am. The Dubai Mall, Downtown Dubai, www.vrpark.com.
---
HOTELS IN DOWTOWN DUBAI
Address Downtown Dubai
In 2018, Address Downtown reopened after an extensive refurbishment (the hotel shut after a fire on New Year's Eve in December 2015) and now boasts 220 rooms and suites. The Downtown Dubai 302m hotel is set over 63 floors and has front row views of the Burj Khalifa and The Dubai Fountain, too. All rooms have interactive TVs, high-speed Wi-Fi and range from deluxe rooms to suites including the Tower Suite and Signature Spa Suite Fountain View. Guests can also opt for "twin" rooms that adjoin through a foyer. There's a Qix Club for the kids' as well as a 24-hour business lounge and 24-hour room service, too. The hotel is also home to a second branch of international steakhouse (and popular party spot) STK, as well as a host of other restaurants and bars including Zeta, an absolutely prime spot if you want nothing more than to be mesmerised by the views, and NEOS – if you're after sundowners while taking in the views of the Burj Khalifa, you won't get much better than this. There's also The Galliard, which is well-known in Istanbul, boasting Turkish dishes as well as French and Spanish cuisine.

If you're looking for some pampering then The Spa offers up a range of treatments. Boasting an impressive infinity pool cascading over five tiers, it sounds like an ideal place to chill this summer. The Spa has nine treatment rooms, a hammam, steam rooms and relaxation areas. For fitness fans there's a 24-hour gym offering personal training services.
Downtown Dubai, www.addresshotels.com/en/hotels/address-downtown (04 436 8888).
Address Dubai Mall
The Address chain has eight hotels in Dubai and four of the most famous ones are next door to each other in Downtown Dubai. Address Downtown, Palace Downtown, the slightly newer one – Address Sky View, and Address Dubai Mall.

Attached to the world's largest mall, this Downtown Dubai hotel is the perfect place if you want to be in the heart of the fashion and buzzing nightlife in Dubai. You're also in the shadow of the world's tallest building Burj Khalifa, and the world's highest fountains are on your doorstep. The hotel itself is split between more than 200 rooms, a presidential suite and permanent residences, but all come with free Wi-Fi and pillow menus and the hotel can be accessed straight from the high-end Fashion Avenue in The Dubai Mall. For those that want to people watch, head to Cabana, a poolside bar and restaurant where you can watch the world glide by.
Downtown Dubai, www.addresshotels.com/en/hotels/address-dubai-mall (04 438 8888).
Address Sky View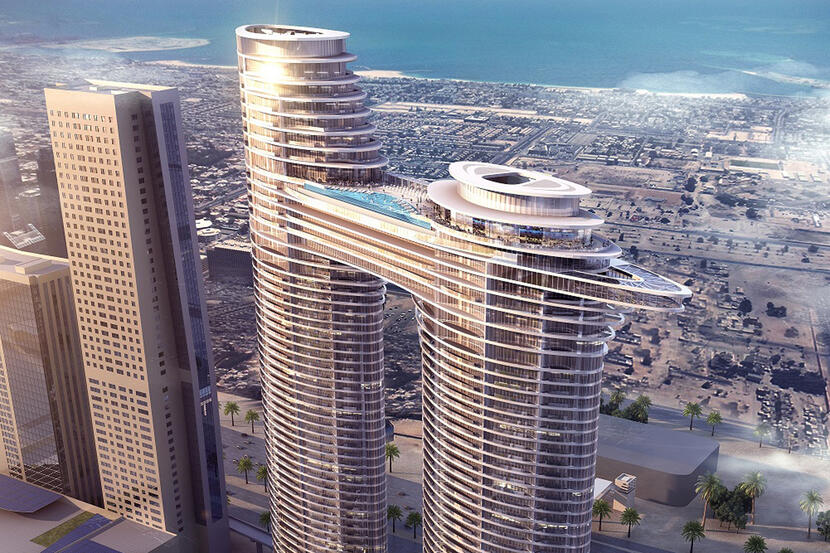 Address Sky View opened in Downtown Dubai in January 2020, boasting superb views of Burj Khalifa and The Dubai Fountain. The hotel is made up of two towers, joined by a sky bridge featuring a massive infinity pool and sky-high views of the Burj Khalifa. As well as 169 rooms and suites throughout the hotel, a spa, fitness centre and kids' club, there are several restaurants in the hotel, including The Restaurant, Lounge at Address Sky View, Patisserie, Café and the Pool Bar, but the most-talked about one has to be CÉ LA VI. This swanky sky bar, restaurant and lounge come from acclaimed chef Howard Ko and the nightspot offers some super views across Downtown Dubai from its 54th floor vantage point.
Downtown Dubai, www.addresshotels.com/en/hotels/address-sky-view (04 873 8888).
Armani Hotel Dubai

You'd expect nothing less than striking interiors and luxurious furnishings from a hotel carrying the name of Italian fashion designer Giorgio Armani. And at Armani Hotel Dubai in Downtown Dubai, you'll find them. And you can't get much more special than a stay in the world's tallest building. Each room in the Burj Khalifa hotel is elegantly furnished with custom-built pieces and luxurious materials. Altogether it gives off a serene, relaxing vibe, which is continued into the Armani/Spa, where guests are offered experiences including silk body wraps and 90-minute skin mineral treatments. Like the surroundings, staff are attentive while not overbearing. Guests are promised "warm, Italian-style service", and each visitor is assigned a "Lifestyle Manager" who can help to secure bookings at top restaurants or arrange a last-minute activity. Of course, if you'd prefer to stay in there are plenty of options. The hotel boasts a range of top eateries taking guests from Italy at Armani/Ristorante to Japan at Armani/Hashi and India at Armani/Amal, all from the comfort of the Burj Khalifa (with stunning views of The Dubai Fountain to match, naturally). There's also a nightclub – Armani/Privé – should you wish to party. After all that you can slink back into one of the hotel's luxurious custom armchairs in your room, stare out of the enormous windows and admire the cityscape ahead of you.
Downtown Dubai, www.armanihoteldubai.com (04 888 3888).
Palace Downtown
If you're visiting Dubai, could a hotel be more ideally positioned for brilliantly encapsulating the city's top attraction? Palace Downtown in, you guessed it, Downtown Dubai, sits directly opposite the Burj Khalifa and The Dubai Fountain, offering one of the most spectacular locations available in the city. You can even see the fountains from some of the hotel bedrooms. A sprawling swimming pool spreads out from the main building towards The Dubai Fountain, with palm trees lining the sides and a cool water that's just asking for you to come in, take a dip and relax. For pampering, the luxurious Spa at Palace Downtown offers an array of facials, massages, body wraps and scrubs. And if you're after views of The Dubai Fountain while you eat, look no further. One of the hotel's top restaurants, Thiptara, actually sits out into the water, and is a frequently found name on Time Out Dubai's Best Thai Restaurant and most romantic lists, offering up some exceptional Bangkok-inspired seafood, while seakhouse Asado also features a perfectly framed view of the Burj Khalifa, serving up traditional Argentinian cuisine, perfectly cooked steaks and drinks. As the name suggests, this is a luxurious, five-star resort offering up palatial suites for guests, and a truly top-notch experience in the heart of Downtown Dubai.
Downtown Dubai, www.addresshotels.com/en/hotels/palace-downtown (04 428 7888).
Sofitel Dubai Downtown
In the heart of Downtown Dubai comes the Sofitel Dubai Downtown – a luxurious international five-star hotel that is connected to The Dubai Mall via an air-conditioned skywalk, has a rooftop infinity pool overlooking the Burj Khalifa and the Arabian Gulf, and a top-notch spa.

Restaurant-wise there's Peruvian restaurant and bar Inka, pan-Asian eatery Wakame and a swish rooftop lounge, among others. Other offerings include Club Millesime, an Executive VIP Lounge with indoor and outdoor dining areas, a living room, a private board room, a relaxation area with massage chairs, and an exclusive floor just for females. In 2019 the kids' club was upgraded with the hotel aiming to attract more families and become a preferred family destination within Downtown Dubai.
Downtown Dubai, www.sofitel-dubai-downtown.com (04 503 6666).
For more on hotels in Dubai and around the UAE, head here.
Be the first to get all the latest Dubai news, reviews and deals into your inbox by signing up to our free
newsletter
,
click here to sign up
.