Dubai Marina is one of the most popular neighbourhoods in Dubai. Home to loads of restaurants and bars, attractions, shops and more, there's a reason many expats make Dubai Marina their home. Dubai Marina itself is beautiful too. This 7km walkway around Dubai Marina is the ideal place for a stroll, brisk walk or jog, and is one of the best walks in Dubai and during the winter you'll see plenty of fellow fitness fans doing the same thing. It's an easy walk – being flat and looping, and you'll be able to take in the sights of the yachts and high-rise apartments all around. There are loads of things to do in Dubai Marina, whether you're after a stroll around the shops at Dubai Marina Mall, a swanky meal at a top restaurant, a date-night drink in one of Dubai Marina's top bars or a hair-raising adrenaline rush on the XLine, Dubai Marina has you covered. For news and information on Dubai Marina, click here, for our pick of the best restaurants, bars and things to do in Dubai Marina, read on.
JUMP TO:
RESTAURANTS IN DUBAI MARINA
BARS IN DUBAI MARINA
THINGS TO DO IN DUBAI MARINA
FITNESS CENTRES AND GYMS IN DUBAI MARINA
---
RESTAURANTS IN DUBAI MARINA
800 Pizza
There's never a wrong time for a pizza, and this Italian restaurant on Dubai Marina Promenade not only serves up a mean one in-house, Dubai Marina residents will know the doughy delights are also excellent for takeaways. And, in a power move for vegans, the chain has also launched a dairy- and meat- free version, so you no longer need to miss out on the pizza party.
Open daily 11.30am-11.30pm Dubai Marina (800 74992).
There are loads of restaurants in Dubai Marina, but a fitting one to start this list is constantly popular Asian restaurant, Asia Asia. You can can smell Asia Asia as soon as you step out of the lifts of Dubai Marina's Pier 7. In the best possible way, of course. The delightful lemongrass-scented interiors are as stunning as the views out across Dubai Marina. Venture through the dimly lit corridor you'll find a spacious, classy bar with plush seating and cool décor. As well as the food this trendy Asian spot has a cracking ladies' night – so good in fact that it's one of our former Best Ladies' Night winners. This one is as much where to eat as where to party, but we love the food so we're sticking it in this part of the list (don't miss the tempura prawns). One of the best restaurants in Dubai Marina with good reason.
Open Sun-Mon, Wed 4pm-1am; Tue & Thu 4pm-2am; Fri 2pm-2am; Sat 2pm-1am. Pier 7, Dubai Marina (04 276 5900).
If you, like us, love Mexican food, then it's time to make like Speedy Gonzales and hotfoot it to this super-cool taqueria. We've waxed lyrical about the tacos at Dubai Marina's La Carnita before, but they really are top-notch (our kingdom for the achiote chicken). The interiors are as impressive as the food – with massive murals, low-lighting and red leather banquettes to while away a cosy evening in. Undoubtedly one of the coolest spots to open in the area in a while and one of the best restaurants in Dubai Marina.
InterContinental Dubai Marina (04 425 4030).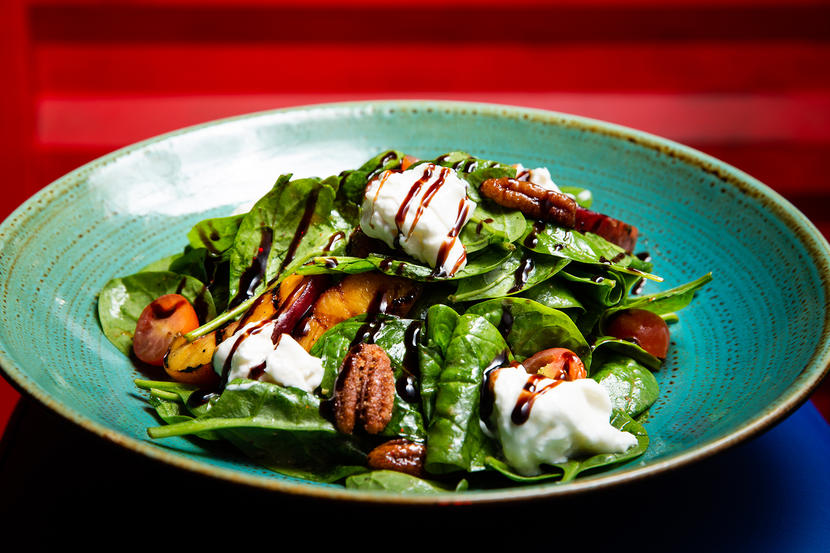 Ooh la la, je ne sais quois, mais oui [insert favourite French cliché here]. There's a French restaurant and bar in Dubai Marina – and it's called, unoriginally, Le Frenchy. However, it does what it says on the tin by serving up a wide range of traditional French food including escargot, and pain perdu served with vanilla ice cream and salted caramel sauce. Apparently the aforementioned sauce is "so delicious it surely deserves its own Arc de Triomphe in celebration of its magnificence". Bold claims.
Marina Byblos Hotel, Dubai Marina (04 282 8944).
Loca Lito
Mexican food fans in Dubai Marina are being thoroughly spoilt at the moment. The food truck version of popular Mexican restaurant Loca is now open in the area and we're digging out our sombreros for the occasion. You might not get that famous guac made tableside, but thanks to the takeaway service you will be able to eat it at your own table at your home, whether you live in Dubai Marina or not. Which is almost as good. (And a lot closer to the TV when you're too full to move.) The menu also boasts tacos, quesadillas and burritos, so next time you have a craving for Mexican fare, you know where to go. Plus, it opens at 10am. Breakfast burrito, amigo?
Open daily 10am-midnight. Marina Walk, Dubai Marina, www.locauae.com.
This swanky British restaurant from British Michelin-starred chef Jason Atherton is a popular spot for many a reason – not least for the food. Classic dishes get a modern twist and the restaurant also serves up deals including a roast dinner with proper, crispy roast potatoes (be still our beating hearts) and a super Friday brunch (which picked up a Highly Commended Best Brunch in Dubai award at Time Out Dubai's 2020 Restaurant Awards) . In the winter the terrace overlooking Dubai Marina is a perfect spot to watch the boats below.
Open Sun-Wed 7pm-midnight, Fri-Sat noon-midnight. InterContinental Dubai Marina (04 446 6664).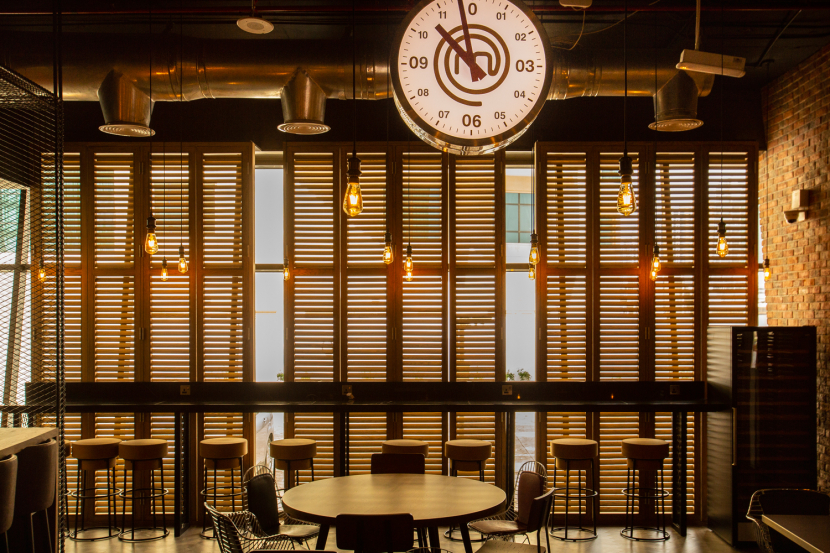 Much more than a gimmicky restaurant playing off its reality TV show superstar status – and namesake – the Dubai Marina eatery has substance. The fun, friendly service and MasterChef set interiors compliment some superb dishes, MasterChef UK 2017 winner Saliha Mahmood's quail dish with sweet figs and served with a bulgur wheat salad and whipped walnut relish, being one. The lobster tortellini from Australian finalist Laura Cassai and Shelina Permalloo's – MasterChef UK champion season 8 – Mauritian warm octopus salad are also worth checking out.
Open daily 6.30pm-11pm. Dubai Marina, Al Masra Street, Dubai, www.masterchefdxb.com (04 550 8111).
If you're looking for a particularly pretty spot – and love a pide (like a boat-shaped Turkish pizza-pie hybrid) then make a date here. We named this place Best MENA Restaurant 2020 as it's that good. The stylish Turkish restaurant at Grosvenor House Dubai boasts views over Dubai Marina, and winter is the time to go as the terrace is decked out with twinkling fairy lights and Anatolian furnishings. There's also an amazing deal on right now – every night you can get two drinks and a pide for just Dhs99.
Open Sat-Wed 6pm-1am; Thu-Fri 6pm-2am. Grosvenor House, Dubai Marina (04 399 9123).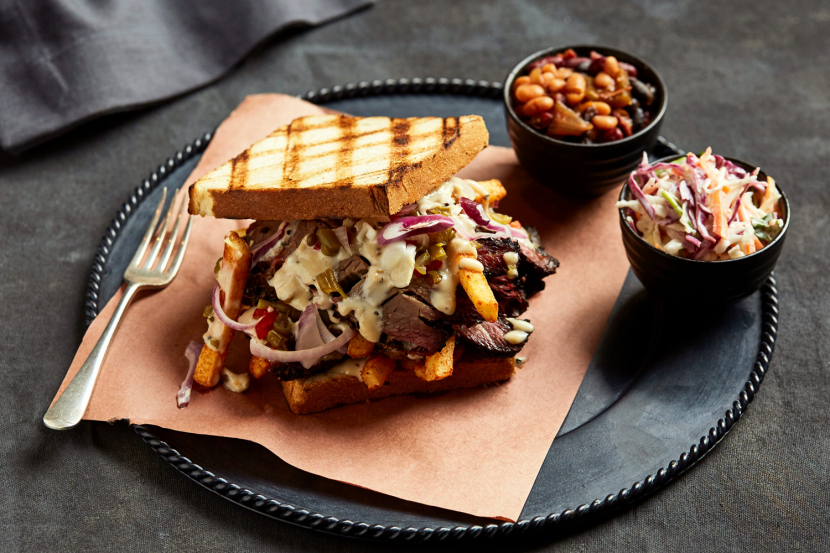 If you're a carnivore and haven't yet visited The Blacksmith, firstly you need to rectify that right away, and secondly, when you do go, make sure you order the Texas Brisket sandwich. Layered with thick slices of 14-hour-smoked meat, green beans, onions and sauce, it's a tasty, meaty monster that comes in two sizes. Also worth checking out are the armadillo eggs (we won't spoil the surprise). However, we heartily recommend you visit at brunch time. This smokehouse restaurant in Dubai Marina lays on a Friday feast that's just Dhs299 for house beverages and enough grilled beef to give a five-a-side team the meat sweats.
Open Sun & Mon 5pm-2am, Tues-Thurs 5pm-3am, Friday 1pm-3am, Sat 5pm-3am. Brunch: Dhs299 (house beverages). Fri 1pm-3pm. Wyndham Dubai Marina (04 407 8873).
Being vegan is massive in Dubai right now. And Ultra Brasserie is a great place for plant-based folk. It is especially busy for breakfast with Dubai Marina gym-goers (swish studio Karma is in the same building), as well as for lunch with office workers in Marina Plaza, so there's always a pleasant buzz about the place, too. There are also loads of healthy non-vegan dishes – including a mean avo, goat's cheese and mushrooms on toast. A great spot for veganshttps://www.timeoutdubai.com/vegandubai in Dubai.
Open daily 7am-10pm. Marina Plaza (04 277 5644).
wagamama
"But this is just a chain," we hear you cry. Yes, but next time nothing but a comforting chicken katsu curry will do when you've traipsed around the shops in Dubai Marina for hours, you know where you'll be. Not only does this brand-new branch of wagamama serve up all the classics, it is the only one in Dubai to open at 8am and serve breakfast. We're talking about a mix of eastern and western dishes such as a classic eggs Benedict and full English (no, you first, we insist), alongside okonomiyaki – a savoury Japanese pancake. Make the most of Dubai Marina Mall and then reward yourself.
Open daily 8am-10pm. Dubai Marina Mall, www.wagamama.ae.
---
BARS IN DUBAI MARINA
Atelier M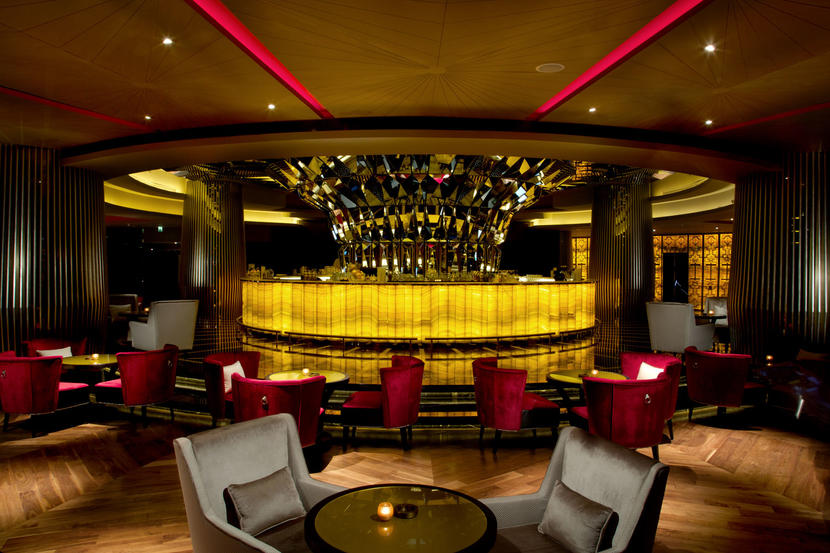 This restaurant, bar and rooftop lounge in Dubai Marina's Pier 7 offers a comprehensive night out (drinks, check; snacks, check; free pool, check). And that's before we even get to the views of Dubai Marina. At the weekend it turns into a banging party spot with DJ, dancing and a lively crowd. Meanwhile Tuesdays mean ladies' night, and the bar is buzzing. Women get three free drinks, while DJ Dane Bowers (of Another Level fame) takes to the decks. So if it's '90s stars are your vibe, shimmy on over to Pier 7 for a load of top restaurants and bars in Dubai Marina.
Open daily 6pm-2am. Pier 7 (04 450 7766).
A popular beach bar in Dubai Marina, chances are you've been to Barasti at least once. As well as ladies' days deals, happy hours and, of course, a beach to lounge on – there's also a great line up of live entertainment and live sport shown frequently.
Free. Open Sat-Wed 10am-1.30am, Thu-Fri 9am-3am. Le Méridien Mina Seyahi Beach Resort & Marina, Al Sufouh (04 318 1313).
This Dubai Marina bar, although not the fanciest in the Pier 7 tower, has a buzzing atmosphere and stunning views from the sprawling terrace, which is great in cooler weather. It also has a bustling ladies' night Tuesday, largely due to the fact that the whole of Pier 7 throws open its doors and lays on offers for the females on the same night. Ladies get three free drinks including house grape and mixed drinks, though you might have quite a wait at the bar here unless you arrive early. One for a party crowd, it gets pretty busy.
Open daily 4pm-2am. Pier 7, Dubai Marina (04 361 8129).
DRIFT Beach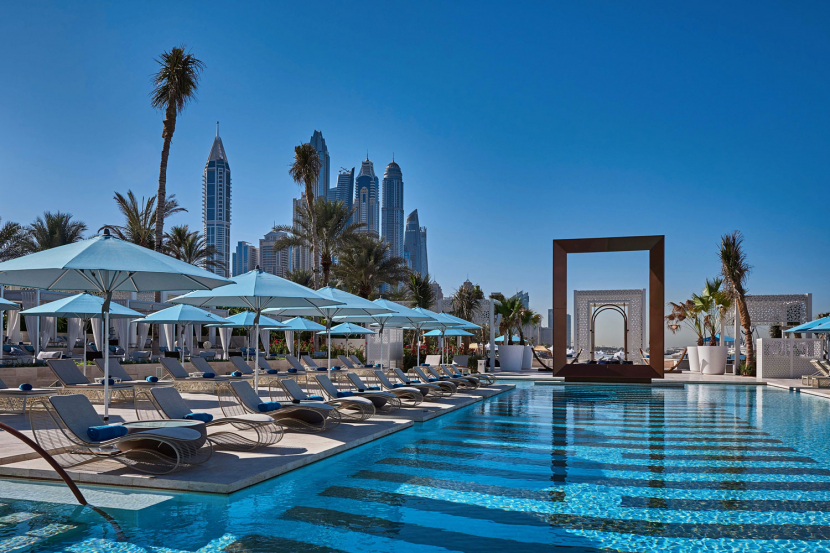 Beach – check. Pool – check. Gorgeous view of Dubai Marina skyline – check. There's little this beach club in Dubai Marina doesn't do well, and it's a lovely spot for a day spent reclining in the sunshine. The Marina views are great and the vibe is exclusive.
Open daily 10.30am-7.30pm. One&Only Royal Mirage, Al Sufouh (04 315 2200).
For a quirky bar/pub in Dubai Marina, British watering hole, The Scene ticks all the boxes. Again in Pier 7 (why not make a crawl of it?) this laid-back Dubai Marina bar has a top terrace for winter months. The food is also pretty decent, as you'd expect from British TV chef Simon Rimmer (you know, from Sunday Brunch). It boasts a menu of classics including chicken kievs, pies and more. Plus there's a range of great deals including a two-course lunch for Dhs75 and curry and a pint for Dhs99 on a Monday. We also recommend the roast – which comes adorned with a Yorkshire pudding the size of your head. (Almost.)
Pier 7, Dubai Marina (04 422 2328).
With views overlooking Dubai Marina, a cool and laid-back vibe, a funky soundtrack and sleek décor, there's a lot to love about Siddharta Lounge at Grosvenor House. The bar – perched on the rooftop at Grosvenor House Dubai – has long been a go-to place to take visitors. The centrepiece is the swimming pool, around which sit sofas and comfy chairs. The lighting is moody and mellow, making it ideal for a pre-dinner drink. And if it's dinner you're after, you should continue your evening at Asian restaurant Buddha-Bar (in the same hotel) – which serves up some chilled-out party vibes along with a mean Thai curry. It's also has one of the most impressive interiors of any restaurant in Dubai Marina – check it out to see.
Open Sat-Wed 6.30pm-midnight, Thu-Fri 6.30pm-12.30pm. Grosvenor House Dubai, Dubai Marina (04 317 6000).
Shades
There aren't a huge amount of cool pool bars in Dubai Marina, but this is great. Address Dubai Marina has a massive infinity pool, which also has a trendy pool bar, in the form of Shades. There's a sunsets sessions happy hour from 6pm until 8pm where drinks are 50 percent off, too. Or book the Dip and Dine package and you'll get all-day pool access, sun lounger and Dhs100 towards food and drink. It's a perfect, relaxed date night spot and has super views across Dubai Marina.
Open daily 9am-1am. Address Dubai Marina (04 888 3444).
Surrounded by the glitz and glamour of Dubai Marina, the low-key Xiao Wei Yang, which specialises in hotpots, might not be the most obvious place to head to eat if you're in the area. However, if you're looking for a laid-back spot with a bustling atmosphere and top grub, you won't be disappointed.
Open daily 11am-1am. Dubai Marina, www.littlelambrestaurant.com (04 421 4650).
Zero Gravity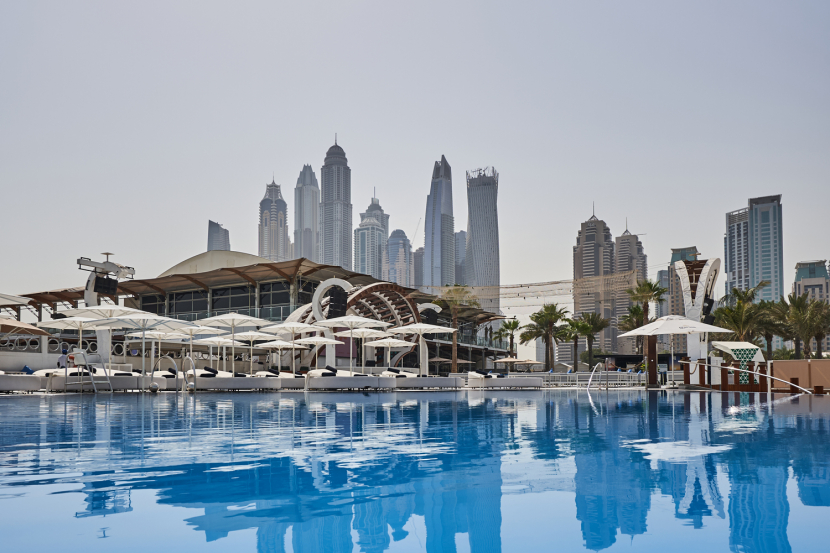 This popular beach club in Dubai Marina is a top place to spend a day or night, whatever your mood. It also hosts a banging brunch every Saturday from noon until 5pm. That's five hours of chilling by the pool, grazing on unlimited snacks (think pizza, sliders et al) and free-flowing drinks. Just there for the day? Arrive early to relax on the beach and stay late to listen to the DJs. For a lively day, or night, out in Dubai Marina, check out this top Dubai beach club, it's one of the most fun things to do in Dubai Marina.
Open daily 10am-midnight. Sky Dive Drop Zone, Dubai Marina (04 399 0009).
---
THINGS TO DO IN DUBAI MARINA
Dinner in the Sky
There are loads of things to do in Dubai Marina, and it's clearly a place for those with a head for heights. XLine Dubai, Skydiving – and even a dinner date. If you've never eaten dinner strapped into your chair roller coaster-style (and really, why would you have?), you can here. The dinner table is launched up into the air overlooking Dubai Marina and Palm Jumeirah where you're suspended in front of your meal admiring the view all around. The chef in the middle cooks up a feast though, so you'll soon relax into it.
From Dhs599. Daily 2pm-11pm. Al Sufouh (050 925 6341).
Get pampered at We Nails
Want to feel bright, shiny and new? We Nails in Dubai Marina offers everything from massages and manicures to waxing and mop chops, with packages available if you want to go for the whole works. You can even treat yourself to a revolutionary new Gel-x manicure – a brand-new soft nail extension that fits over your own nail, protecting them from any damage and easily soaked off, because we all deserve new claws every now and again.
Open daily 10am-9pm. Trident Grand, Dubai Marina (04 452 8226).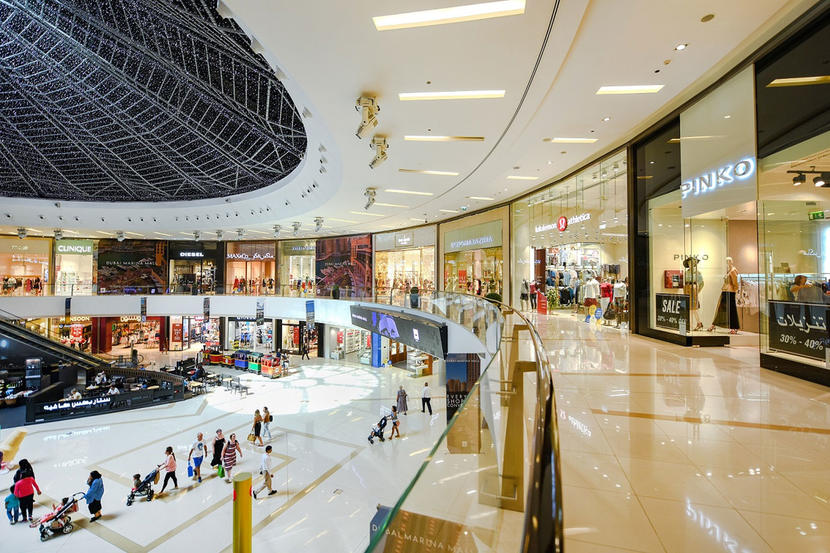 Sure, it's not as massive as The Dubai Mall, and it doesn't have a ski slope like Mall of the Emirates, but Marina dwellers are really quite proud of Dubai Marina Mall. One word: Waitrose. There's also a Reel Cinemas (with comfy Platinum Suites no less). If you're after something specific (that black tie ball gown, specialist trainers or massive flat screen TV) you're best off elsewhere, but if you're after some cheap and cheerful sportswear (H&M), a burger (Five Guys), some designer underwear (Tommy Hilfiger), accessories (Accessorize) or make-up (Sephora) you'll find it here. There are plenty of things to do in Dubai Marina Mall.
Open Sat -Thu 10am-10pm, Thu-Fri 10am-midnight. www.dubaimarinamall.com.
Shop at M&S Food
When this crashed onto the supermarket scene in Dubai Marina there was a full-on stampede for crumpets. And the Brits in Dubai Marina are still partial on stopping by for the pre-packed egg and cress sarnies to remind them of lunchbreaks and petrol station stops at home. Did we mention there's a café, too? A
Open daily 8am-10pm. Dubai Marina Walk (04 244 1614).
Skydiving over Dubai Marina
If we were going to throw ourselves out of a plane, then it would be at Skydive Dubai. Think of those views – the stunning Palm fronds, JBR beach, the Marina skyscrapers – surely that's worthy of plucking up the courage for? One of the best things to do in Dubai Marina for thrill-seekers.
Open daily 10am-3pm. Skydive Dubai Drop Zone (04 377 8888).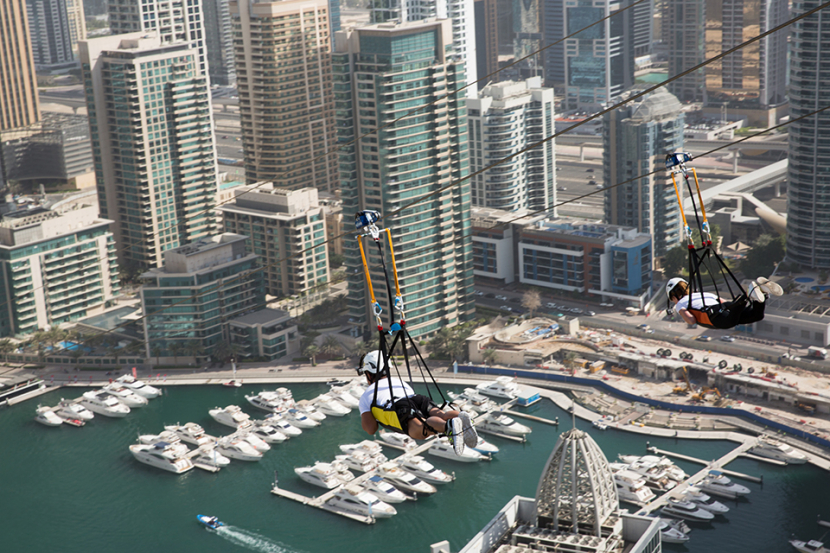 Fancy plummeting headfirst from a great height towards the water and yachts of Dubai Marina below? You do? Book into XLine Dubai Marina. It's the world's longest urban zipwire, coming in at 1km, where thrillseekers experience speeds of up to 80kph, whooshing through the Marina at an incline of 16 degrees. You can book your place on the zipwire alongside your buddy, because there are two concurrent wires – and each of them will film your journey to the bottom, thanks to GoPros mounted on your helmet, capturing your zip across Dubai Marina from the top of the Amwaj towers in JBR through to the terrace of Dubai Marina Mall. Another one of the best things to do in Dubai Marina for those looking for adventure.
From Dhs650. Sun-Thu 10am-6pm, Fri-Sat 10am-7pm. Dubai Marina, www.xdubai.com/xline.
Yacht party
What's more "Dubai" than a yacht party? It's one of the ultimate things to do in Dubai Marina. Charter your own with your mates for a bash (hen do? Birthday? All bases are covered with this) or if you're after a massive shindig book into the Mega Yacht Party Brunch, which takes place every Friday. Whichever you choose, you'll have a blast, and some pretty sweet views of Atlantis The Palm, Burj Al Arab Jumeirah and Bluewaters Dubai. If you're after something swifter and more exhilarating, check out The Yelllow Boats for a fast-paced rib ride taking in all the sights. Or, if you're looking for a fishing trip, charter a boat with Xclusive Yachts and catch your own dinner for one of the more low-key things to do in Dubai Marina.
Various companies including Cozmo Yachts: www.cozmoyachts.com. Mega Yacht Brunch: Pier 7, Dubai Marina, dubai.platinumlist.net/event-tickets/67332/the-mega-yacht, The Yellow Boats: Open daily 8am-8pm 800 8044, Xclusive Yachts: open daily 9am-10pm, www.xclusiveyachts.com.
---
FITNESS & GYMS IN DUBAI MARINA
Barry's Bootcamp
Want a body like Jessica Biel? We can't guarantee that, but you can train at Barry's Bootcamp in Dubai Marina, famed workout spot for the stars. Be warned, it isn't for the feint-hearted. The workout combines cardio and strength training with alternative bursts of intense anaerobic exercise with recovery periods to keep the heart-rate elevated– so every class is a mix of weights and running. The idea is that you'll continue to burn calories for hours, so you could be losing weight while even eating a slice of pizza. (Maybe.) Now you're interested.
Dhs126 (per session), Dhs1,207.50 (monthly 12 class membership). Trident Grand Mall (04 874 8476).
F45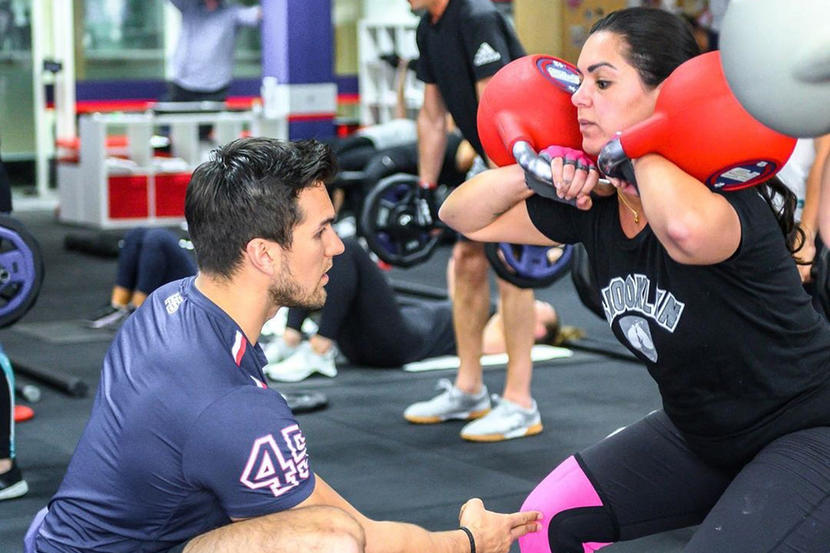 There's not a great deal you can get done in 45 mins – apart from burn 750 calories, that is. F45 is an intensive workout formula has made its way over to Dubai from Australia, combining HIIT, circuit training and functional training. There's a two-week free trial to coax you into your gym gear, too. One of the most popular gyms in Dubai Marina.
Free (two-week trial). Trident Grand Residence, Dubai Marina www.f45training.ae/dubaimarina.
Karma Yoga
For total zen, head to this beautiful Bali-inspired studio on the 33rd floor of Dubai's Marina Plaza. The interiors are all cherry blossom, and floor-to-ceiling windows that will work wonders for your Instagram, if not your chakras. Saturdays are free for first-timers when attending with a member, too.
Dhs100 (one class). Marina Plaza www.karmayogadubai.com.
NRG
Boxing? HIIT? Spinning? Pole? Yoga? Whatever your fitness fancy you'll find it at this gym in Dubai Marina. Winter (and beach body season, gulp) are impending, so there are also personal training sessions on offer to push yourself to the limits if you need the motivation.
Dhs84 (one credit). Marina Walk, www.nrgfitness.me.
The Platform
This is without doubt one of the most popular gyms in Dubai Marina. And it's so popular that it's now opened a new branch in Dubai's DIFC. Hosting everything from barre classes to HIIT, spinning, Pilates and more, there are loads of classes to try and there's a friendly vibe, too.
Prices vary. Park Island, Dubai Marina (04 435 8083).

For more restaurants in Dubai click here. For more things to do in Dubai click here. For everything you need to know and news about Dubai Marina, click here.
Be the first to get all the latest Dubai news, reviews and deals into your inbox by signing up to our free
newsletter
,
click here to sign up
.