Let's face it, mentioning 'team-building activities' in Dubai to colleagues or friends doesn't always make them jump out of their seat with excitement.

Well, that's until they come across all the brilliant team building activities there are to do in Dubai.

From smacking a ball around on top of a camel and cooperatively smashing a plate to smithereens to being in complete synchronicity by rowing a boat to the finish line, here are the best team-building activities Dubai has to offer.

If you're after more ways to stay active and need some inspiration, we've got you covered right here.

Now, change that group WhatsApp icon to a stylish picture of the Avengers and start boasting these ideas...

Remember when Greg in marketing told his story (numerous times) about that one time he went climbing through the trees in the jungles of Borneo? It's time everyone got the chance unleash their inner Tarzan (and so everyone else on the team can chip in on that story) at Aventura Adventure Park on a team building in Dubai outing. Ranging from Explorador to Extreme climbing activities, expect everything from a 160-metre zip-line, climbing across spider web-like ropes, surfboarding through the trees and a thrilling literal 25-metre Tarzan jump. It's a great way to escape the confines of the office for a session of team building in Dubai, and there are plenty of team activities that includes having two walking across the rope by helping each other keep balance. Don't worry, if one of them fails, the safety always has your back. Whether it's a half day or full day of activities the team is after Aventura can will keep the team occupied. Take that, Greg.
From Dhs400 per person. Open Sun-Wed 1pm-10pm, Thu-Sat 9am-10pm. Mushrif Park, Gate 1, Dubai, www.aventuraparks.com (052 178 7616).
You could play the sport of kings on horseback like everyone else, but why not get the ships of the desert to play instead as part of a team building activity in Dubai? Camel Polo is exactly like its cousin in sport except with an Arabian twist, and you can gather a team of eight and head over to the Dubai Polo & Equestrian Club for a morning of camel-backed action and non-stop giggles. Polo is one of the oldest known team sports, and requires teams to score goals using a wooden mallet – which makes a hugely satisfying "whack" when hitting the ball. You won't have to do all the work, as a trainer guides teams through the rules and steers your trusty hump-backed steed, so all you have to do is focus on said "whacks" and scoring against the opposition. The package also includes soft drinks to cool off and polo shirts, so you don't have to go out of your way to dress the part. Unless you want to, you fashionista. The club is open during the winter months so now's the perfect chance to give it a whirl.
Dhs788. From Oct-Apr. Mon-Wed 8.30am-11am. Dubai Polo & Equestrian Club, Arabian Ranches, www.arabian-adventures.com (800 272 2426).
There's a long history attached to this traditional sport from China, but all you need to know is there's a boat, a lot of paddling and a massive amount of team building to be done. It's a hefty workout making it perfect for those who have had enough of leg day and want to get back to the arms. Or, so they think (we'll leave that as a surprise). Dragon Boat racing has become pretty huge in Dubai, with a number of different teams including The Dubai Marlins and Steelcraft. So, why not become a team yourselves? There's something very satisfying about synchronising each stroke to the timings set by the front two paddlers, and when another boat is right up your dragon tail, it just gets better. It makes for a colourful and exciting race, full of spectacle and team camaraderie. Remember, synchronicity is the key, and if that doesn't spell out team building in Dubai, we don't know what does.
Various locations including Sheraton Jumeirah Beach Resort, JBR, www.dragonfiredubai.com (052 699 4788).
If it's been always been a dream to star in the Amazing Race (we all did at some point…), Rush-A-Way is making it comes true right in the streets of Dubai. Whether it be a scavenger hunt, big race filled with quirky activities or a classic treasure hunt, the Rush-A-Way team musters up a route throughout the city for teams of up to four folk to accomplish. As for what the activities are? The fun is in the surprise, but expect to test your physical, mental and geographical skills. And, of course, teamwork. There isn't any I or U in team (although, there is a ME, but we'll put that to one side). We recommend teaming up with a Dubai know-it-all – they know the ins-and-outs of the city to nab you the winning title, after all.
From Dhs140. Open daily 9am-6pm. Various locations in Dubai, ww.therushaway.com (050 552 3804).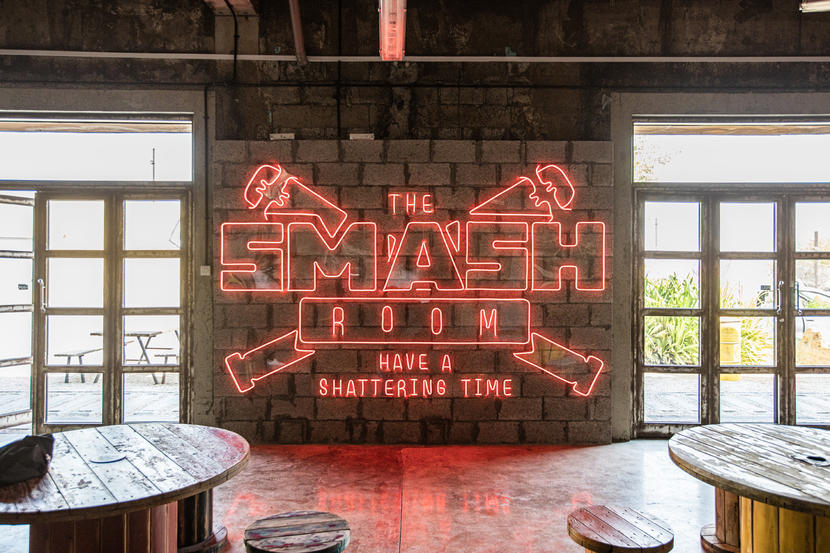 The satisfaction of a teammate throwing a plate into the air while you perfectly line up your baseball bat to smash it into a tiny pieces may be one of the biggest satisfactions in life. If you don't believe us, the only way to find out is to take your team and let them loose at The Smash Room in Dubai. From TVs, computers, printers and basically all those items that have one way or another malfunctioned on you in your time in need at work, it's time to get your revenge. Basically, up to five members can enter a room, choose their weapon of choice (sledgehammer or crowbar, anyone?) and smash away. The simple act of destruction is oceans of fun, and makes up for any workouts, as it can get incredibly tiring. One of the more extreme team building activities in Dubai to try.
Dhs197 per person. Last Exit: Open Sun-Wed 10am-10pm, Thu-Sat 10am-midnight. Last Exit Mad X, www.thesmashroom.ae (058 198 2323). Al Barsha: Open Sun-Thu 11am-10pm; Fri-Sat 9am-11pm. Umm Suqeim Street, Al Quoz, www.thesmashroom.ae (058 198 2323).
The Tokyo Olympics may have been postponed, but that doesn't mean you can't make your own stellar event right on the beaches of Dubai (for Dubai's best beaches click here). But now, you can live out your Olympic dreams with corporate team building company DragonFire's wacky, beach-based version of the Games. Along with old-school staples such as a tug-of-war and sack race, how does water balloon volleyball and a "magic towel relay" sound? Wonderfully daft, we say. Oh, and at the end of the tournament, points are tallied to determine the Olympic Champions and medals awarded. Nothing brings a team together like a bit of competition. Be sure to hang the medal on your desk to let them all know the triumph of the day.
From Dhs165 per person (two hours, group of 16 minimum). Various locations including Sheraton Jumeirah Beach Resort, JBR, www.dragonfiredubai.com (052 699 4788).

Whose got the J.U.I.C.E? Asks Bollywood Park's team-building activity. By that brilliant acronym, it means 'Join Us In Creating Excellence', and teams that take on the challenge certainly will. The fun day out will test leadership, problem-solving skills and see who can drop the best dance moves. Start practising that floss. Over the course of two to three hours, expect cooking experiments, singing challenges, scavenger hunts, acting dares, taking selfies (yup) and more. The package also include a list of results and prizes, props for tasks, meals and a host to manage all the activities. Now, go get the juice. Team building in Dubai for the most outgoing of colleagues.
Prices vary. Open daily 3pm-11pm. Bollywood Park Dubai, Dubai Parks &and Resorts, Sheikh Zayed Road, www.dubaiparksandresorts.com (04 820 0000).
This is one of the more physically challenging team building activities in Dubai. If a team can successfully complete all rooms, puzzles and challenges at TEPfactor in JBR, consider them 100 percent efficient. There are three levels of difficulty – bronze, silver and gold – to make sure that everyone is pushed to their limits, and you can compete in teams of two up to six people. Every challenge has its own time limit and you'll have to race against the clock, with each group taking part in mind-bending puzzles, balancing acts, tasks requiring patience, heroic feats and team challenges. It's a pretty engaging few hours, but luckily, the team building packages also include unlimited beverages, from much needed coffee to fizzling sodas. Good luck, and beware of that spider web room…
Fom Dhs180 per person. Sun-Thu 6.30pm-7.30pm, Fri-Sat 10.30am-11.30am. Until Nov 16. The Walk, JBR, www.tepfactor.ae (056 404 0802).
Further afield
You know what the pros say: if you want to get good at football, you have to be the ball. Although, Bubble Soccer at Sharjah Paintball Park takes that one step too far, and it's all the more fun because of it. The paintball park has its very own pitch for the bouncy sport, where teams can tackle each other in hilarious fashion. Don't fret, no fouls for the more you tackle. Half an hour is all you need, as Bubble Soccer can be remarkably tiring – great for those looking to get fit in the quirkiest way possible. It's exactly like football except, well, with huge bubbles, and players can bash, bump and ram into each other with hilarious results to protect the goal. Or, just for the fun of it. Definitely bring a change of clothes, as being in that bubble for extended periods is like roasting in your own personal sauna.
From Dhs130 per person. Open Sat-Thu 9am-11pm, Fri 9am-10am and 2pm-11pm. Sheikh Mohammed Bin Zayed Road, Near Tasjeel Village, Sharjah, www.paintballuae.com (050 203 2288).
What greater way to bring a team together than being stuck outside in the great dunes of Dubai? Okay, that sounds a lot worse than it actually is, because thanks to the UAE's grand scenery and ease of getting to these serene landscapes, going camping is more of a DIY daycation than anything else. Form heading to Fossil Rock in Sharjah to going for a group hike in the Hajar Mountains, funnily enough the empty desert is brimming with activities (and that includes plenty of sand surfing and dune bashing). Check out our ultimate guide to going camping in the UAE right here. And, for those looking for a bit more of a luxurious camping experience complete with glamping tents and campfires for teams to tell ghost stories, click here.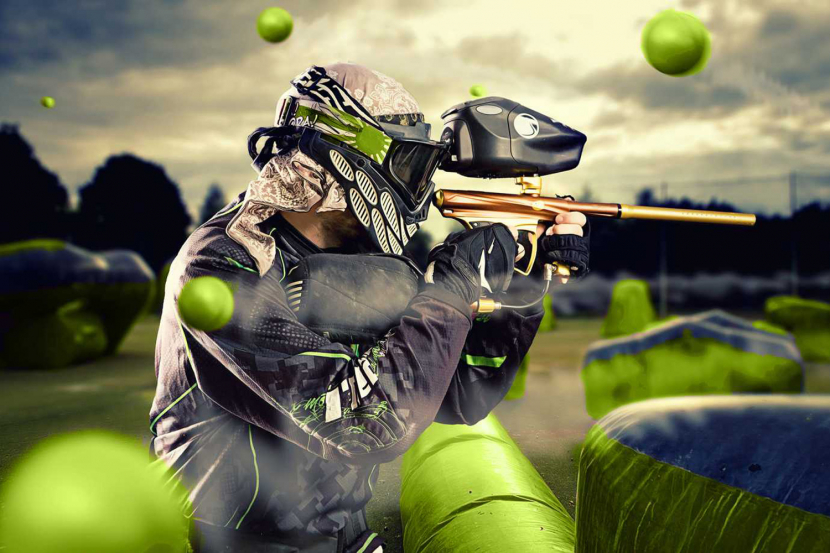 Imagine an office that communicates efficiently enough like SEAL team 6. It's a skill in itself, and one teams can learn once they shoot paintballs at each other. The Sharjah Paintball offers a vast space filled with obstacles for opposing teams to make their way through and duck behind before being plastered with all the colours of the rainbow. Teams will have camps with a flag in it, and it's up to the opposing team to nab and bring it back to their camp. Simple? Hardly, as once you're splattered with paint you're out of the game. For those who are particularly efficient at Call of Duty will shine at this, and it's a fantastic way to see how others shine, either by taking command or coming up with amazing strategies. Also, who doesn't want to shower their workmates with paint? Who knows, you may eventually start calling each other Alpha, Tango, Foxtrot or Charlie from finance.
Dhs95 per person. Open Sat-Thu 9am-11pm, Fri 9am-10am and 2pm-11pm. Sheikh Mohammed Bin Zayed Road, Near Tasjeel Village, Sharjah, www.paintballuae.com (050 203 2288).

For more fun team building activities and ideas in Dubai, visit timeoutdubai.com/things-to-do.
Be the first to get all the latest Dubai news, reviews and deals into your inbox by signing up to our free
newsletter
,
click here to sign up
.