Looking for the best things to do indoors in Dubai? We hear you. It's the time of year when it's been a hot few months and we're looking for ever-more novel means and ways of tackling the heat.

So to keep you busy, we've rounded up all of Dubai's best indoor activities, attractions and more fun ways to keep cool.


Adventure Zone
For some indoor sporty action in the comfort of an air-conditioned environment, get down to Adventure Zone in Galleria Mall or Times Square Center along Sheikh Zayed Road where you can complete their cable climb high ropes course and have a go on their climbing wall.
Open Sat-Wed 10am-10pm, Thu-Fri 10am-midnight. Galleria Mall, Jumeirah and Times Square Center, Sheikh Zayed Road, www.adventurezone.ae.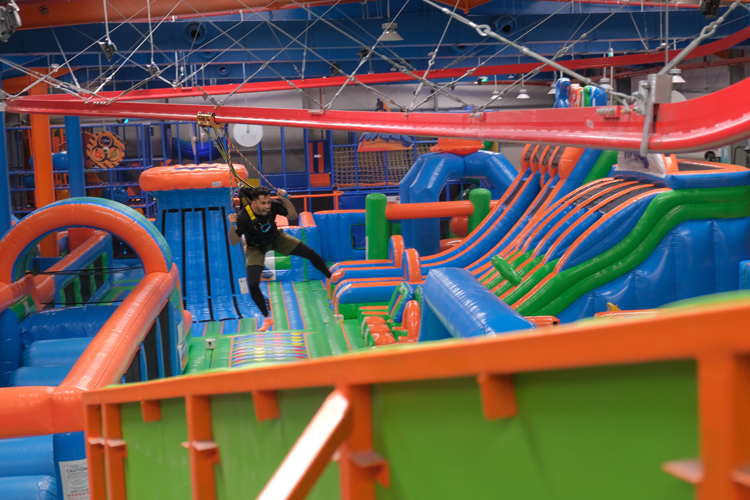 Instead of bouncing off the walls at home, bounce of the walls at Dubai's multi-activity indoor play arena, Air Maniax. Spread over 23,000 square feet, Air Maniax's biggest zone is an inflatable arena for all ages. Fitness fans will love the challenging obstacle courses, the zip line and laser tag game, while the colour-coded, sensor-activated wristbands are an added bonus that allow those with a competitive streak to go up against their mates to get the highest scores.
Open Sat-Wed 10am-7pm, Thu 10am-9pm, Fri 9am-9pm. Al Quoz, www.airmaniax.com (04 348 8981).
In simple (by which we mean scientifically inaccurate) terms Aquatrek Xtreme is a system that sees you pull an upside down goldfish bowl on your head and go for a stroll on the bottom of the Lost Chambers aquarium in Dubai's Palm Jumeirah's famous hotel Atlantis The Palm. While you're down there, with air pumped in to your perfectly dry head, you can get to know the 65,000 marine animals.
Open daily 10am-10pm. Lost Chambers, Atlantis Dubai, Palm Jumeirah, www.atlantis.com (04 426 2000).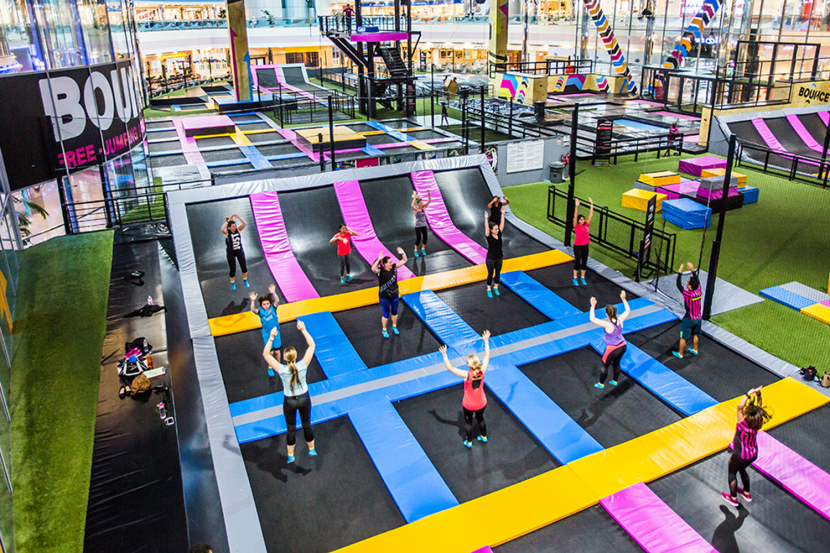 Test out your trampoline skills at Bounce, an indoor trampolining park devoted to the art of defying gravity. Play sports including dodgeball or simply jump around and burn off calories without melting. Bounce fuses trampolining with parkour, where people can "free jump" any way they want and the indoor trampoline park has heaps of activities for little kids and big kids alike. Whether you want to do a flip or two in the air on the performance trampolines, run vertically up a wall or simply bounce around on the massive free jumping area, the sky's the limit (or the roof of its building, at the very least).
Open Sun-Thu 10am-10pm, Fri 9am-midnight, Sat 9am-9pm. Al Quoz, www.bounce.ae (04 321 1400).
If you love art as much as you love food, this spot offers the best of both worlds. Diners get the chance to paint and craft whatever they choose, from ceramic small animals to a traditional mug. Your painted products are then sent to the kiln for firing, and can be collected in a week. A pretty good excuse to return.
Open Sat-Wed noon-10pm, Thu-Fri noon-midnight. Jumeirah Town Centre, Jumeirah, www.cafeceramique.ae (04 344 7331).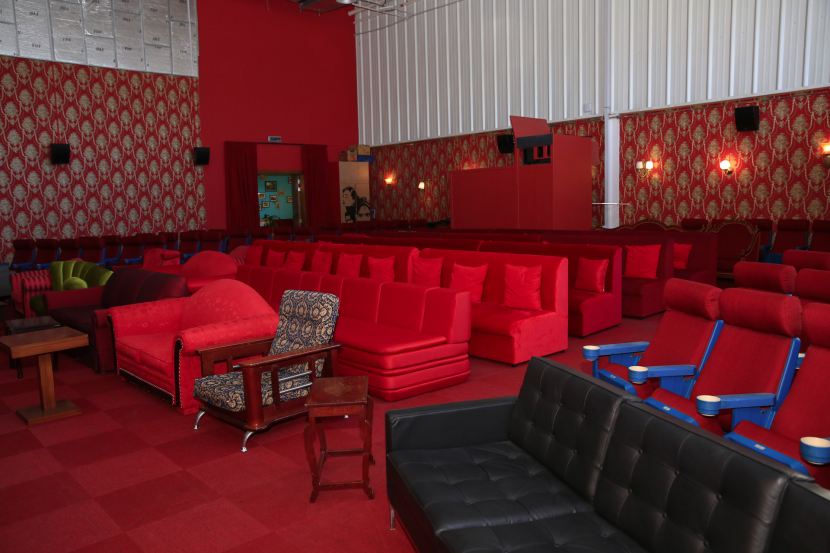 Fancy snuggling down among mismatched cushions and watching an indie flick at a cinema in Dubai? Cinema Akil is an independent movie theatre located in a converted shipping container in Alserkal Avenue in Al Quoz. The indoor independent cinema Alserkal Avenue in Dubai has 133 seats and shows dozens of unique and independent films every single week. Oh, and don't forget to get a karak chai and chilli cheese toastie from the homegrown tea shop Project Chaiwala.
Timings vary. Alserkal Avenue, Al Quoz, www.cinemaakil.com (04 223 1139).
Do you love solving puzzles? Is spending the afternoon escaping from a room up your street? If so, then Countdown Challenge in JBR is for you. There are five different indoor escape rooms to choose from, each with different difficulty levels, and one of them even involves actors to add to the experience.
Open daily 3pm-midnight. Bahar Plaza Level, The Walk, JBR, www.countdowndxb.com (04 427 4027).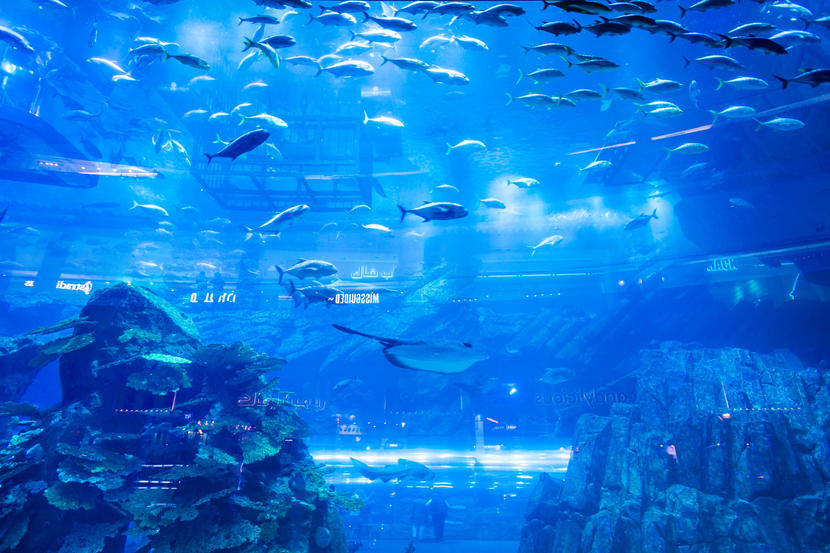 Experience the real thrill of the wild while getting close to some of nature's most beautiful creatures at Dubai Aquarium & Underwater Zoo in Downtown Dubai. Take on a shark encounter, where you'll be plunged into the depths of the aquarium tank (inside a cage) as 300 of the remarkable creatures swarm around you for feeding time. You can also meet the aquarium's resident crocodile, regarded as one of nature's rarest phenomenons and one of the largest reptiles in the world at more than five metres long and 100%kg in weight. If that's a bit too big for you, you can marvel at the piranhas, crabs, water rats and the swarms of fish that inhabit the huge tank inside The Dubai Mall.
Open daily 10am-midnight. The Dubai Mall, Downtown Dubai, www.thedubaiaquarium.com (800 3822 46255).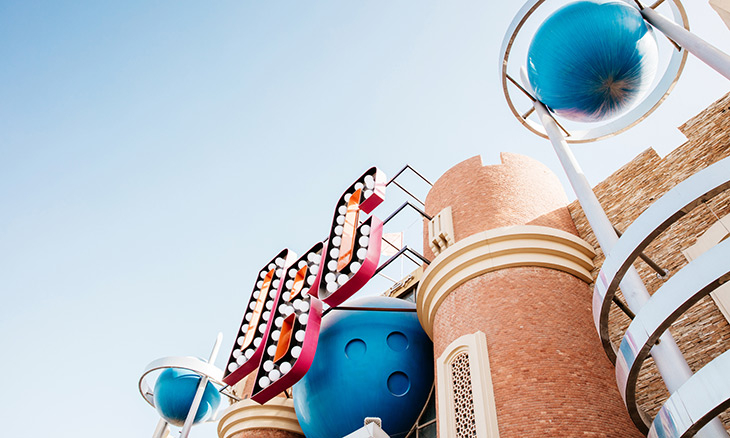 The Dubai Bowling Center is one of the most recognisable buildings in Al Quoz and in 2019 it underwent an entire makeover harking back to bowling's glory days: the 1980s. There are 16 professional-grade lanes inside to keep good times bowling rolling in every day and night of the week. And, if you get bored watching your friends and family (AKA competitors) during their turn, you can turn your attention to the classic films being beamed out on projectors instead. The attraction features spaces for free-jumping, dodgeball, aerobics and basketball, as well as an e-gaming zone and old school favourites like billiards and ping pong. Oh, did we mention the colossal 7,000 sq m trampoline park where you can bounce off some steam in between frames, too?
Open Sat-Wed 10am-midnight, Thu-Fri 10am-1am. Al Quoz, www.bowlingdubai.com (04 339 1010).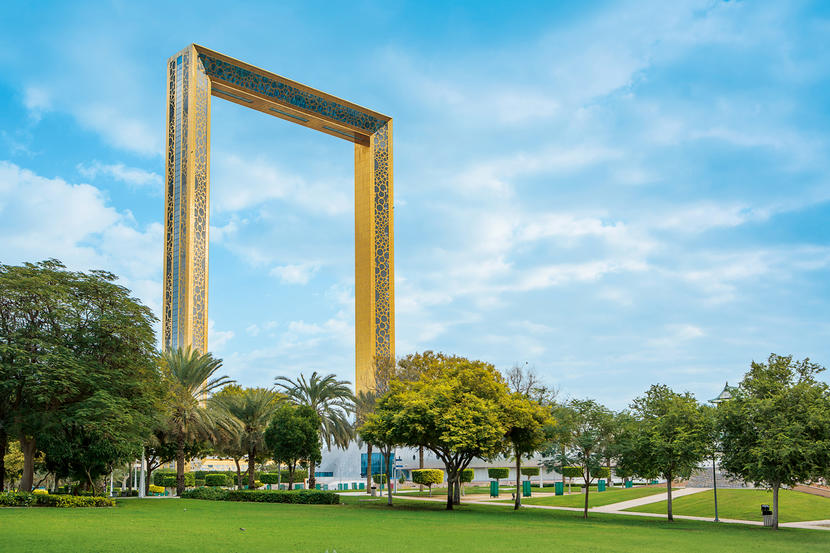 This cool vantage point allows visitors to see Dubai's past, present and future in a one-hour tour with unique views of 'old' and 'new' Dubai from a 150-metre-high sky glass bridge which is fully air-conditioned and indoors. The Dubai Frame comprises two towers measuring 150 metres in height and connected by the 93-metre long bridge at the top.
Open daily 9am-9pm. Zabeel Park, www.dubaiframe.ae.
Dubai Ice Rink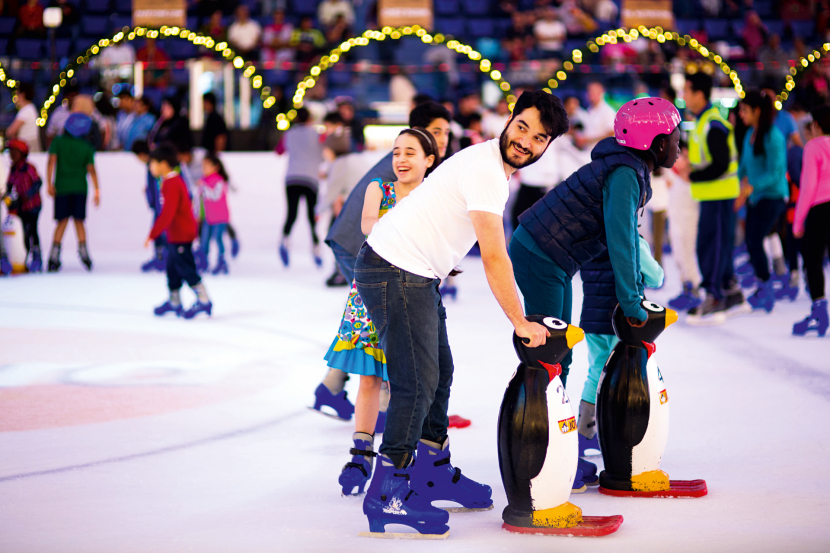 When the temperature outside gets a bit too much, there's only one way to make sure things cool down, right down. Head to Downtown Dubai and check out The Dubai Mall's Olympic-sized skating rink. Kids and adults alike will be able to move around, have fun and sharpen their skating skills on Dubai's most popular ice rink. It's also a great excuse to shake the dust off your winter woollies. The flurries of fake snow falling from the sky (AKA the rooftop of the mall) will make your cold dreams come true.
Open daily 10am-11.45pm. The Dubai Mall, Downtown Dubai, www.dubaiicerink.com (04 448 5111).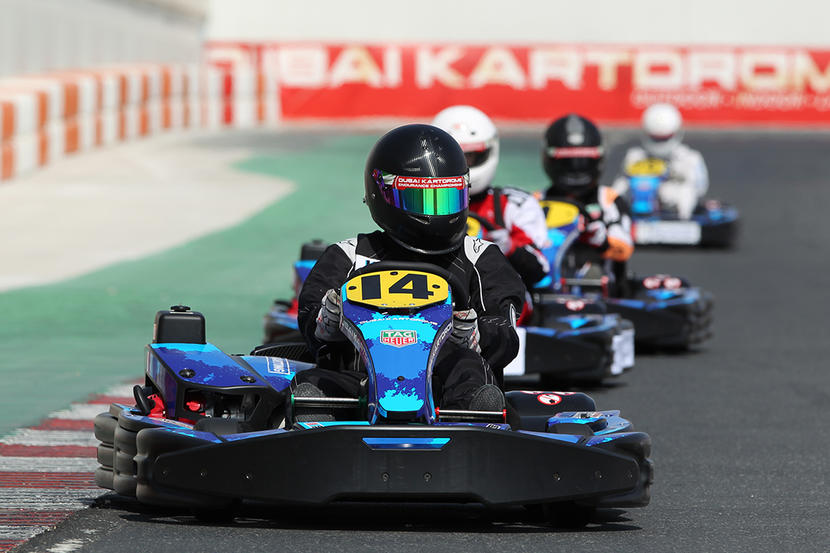 Fancy channelling your inner Lewis Hamilton? The Dubai Kartdrome in Dubai Motor City operates both indoor and outdoor circuits for ages seven and up and with a winding 1.2km track with 17 turns (although six, seven and eight can be done at full-throttle and with one swift grip of the wheel), it's the pre-eminent spot for go-karting in the region. It's time to put that pedal to the metal…
Open Sun-Wed 2pm-midnight, Thu-Sat 8am-midnight. Dubai Motor City, www.dubaiautodrome.com (800 527 8464).
If you feel your time in Dubai is lacking a little in history, then plan a day trip to the Al Fahidi Historical District and visit the Dubai Museum. The historic building is home to a wide variety of life-size dioramas that depict Emirati life from a bygone era. Soak in the heritage as you take a tour through traditional scenes of Arab households, souks and mosques, with more offering unique insights into life in the desert by the sea. The nation's all-important pearl diving industry is also paid homage to. Head on down and embrace all the history and culture.
Open Sat-Thu 8.30am-8.30pm, Fri 2.30pm-8.30pm. Al Fahidi Historical District, Bur Dubai, www.dubaiculture.gov.ae (04 353 1862).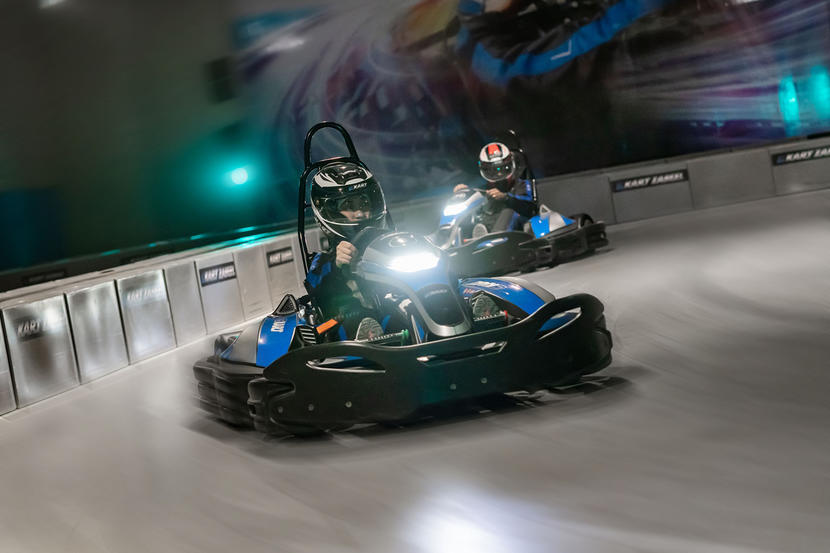 EKart Zabeel is the UAE's first high-end electric karting experience and promises a whole host of super-fast fun. The indoor electric go-karting track at The Dubai Mall can accommodate 11 e-karts on the state-of-the-art track at any one time and racers will be able to record their lap times and share them online. On your marks, get set... Go!
The Dubai Mall, Downtown Dubai, www.ekartzabeel.ae (800 382246255).
Etihad Museum, fittingly located at the very place where the declaration was signed that confirmed the foundation of the UAE back in 1971, takes visitors on a unique journey through decades of remarkable progress. The striking culture spot, which is shaped like a manuscript, includes permanent and temporary halls, a theatre, an educational area, interactive maps and videos, and more. The pavilions house exhibitions, interactive programmes and educational initiatives that explore the history-making events that shaped the unification of the seven emirates. It's a great place to immerse yourself in the past.
Open daily 10am-8pm. Jumeirah 1, Dubai, www.etihadmuseum.dubaiculture.ae (04 515 5771).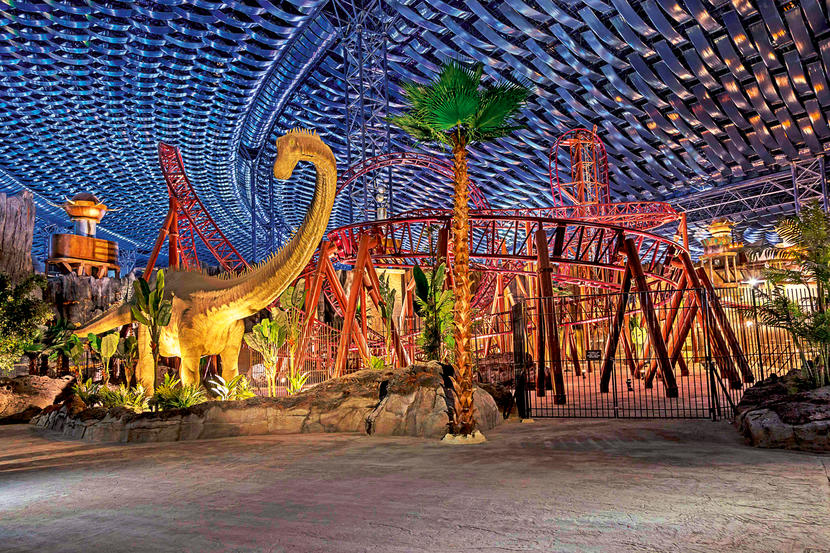 Dubai's 1.5-million-square-foot IMG Worlds of Adventure is the biggest indoor theme park on the planet, and it's home to some pretty epic rides. The goal here is definitely fun for all, with exhilarating rides, movies, brilliant dining options and shopping attractions in a sprawling space separated into four adventure zones. The Marvel Zone features a stellar cast of superheroes, including Spider-Man, The Hulk, Iron Man, Thor and The Avengers, over a host of heart-pumping rides. The thrills spill over into Lost Valley, where prehistoric creatures roar back into life for an awesome day out. A whole world of adventure awaits…
Open Sun-Wed 11am-11pm, Thu-Sat 11am-11pm. Sheikh Mohammed bin Zayed Road, Dubai, www.imgworlds.com (04 403 8888).
iFly Dubai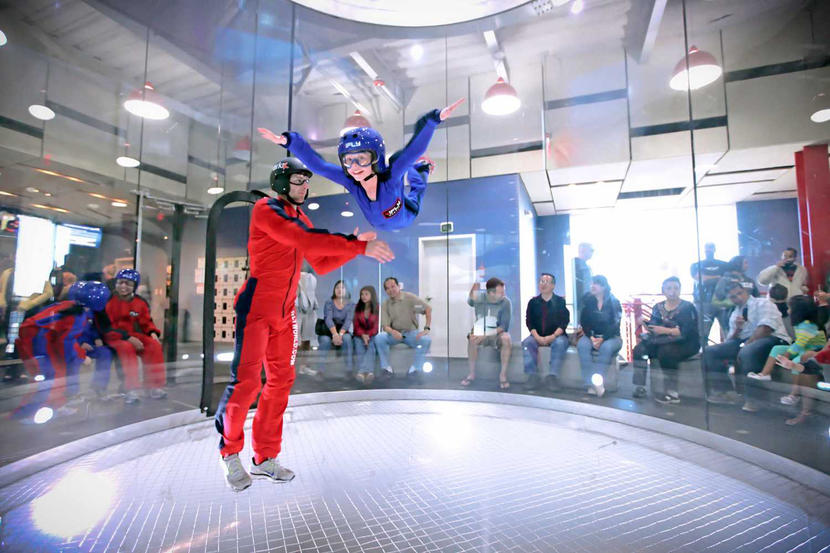 Once you have accepted that jumping out of a plane in Dubai is too terrifying, but that you really want the feeling of weightlessness, then iFly is your only option. Strap on a special suit and enter a 10m indoor glass tunnel and jets of wind will shoot you in to the air to (try and) perform aerial stunts.
Open Sun-Thu noon-10pm, Fri-Sat 10am-11pm. Mirdif City Centre, Mirdif, www.iflyme.com (04 231 6292).
If you're a skier trying to keep your technique up Infinite Ski in Al Quoz is exactly where you can head to all-year round to perfect your parallel skiing, carving or snow plough – depending on your level. The indoor spot has two rotating ski slopes which, effectively, allow you to ski forever – think of it as the treadmill of the ski slope world. It's not quite Ski Dubai's fresh snow slope but it's a good alternative. You can choose how fast you ski and at what incline, so whether you're learning the basics or mastering your technique, there'll be plenty there to choose from for you. It's time to hit the (indoor) slopes.
Open Sun, Tue, Wed, Thu noon-9am, Mon 10am-9pm, Fri-Sat 9am-9pm. Al Quoz, www.infiniteski.com (04 235 3408).
Inflight Dubai Indoor Skydiving
Have you ever felt your jowls flap in the wind at speeds of 175mph? Unless you've experienced the sensation of floating mid-air in a mammoth wind tunnel with saliva streaking across your cheeks then you really haven't lived. And at Inflight Dubai, you can experience the feeling of freefall, without having to actually jump out of a plane. A fun indoor attraction for adrenaline junkies.
Timings vary. Skydive Dubai Desert Campus, Dubai, www.inflightdubai.com (800 46354448).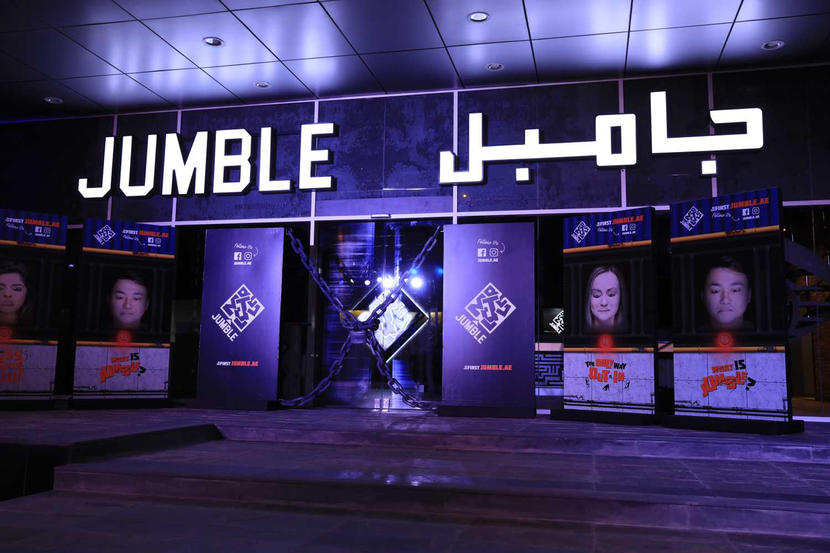 Fans of mental and physical challenges have a lot of places to check out in Dubai, from escape rooms to assault-style courses, but Jumble in Al Barsha is one of the top ones to book into. The Al Barsha site – which you've probably seen along Sheikh Zayed Road – calls itself the world's first indoor urban maze, and it's certainly more than a puzzle to work out. Jumble has a load of challenges that push your logic, reasoning, athleticism and teamwork skills with a series of tests. It's difficult to go into too much detail without giving the game away about what to expect, but if you've seen British TV show The Crystal Maze you should have some idea of what lurks inside.
Open Sun-Wed 11am-10pm, Thu-Fri 10am-midnight, Sat 10am-10pm. Sheikh Zayed Road, www.jumble.ae (800 586253).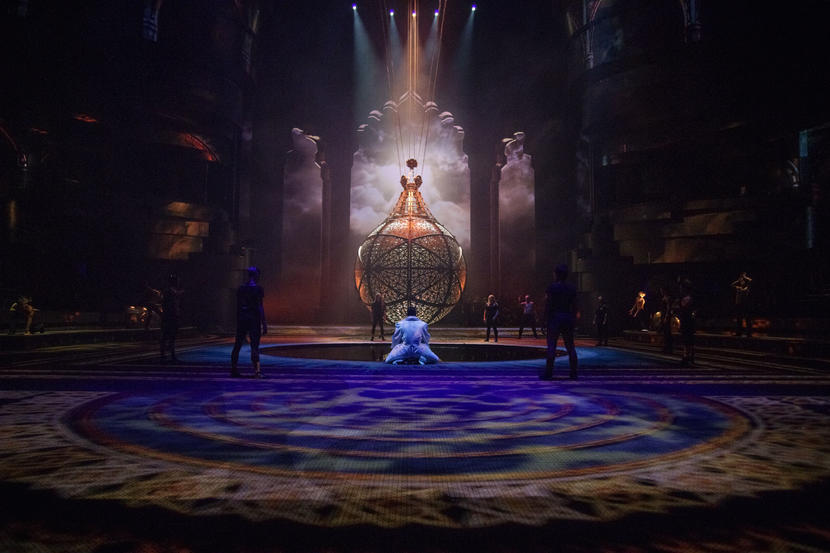 This is one of Dubai's hottest indoor attractions. The spectacular Las Vegas-style theatre show is a stunning production filled with gravity-defying performances – most of which take place over water. The auditorium in Dubai's Al Habtoor City houses 1,300 theatre-goers and makes use of 2.5 million litres of water, hydraulic lifts, fountains and high-powered winches. La Perle comprises more than 130 world-class artistic, athletic and technical team members from 23 countries – all working together to create a show-stopping experience that has to be seen to be believed. One to tick of your Dubai bucket list.
Al Habtoor City, Dubai, www.laperle.com (04 437 0001).
Calling all big kids. With eight branches of Magic Planet dotted around Dubai, you're never too far away from endless hours of fun. The indoor activities include bowling, laser tag, go karting, trampolining, sky trail and climbing wall. Other games to enjoy include classic arcade machines, video games, funfair games and grab-a-toys. Magic Planet also boasts multiple 3D simulators, funfair-style rides, carousels, foam factories, bumper boats, mine trains and more. Wherever you find yourself, you'll always guaranteed a fab time.
Open Sun-Wed 10am-10pm, Thu-Sat 10am-midnight. Various locations including Mall of the Emirates, Al Barsha, Dubai, www.magicplanetmena.com (04 341 4444).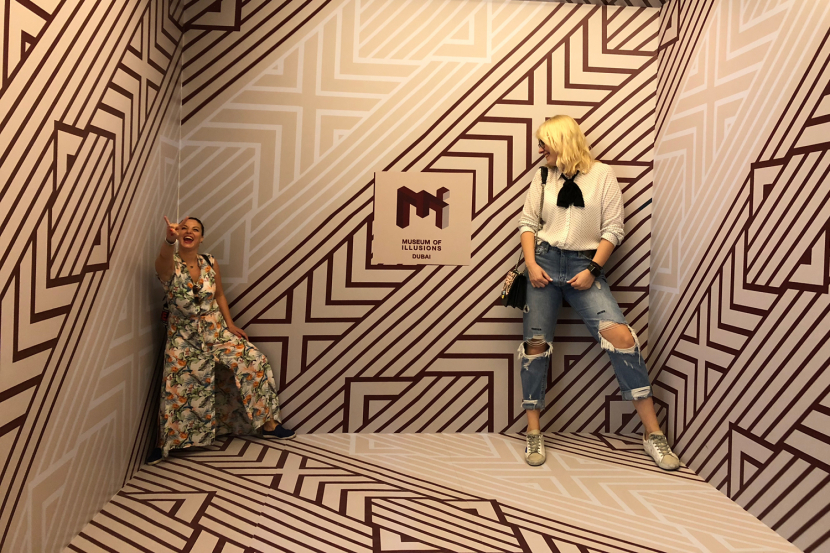 We'd like to think we could never be duped by any sort of smoke and mirrors. That is until we entered Dubai's Museum of Illusions. Boggle your mind by the perception-distorting puzzles, optical trickery and bizarre sensory experiences at this indoor Al Seef Museum. From anti-gravity rooms to an infinity tunnel or clone table the indoor Museum of Illusions is best enjoyed with a group of mates. Prepare for a full day's worth of being fooled. For a quick guide to Al Seef, click here.
Open Sun-Wed 10am-10pm, Thu-Sat 10am-11pm. Al Seef, Bur Dubai, www.museumofillusions.ae (04 357 3999).
This is one of the Dubai's longer-serving escape rooms, and offers a wide range of games to stump you, gazump you and challenge every ounce of your grey mass. Gather up to five of your mates and head to Phobia. There are six different games, including a Harry Potter-themed one, a Victorian detective-inspired Sherlock one and the Impossible Mission.
Open daily 11am-midnight. Jumeirah Bay X1, Cluster X and Red Diamond Building opposite Cluster Y, JLT, www.phobia.ae (050 873 0445).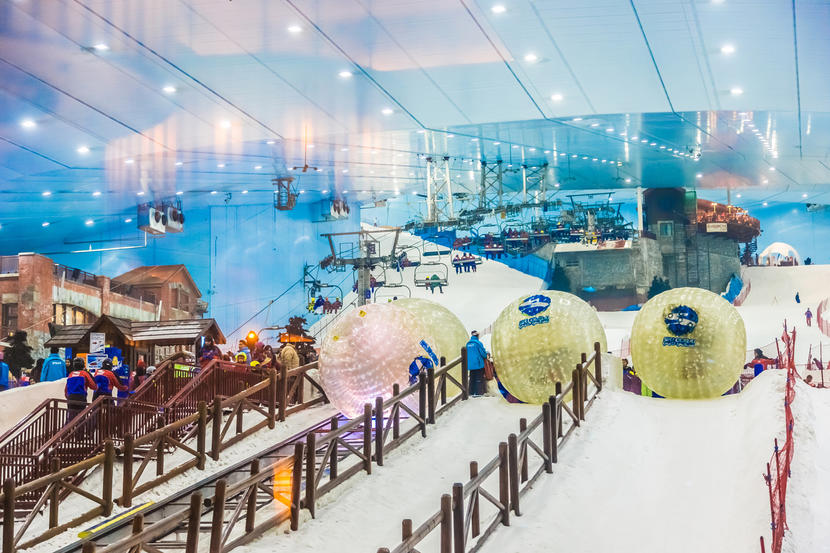 That's right – take skiing and snowboarding lessons indoors in the desert. Snow is in rich supply at Ski Dubai, the first indoor ski resort in the Middle East, based at Mall of the Emirates. This is a winter wonderland no matter how hot it is outside. Set foot in an incredible 3,000 square metres of real snow, featuring twin-tracked bobsled runs, tobogganing hills, a snow cavern filled with interactive experiences, and a chairlift from which you can take in a bird's-eye view of the entire park. You can even make friends with the resident penguins, if that's your kind of thing.
Open daily 9am-1am. Mall of the Emirates, Al Barsha, www.skidxb.com (800 386).
Sky Zone
With over 200 locations around the world, Sky Zone in Dubai's Ibn Battuta Mall is an indoor trampoline park where adrenalin junkies can work their way around the various areas that include a foam zone, dodgeball arena and zip line. There's also a great café and the coffee isn't half bad either.
Open Sun-Wed 10am-10pm, Thu-Sat 10am-midnight. Ibn Battuta Mall, Jebel Ali, www.skyzone.ae (800 759 9663).
Describe this indoor complex as a traditional souk crossed with a modern mall and you miss all the subtle intricacies that make it one of our favourite places in the world. Take visitors and you'll be giving them some of Dubai's best restaurants, bars, views and shopping all in one spot.
Open daily 8am-2am. Al Sufouh Road, www.jumeirah.com (04 366 8888).
Street Maniax, operated by the same people behind successful inflatable park, Air Maniax, opened at the beginning of 2020. And while Air Maniax is suitable for everyone from toddlers to adults, Street Maniax is aimed at older children and adults. There are over ten activities to try including some new-to-Dubai experiences such as quick flight VR where a mixture of reality and virtual reality promises a unique, fully-immersive experience. Fun-seekers can also learn parkour and hone their trampolining skills with the on-site trainers, all with the end goal of increasing their fitness www.timeoutdubai.com/sport-wellbeing levels.
Open daily 11am-8pm. Al Quoz, Dubai, www.streetmaniax.com (04 348 8981).
TEPfactor in JBR is a brilliantly original escape room-meets-adventure challenge concept that will test your wits, skill and athleticism in a series of brainteasers, obstacles and more. Fancy spending an afternoon tackling its 21 different and intriguing challenges? Well be prepared to break a sweat. Each room is based on one of four broad categories: fitness, patience, logic and skill. Think tyre swings, rope climbs, agility tests and a range of other clambering-related conundrums that will have you simultaneously sweating and head-scratching.
Open Sun-Wed 10am-midnight; Thu-Sat 10am-1am. Bahar Plaza Level, The Walk, JBR, www.tepfactor.ae (04 398 8438).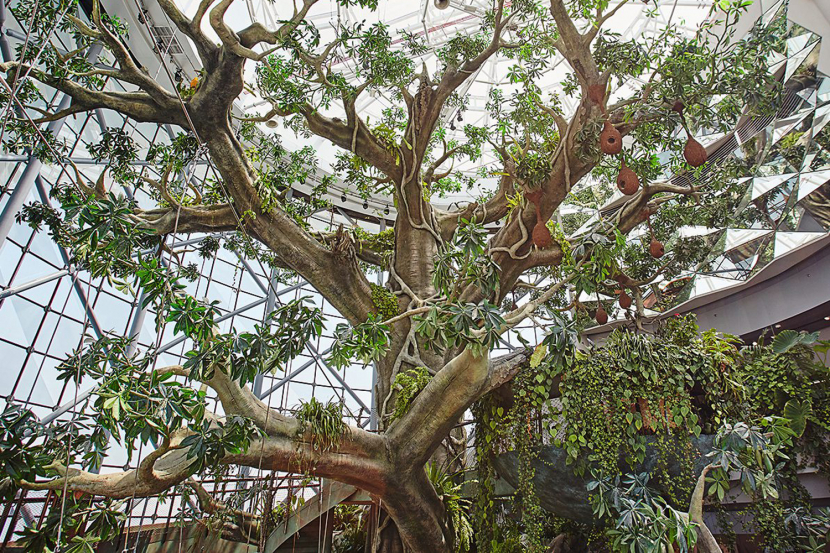 Missing wildlife? Fancy a trip to the jungle? Look no further than Dubai's The Green Planet. The Green Planet in City Walk is an indoor bio-dome designed to educate guests on the dangers facing the world's rainforests. It is an immersive experience, designed to allow its inhabitants to live as they would in the wild, with a broadly diverse ecosystem of creatures and jungle critters. You can see squirrel monkeys or get up close with an adorable sugar glider at this interactive and educational exhibit and you can make a friend for life at this indoor Dubai rainforest. Plus, you can hold your spirit animal: the sleepy sloth. You might not want to get so close to the 1,000 piranhas though.
Open Sun-Wed 10am-7pm; Thu-Sat 10am-8pm. City Walk, Al Safa Street, www.thegreenplanetdubai.com (04 317 3999).
Perfect lighting? Check. Downward angle? Check. Rooms specifically designed to take the perfect selfie? Welcome to Dubai's dedicated selfie museum for creatives and selfie enthusiasts of all ages. The creative hub currently features fifteen indoor themed pop-up rooms with unique backdrops, props and peak lighting – all for that Insta-worthy snap. Prepare for plenty of hearts on Instagram.
Open daily 11am-8pm. Daytona House, Motor City, www.theselfiekingdom.com (055 526 1188).

Sometimes talking about our problems just isn't good enough and only a mallet will do. If you're looking to smash away any stress (without wounding, regret – or arrest) Dubai has just the place. With two branches across Dubai (Al Quoz and Last Exit Mad X) The Smash Room is a place to physically smash out all of your frustrations with a choice of catastrophic weapons including sledgehammers, crowbars and baseball bats. You can scream, cry, yell, or hysterically laugh as you demolish an entire room full of TVs, laptops, printers and plates and nobody will bat an eyelid. All of the shatterings get recycled and you get to unleash your stress and leave with a new lease of life – as well as having a pretty strenuous workout.
Timings vary. Al Quoz and Last Exit Mad X, www.thesmashroom.ae (058 198 2323).
thejamjar is a hub of arty workshops and activities. Situated in Alserkal Avenue, you'll find all manner of classes on offer, from figurative drawing to oil painting. Personally, we're fans of the DIY painting sessions, which are available every day. Just show up and let loose on a blank canvas using an unlimited supply of acrylic paint. Warning: this one will get messy.
Open daily 10am-7pm. Alserkal Avenue, Al Quoz, www.thejamjardubai.com (04 341 7303).
Dubai does cinema extremely well and for ultimate luxury during a film book into Dubai's VIP screenings at VOX Cinemas. You'll enjoy a movie with reclining seats, blankets and at seat gourmet hot dog service. For all the latest film and movie news in Dubai, click here.
Various locations across Dubai including Mall of the Emirates, Barsha, www.voxcinemas.com (600 599905).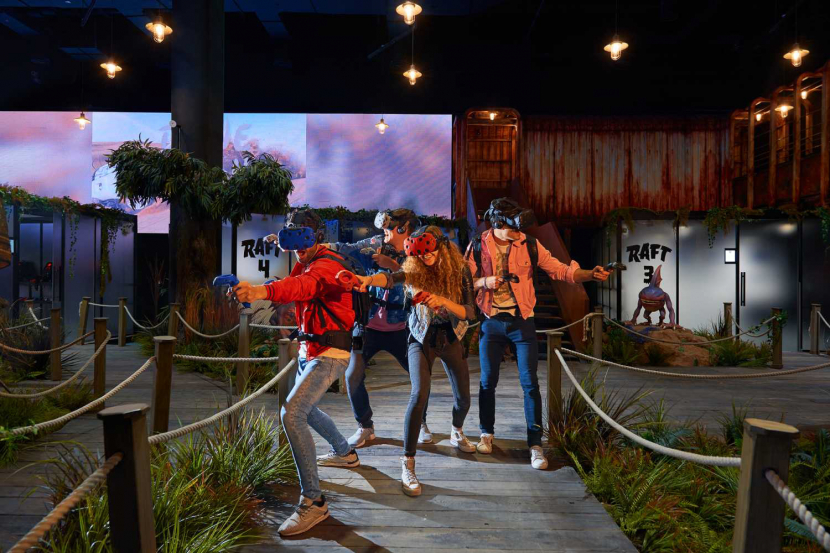 This indoor virtual reality theme park in The Dubai Mall has loads of attractions, some of which have multiple games inside, taking you to distant planets, the distant future and the not-so-distant world of a fully virtualised Dubai. It's a place to go with friends and family, especially if you decide to take on The Walking Dead game that sees you having to shoot your way out of the show's famous hospital to safety. Rides include the Burj Drop and Dubai Drone: full-size roller coasters sitting proudly within this 7,000 sq m arcade. Set aside a good few hours for this one, as you'll want to savour it.
Open daily 10am-midnight. The Dubai Mall, Downtown Dubai, www.vrparkdubai.com (800 38224 6255).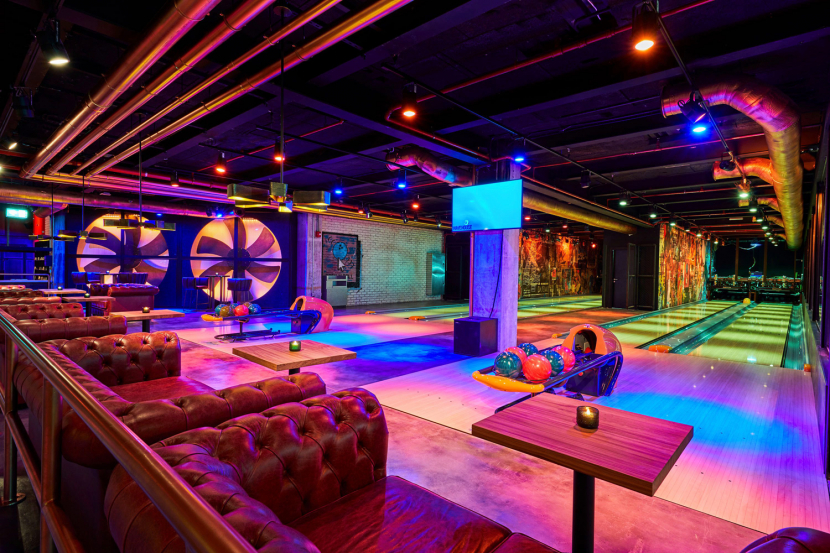 This one-stop fun factory in Palm Jumeirah's Atlantis The Palm caters to kids, teens and adults and has been making a splash, ahem, ever since opening for business. With a licensed bowling alley, dozens of arcade games, air hockey, VR simulators, regular live music and a wave rider, Wavehouse is one of the city's coolest indoor hangouts.
Open daily noon-1am. The Avenues, Atlantis The Palm, Palm Jumeirah (04 426 1166).
For your essential guide to the very best things to do around Dubai, head here.
Be the first to get all the latest Dubai news, reviews and deals into your inbox by signing up to our free
newsletter
,
click here to sign up
.